Cauliflower Rice Risotto
If you've never replaced rice with cauliflower rice, you're in for a fun surprise! This Cauliflower Rice Risotto is a fantastic, veggie-forward side dish that pairs well with any protein. This dairy-free, cauliflower risotto uses fresh asparagus and lemon juice for extra flavor and nutrients, with an unbelievably smooth texture. My satisfyingly rich Creamy Cauliflower Risotto is Paleo, AIP, and The Myers Way® approved. You can enjoy it even if you simply want to include additional vegetables in your diet.
You will love this dairy-free, Creamy Cauliflower Risotto so much, I guarantee it will be a new favorite to elevate your daily cuisine throughout the whole year.
How is this dish healthy, creamy, and satisfying?
While this dish may taste indulgent, it's full of nourishing ingredients to promote optimal health. Plus, this dairy-free cauliflower risotto uses a fantastic, versatile ingredient that is easy to use and fun to experiment with.
I was delighted by the results when I first used this vegetable to replace a starchy grain, and you will be too.
Cauliflower rice
Cauliflower "rice" is the hero ingredient in this healthy risotto recipe. This ingredient (also called riced cauliflower) is made by pulsing raw cauliflower florets in a food processor or grating cauliflower by hand. You could also chop it finely on a cutting board. However, that is more time consuming, and it can get a little messy.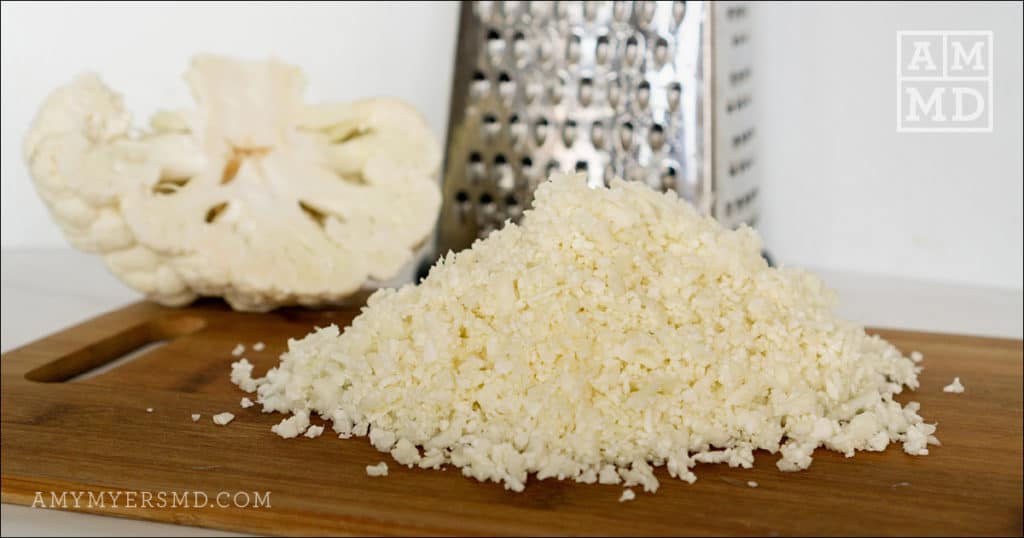 The result of any method is small, rice-sized cauliflower pieces that can be cooked briefly and used as an alternative in any recipe with a grain as its base. Riced cauliflower is an excellent gluten-free option for those who want to eat fewer carbs, are following the keto diet, want to eat more vegetables, or need to avoid grains.
It takes just a few minutes to make cauliflower rice, but you can also purchase it in the refrigerated produce or freezer sections of many grocery stores. While I advocate for preparing fresh, organic vegetables at home, I know that some people don't have the time to make cauliflower rice or clean up any stray pieces.
You need two pounds of cauliflower rice for this dairy-free Creamy Cauliflower Risotto. If you're making the riced cauliflower yourself, start with one medium-sized cauliflower head, and have an additional head of cauliflower on hand just in case.
The benefits of eating more cauliflower
Cauliflower is a high-fiber, cruciferous vegetable. Fiber is a great way to assist your digestive process and stay satiated. These health benefits can even help support a healthy weight!
Cauliflower is also high in choline, an essential nutrient for memory and learning that must be obtained from your diet. In addition, cauliflower offers your body vitamins C, K, and B6. Vitamin C can help strengthen the body's immune system and help manage high blood pressure. Vitamin K supports healthy bones and aids in calcium absorption. Vitamin B6 is essential to macronutrient metabolism and the creation of red blood cells.
Asparagus
The asparagus in this Creamy Cauliflower Risotto not only adds a pop of color, texture, and crunch, it also provides extra nutrients including, once again, vitamin K. Asparagus is also high in fiber and folate.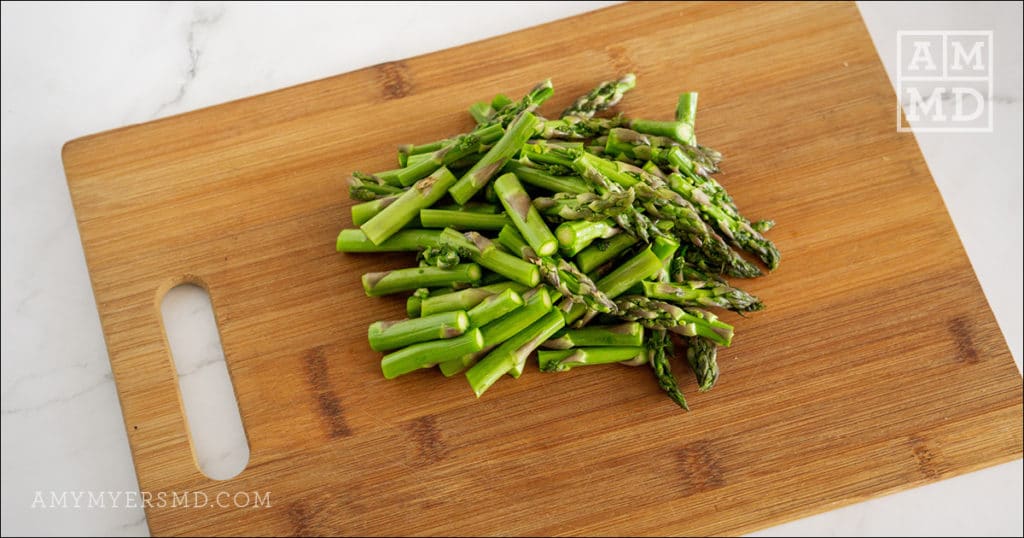 For this recipe, you'll need to trim off and discard the ends of the asparagus, then chop the asparagus into 1-2 inch pieces.
How is this dairy-free cauliflower risotto still creamy and rich?
I use coconut milk and vegetable stock in this dairy-free cauliflower risotto for a creamy texture and savory flavor. The coconut milk and vegetable stock help to stew and soften the riced cauliflower, giving the dish a traditional, risotto-like texture.
Coconut milk is a healthy fat, full of potassium, magnesium, and phosphorus. It is also high in iron, which helps to keep your blood cells healthy and happy. Coconut milk also contains medium-chain fatty acids to increase fat-burning energy in the body and keep you feeling full.
While coconut milk adds the quintessential creaminess and extra nutrients, the stock adds savory flavor. I personally like to use chicken bone broth in recipes such as this Creamy Cauliflower Risotto. However, vegetable stock is an excellent option if you want to keep your dairy-free cauliflower rice vegetarian. A homemade chicken bone broth, or even preparing some of my chicken Bone Broth Collagen would offer your body additional amino acids and protein to support healthy joints, skin, and hair.
Fresh lemon juice and lemon zest
This cauliflower risotto gets a zesty boost from fresh lemon zest and lemon juice. I always recommend using organic produce, yet it's especially important in recipes where you use the skin for zesting.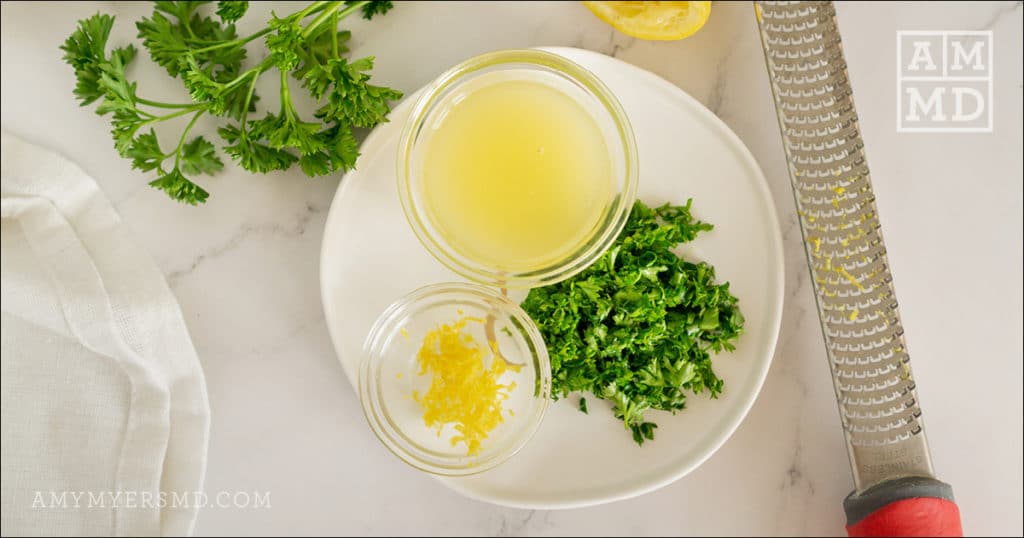 Zest the lemon before slicing it in half and juicing it. Trust me on this one — it is very difficult to zest a lemon that's already been juiced.
The lemon adds the perfect amount of citrus tang to this Creamy Cauliflower Risotto, and balances out the richness of the coconut milk.
How to make Creamy Cauliflower Risotto
If you choose to prepare your cauliflower rice at home (which is what I recommend), first you'll need to chop your head of cauliflower into florets. Then pulse it in the food processor until it reaches a rice-like consistency. Don't over process the cauliflower or it will become too mushy and blended for the recipe.
Set the riced cauliflower aside to prepare your skillet. Heat the skillet to medium and add oil and minced garlic. While the garlic is sautéing, chop your asparagus spears to 1-inch sections. Alternatively, you could chop the asparagus before you begin to saute the garlic. Sauté the minced garlic until fragrant, then add cauliflower rice, chopped asparagus, coconut milk, your stock of choice, and salt to taste.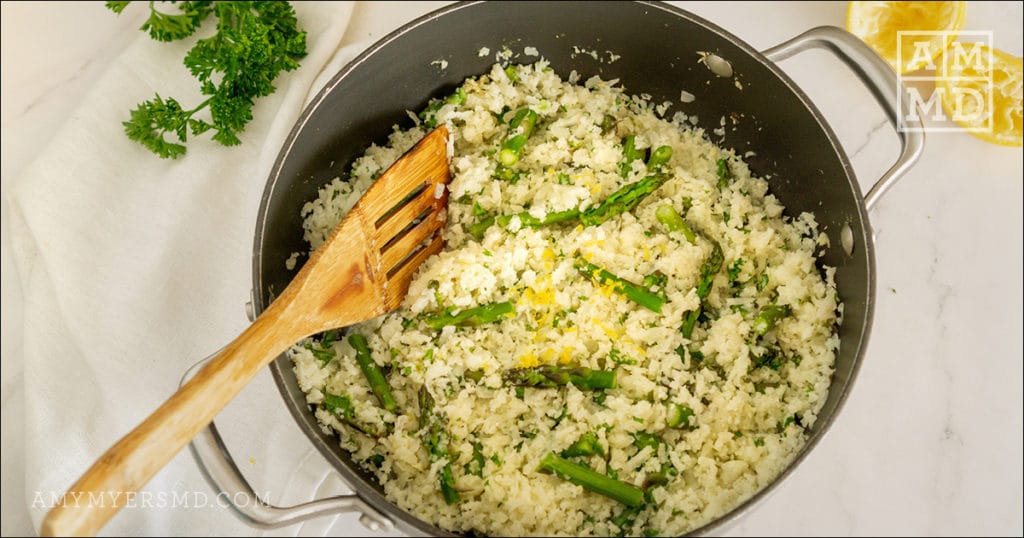 When the cauliflower rice is creamy and cooked to your desired texture, add the chopped parsley and lemon juice and gently stir them into the risotto. Allow this to cook uncovered for 3-5 minutes, or until some of the liquid is cooked off. You can season your dish with additional sea salt. Then serve your beautiful and delicious risotto alongside any main dish with a fresh zest of lemon and sprig of parsley over the top.
What to serve alongside Creamy Cauliflower Risotto with Asparagus
This cauliflower risotto with asparagus makes a great side dish for steak or seafood. Here are some options you can try:
Ingredients
1

Tbsp

14.79

ml coconut oil

2

cloves garlic minced

2

lb

908.00

g riced cauliflower (from 1 medium cauliflower)

1

lb

454.00

g asparagus ends trimmed and chopped into 1-2 inch pieces

1/2

cup

120.00

ml broccoli

1/2

cup

120.00

ml coconut milk

1/2

cup

120.00

ml vegetable stock (or chicken bone broth)

1/2

tsp

2.46

ml sea salt (or more to taste)

1/4

cup

60.00

ml parsley leaves chopped

2

Tbsp

29.57

ml lemon juice (from 1 organic lemon)

1

tsp

4.93

ml lemon zest (from 1 organic lemon)

24

shrimp cooked
Instructions
In a large skillet, saute the minced garlic in coconut oil for 2-3 minutes. Add the riced cauliflower, chopped asparagus, coconut milk, vegetable stock, and salt. Stir, cover, and allow to cook for 10-15 minutes, or until the cauliflower is cooked to your liking, stirring every 2-3 minutes.

---

In a large skillet, saute the minced garlic in coconut oil for 2-3 minutes. Add the riced cauliflower, chopped asparagus, broccoli, coconut milk, vegetable stock, and salt. Stir, cover, and allow to cook for 10-15 minutes, or until the cauliflower is cooked to your liking, stirring every 2-3 minutes.

---

Add the chopped parsley and lemon juice, stir, and allow to cook uncovered for 3-5 minutes, or until some of the liquid is cooked off. Season with additional salt, if desired.

---

Add the shrimp, chopped parsley and lemon juice, stir, and allow to cook uncovered for 3-5 minutes, or until some of the liquid is cooked off. Season with additional salt, if desired.

---

Remove from heat and serve warm, garnishing with lemon zest.

---