Dairy-Free and Nut-Free Pesto
This might surprise you, however, I want you to know that you can make a mouthwatering pesto sauce without nuts or parmesan cheese! This dairy-free, nut-free pesto recipe is the perfect flavorful and nutritious addition to any protein or vegetable you have on hand. My favorite way to eat this dairy- and nut-free pesto is on top of my AIP Pizza Crust, yet I know it's delicious on pretty much any savory dish you could think of!
What are the ingredients you need to make this sauce?
A traditional pesto sauce includes pine nuts, parmesan cheese, basil, garlic, olive oil, and salt. The Myers Way® is dairy-free and nut-free, so I created a pesto sauce that meets these dietary requirements without compromising flavor. The final result doesn't disappoint! Here's what you'll need to make this healthy sauce: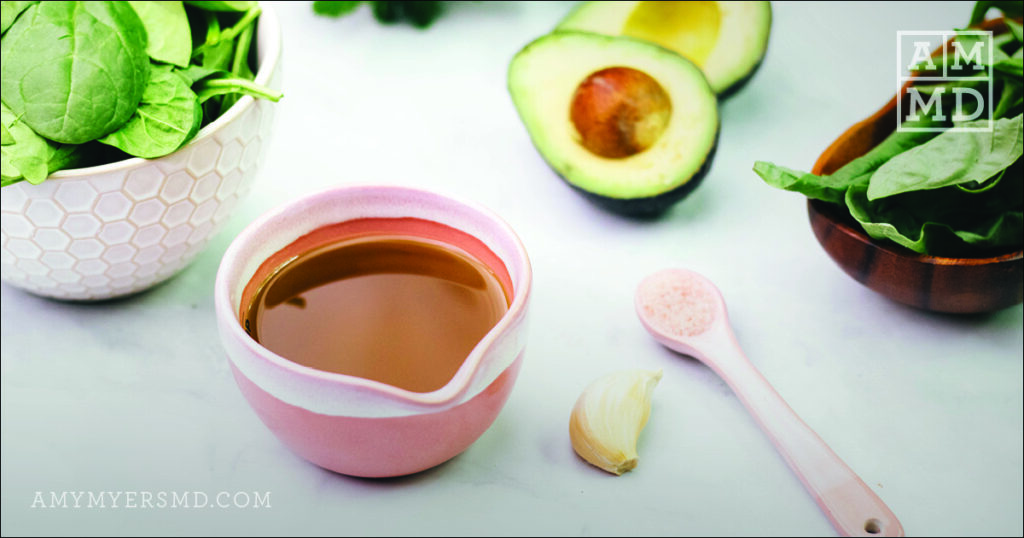 Fresh Basil
Basil is a non-negotiable for this sauce, and can't be substituted for dried. That being said, I have tested this recipe with less basil (about ¼ cup), and it still turned out great! When I tested this, I replaced the missing volume of fresh basil with equal amounts fresh spinach.
Cilantro
I added cilantro to this dairy-free and nut-free recipe to make up some of the flavor that parmesan cheese would have added to the final product. Trust me — the flavors came together wonderfully! Cilantro is an awesome addition.
Cilantro also supports your body's detoxification process, and is full of nutrients including vitamins A, B, C, E, and K, and minerals such as calcium and potassium. On top of all that, it tastes great!
Spinach
While I prefer to use fresh spinach in this recipe, there is no need to make a grocery store run if you're stuck at home — this pesto can be made with frozen spinach!
Here's how you'll swap fresh for frozen. Completely thaw 5 ounces of frozen spinach, and then use towels to squeeze out the excess liquid from the spinach. After the spinach feels dry enough, you can swap an equal amount of frozen spinach for the fresh spinach.
Garlic
While fresh garlic is ideal, it can definitely be substituted with pre-minced garlic, or even ½ teaspoon of garlic powder for every one clove. Doing so will change the texture of your pesto, but the flavor will still be there.
Garlic is a superfood for your immune system. It's high in sulfurous compounds that act as antioxidants, and an excellent source of manganese, Vitamin B6, and Vitamin C.
Avocado
Since this pesto recipe lacks binding and thickening properties of cheese and pine nuts, I included avocado to take their place. If you don't have fresh avocado, frozen avocado works just as well! Avocado also adds extra healthy nutrients to this recipe, including monounsaturated fats, fiber, magnesium, potassium, and folate.
Extra Virgin Olive Oil
Extra virgin olive oil is a healthy oil that's used in traditional pesto recipes. While you could substitute olive oil with avocado oil, I wouldn't suggest making this recipe with any other oils because it will alter the flavor and the texture. Plus, the health benefits just wouldn't be the same.
While I'm on the topic of health, extra virgin olive oil is full of antioxidants, which can fight free radical damage, improve digestion, and protect heart health.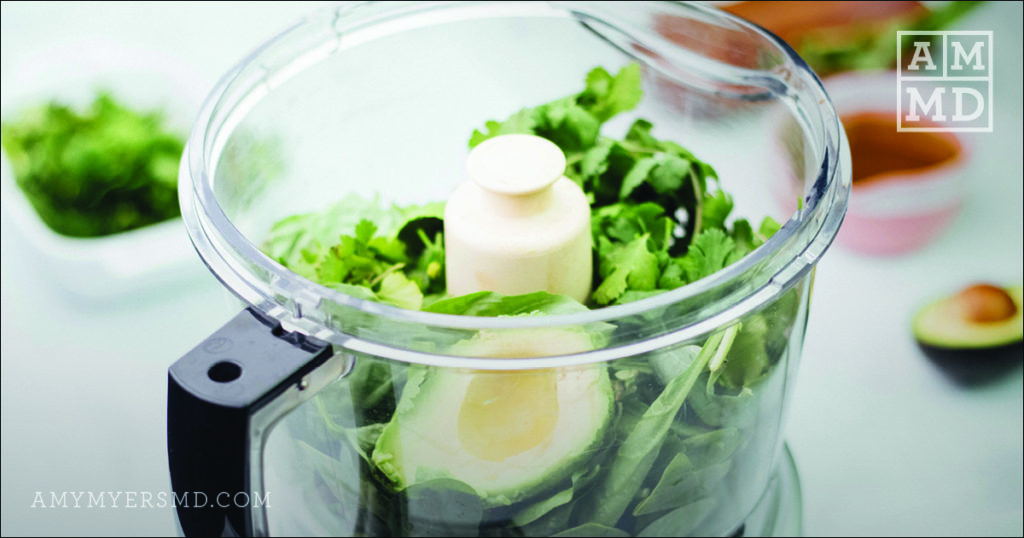 How do you make pesto?
Traditionally, pesto is made by chopping all the ingredients by hand with a very sharp knife (a dull blade will brown the basil), and then combining those with olive oil. However, I think we would all like to keep things a little quicker and a lot easier.
Instead of spending 20 minutes chopping ingredients, it's easiest to add everything to a food processor, and pulse until all the ingredients are finely minced. Do NOT over-blend the pesto! You want the sauce to have a nice "minced" texture and consistency, not mush.
If you don't have a food processor, a blender will also do the trick.
Can you freeze your leftover dairy-free and nut-free pesto?
This pesto sauce freezes very well. Store any leftovers you have in a wide mouth mason jar or stasher bag. When you're ready to use it, thaw overnight in the refrigerator and you'll have a homemade pesto ready for you in the morning!
Fresh basil makes the most flavorful pesto. I recommend planting a few basil starters in your garden (or windowsill planters) in the summer (or when warm weather allows). That way, you can make several batches of this pesto in advance, freeze some, and have it all year long!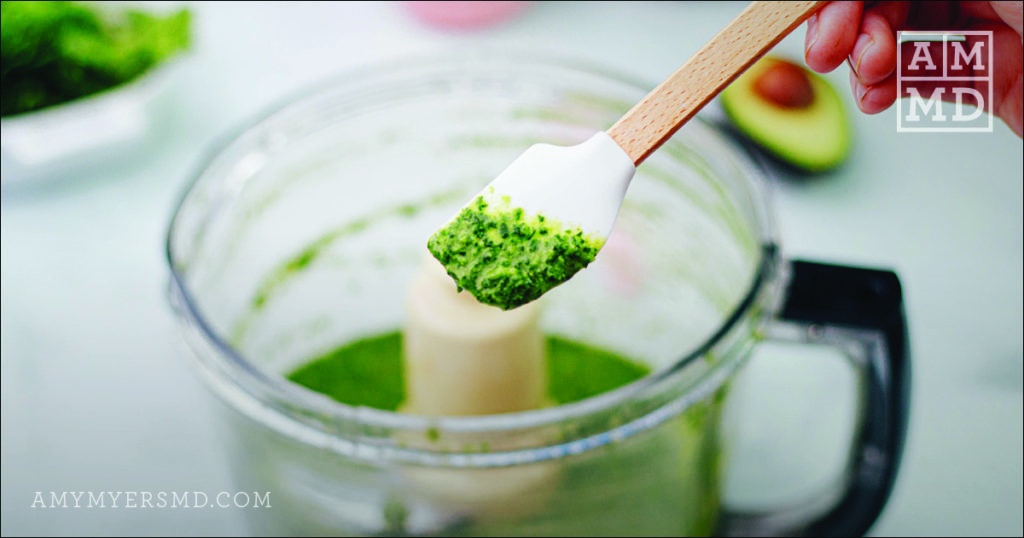 Dairy-Free and Nut-Free Pesto
---
Ingredients
1

cup

240.00

ml basil loosely packed

1

cup

240.00

ml spinach loosely packed

1/2

cup

120.00

ml cilantro

1/2

avocado pit and peel removed

3

cloves garlic chopped

1

tsp

4.93

ml apple cider vinegar

1/2

tsp

2.46

ml sea salt

1/4

cup

60.00

ml extra virgin olive oil may need 1/3 cup depending on preferred consistency
Instructions
Add all ingredients to a food processor or blender, and pulse until a minced paste forms. You may choose to add more olive oil based on your personal preference.

---

Store in an airtight container in the refrigerator for up to a week to keep avocado and greens from browning, or store in freezer.

---