Gluten-Free Paleo Gingerbread Cookies
These gingerbread cookies are perfection! They're crisp on the outside, soft and chewy on the inside, and have a wonderful spiced flavor. The best part is that they're gluten-free, refined sugar-free, and egg-free, making them paleo- and AIP-friendly! They're decorated with a dairy-free icing that is easy to whip up. Make a batch of these paleo gingerbread cookies for the holidays!
Gluten-free gingerbread cookies
I always look forward to gingerbread cookies around the holidays! These adorable gingerbread cookies are made with a mix of gluten-free flour alternatives: cassava flour and tapioca flour. Both of these flours come from the yucca plant. Cassava flour is high in resistant starch, which similarly to fiber—it keeps us full and satiated. Resistant starch also helps feed the "good" bacteria in the gut and may help reduce inflammation. 
The cookies are seasoned with ground cinnamon, ground ginger, and ground cloves. The wonderful spiced flavor also gives off cancer-fighting antioxidants in every bite.
The cookies are sweetened with coconut sugar, which is a natural sweetener that does not cause inflammation unlike refined white sugar, and it contains trace minerals and nutrients. Coconut sugar is dark in color and has a nice caramel taste, which helps give these cookies a traditional gingerbread cookie color and great flavor.
One of my favorite parts about this cookie recipe is that it does not require the cookie dough to be chilled before using it. In fact, the dough needs to be kept warm so the coconut oil in the dough stays soft and melted. This will make the gluten-free cookie dough easy to roll out.
Coconut oil is a healthy fat that may help reduce bad LDL cholesterol, increase good HDL cholesterol, and contains medium-chain triglycerides (MCTs). These compounds help us feel full, promote calorie and fat burning, and boost good bacteria in the gut. Additionally, the coconut oil is what makes these cookies perfectly crisp on the outside while still being a little chewy on the inside.
paleo gingerbread cookies – Amy Myers MD®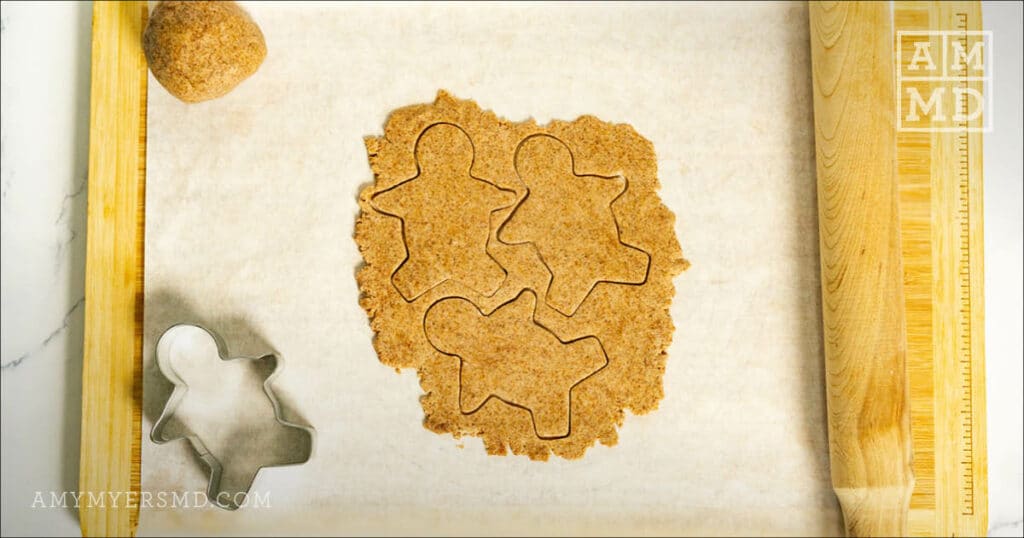 Dr. Amy Myers
December 9th, 2022
https://content.amymyersmd.com/recipe/gingerbread-cookies/
Tips for rolling gingerbread cookies
It is easiest to roll gingerbread cookie dough between two pieces of parchment paper. This way, your dough won't stick to your rolling pin or rolling surface.
Make sure to save the scraps of dough from around your cookie cutters. Afterwards, you can knead the scraps together into a ball and roll it out again to make more cookies. This recipe makes 1 dozen cookies when doing this, and it can be doubled if you want even more.
Keep in mind that this cookie dough needs to stay warm in order to roll out nicely. You can always knead it in your hands, or microwave it for 10-15 seconds to soften the dough. 
paleo gingerbread cookies – Amy Myers MD®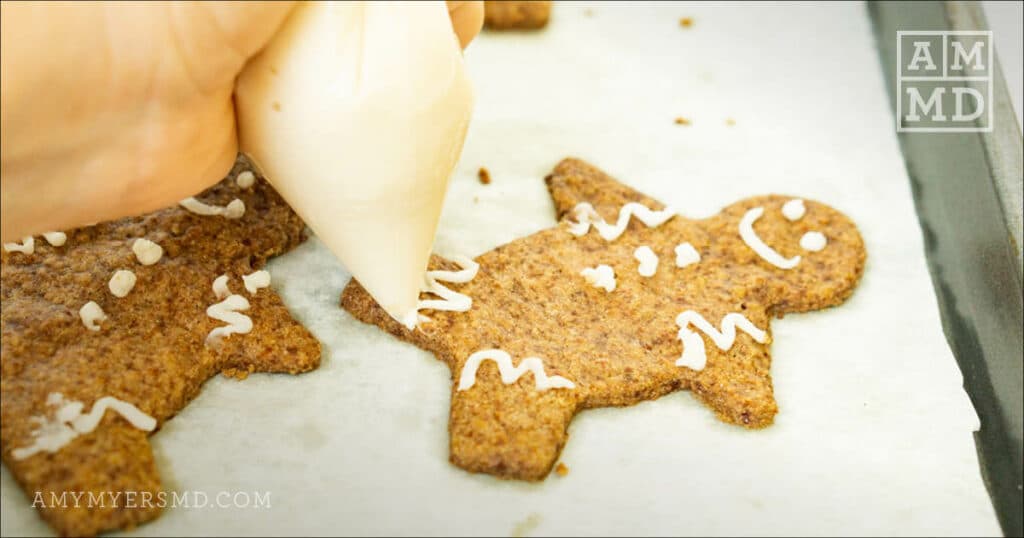 Dr. Amy Myers
December 9th, 2022
https://content.amymyersmd.com/recipe/gingerbread-cookies/
Dairy-free AIP cookie icing
I decorated these paleo gingerbread cookies with an easy dairy-free, refined sugar-free icing. It has just 4 ingredients: palm oil, maple syrup, tapioca flour, and a pinch of salt. The maple syrup gives the icing a wonderful maple flavor, and it's a natural sweetener that is AIP- and paleo-friendly. The palm oil gives the icing its characteristic white color. When combined with liquid maple syrup and powdery tapioca flour, it makes the perfect texture for icing that's easy to pipe onto the cookies.
Make sure to thoroughly mix all the icing ingredients together until no lumps remain. This will make icing the cookies with a really fine tip much easier. If you're having trouble making a smooth mixture, you can microwave the palm shortening for 5-10 seconds at a time to soften it, but make sure not to melt it completely!
This is a small batch icing recipe, since gingerbread cookies don't use a lot of icing.
Enjoy these cookies with some peppermint hot cocoa or ginger root tea. They will keep well for up to 1 week at room temperature and 2 weeks in the fridge. Store the cookies in an airtight container.
paleo gingerbread cookies – Amy Myers MD®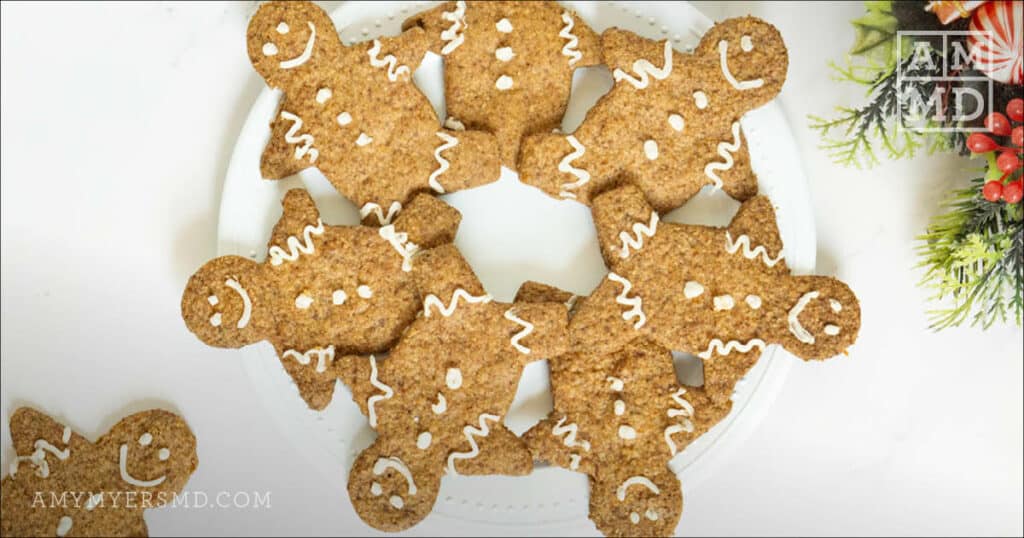 Dr. Amy Myers
December 9th, 2022
https://content.amymyersmd.com/recipe/gingerbread-cookies/
More AIP cookie recipes
Gluten-Free Paleo Gingerbread Cookies
---
Ingredients
For the cookies:
5

tbsp

73.94

ml coconut oil melted

1/4

cup

60.00

ml coconut sugar

1

tsp

4.93

ml vanilla extract

1/2

cup

120.00

ml Cassava flour

1/4

cup

60.00

ml tapioca flour

1

tsp

4.93

ml ground cinnamon

1

tsp

4.93

ml ground ginger

1/2

tsp

2.46

ml ground cloves

1/4

tsp

1.23

ml baking powder

1/4

tsp

1.23

ml sea salt
For the icing:
1/4

cup

60.00

ml organic palm shortening

1

tbsp

14.79

ml tapioca flour

1

tbsp

14.79

ml maple syrup

1

pinch sea salt
Instructions
Preheat oven to 350F. Line a large cookie sheet with parchment paper.


---

In a large bowl, whisk together the melted coconut oil, coconut sugar, and vanilla extract until well combined.


---

Add the rest of the dry ingredients (cassava flour through sea salt) and mix well with a fork until clumpy. Use your hands to mix and knead the mixture until you get a smooth ball. If it's very crumbly, mix in ½ - 1 Tbsp. melted coconut oil.


---

Divide the cookie dough ball in half. Place half the dough between 2 sheets of parchment paper. Roll the dough until it is about ¼ - ⅓ inch thick between the parchment paper.


---

Use cookie cutters to form gingerbread men (or other shapes). Remove the extra dough around the cookie cutters and save it for step 6. Use a turner spatula to carefully transfer the gingerbread men to the prepared cookie sheet.


---

Repeat steps 4 and 5 with the other dough ball. Tip: if the dough is crumbly, warm it in the microwave for a few seconds to melt the coconut oil. Combine all the scraps of dough into one smooth dough ball (microwave for a few seconds then knead together, if needed), and roll it out again to make more gingerbread men.


---

Bake cookies for 11-13 minutes. The cookies will be too soft to pick up from the cookie sheet at first, but will harden as they cool. Remove from heat and let cool completely before picking them up from the cookie sheet or icing.


---

Make the icing by whisking together the icing ingredients until completely smooth. If needed, soften the palm shortening in the microwave for 5-10 seconds at a time (do NOT let it melt!).


---

Transfer the icing into a clean zip lock bag, squeeze all the air from the top, and seal the bag. Snip off a very small corner of the zip lock bag (about 1/16 inch).


---

Decorate the cookies with icing, taking care to squeeze evenly and to hold the zip lock bag from the top and push the icing down. Let the icing cool completely before storing the cookies.


---