Paleo Gluten-Free Caramel Apple Pie
National Apple Pie Day is May 13, and you can celebrate with this AIP-friendly Paleo Caramel Apple Pie! It's made with an easy gluten-free cassava flour crust and filled with a stovetop no-bake cinnamon apple filling. The pie is topped with a sweet caramel drizzle for extra flavor in every bite. This caramel apple pie is easy to put together, delicious, and a delicious healthy dessert for Apple Pie Day or any day!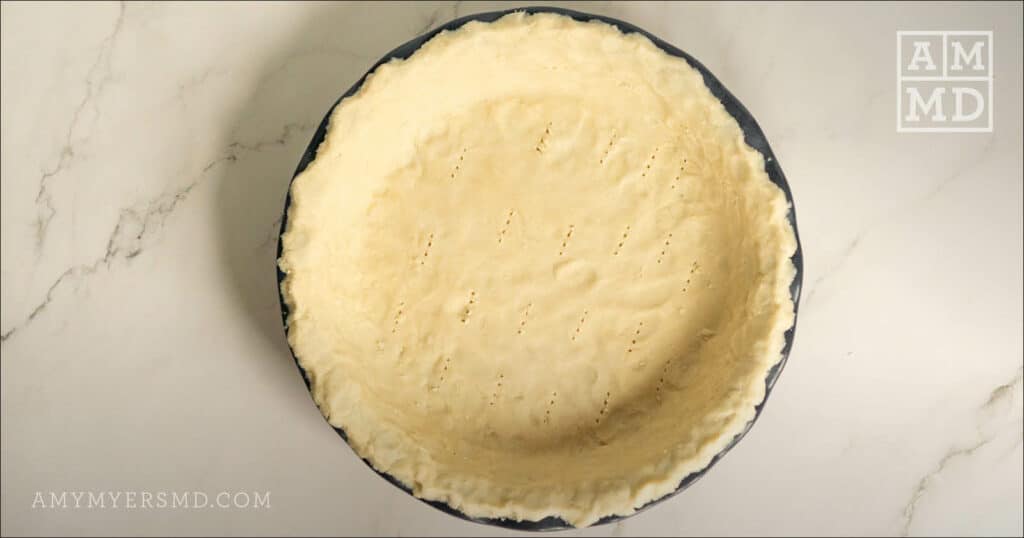 Dr. Amy Myers
May 13th, 2022
https://content.amymyersmd.com/recipe/gluten-free-caramel-apple-pie/
Paleo caramel apple pie
Gluten-free apple pie crust
The crispy pie crust for this apple pie is made with cassava flour and tapioca starch, which are two gluten-free, grain-free flours that are AIP- and Paleo-friendly. The two flours both come from the cassava plant. Cassava flour is high in resistant starch, which helps make us feel satisfied and full and feeds the "good" bacteria in the gut to help reduce inflammation. Tapioca flour helps make the texture of the pie crust crispy and easier to roll out.
The crust is also made with palm shortening, which is a great fat to use for making crust because it doesn't add any extra flavor but helps make a crispy, flaky crust. I freeze the palm shortening for a few minutes and chop it up into pieces, then pulse it together with the flours in a food processor. Then I add cold water and pulse the whole mixture together to make a dough that can be rolled out and baked just like traditional pie crust.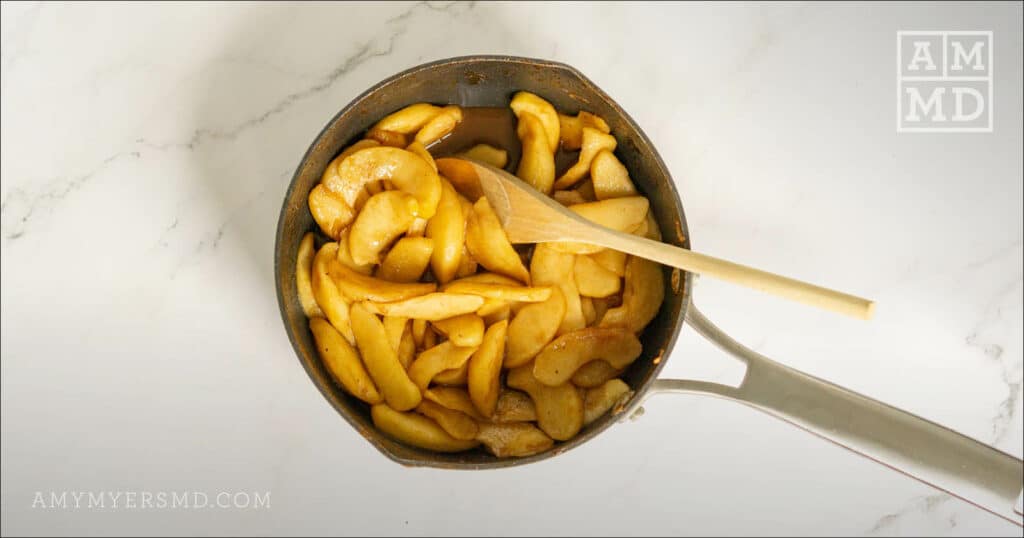 Dr. Amy Myers
May 13th, 2022
https://content.amymyersmd.com/recipe/gluten-free-caramel-apple-pie/
Paleo caramel apple pie
AIP Apple Pie Filling
One of the reasons I love this apple pie is that you can make the cinnamon apple filling on the stovetop while the crust bakes.
This recipe uses loads of fresh apples and cooks them down in a large saucepan with some cinnamon, nutmeg, coconut sugar, lemon juice, and gelatin. The cinnamon and nutmeg give this apple pie a lot of warm flavor. These spices also contain a lot of antioxidants which help the body fight against oxidative damage from free radicals. The coconut sugar sweetens the apples a little, and it is a great AIP- and Paleo-friendly sweetener that is a great alternative to refined sugar. Lemon juice balances out the sweetness of the coconut sugar and apples.
You can use any apples you like for this filling. Green granny smith apples give the pie a more tart flavor, but sweeter apples give it a sweeter flavor. The apples are simmered on the stovetop for 10-20 minutes, depending on how you prefer your pie. The longer you simmer, the softer the apples will be. If you only simmer for 10 minutes, the apples retain a wonderful crunch and fresh apple flavor.
As the apples cook down with the sugar, they release delicious juices. The gelatin dissolves in the juices, and it helps the apple pie filling set as it cools down. Gelatin has similar health benefits as collagen peptides: it helps promote skin, nail, hair, joint and gut health, and it contains amino acids, which help keep our muscles healthy.
Once the crust for the apple pie filling is baked until crispy and golden, you can add the apple pie filling to the crust and allow it to cool to room temperature. Then transfer to the fridge until the apple filling is set.
Paleo caramel apple pie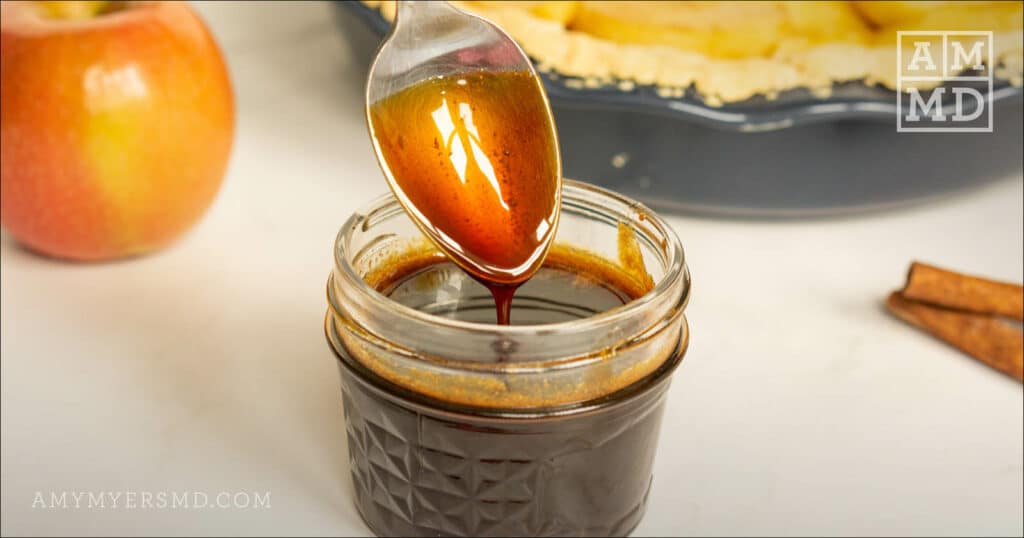 Dr. Amy Myers
May 13th, 2022
https://content.amymyersmd.com/recipe/gluten-free-caramel-apple-pie/
Paleo caramel apple pie
Caramel sauce for apple pie
This apple pie does not have a top crust, and instead I drizzle caramel sauce all over the apple filling. The simple caramel sauce is made with coconut sugar, coconut milk, and a touch of sea salt if you like salted caramel. It's a similar sauce that I use for caramel apples.
The caramel sauce is made by simmering the sugar with the coconut milk until it gets thick and syrupy. You can drizzle the sauce on the whole pie, and let everyone add a drizzle of caramel sauce to their individual slice of pie for extra caramel flavor.
Serving no-bake apple pie
This apple pie is best stored in the fridge, and should be removed from the fridge at least 30 minutes before serving, so it has time to warm up to room temperature.
The pie keeps well in the fridge for up to 2-3 days.
I hope you enjoy this caramel apple pie as much as I do! It's a favorite AIP Fall dessert and a great healthier option for Apple Pie Day.
More apple desserts to try:
Paleo Gluten-Free Caramel Apple Pie
---
Ingredients
For the crust
1

cup

240.00

ml Cassava flour

1/4

cup

60.00

ml tapioca flour

1/2

tsp

2.46

ml sea salt

1/2

cup

NaN

ml palm shortening frozen for 5 minutes

1

tbsp

14.79

ml palm shortening frozen for 5 minutes
For the apple filling
12

apple peeled, cored, and thinly sliced

1/2

cup

120.00

ml coconut sugar

3

tbsp

44.36

ml The Myers Way® Gelatin

2

tbsp

29.57

ml lemon juice

2

tsp

9.86

ml ground cinnamon

1/2

tsp

2.46

ml ground nutmeg

1/2

tsp

2.46

ml sea salt
For the sea salt caramel sauce
3/4

cup

180.00

ml coconut sugar

1

cup

240.00

ml coconut milk

1/2

tsp

2.46

ml sea salt
Instructions
Preheat oven to 375F.

---

Place the palm shortening in the freezer while preparing the rest of the ingredients. After 5 minutes, chop the shortening into rough ½-inch chunks.

---

Add the cassava flour, tapioca flour, and sea salt in a small food processor. Add the chopped palm shortening and pulse until pebble-sized pieces of dough form. Add the ice cold water and process until the dough is more uniform and sticks together when pinched with your fingers.

---

Remove the dough onto parchment paper or wax paper and form a ball with your hands. Roll out the crust to be about 4 inches wider than your pie dish.

---

Place the pie dish upside down over the rolled out crust and carefully flip the pie crust onto the pie dish. Remove the parchment paper and use your hands to press the pie crust into the pie dish. If it tears, just use your hands to stick it together.

---

Use a fork to poke holes all over the pie crust and bake for 30 minutes at 375F.

---

Prepare the apple pie filling by combining all the ingredients in a large saucepan or pot. Cook for 10-15 minutes over medium-low heat, stirring frequently for even cooking and to prevent burning. If you like softer apples, cook for 15-20 minutes. If you want a crunchier apple texture, 10 minutes is enough.

---

Transfer the apple pie filling into the cooked pie dish and allow to cool to room temperature. Place in the fridge for at least 2 hours to set.

---

Prepare the caramel sauce by combining all the ingredients in a small saucepan and bringing to a simmer. Simmer for 5-10 minutes, stirring frequently to not allow the sauce to boil over. Allow to cool, and drizzle the caramel sauce over the apple pie. Serve the apple pie at room temperature.

---