Gluten-Free Chicken & Waffles
July 30 is National Chicken and Waffles Day, so let's celebrate with these AIP-friendly Gluten-free Chicken and Waffles! The combination of crispy flavorful fried chicken on top of perfectly cooked gluten-free waffles with a crispy crust on the outside is so good, especially when topped with a drizzle of honey. It's the perfect meal for any time of day—brunch, lunch, or dinner!
I'll share with you the game plan for how to prepare this dish so that you have hot waffles and chicken all ready at the same time!
Gluten-free waffles
You'll love this easy gluten-free waffles recipe and you'll be going back to it even when you're not making chicken and waffles.
These waffles are made with a combination of gluten-free flours: cassava flour, tigernut flour, and tapioca flour. Cassava flour and tapioca flour come from the same yuca plant. Cassava flour is a great alternative to wheat flour because it is high in resistant starch, which is a type of starch that has the same health benefits as fiber—it keeps us full and helps reduce inflammation in the gut by helping to feed the "good" bacteria. Tigernut flour also contains resistant starch, as well as fiber and vitamin E. The type of fiber found in tigernut flour is insoluble fiber, which helps food move through the digestive system easily.
I recommend sifting the three flours into a bowl to make sure that any lumps that formed in the flour during storage are broken up.
The liquid ingredients for these waffles are dairy-free coconut milk, maple syrup (a natural sweetener without refined white sugar), and melted coconut oil. The combination of coconut oil and maple syrup helps give these waffles a nice crunch as they are cooked in the waffle iron.
Gluten-free chicken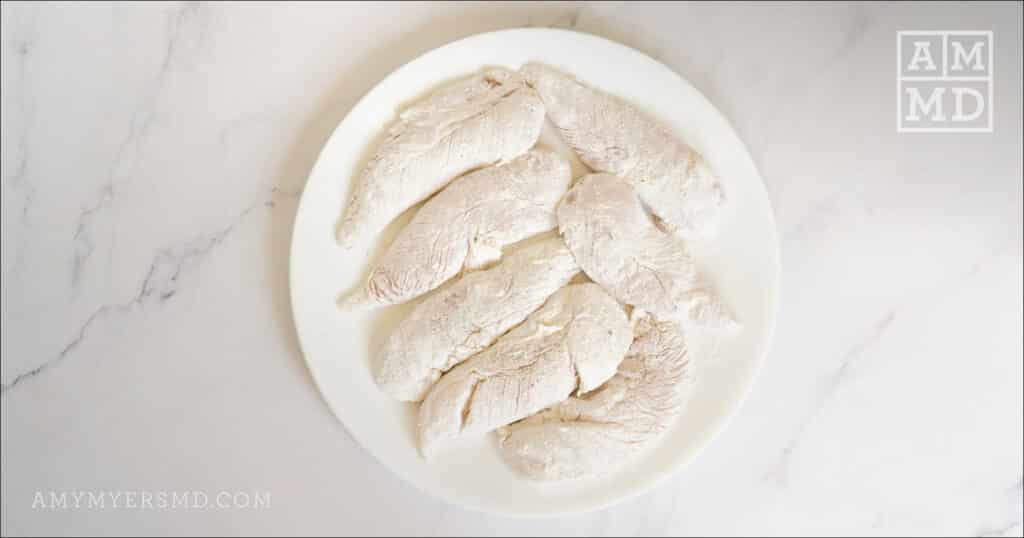 Dr. Amy Myers
July 29th, 2022
https://content.amymyersmd.com/recipe/gluten-free-chicken-and-waffles/
I top these waffles with lightly breaded gluten-free fried chicken tenders. I used chicken tenders because they are a lean, high-protein cut of chicken, and this balances well with frying the chicken in lots of coconut oil.
Chicken tenders are the tenderloin cut from under the chicken breast, and are a delicious, juicy white meat. It is high in protein, which helps repair and build muscle tissue, but is also a great source of niacin, selenium, phosphorus, and vitamins B6, B12, and riboflavin. These vitamins are important for brain function, energy production, and healthy skin.
Look for organic, free-range, hormone- and antibiotic-free chicken tenders to get the most health benefits.
I coat the chicken tenders in a gluten-free flour combination of cassava and tapioca flours, as well as several seasonings: dried basil, dried oregano, onion powder, garlic powder, sea salt, and freshly ground black pepper.
Once the chicken is coated, it cooks quickly in about 8 minutes over medium heat. The hot oil helps make the coating on the chicken nice and crispy, perfect for serving over waffles!
Game plan to make chicken and waffles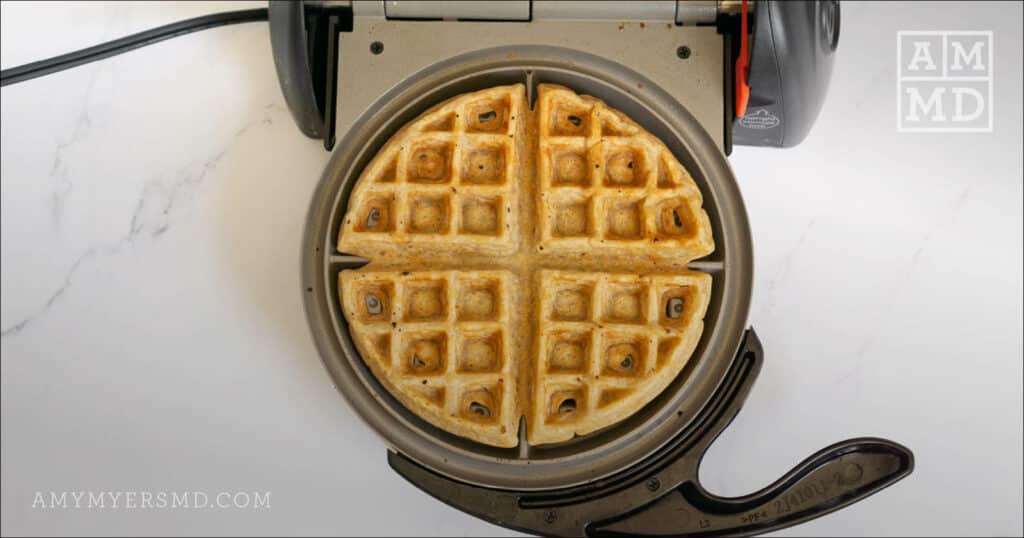 Dr. Amy Myers
July 29th, 2022
https://content.amymyersmd.com/recipe/gluten-free-chicken-and-waffles/
I recommend following this plan to make sure that your chicken and waffles are ready at about the same time, just in time to serve them:
Coat the chicken in seasoned flour and set aside.
Combine in separate bowls the dry ingredients and wet ingredients for the waffles.
Whisk the waffle batter together.
Start cooking the chicken on the first side.
Start cooking the waffles—you should be able to cook one waffle while the chicken is cooking on one side.
Flip the chicken and cook until done. Set aside on a paper towel.
Finish cooking the waffles.
Serve hot.
How to serve chicken and waffles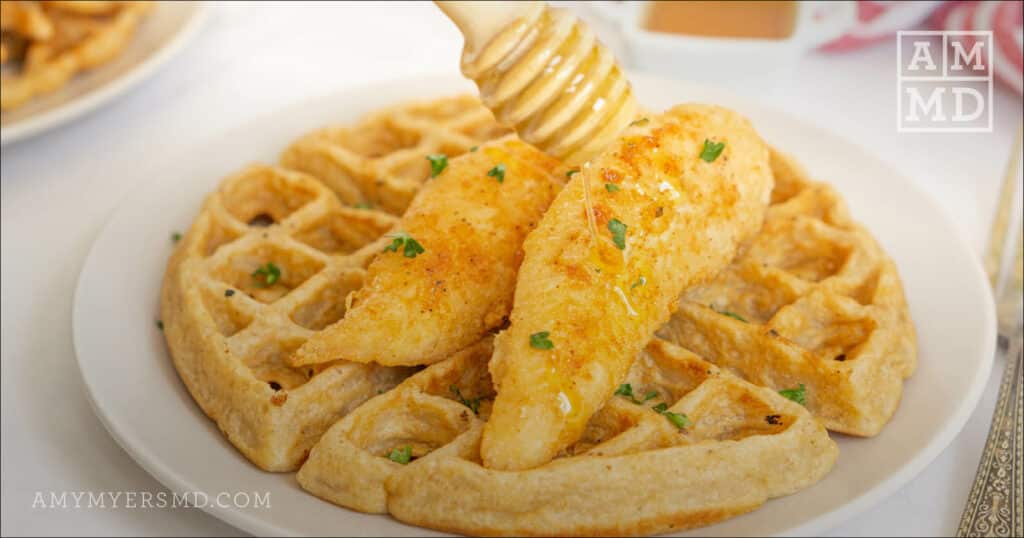 Dr. Amy Myers
July 29th, 2022
https://content.amymyersmd.com/recipe/gluten-free-chicken-and-waffles/
I like to serve these chicken and waffles with a drizzle of honey on top. Honey is a healthy AIP-compliant sweetener without any refined sugar, and it has antibacterial and anti-inflammatory properties.
You can also use maple syrup instead of honey.
However you choose to serve these gluten-free chicken and waffles, I guarantee you will enjoy your National Chicken and Waffles Day!
Gluten-Free Chicken & Waffles
---
Ingredients
For the waffles:
3/4

 cup 

180.00

 ml Cassava flour

1/4

 cup 

60.00

 ml Tigernut flour

1/4

 cup 

60.00

 ml tapioca flour or tapioca starch

1

 tsp 

4.93

 ml baking powder

1

 cup 

240.00

 ml unsweetened organic coconut milk

3

 tbsp 

44.36

 ml coconut oil melted

1

 tbsp 

14.79

 ml maple syrup
For the chicken:
1

 lb 

454.00

 g organic chicken tenders

1/2

 cup 

120.00

 ml Cassava flour

1/4

 cup 

60.00

 ml tapioca flour

1

 tsp 

4.93

 ml sea salt plus extra to taste

1

 tsp 

4.93

 ml ground black pepper plus extra to taste

1

 tsp 

4.93

 ml dried oregano

1

 tsp 

4.93

 ml dried basil

1

 tsp 

4.93

 ml garlic powder

1

 tsp 

4.93

 ml onion powder
coconut oil for frying
For serving:
finely minced fresh scallions optional
finely minced parsley optional
honey optional
maple syrup optional
Instructions
Sift together the 3 flours into a large bowl. Add the baking powder and mix well. In another bowl, combine the coconut milk, melted coconut oil, and maple syrup, and whisk together until well combined.


---

Pour the wet ingredients into the dry ingredients and whisk together until no lumps remain. Do not over mix.


---

Cook the waffles according to the waffle iron manufacturer's instructions, about 4 minutes total cooking time, flipping halfway if your waffle iron has that feature.


---
Combine the cassava and tapioca flour with 1 teaspoon of each seasoning and mix well.


---

Season the chicken tenders with salt and pepper on both sides, then dredge in the seasoned flour mixture to coat completely.


---

Preheat a large pan and add enough oil to have an ¼-inch layer of oil on the bottom of the pan when melted. Fry the seasoned chicken tenders for about 3-4 minutes, or until golden brown. Carefully flip using tongs and cook on the other side for 3-4 minutes, or until fully cooked. Place on a paper towel to absorb extra oil.


---

Serve chicken over waffles, garnishing with fresh herbs and drizzling with honey or maple syrup.


---