Gluten-Free Protein Waffles
Just because you're following a low-FODMAP diet doesn't mean you have to sacrifice a sweet and savory breakfast. Bonus points if you can also add in high protein! These Gluten-Free Protein Waffles are a low FODMAP twist to one of my favorite breakfast meals. I know you're going to love them as much as I do.
What's in these Gluten-Free Protein Waffles?
Traditional waffle recipes contain gluten, dairy, and other inflammatory ingredients. These protein waffles keep the delicious flavor of thick and fluffy waffles that you love without gluten, sugar, and dairy. By adding The Myers Way® Vanilla Bean Paleo Protein, you get a roubust flavor and 21 grams of protein.
Sourced from non-GMO, hormone, and antibiotic-free,  grass-fed beef, The Myers Way® Vanilla Bean Paleo Protein contains 21 grams of protein per serving and is an excellent source of essential and collagen-specific amino acids.  
They're perfect for a weekend breakfast that feels indulgent but is totally healthy. I love to make them after a morning workout alongside fresh berries and a drizzle of raw, organic maple syrup.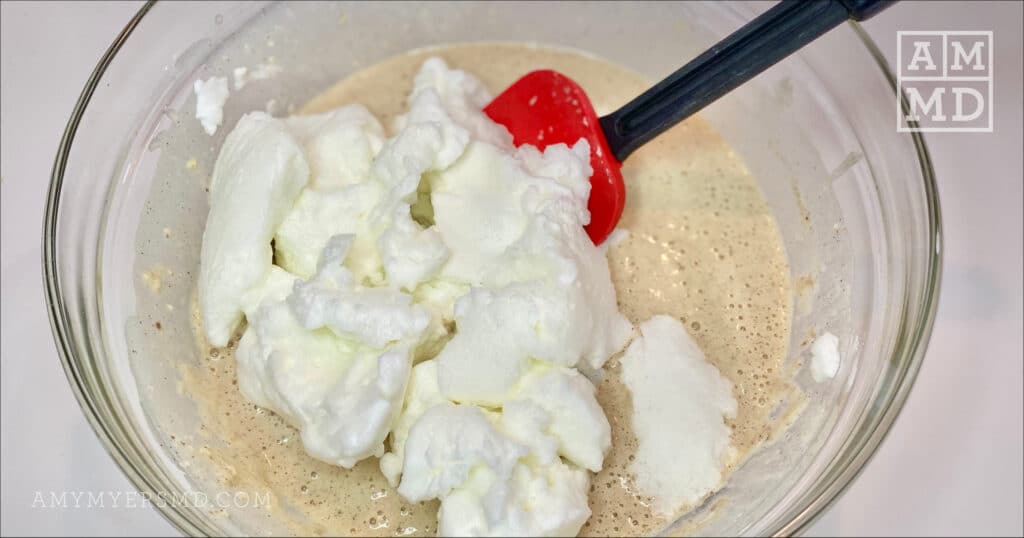 Dr. Amy Myers
April 20th, 2023
https://content.amymyersmd.com/recipe/gluten-free-protein-waffles/
Gluten-Free Protein Waffles
How to Make Gluten-Free Protein Waffles
Making these Gluten-Free Protein Waffles couldn't be simpler. First, preheat your waffle maker. In a large bowl, mix your dry ingredients including your protein powder. 
Separate your egg whites and yolks, and then beat your egg whites with an electric mixer until they're white and stiff. This could take anywhere from 5 to 10 minutes depending on your mixer.
In a separate bowl, mix the rest of your liquid ingredients. Then, combine the bowl of dry ingredients with the liquid ingredients (not including the egg whites).
Now, gently fold in the egg whites into the other mixture. Avoid mixing or aggressively stirring. Gently folding the egg whites into the batter is what will give your waffles that iconic thickness and fluffy texture.
Now, spray your waffle iron. Pour batter into your waffle iron and cook until it's reached your desired color.
These waffles are perfectly served hot with a drizzle of warm or organic maple syrup. They're delicious with fresh berries, too. 
Enjoy!
Gluten-Free Protein Waffles
---
Servings
4 waffles (varies based on type of waffle makers used)
Ingredients
2

cups

480.00

ml Cassava flour

1

tbsp

14.79

ml baking powder

1/2

tsp

2.46

ml sea salt

1

tsp

4.93

ml ground cinnamon

2

large egg separate yolks

1/2

cup

120.00

ml coconut oil

2

cups

480.00

ml unsweetened almond milk

1

tsp

4.93

ml alcohol-free vanilla extract
Instructions
Preheat your waffle iron to desired setting.

---

In a large bowl, whisk together cassia flour, baking powder, protein powder, salt, and cinnamon (optional).


---

Beat egg whites in an electric mixer or in a bowl with a hand mixer until soft peaks form.


---

In a separate bowl mix egg yolks, coconut oil, almond milk, and vanilla extract.


---

Add the egg yolk mixture to the dry ingredients. Mix until smooth.

---

Carefully fold your egg whites into the batter.

---

Spray your waffle iron with coconut oil spray and cook according to directions and desired color.


---

Serve immediately with maple syrup and Low-FODMAP fruit such as strawberries, raspberries, or blueberries.


---