Gut Healing Chicken Bone Broth
This homemade chicken bone broth is a recipe with countless benefits. It's full of collagen and gelatin to improve your gut health, skin health, and joint health. The broth recipe follows every protocol including The Myers Way®, and it's the perfect addition to your healthy diet as we start to pull on our cozy sweaters for fall weather.
How Bone Broth Heals the Gut
Homemade bone broth is a fantastic source for several gut-healing, anti-inflammatory components. Pasture-raised and grass-fed animal bones and joints are rich in amino acids, collagen, and gelatin, all of which support healthy bones, joints, and skin — some of the most important and largest parts of your body!
Because collagen is an essential building block for a healthy gut lining, you can help repair any damage by ingesting collagen-rich foods and supplements such as bone broth, animal bones/skin/cartilage, and hydrolyzed collagen powder.
How Much Bone Broth to Drink Daily
Bone broth is a very gentle, nourishing food that can help support your immune system, modulate your inflammatory response, and optimize skin, hair, and nail health. For these general benefits, you can consume bone broth several times a week. You can even use it to make soups, stews, or sauces. However, one of my favorite ways to get bone broth in my diet is pouring it into a mug with a pinch of sea salt and drinking it! It's a perfect, warm and soothing lunch for those days when you want to snuggle up in a blanket on the couch. You'll see the best results using bone broth on your gut-healing journey when you aim to have four to eight ounces each day.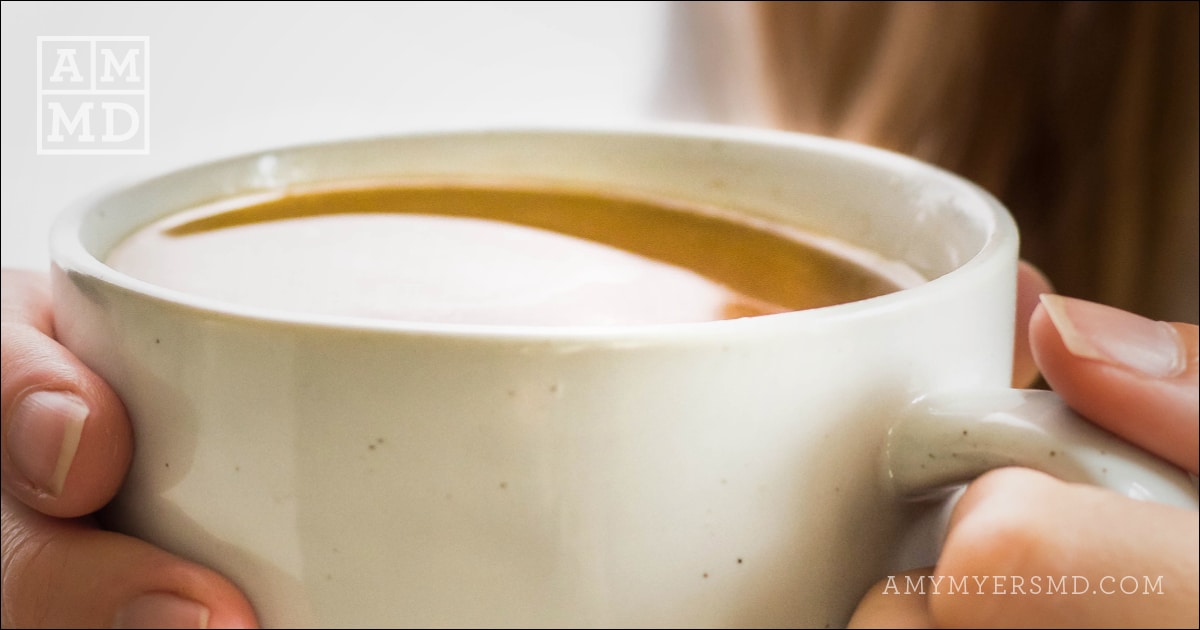 How to Make Gut Healing Bone Broth
One of the best parts about bone broth is how incredibly easy and affordable it is to make from scratch. This recipe is pretty much foolproof. All you need is a chicken carcass (keep the bones of a roasted chicken on hand after cleaning the meat off), water, veggies and herbs, apple cider vinegar, and a slow cooker.
Finely chop your vegetables and herbs, measure out the water and apple cider vinegar, and place all the ingredients in your slow cooker for 8-10 hours. When the time is up, strain your solid ingredients from the broth (being sure to skim off any fat), and pour it into containers to store or freeze.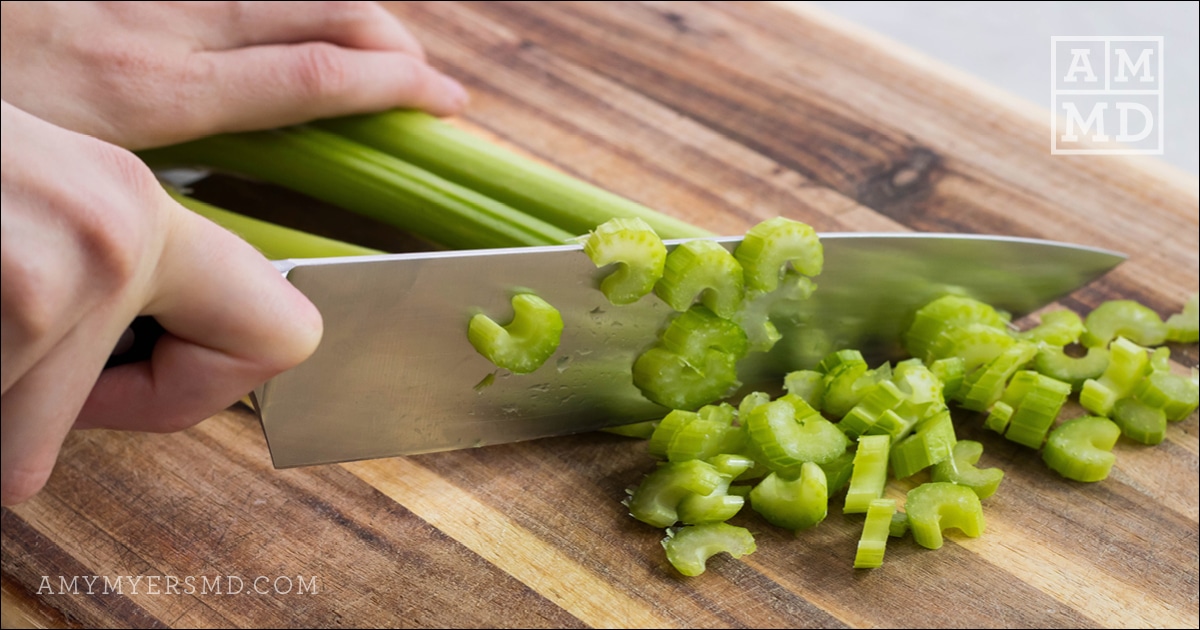 The Ingredients in My Gut Healing Chicken Bone Broth
Chicken Carcass
Homemade bone broth is such an economical option. It reduces food waste and can be used in a variety of other recipes. Instead of throwing away a carcass after you've used the meat for a meal, you can repurpose it for a gut-healing bone broth instead. I recommend choosing a pasture-raised chicken of any size to ensure you're using the highest-quality ingredients for your bone broth.
Vegetables
The celery, yellow onion, garlic, parsley, and ginger root in this recipe add flavor and nutrients to the broth. I recommend using fresh, organic veggies, but you can utilize vegetable scraps as well.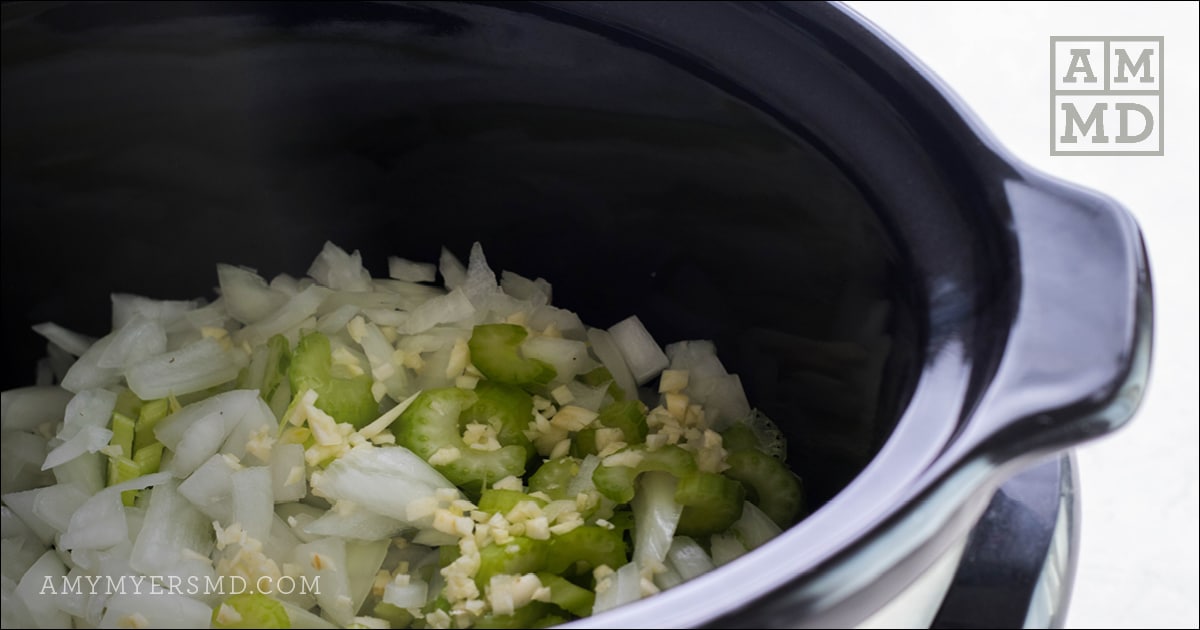 Water
Don't overlook this essential ingredient! Use pure, filtered water to make this bone broth. It will taste better and prevent toxins such as heavy metals and chemicals out of your gut-nourishing bone broth.
Apple Cider Vinegar
Aside from its digestion-boosting, anti-inflammatory properties, apple cider vinegar helps pull minerals, amino acids, and gelatin from the bones of your chicken carcass. Go for raw, organic apple cider vinegar "with the mother" for the full range of benefits. Bragg's Apple Cider Vinegar is a trusted brand.
Slow Cooker
While this isn't an ingredient, it is an important component! Depending on the size of your carcass, you'll need either a 4 or 6-quart slow cooker. Don't use an Instant Pot for this recipe, as bone broth needs to be simmered longer to get its healing properties.
How to Store Gut Healing Chicken Bone Broth
Fresh bone broth is amazing! If you have a small batch, go ahead and make a soup or stew with the broth. However, if you want to store or freeze your bone broth, you definitely can.
Homemade bone broth will last about 5-7 days in the fridge in a sealed container. Use glass jars if possible — mason jars work wonderfully. If fat collects on the top, simply scoop it off and discard it (don't re-use it!) before consuming.
To freeze bone broth for up to a year, store in sterilized silicone bags or airtight glass containers. Alternatively, you can flash-freeze cubes of bone broth in metal or silicone ice cube trays then place in a container to have pre-portioned servings on hand for sauces!
Gut Healing Chicken Bone Broth
---
Ingredients
1

whole chicken carcass

8

cups

1920.00

ml water filtered

6

stalks celery finely chopped

1/2

white onion or yellow onion, finely chopped

3

cloves garlic finely copped

1

Tbls

14.79

ml parsley chopped

1

inch

2.54

cm ginger root finely chopped

1/2

tsp

2.46

ml sea salt

1/2

tsp

2.46

ml apple cider vinegar
Instructions
Clean the meat and skin off your chicken carcass. It's okay if you leave a bit of the skin and meat on, but in general, you'll want a fairly clean carcass.

---

Place the vegetables into the crockpot and top with the carcass.

---

Pour 8 cups of water on top, and add sea salt and apple cider vinegar.

---

Cover with the lid of your crockpot, and cook on low heat for a minimum of 12 and maximum of 24 hours. The longer it cooks, the more healing benefits you'll receive.

---

When the crockpot has finished cooking, carefully remove the crock with hot pads. Use a strainer to separate the bone broth from the vegetables and bones in the crock. Pour into glass jars for storage.

---

Store broth in a sealed container in your refrigerator for up to a week. Any excess broth can be stored in the freezer and defrosted to enjoy later.

---