Gut-Nourishing Açaí Bowl
As we begin to navigate cold and flu season, I'm always looking to create recipes that pack equal amounts of antioxidants and bright, fresh flavor. This Gut-Nourishing Açaí Bowl is exactly that. It's also a quick breakfast substitute!
My açaí bowl recipe is easily blended in seconds. The base of the flavor and vivid color comes from frozen açaí berries, which are packed with free radical scavengers and fiber.
Along with the frozen açaí packet, you'll add in a third cup of organic almond or coconut milk, half of a frozen banana, a half cup of your favorite berries, and a scoop of Leaky Gut Revive Strawberry Lemonade to amp up the berry flavor and offer gut nourishing benefits.
Simply blend until thick and creamy, and pour into a bowl. Then you'll add your toppings of choice. I love to add sliced bananas, strawberries, and blueberries to increase fiber, nutrients, and fresh flavor.
I also enjoy gluten-free granola and coconut flakes on my açaí bowls—the added crunch provides wonderful texture to the creamy açaí blend.
Other topping ideas to try:
Unsweetened, organic coconut flakes
Kiwi
Mango
Organic nut butter
Drizzle of honey
Nuts (if you don't have allergies or sensitivities)
Chia, flax, or pumpkin seeds
Hemp hearts
Add Leaky Gut Revive® For Gut Health Benefits
Around 80% of your immune system is in your gut. If your gut's microbiome is off balance, immunity suffers and you become vulnerable to a host of uncomfortable side effects.
What makes this açaí bowl "gut-nourishing" is the addition of Leaky Gut Revive Strawberry Lemonade, a physician-formulated, natural blend of nutrients designed to soothe and repair your gut quickly. 
With a combination of ingredients like marshmallow root powder, licorice root powder, slippery elm bark powder, aloe vera leaf powder, and more, Leaky Gut Revive Strawberry Lemonade in this açaí bowl can heal your gut with flavor.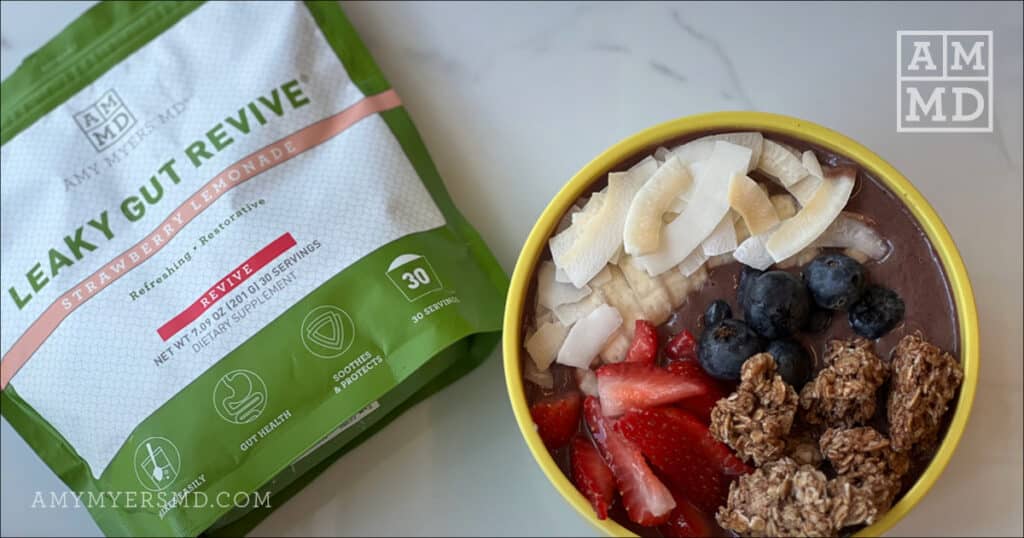 Ingredients
For the Bowl
1

 pack acai pure frozen

1/3

 cup 

80.00

 ml coconut milk

1/2 

banana frozen
For the toppings
1/2 

banana sliced

3 

strawberries sliced

1/4

 cup 

60.00

 ml blueberries

1

 tbsp 

14.79

 ml unsweetened coconut flakes
Gluten-free granola optional
Instructions
Prep topping ingredients by setting out fruit and granola. Slice the bananas and strawberries.

---

Add the bowl ingredients to a high speed blender and blend until smooth, thick, and creamy.

---

Pour the blended mixture into a bowl.

---

Top with desired fruit and granola. Enjoy!

---