Instant Pot Butternut Squash Soup
Need a delicious soup to celebrate fall? This Instant Pot Butternut Squash Soup is the perfect recipe to really get into the season. It's so simple and easy to make, thanks to how the recipe uses an "Instant Pot." With only gluten-free and dairy-free ingredients, this allergy-friendly soup makes a wonderful, cozy, weeknight meal.
How to Make Instant Pot Butternut Squash Soup
First, you have to prepare all your ingredients. It makes the process so much easier when you have all of your ingredients ready before you start cooking. Peel, chop, slice, and dice your fresh ingredients including your onion, garlic, ginger, squash, sweet potato, and apple. This way, they're ready to toss into the Instant Pot. Alternatively, you can purchase pre-chopped ingredients to make this an even simpler weeknight meal. Then, you'll measure out your spices and liquids.
Once you have your mise en place ready, set your Instant Pot to the 'saute' function and add the onion and garlic. Saute the onion and garlic until they're nice and caramelized, making sure to stir frequently so nothing burns.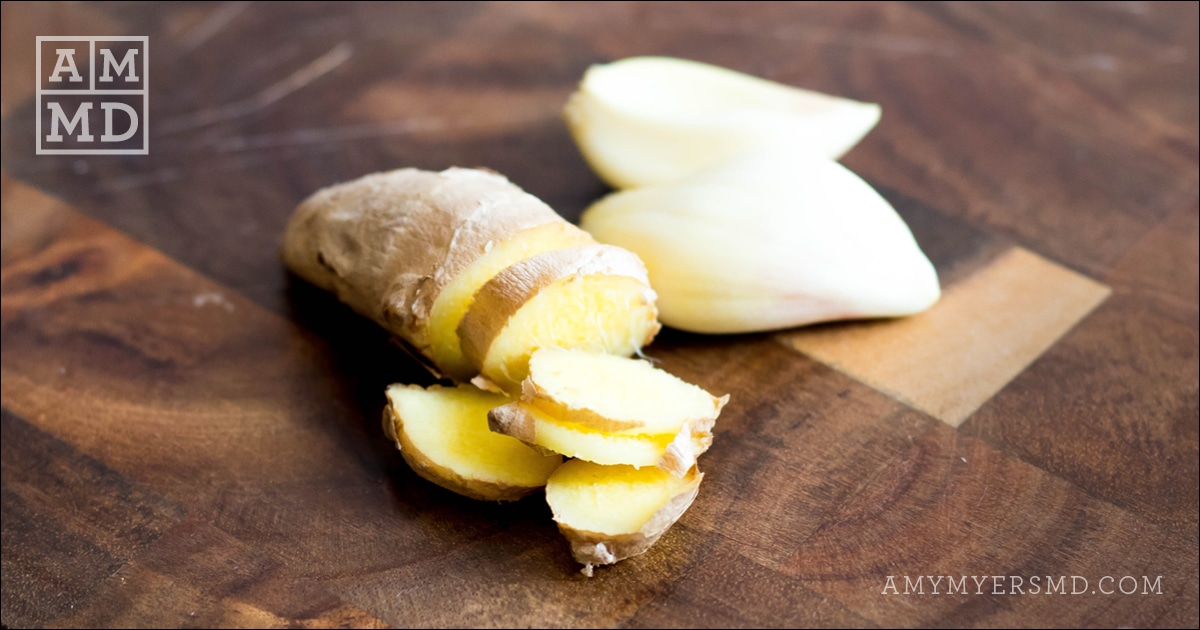 Now, it's time for the best part — putting dinner on auto-pilot! Add the remaining fresh ingredients and liquids to the Instant Pot, cover and seal the appliance, and use the 'soup' function to cook everything for about 15 minutes. This is actually a great time to clean up the kitchen so you can relax after dinner time is over. Once the timer goes off, quick release the pressure from your Instant Pot.
Use an immersion blender to blend all the ingredients, or you can let your soup cool completely and puree it in a high-powered blender. Once the soup is blended till smooth, season with salt to taste.
Optional toppings include a swirl of coconut cream, fresh herbs like cilantro or sage, caramelized onion strips, or even edible flowers. If you've reintroduced foods into your diet plan, you can also try topping your soup with a sprinkle of roasted pumpkin seeds or pecan pieces.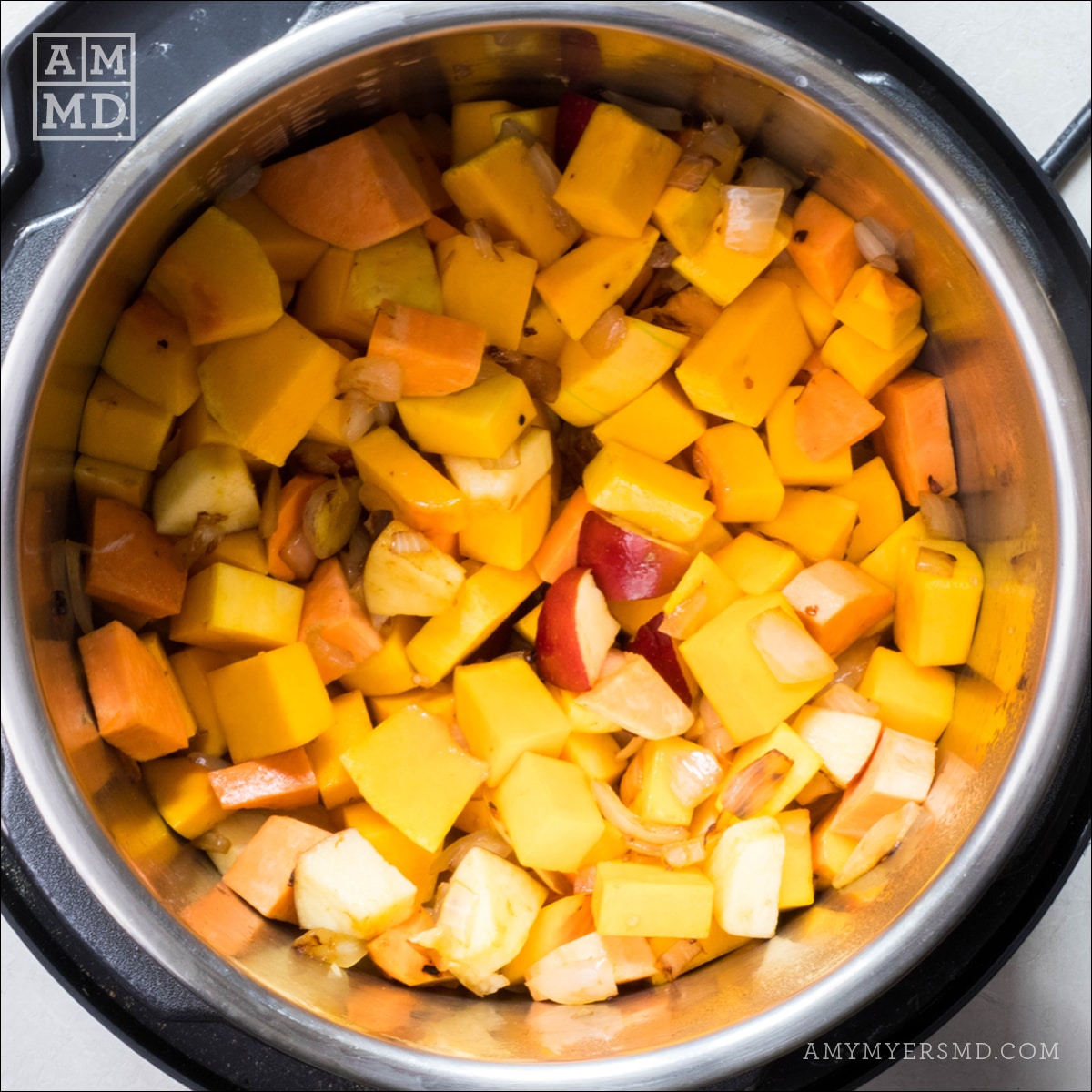 Can I Use a Slow Cooker Instead?
If you don't have an Instant Pot, you can use a slow cooker or even the stovetop method. Granted, you will have to adjust the recipe instructions.
To use a slow cooker, you will first saute your onion and garlic in a pot or pan on the stovetop before adding them to your slow cooker with the other ingredients Then cover the chopped fruit and vegetables with broth and cook on low for 6-8 hours. Use an immersion blender or let cool before pureeing in a regular blender. Season to taste afterward.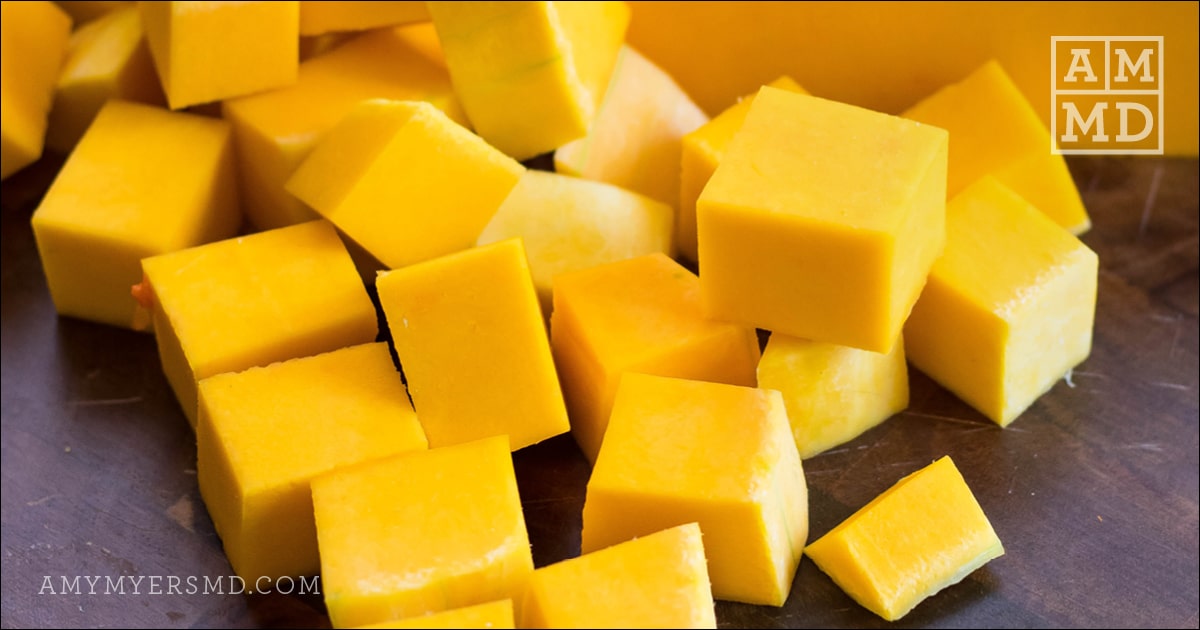 For the stovetop method, simply use the same large pot for everything. You'll need to let your soup simmer for a little longer because all the ingredients need to be tender prior to blending or pureeing your soup.
I can tell you now, no matter which method you use, cooking this soup will make your house smell amazing!
The Health Benefits of My Instant Pot Butternut Squash Soup
This soup is a great option for dinner whether you're following The Myers Way®, AIP, Whole30, or a paleo diet. It's filled to the brim with nutrient-dense ingredients. Here are a few of my favorite healthy ingredients in this Instant Pot Butternut Squash Soup.
Butternut Squash
Butternut squash is one of my favorite fall/winter vegetables. It's rich in the antioxidant beta carotene, as well as fiber, Vitamin E, and a range of B vitamins.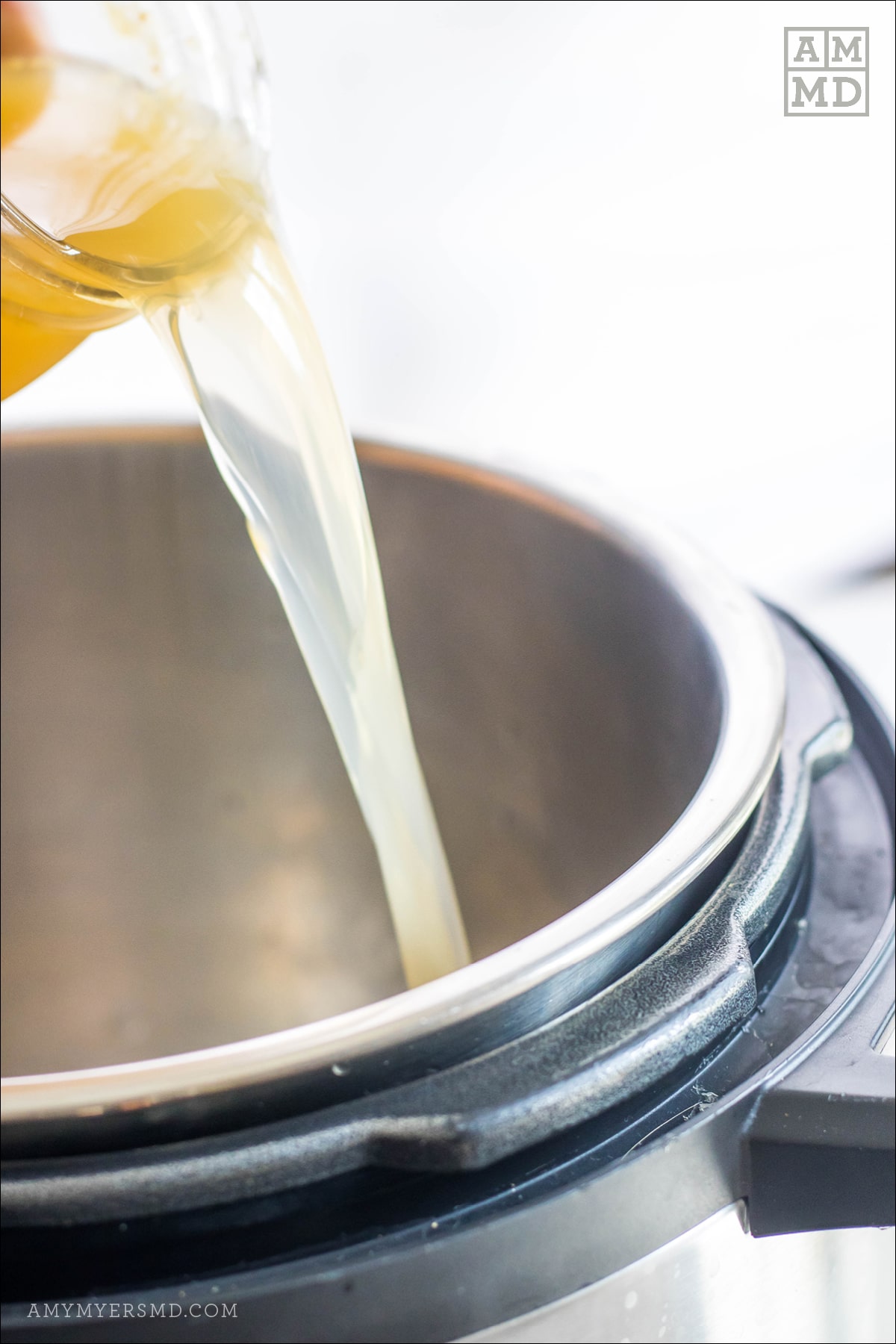 Bone Broth
I highly recommend using homemade bone broth in this recipe for the richest, most nutrient-dense soup. Bone broth is a wonderful source of amino acids, collagen, and gelatin. It's a staple in any gut-healing diet.
Cinnamon
Cinnamon is known to help maintain blood sugar balance and healthy cholesterol levels. It also gives this soup the subtly sweet, autumnal flavor that you've longed for even before the start of fall.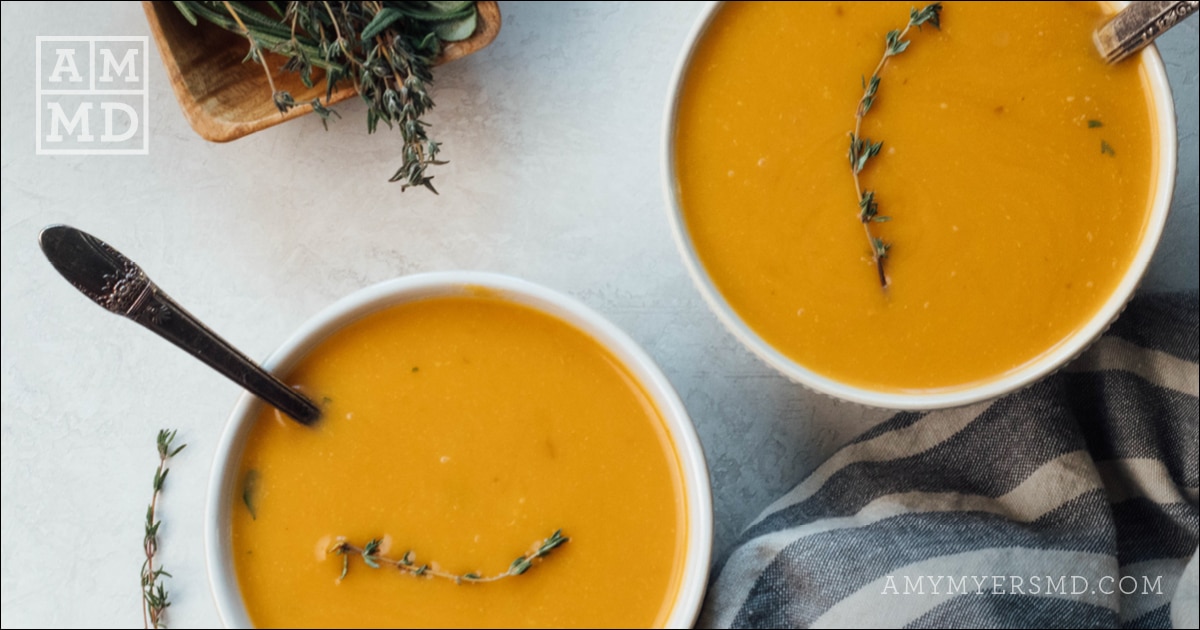 How Do I Store this Instant Pot Butternut Squash Soup?
One of my favorite reasons to make soup is because it is such a batch-friendly meal. You can easily double the recipe, as long as your Instant Pot is large enough so that you have meal-prep for days.
This Instant Pot Butternut Squash Soup will keep in the refrigerator for 4-5 days in airtight containers. You can also freeze the leftovers if you'd rather save it for another time. The best way to do this is to let your soup cool completely, then pour into reusable, food-grade silicone bags. Squeeze all the air out and lay flat in your freezer. Before reheating the soup after it's been frozen, I recommend letting the soup thaw in the refrigerator, then use a saucepan on the stovetop to warm the soup to your desired temperature.

Instant Pot Butternut Squash Soup
---
Ingredients
1

Tbls

14.79

ml coconut oil melted

1

onion diced

2

cloves garlic peeled and minced

2

butternut squash about 6 cups, peeled and cubed

1

sweet potato peeled and cubed

1

apple peeled, cored, and chopped

1

Tbsp

14.79

ml ginger approximately 1 inch, peeled and sliced

1/2

Tbls

7.39

ml ground cinnamon

6

cups

NaN

ml bone broth

13.5

oz

399.25

ml full fat coconut milk unsweetened

2

Tbls

29.57

ml lemon juice
sea salt
Instructions
Turn on the 'saute' function of your Instant Pot and let the coconut oil melt in the pot.

---

When hot, add onion to the pot and stir occasionally for about 5-10 minutes until caramelized. Add garlic to the onions and saute for another minute.

---

Add all remaining ingredients to the Instant Pot, except for the sea salt. Put the cap on the Instant Pot, and make sure the vent is set to seal. Turn on the 'soup' or 'manual' function, and set the time at 15 minutes. It will take about 15 minutes to come to pressure, and then the Instant Pot will countdown from 15 minutes.


---

When the Instant Pot is done, do a quick release by turning the valve to vent. When all the pressure is released, carefully remove the lid and use an immersion blender to puree the soup. If you're using a regular blender, wait for the soup to cool before pureeing it in batches. The soup should be completely smooth.


---

Season with salt to taste and serve.

---