Italian Dressing Chicken
It's time to dress up your chicken with a creamy, healthy marinade that will ramp up flavor and fit into dinner menus for all occasions. Italian Dressing Chicken is the perfect, easy dish to prepare for the family or dinner guests. Covered in an Italian dressing marinade and baked in the oven, this healthy chicken dish turns out deliciously savory and tender. It's suitable for paleo diets and The Myers Way®, yet this baked chicken with Italian dressing is sure to please even those who don't follow a specific diet protocol.
Is Italian Dressing Chicken Nutritious?
Yes, this Italian Dressing Chicken is a healthy option that's full of nutrients. This is a protein-rich dish full of herbs and healthy fats from the marinade, and it pairs perfectly with roasted vegetables or a side salad to make it a full meal that covers all your bases. Let's look at some of the awesome ingredients in this dish: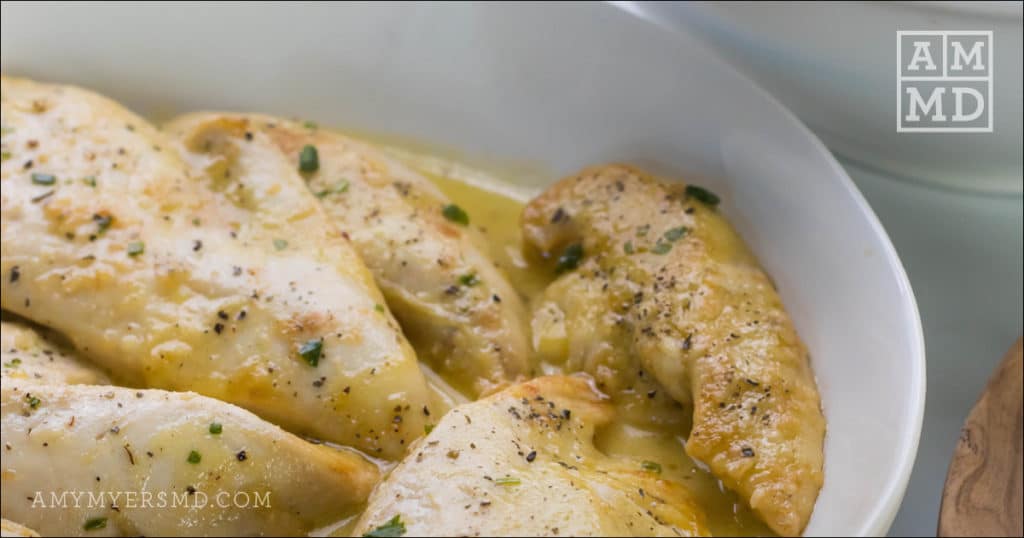 Chicken Breast
Pasture-raised chicken is a great source of lean protein that's full of a variety of vitamins and minerals. Chicken breast especially offers a substantial amount of protein in addition to chicken's Vitamin B6, niacin, phosphorus, and selenium content.
This recipe works best with chicken breast, but you can use boneless, skinless thighs or tenders as well. Just be sure to adjust the cook time accordingly.
Extra Virgin Olive Oil
Extra virgin olive oil is a staple in healthy diets. With all of its monounsaturated fats and antioxidants, olive oil can fight free radical damage, improve digestion, and protect heart health.
Olive oil is perfectly safe to use in cooking at moderately high temperatures, such as the 350 degrees used in this recipe. Make sure that you're buying and using genuine olive oil, rather than cheaper olive oils that can be cut with other less healthy oils.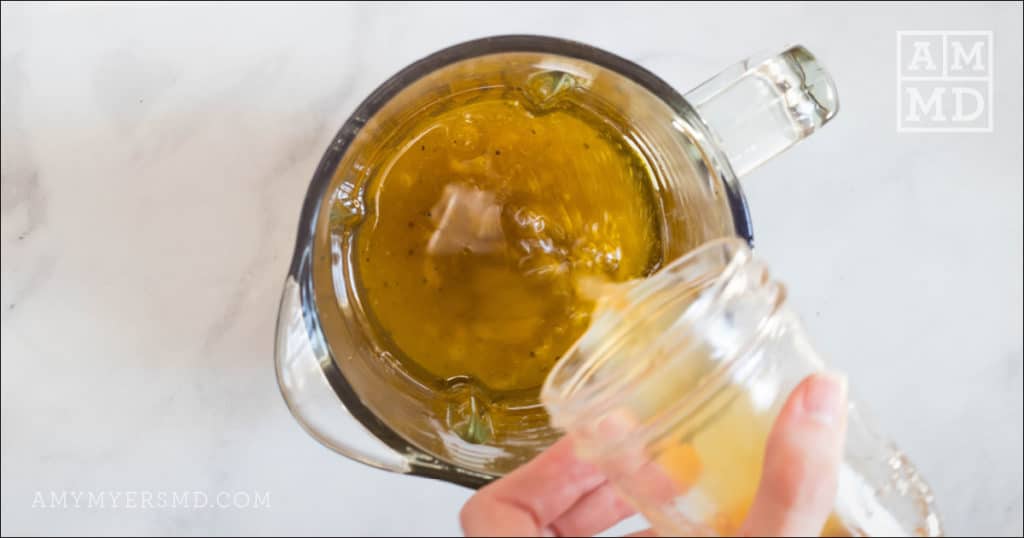 Garlic, Spices, and Apple Cider Vinegar
Far from simply being a flavorful addition to your dish, garlic is actually a nutrient-packed vegetable. Garlic provides B Vitamins, Vitamin C, and a range of minerals including manganese and copper.
Spices such as ginger and onion powder also add flavor, nutrients, and may even help combat inflammation in the body. While apple cider vinegar is known to support healthy digestion and your body's inflammatory response.
How to Make Italian Dressing Chicken
First, make your marinade by combining olive oil, garlic, spices, honey, Dijon mustard, and apple cider vinegar in a blender. Blend on high speed until the mixture is emulsified.
Now, place your chicken in a sealable container such as Tupperware or a silicone bag. Cover with the marinade and flip to evenly coat. Place the sealed container in the refrigerator for at least an hour. Ideally, allow the chicken to marinate overnight. The longer the chicken marinates, the more flavor it gets from the Italian Dressing.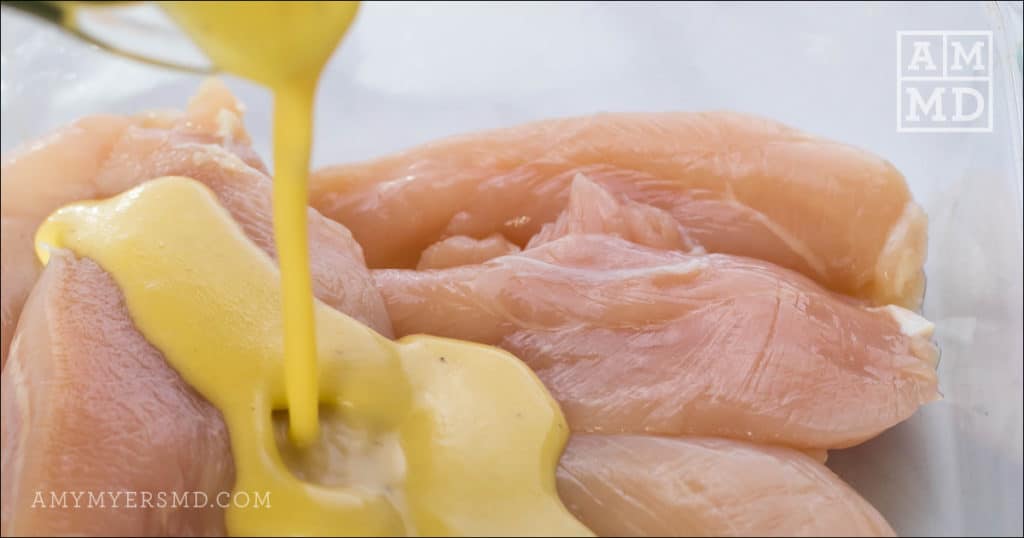 When you're ready to bake your chicken, discard excess marinade and place chicken on a baking sheet. Bake at 350 degrees for an hour, flipping halfway through.
Serve with roasted broccoli, an Italian side salad, or sliced over spaghetti squash. You can even whip up an extra batch of Italian Dressing to drizzle over your side dish.
Can You Freeze Italian Dressing Chicken?
You can freeze this Italian Dressing Chicken before or after cooking. If you freeze prior to cooking, allow the chicken to marinate for at least an hour in the fridge before you transfer it to the freezer. When reheating, allow the chicken to thaw in the refrigerator and then follow the instructions for baking.
You can also freeze this chicken after baking, but keep in mind that it may be drier when you're ready to reheat your meal. You can make an additional small batch of the marinade and pour it over the chicken before baking to help combat dryness. Allow chicken to cool before sealing in an airtight container to freeze. Reheat in a warm oven at 350 degrees until chicken is warmed through.
When stored in the refrigerator, your Italian Dressing Chicken will last for 3-4 days.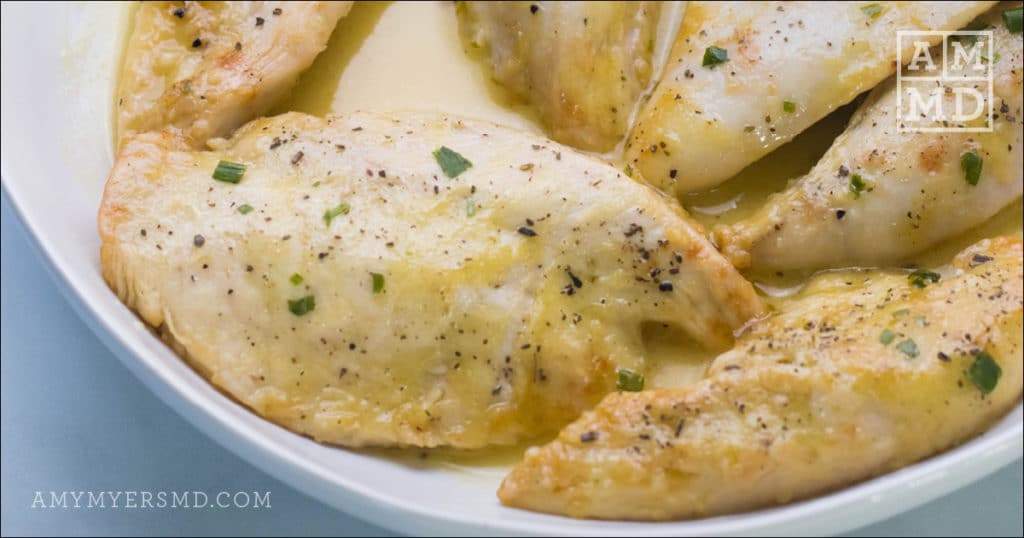 Ingredients
1.5

lbs

681.00

g chicken breast or 4 boneless, skinless chicken breasts

1

cup

240.00

ml extra virgin olive oil

4

cloves garlic minced

1/2

tsp

2.46

ml onion powder

1/2

tsp

2.46

ml ground ginger

1

tbsp

14.79

ml honey

1

tbsp

14.79

ml dijon mustard

1/2

cup

120.00

ml apple cider vinegar

1/2

tsp

2.46

ml sea salt

1/2

tsp

2.46

ml ground black pepper
Instructions
Combine all ingredients excluding chicken breast in a high powered blender. Blend until emulsified.

---
Put chicken breasts in a sealable container, and cover with Italian Dressing marinade. Flip the chicken breasts to ensure they are evenly coated in the marinade. Seal the container and place in the refrigerator for at least 1 hour or overnight. The longer you leave the chicken in the marinade, the more flavor the chicken will absorb.

---

Preheat oven to 350 degrees F.

---

Remove chicken from the container and discard the marinade. Place chicken on a greased or a rimmed, parchment-lined baking sheet. Bake at 350 degrees for 30 minutes. Remove from oven, turn chicken breasts with tongs, and return to the oven for another 30 minutes. Cook for about 1 hour total, or until chicken is cooked through.

---