Keto New England Clam Chowder
I may have grown up in the south, yet sometimes a warm bowl of clam chowder hits the spot.
In Louisiana, we ate a lot of gumbo with shrimp, crab, and crawfish. When I tried clam chowder for the first time, it was love at first bite. If you love a bowl of warm, nourishing soup as much as I do, then this Keto New England Clam Chowder is precisely what you need to refresh your weeknight menu.
Creamy and perfectly seasoned, this easy recipe can be made in an Instant Pot for a quick dinner the whole family will love, or use a slow cooker for a more flavorful meal. This healthy version of this classic comfort food can be enjoyed by those who eat Paleo and AIP diets all year.
Can Clam Chowder Be Healthy?
With the right ingredients, New England clam chowder can be a great addition to any healthy diet. This Keto New England Clam Chowder is full of nutrient-dense ingredients to make it a perfectly healthy meal. Let me tell you about the healthy alternatives I used in this Keto and AIP-approved version of New England clam chowder:
Clams
While many people go straight into eating clams, you should stop to take a minute and consider all the nutrients that clams have to offer, such as B vitamins such as niacin, and minerals including magnesium as well as iron. Clams also contain high levels of zinc and selenium; two minerals can be difficult to get in our everyday diets. Lastly, clams are a great source of adding omega-3 fatty acids to your diet without the risk of mercury poisoning.
Full Fat Coconut Milk
Coconut milk serves as the base to keep this clam chowder recipe dairy-free and creates a rich, creamy broth. Coconut milk is rich in healthy saturated fats to keep you full and satisfied, as well as medium-chain triglycerides to promote optimal health.
Arrowroot Powder
Arrowroot powder takes the place of refined wheat flour in this Keto and AIP-approved recipe. This starchy powder thickens the soup and gives the Keto New England Clam Chowder a thick creaminess without the gluten or any other unnatural binding additives.
How to Make Keto New England Clam Chowder
Keto New England Clam Chowder can be made on the stovetop, slow cooker, or an Instant Pot for a quick, easy weeknight dinner.
First, drain the juice from the canned clams into a small bowl. Fresh clams are better if you can find them at your local grocery store. Add the juice and the chopped onion into your Instant Pot and use the 'Saute' function to cook for about 5 minutes. Or you can also saute on the stovetop. After the first round of sauteing, add the garlic and saute for another 2 minutes.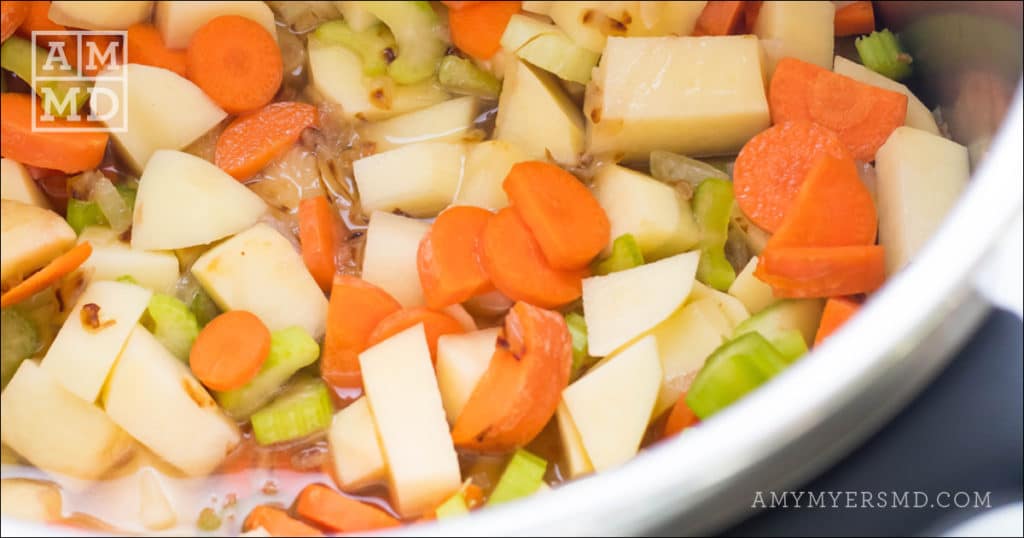 Add the rest of your vegetables (omit the carrots for a more Keto friendly meal) and 1 1/2 cups of chicken broth, and cook until the vegetables are tender.
While your vegetables are cooking, now is the time to make your broth base. Separately on the stovetop, combine the arrowroot powder and olive oil in a saucepan over medium heat and whisk until smooth. Next, add the coconut milk and remaining broth, stirring constantly until the mixture thickens.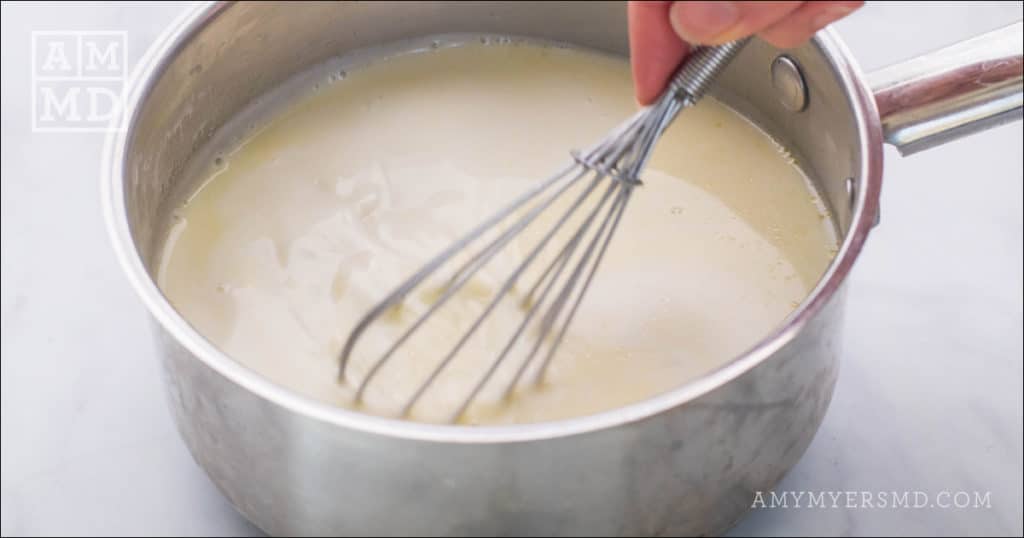 Lastly, combine the cooked vegetables and the remaining liquid to your broth mixture and stir to combine. Stay diligent while stirring and be sure not to boil the mixture. Before serving, add your clams and allow them to heat through without cooking them. Then add in your vinegar and salt, and garnish it off with bacon and chives.
Can this Keto New England Clam Chowder be Frozen?
Yes, you can freeze Keto New England Clam Chowder, but keep in mind that the consistency may change slightly after defrosting. If you choose to freeze or store leftovers, it's best to leave out the clams until you're ready to reheat the chowder. Otherwise, you risk overcooking your clams when reheating the soup.
Be sure to freeze or store your leftover chowder in airtight containers. Frozen chowder will keep for up to six months in the freezer. Leftovers in the refrigerator will last for no longer than 4-5 days.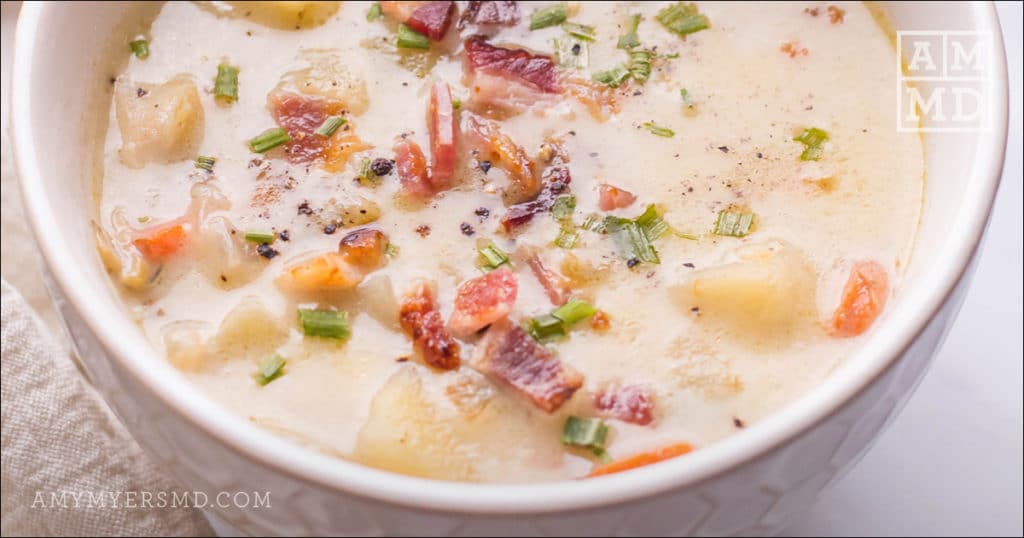 How to Reheat Keto New England Clam Chowder
If you're reheating your clam chowder from refrigeration, simply add to a saucepan and allow to heat through over medium heat, stirring often. You may need to add a small amount of liquid, such as chicken broth, to thin out the chowder. Add in a new can of clams (drained) at the end of reheating.
To reheat from frozen, first allow your chowder to thaw in the refrigerator. Then, follow the same reheating instructions above.
Keto New England Clam Chowder
---
Ingredients
20

oz

591.48

ml chopped clams undrained

2 1/2

cups

600.00

ml chicken broth divided

3

white onion minced into approximately 1 cup

3

cloves garlic minced

2

stalks celery diced

2

cups

480.00

ml cauliflower cubed

1/4

cup

60.00

ml olive oil

3

Tbsp

44.36

ml arrowroot powder

13.5

oz

399.25

ml full fat coconut milk

1

Tbls

14.79

ml apple cider vinegar

1/2

tsp

2.46

ml sea salt

8

slices nitrate-free bacon sliced, for garnish (optional)
chives thinly sliced, for garnish (optional)
Instructions
Add minced onion to a large skillet over medium heat, and combine with drained juice from the clams. Sauté for about 5 minutes until golden in color.

---

Add garlic to the skillet and sauté for 2 minutes.

---

Add garlic to a large skillet over medium heat and saute for 2 minutes.

---

Add celery and cauliflower to the skillet, along with 1 ½ cup chicken broth. Cook over medium heat until all the vegetables are tender.

---

While the vegetables are cooking, combine olive oil and arrowroot starch in a large saucepan over medium heat. Whisk the mixture until smooth. Whisk in coconut milk and remaining chicken broth, and stir constantly until thick and smooth.

---

While the vegetables are cooking, add olive oil, coconut milk, and remaining chicken broth to large saucepan over medium heat. Stir until smooth.

---

When the vegetables are tender, add to the saucepan along with liquid from skillet. Do not boil.

---

Add clams to the mixture just before serving. You don't want these to cook with the soup, or they will overcook and become tough. When the clams are heated through, stir in vinegar, and season with salt.

---

Garnish with thinly sliced chives and bacon to serve.

---

Garnish with thinly sliced chives and serve.

---
Drain juice from the canned clams and reserve in a bowl.

---

With the Instant Pot set to the Sauté function, add minced onion and combine with drained clam juice. Saute for about 2-3 minutes until golden in color.

---

Add garlic to the Instant Pot, saute for 2 minutes.

---

Add celery, carrots, and potatoes to the Instant Pot, along with 1 ½ cup chicken broth. Close lid and pressure cook on High Pressure for 2 minutes.

---

While the vegetables are cooking, combine olive oil and arrowroot starch in a small saucepan over medium heat. Whisk the mixture until smooth. Whisk in coconut milk and remaining chicken broth, and stir constantly until thick and smooth.

---

While the vegetables are cooking, add olive oil, coconut milk, and remaining chicken broth in a small saucepan over medium heat. Stir constantly until smooth.

---

Let the pressure release naturally for 10 minutes. Hit "Cancel" to turn off the heat. Release the remaining pressure and then open the lid.

---

When the vegetables are tender, add the arrowroot mixture to the Instant Pot.

---

When the vegetables are tender, add the coconut milk mixture to the Instant Pot.

---

Add clams to the mixture just before serving. You don't want these to cook in the Instant Pot with the soup, or they will overcook and become tough. When the clams are heated through, stir in vinegar, and season with salt.

---

Garnish with thinly sliced chives and bacon to serve.

---

Garnish with thinly sliced chives and serve.

---