Lemon Keto Fat Bombs
These are the best keto fat bombs! Lemony and dairy-free, they are a quick and easy no-bake treat that is low carb and compliant for the ketogenic diet, Paleo diet, and AIP.
Fat bombs are subtly sweet treats that work for a variety of dietary protocols including the ketogenic diet, and in some cases, even the autoimmune protocol.
This recipe for Lemon Keto Fat Bombs is full of healthy fats, dietary fiber, and gut healing collagen protein. They're dairy free, no-bake treats that are low carb, ketogenic, Paleo, AIP, and vegan friendly.
Typical fat bombs feature primary ingredients like peanut butter and cream cheese, which are two ingredients to avoid when following The Autoimmune Solution diet, the Paleo diet, and The Myers Way®. The primary ingredient in these Lemon Keto Fat Bombs is coconut, which provides healthy medium-chain triglycerides (MCTs) and a subtle sweetness without any sugar.

Are Keto Fat Bombs healthy?
Yes! These treats are high in heart-healthy fat and gut healing collagen protein. As a bonus to these two healthy features, they're free of refined carbohydrates and refined sugar.
Additionally, the fat, protein, and fiber combo will help you feel satiated after eating just 1 or 2 bombs, and they will keep you full for hours. This means you won't find yourself overeating these Fat Bombs like you might if you were indulging in cookies.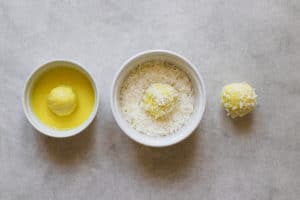 Since there is no added sugar, keto fat bombs can be enjoyed any time of the day. You can have a couple as a snack, or include them as a part of your breakfast, lunch, or dinner. I like starting my day with a fat bomb, as the protein, fiber, trace minerals, and fat combination helps support a healthy adrenal function first thing in the morning.
Store these fat bombs covered in an air-tight glass container in the refrigerator for up to 2 weeks. You can enjoy them cold right out of the fridge, or let them sit out for 1-2 hours at room temperature for more of a truffle texture.
Ingredients
Keto Fat Bombs
1/2

cup

120.00

ml coconut flour

2

scoop The Myers Way® Collagen Protein

1/4

cup

60.00

ml coconut butter melted

1/2

cup

120.00

ml lemon juice (about 4 lemons)

1

tsp

4.93

ml lemon zest optional

1.5

Tbsp

22.18

ml monkfruit sweetener

1/4

cup

60.00

ml coconut cream

1/4

tsp

1.23

ml sea salt
Lemon Icing (optional)
3

Tbsp

44.36

ml coconut butter melted

1

Tbsp

14.79

ml coconut oil

1/2

tsp

2.46

ml lemon zest

1/4

tsp

1.23

ml turmeric (for color, optional)

1/2

cup

120.00

ml unsweetened shredded coconut
Instructions
Mix all ingredients together by hand in a bowl. (It will take a bit of stirring before the dough comes together.)


---

Place dough in the refrigerator to firm up for about 5-10 minutes.


---

Remove the dough from the refrigerator and roll into 20 equally sized balls. Place the balls in back in the refrigerator for 20 minutes to set. You can choose to add the Lemon Icing or enjoy them as is.


---
Meanwhile, stir together the melted coconut butter, coconut oil, lemon zest, and turmeric in a bowl until the icing is golden in color.

---

Set up an assembly line with the Lemon Icing in a shallow bowl, shredded coconut flakes in another shallow bowl, and a wire cooling rack over a cookie sheet.


---

Once the balls are set, remove them from the refrigerator. Roll one ball in the Lemon Icing until covered, then roll in the shredded coconut flakes until completely covered. Set on the wire cooling rack to harden. Repeat for remainder until all are covered.


---

Store in the fridge for up to 2 weeks. (I like the texture of these Keto Fat Bombs best when they're at room temperature, so I remove them from the fridge about 30 minutes before eating.!)


---