Midnight Blueberry Beet Smoothie
This creamy, bright smoothie is as colorful as it is healthy. It comes together quickly with just six ingredients and contains a powerhouse of immune-boosting, antioxidant-rich produce. This Midnight Blueberry Beet Smoothie makes for a delicious evening snack to satisfy sweet cravings and support restorative sleep.
What's in this magnesium-rich beet smoothie?
If you want the health benefits of beets, yet don't like beets, then this magnesium-rich recipe may change your mind. Beets are one of the healthiest foods you can eat and boost an array of benefits. They contain antioxidants and are excellent free radical scavengers. Packed with fiber, folate, manganese, potassium, iron, and vitamin C, beets also help lower blood pressure, optimize workouts, and support brain and heart health.
I keep cooked, frozen beets in my freezer for quick smoothies on-the-go. They're easier than they look to prepare. Simply wash, peel, and trim off the ends. Then, chop them into 1-inch pieces and roast, boil, or steam until tender. Store them in the freezer for up to a year.
You'll also find a variety of other fruits in my freezer, like the berries and bananas used in this Midnight Blueberry Beet Smoothie recipe. Similar to beets, blueberries are loaded with nutrients and contain flavonoids antioxidants. Flavonoids are known to help protect the body from the damage of oxidative stress, reduce the risk of disease, and delay the effects of aging.
The bananas in this recipe make this smoothy extra creamy and delicious. They also contain a lot of vitamin B6, which helps support a healthy nervous system, create red blood cells, and metabolize amino acids, carbohydrates, and fats to produce energy. Bananas also contain manganese, potassium, and vitamin C, which supports your immune system response and promotes collagen production.
Add NeuroCalm Mag for more Support
What makes this Midnight Blueberry Beet Smoothie so powerful? Each ingredient, including NeuroCalm Mag, offers an optimal dose of magnesium. Magnesium is one of the most common deficiencies I saw in my clinic, and most people are unaware of it. Did you know that magnesium is involved in over 300 biochemical processes in the body? These include supporting healthy bowel patterns, promoting optimal sleep, relaxing tight muscles, and facilitating heart health. Magnesium also promotes a calm and relaxed mood and is critical for healthy sleep, too.
I love to take it before bedtime to alleviate head tension and support relaxation. The best part is that it tastes delicious, making it the perfect addition for this smoothie recipe. If you want to add a little bit of sweetener, you can add honey to give it a natural sweet taste.
Midnight Blueberry Beet Smoothie – Amy Myers MD®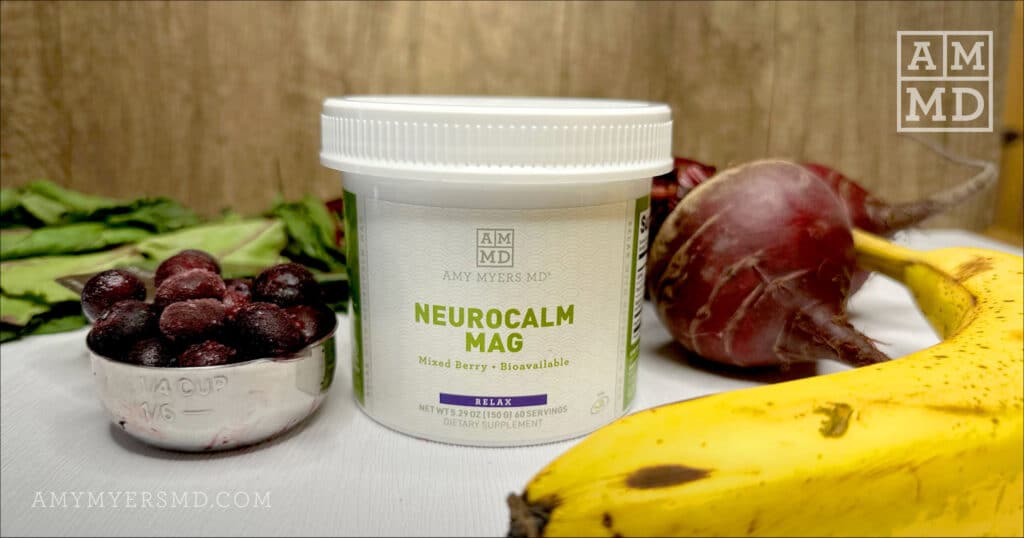 Dr. Amy Myers
November 22nd, 2022
https://content.amymyersmd.com/recipe/midnight-blueberry-beet-smoothie/
How to Make a Midnight Blueberry Beet Smoothie
This smoothie comes together in less than five minutes. First, dissolve one scoop of NeuroCalm Mag in a cup of organic, unsweetened almond milk. You can use another dairy substitute as a substitute.
Once dissolved, place your milk, beets, blueberries, banana, and honey into a blender. Simply blend until smooth and pour into a glass jar or Amy Myers MD® Branded Tumbler. Now you can enjoy a delicious Midnight Blueberry Beet Smoothie before bed or on-the-go!
Midnight Blueberry Beet Smoothie
---
Ingredients
1/2

cup

120.00

ml beets cooked & chopped

1/3

cup

80.00

ml frozen blueberries

1/2

banana frozen

1

cup

240.00

ml unsweetened organic coconut milk

1

scoop NeuroCalm Mag

1/2

tbsp

7.39

ml honey optional
Instructions
Dissolve one scoop of NeuroCalm Mag in a cup of unsweetened organic coconut milk


---

Place all ingredients, including milk, fruit, and honey, in a blender.


---

Blend and enjoy!


---