Nightshade Free Chili
If you've been looking for a really good nightshade-free AIP chili, this is it! This chili is made with lean ground beef that is browned and seasoned with lots of AIP-friendly seasonings and a tasty nightshade-free Bone Broth Collagen that is loaded with healthy ingredients.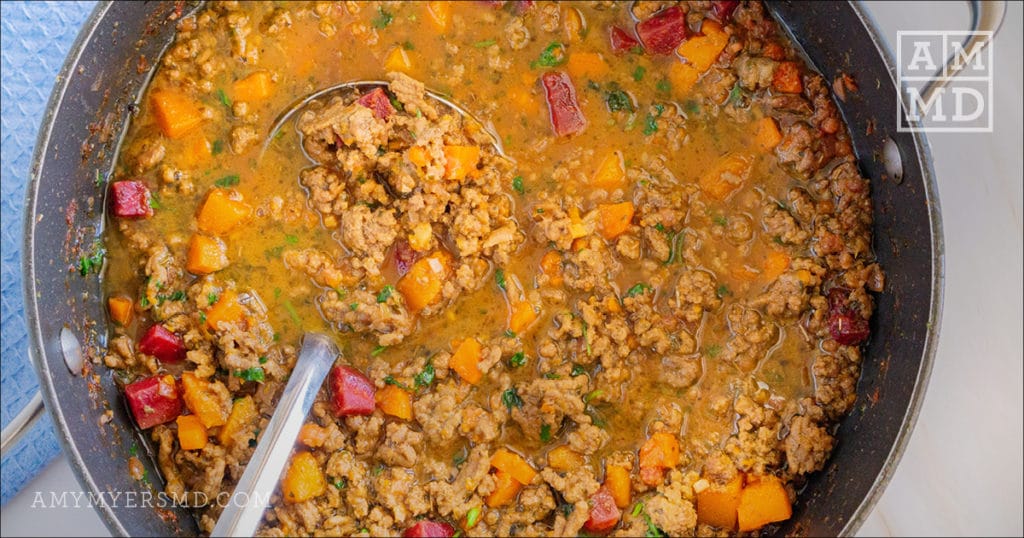 This chili is one of my favorite recipes for colder weather. I love serving it with a dollop of plain coconut yogurt on top or fresh avocado and loads of fresh cilantro and scallions. If you thought chili was off limits, just try this AIP-friendly and bean-free chili!
Nightshade-free chili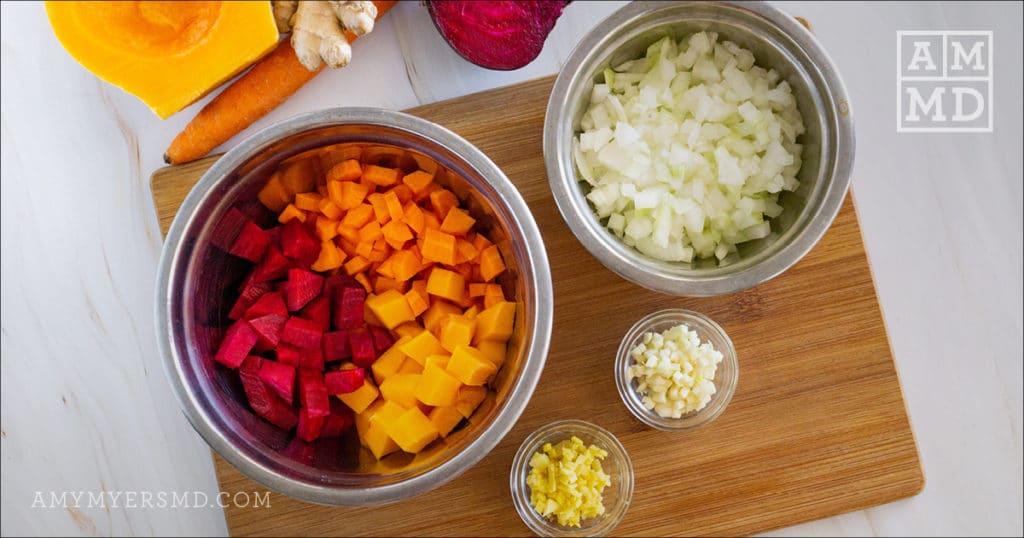 Chili is typically made with tomatoes and peppers, which can irritate the gut and cause all kinds of unwanted effects. But this gut-friendly chili has a tasty, rich broth that is loaded with nutritious vegetables: carrots, butternut squash, beets, and onions.
I chop these vegetables up and cook them with a tasty beef bone broth. Then I puree them with an immersion blender to make a thick, flavorful broth for chili that even has the same warm tones as the traditional dish!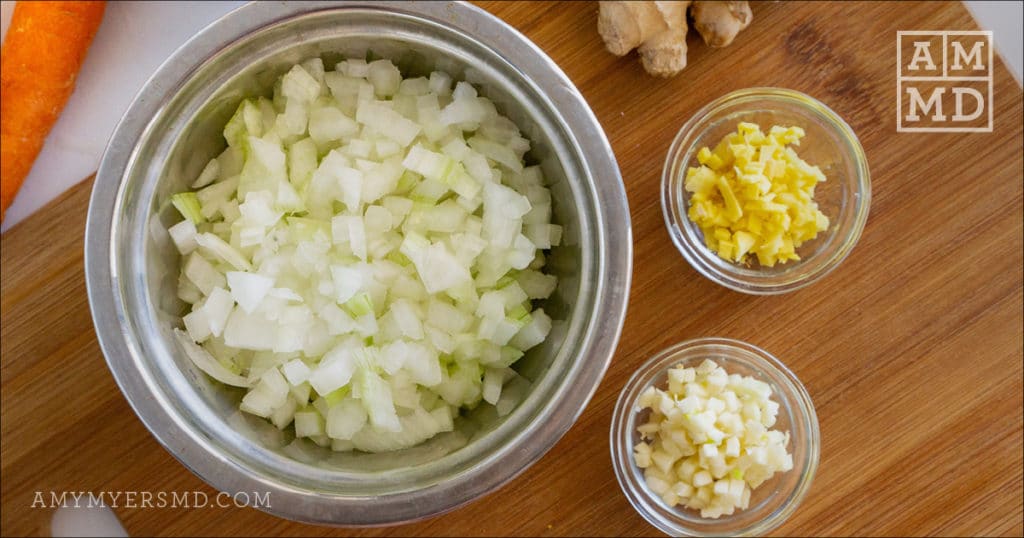 In addition to the onion and Bone Broth Collagen, which give this chili lots of flavor, it is also seasoned with fresh garlic, cilantro, and ginger. The ginger gives this AIP chili a nice spiciness without having to use chili peppers!
A healthy chili recipe
As I already mentioned, this chili is made with loads of vegetables in the broth. Butternut squash and carrots are high in beta carotene, which converts to vitamin A in the body and helps keep your eyes healthy. Beets may have an anti-inflammatory effect on the body, which may help guard against obesity, heart disease, liver disease, and cancer. All these vegetables contain fiber, which helps the digestive system, and antioxidants, which fight off harmful free radicals in the body and may help prevent cancer.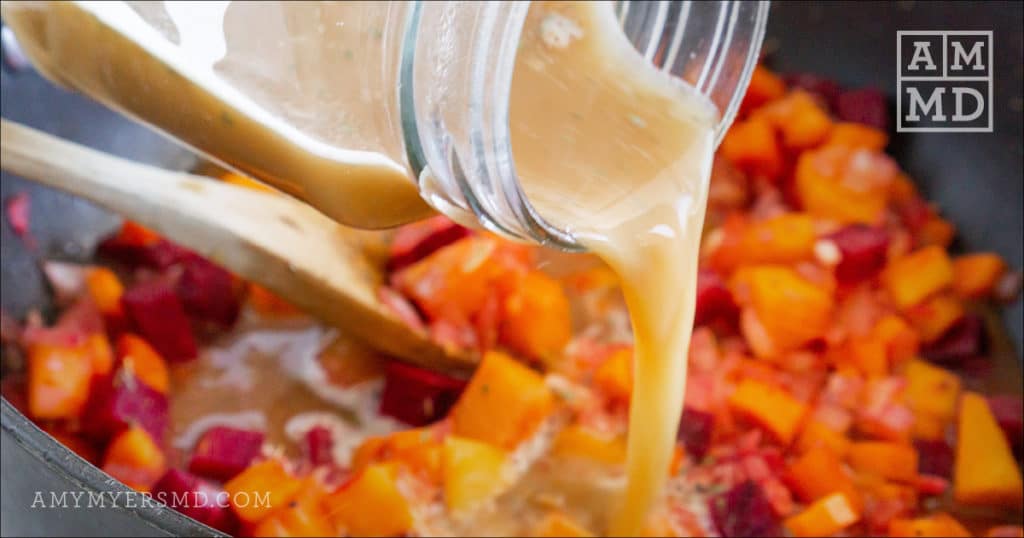 Onions contain a lot of vitamin C, which is essential for a healthy immune system. They are also good sources of flavonoids, which may help reduce the risk of stroke and cardiovascular disease, and they contain phytochemicals, which have anticancer and antimicrobial properties.
This chili is made with lean ground beef, which is seasoned with nightshade-free seasonings, such as dried oregano, dried parsley, ground coriander, and ground cumin. Grass-fed round beef, like all red meat, contains iron, which is essential for maintaining healthy blood cells and avoiding anemia. It also contains zinc and vitamins B-6, B-12, niacin, and riboflavin, which are essential for a healthy immune system, nervous system, and digestive system. And of course, it's protein rich!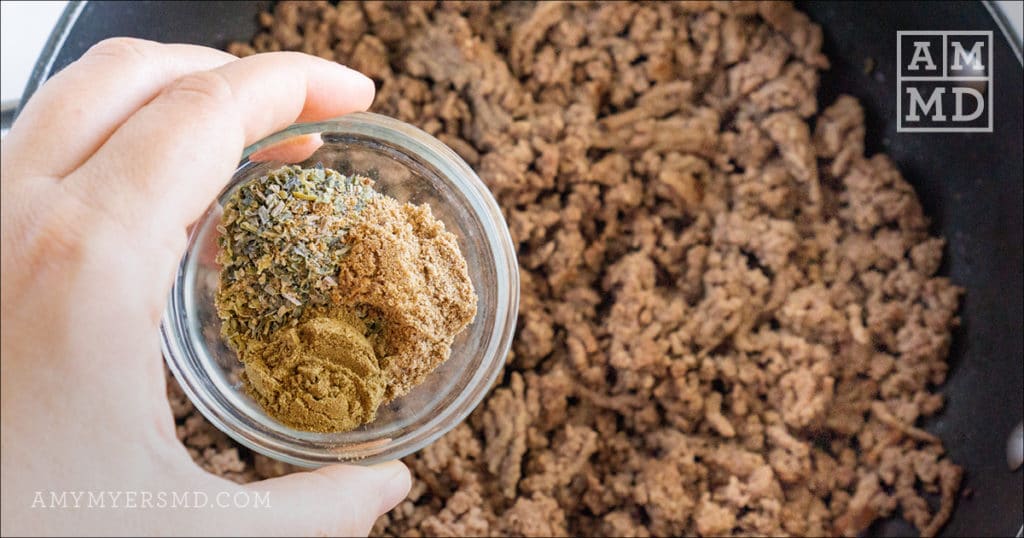 Great leftovers!
This chili recipe makes 6 generous portions, that feed a crowd or make great leftovers that easily last in the refrigerator for up to 3-4 days. You may need to add a few tablespoons of water when reheating the chili, because it thickens a bit as it cools. It also freezes well in individual portions.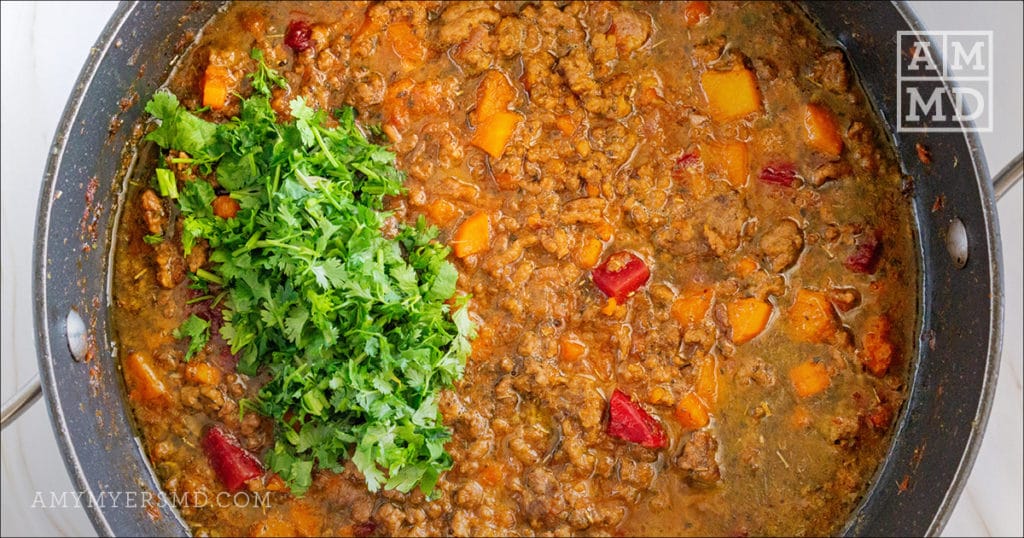 I love topping this chili with fresh avocado. It also goes great with crispy plantain chips!
I know you will love this bean-free, nightshade-free AIP chili with vegetables as much as I do! It makes a great meal on a cold day and is very easy to make.
Other recipes you might enjoy:
Game Day Paleo Nachos
The Greatest Gluten-Free Meatloaf
Slow Cooker Bison and Vegetable Stew
Ingredients
1

Tbsp

14.79

ml extra virgin olive oil

2

lbs

908.00

g ground beef

1/2

tsp

2.46

ml sea salt

1

Tbsp

14.79

ml dried oregano

1

Tbsp

14.79

ml dried parsley

1

Tbsp

14.79

ml ground coriander

2

tsp

9.86

ml ground cumin

1

onion minced

4

cloves garlic

2

Tbsp

29.57

ml ginger approximately 2 inches, peeled and minced

1

carrot peeled and diced

1/2

butternut squash about 1 1/2 cups, cubed

1

beets

3

scoops The Myers Way® Bone Broth Collagen dissolved in 3 cups warm water

1/4

cup

60.00

ml cilantro

1

Tbsp

14.79

ml lime juice

1

avocado diced, for serving
Instructions
Heat the olive oil in a large soup pot and add the ground beef. Cook over high heat for 8-10 minutes or until the ground beef is browned and mostly cooked, stirring frequently. Drain any excess fat, then add the salt, dried oregano, dried parsley, ground coriander, and ground cumin. Continue cooking for 1-2 minutes, mixing the spices together with the ground beef. Transfer the cooked ground beef to a large plate or heat-proof bowl.

---

Add the diced onion, minced garlic, minced ginger, diced carrot, cubed butternut squash, and diced beet to the same pot. Cook, stirring, for 5 minutes, or until the vegetables soften a little. Add 3 cups of bone broth. Bring to a boil, and cook for 2-3 minutes, or until the vegetables are mostly cooked.

---

Use an immersion blender to carefully puree the vegetable and broth mixture to your liking - you can leave a few chunks in there or make it completely smooth.

---

Add the ground beef back to the pot, bring to a boil, reduce the heat, and continue cooking until the broth thickens and the vegetables and ground beef are fully cooked. Add up to ½ cup more water or broth, if you like a thinner chili.

---

Stir in the fresh cilantro and lime juice. Season with additional salt, if desired. Serve hot, garnishing with fresh cilantro, sliced scallion, or diced avocado.

---