Paleo Egg Roll Soup
Have you heard of an egg roll in a bowl? It's a low-carb version of a favorite take-out appetizer, and I took it a step further! This delicious recipe for Paleo Egg Roll Soup is sure to become one you'll use time and time again, especially if you're doing Whole30, or following an elimination diet. It's an easy and healthy soup recipe combining pork, vegetables, coconut aminos, and chicken-flavored Bone Broth Collagen powder for a traditional Chinese take-out flavor without any inflammatory ingredients.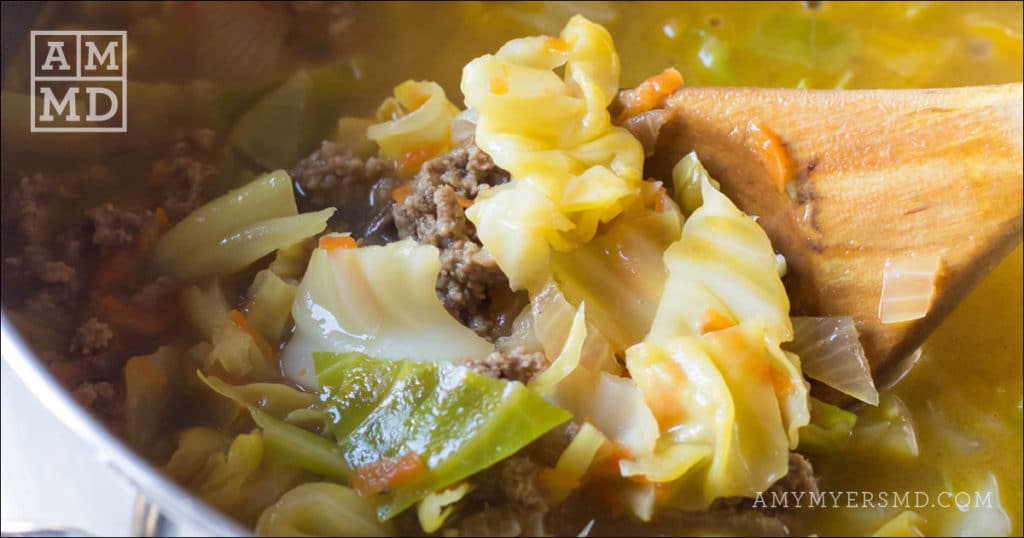 How I Made an Egg Roll Healthy
I think I've proved that a healthy meal doesn't have to be boring. Paleo Egg Roll Soup is made with healthy, nourishing ingredients, and it tastes like you just picked up a bowl of soup from your favorite Chinese restaurant. Here's some more details about the healthy ingredients and swaps in my Paleo Egg Roll Soup.
Ground Pork
Ground pork provides this recipe with a hearty amount of healthy, satiating protein to make it a filling main dish. Pork has a variety of beneficial nutrients such as selenium, B vitamins, zinc, and iron. It also contains nearly equal amounts of saturated and monounsaturated fats, both of which you need to maintain balanced cholesterol levels.
Alternatively, you could use your favorite lean, ground protein in this versatile recipe. I've enjoyed it with both ground pork and ground chicken.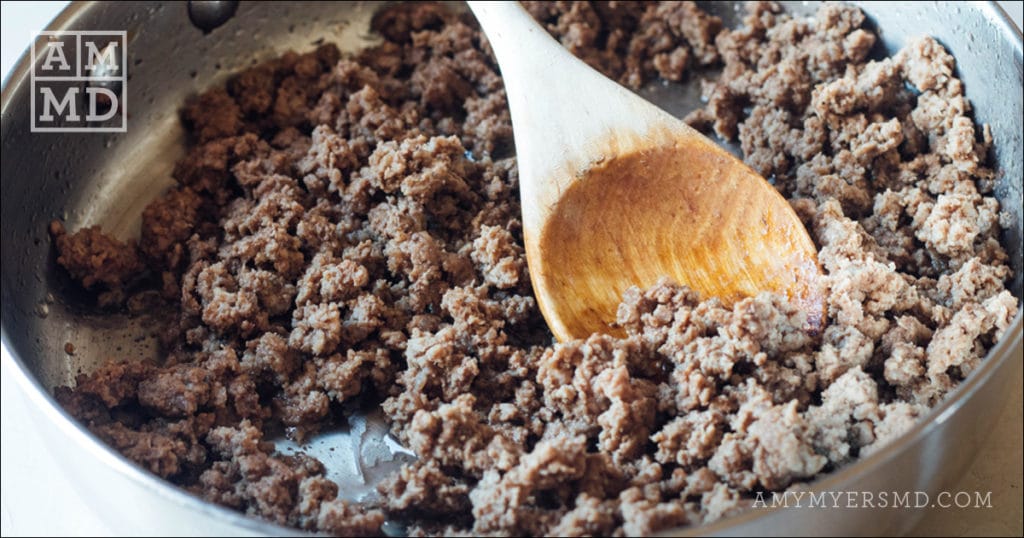 Green Cabbage
Cabbage is paired alongside carrots and onions to give this soup texture, flavor, and fiber — which is always appreciated. Green cabbage is a nutrient-dense cruciferous vegetable, perfect for supporting your detoxification pathways and hormonal health by offering you high amounts of phytonutrients. It's also especially high in vitamins K and C.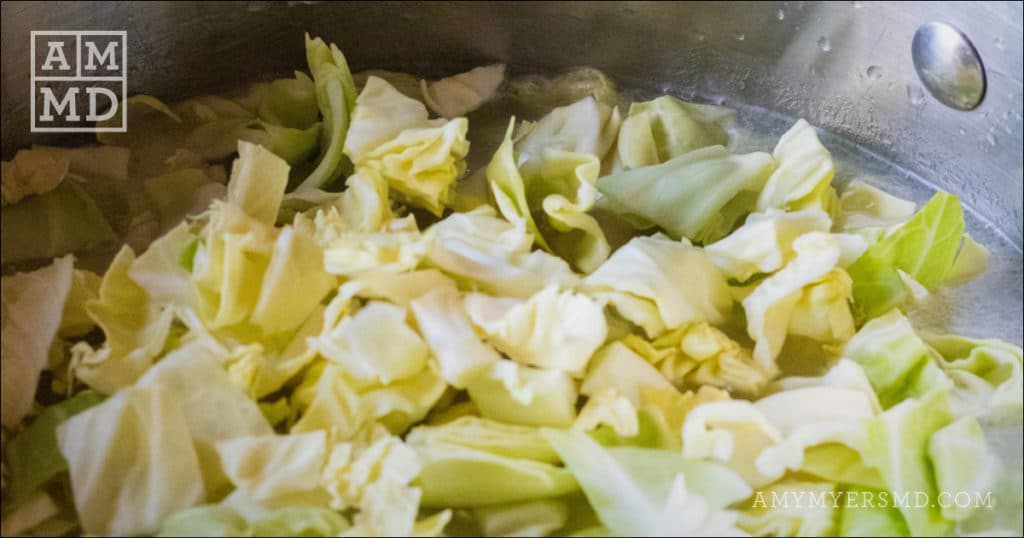 Coconut Aminos
Coconut aminos, a sauce made with coconut tree sap and sea salt, replaces soy sauce in this dish. Many elimination diets turn to coconut aminos to achieve a distinct flavor popularized by food from the far east. Coconut aminos offer an umami flavor reminiscent of soy sauce, yet it is completely free of the commonly GMO-ridden product! It's the perfect soy-free substitute to season Paleo dishes including my Egg Roll Soup.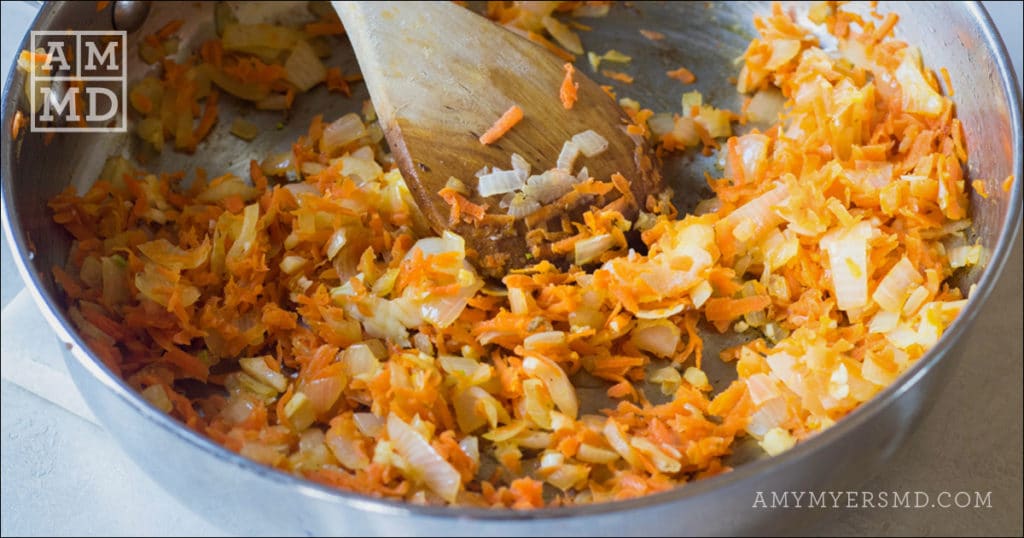 Bone Broth Collagen Powder
This handy powder dissolves instantly in warm water, which makes it the ideal ingredient in this Egg Roll Soup — contributing both deliciously savory chicken flavor and fantastic nutrients. My special, physician-formulated Bone Broth Collagen is produced through a patent-pending extraction process that ensures only the highest quality collagen protein is included.
How to Make Paleo Egg Roll Soup
This is a one-pot soup that's perfect for a quick weeknight meal or even meal prep.
First, brown the ground pork in a large stockpot over medium heat, until fully cooked. Set aside the cooked pork on a paper towel lined plate to absorb the excess grease.
In the same pot, add the onion and coconut or olive oil, cooking until the onion is caramelized. Add the carrot and garlic and saute for another 2-3 minutes.
Add the cabbage, seasonings, and all liquid ingredients and stir to combine. Bring your soup to a simmer and then reduce heat to medium-low. Cover and allow to cook for about 15 minutes.
Once the cabbage is tender, serve your Paleo Egg Roll Soup garnished with green onions.
How Do I Store Paleo Egg Roll Soup?
Not only does this soup make great leftovers, it is also perfect for meal prepping or batch cooking, so it's fairly easy to store. Leave the green onion garnish out of your dish if you're storing it, and simply add the garnish before serving.
To store in the refrigerator, allow your soup to cool in individual containers before sealing with an airtight lid and storing. The soup will keep in the refrigerator for about 3-4 days.
To store in the freezer, follow the above directions. However, instead of placing the containers in the refrigerator, store them upright in the freezer. You can also store the soup in reusable silicone bags and lay flat to freeze, to conserve freezer space.
To reheat your soup from the refrigerator, transfer the soup into a saucepan over medium heat until warmed through. If your Paleo Egg Roll Soup was in the freezer, allow it to thaw in the refrigerator before following the reheating instructions.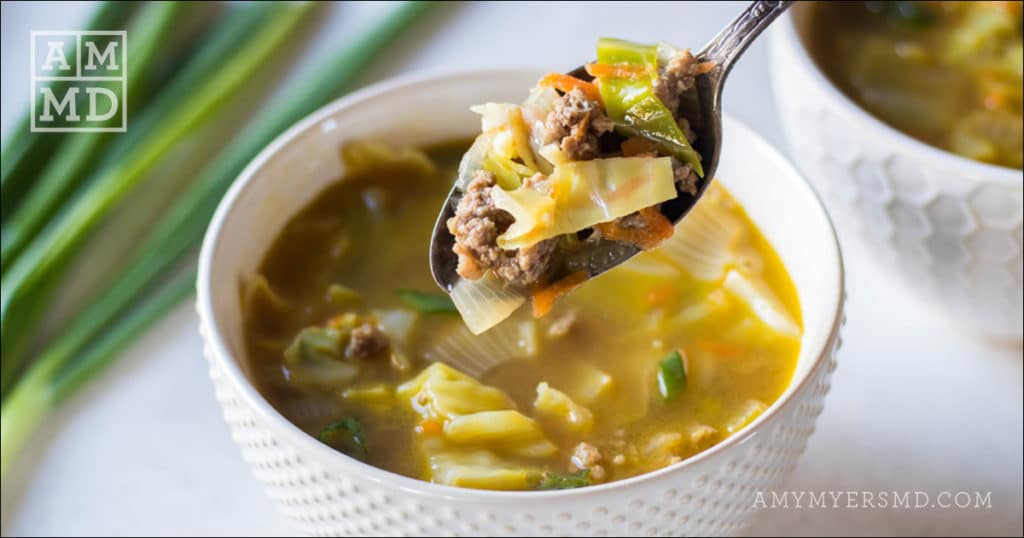 Ingredients
1

lb

454.00

g ground pork or chicken

2

Tbsp

29.57

ml coconut oil or olive oil

1

onion peeled and diced

2

carrot shredded

3

cloves garlic minced

1

green cabbage chopped into strips

7

scoops The Myers Way® Bone Broth Collagen chicken-flavor (depends on how many servings you want to make)

8

cups

NaN

ml water (depending on how many servings of Bone Broth Collagen used)

1/3

cup

80.00

ml Coconut aminos

3

Tbsp

44.36

ml gluten-free fish sauce (optional)

1

in

2.54

cm ginger root peeled and finely minced

2

tsp

9.86

ml onion powder

2

tsp

9.86

ml sea salt
green onions thinly sliced for garnish (optional)
Instructions
Brown the ground pork in a large stockpot over medium heat. When fully cooked, transfer to a plate lined with a paper towel to absorb excess grease. Set aside.

---

Add oil and onion to the stockpot, and stir to combine. Caramelize the onion over medium heat until golden brown.

---

Add shredded carrots and garlic to the pot and sauté 2-3 minutes.

---

Add cabbage, broth, coconut aminos, fish sauce, ginger, onion powder, sea salt, and cooked pork to the pot and stir to combine.

---

Cook the soup until it reaches a simmer, then reduce heat to medium-low and cover until cabbage is tender, about 15 minutes.

---

Transfer soup to bowls, garnish with sliced green onions, and serve.

---