Paleo Pumpkin Muffins
Paleo Pumpkin Muffins are a delicious treat to start your day or fill up on a snack with some favorite fall flavors. This recipe for gluten-free muffins is perfectly spiced, subtly sweet, and they're the perfect soft and moist texture. The grain-free cinnamon streusel topping adds the perfect touch of additional sweetness without making the muffins taste like dessert. These are already gluten-free and dairy-free, and on top of everything else, they can also be made egg-free for those following the Autoimmune Protocol.
How to Make Paleo Pumpkin Muffins
These Paleo Pumpkin Muffins have two components: muffin base and the streusel topping. Yet they're not complicated at all. You don't have to be a baker to successfully make these muffins. Just follow these easy steps and you'll be ready to impress family and friends with some deliciously healthy baking.
First, you'll prepare your streusel topping. Use a fork to cut your cold palm shortening into your tigernut flour, coconut sugar, pumpkin pie spice, and sea salt. This should create the wonderfully crumbly topping (which may not-so-secretly end up being your favorite part). Keep this mixture chilling in the refrigerator until it's time to bake the muffins.
While your streusel topping chills, whisk together your wet ingredients with the coconut sugar to start a smooth batter. Combine your dry ingredients in a separate bowl, then you'll add dry ingredients to your wet ingredients and whisk until smooth.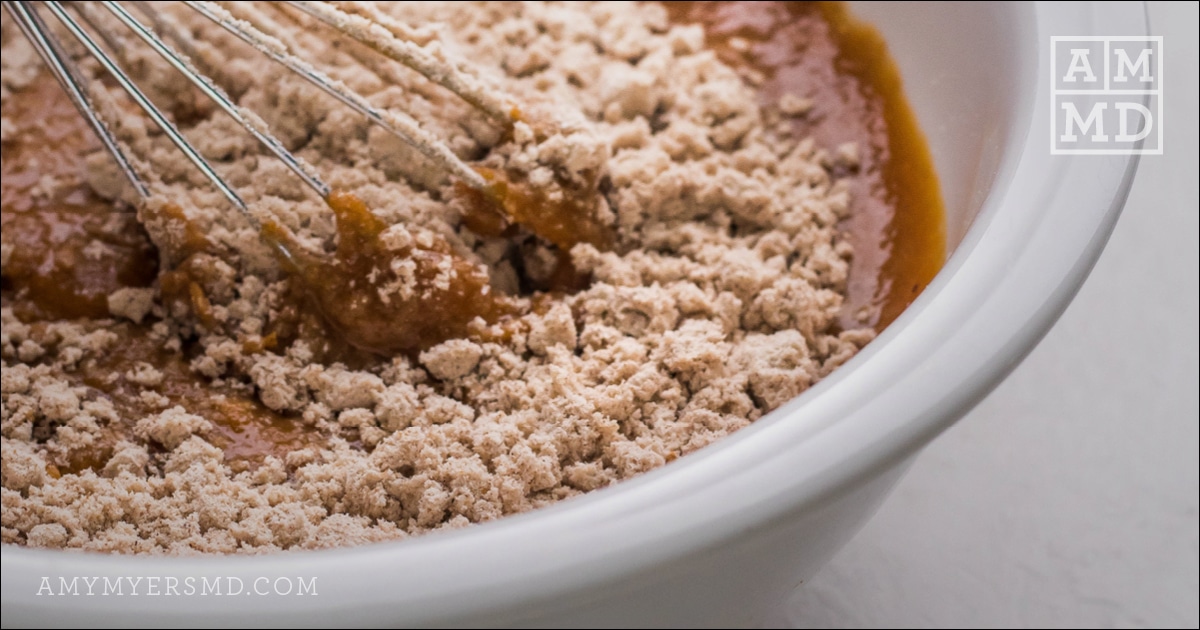 Fill 10-12 muffin liners about ¾ of the way full with batter. At this point, get the streusel mixture out of the fridge and sprinkle generously on top of the batter in the muffin tins. Bake at 350°F for 20-25 minutes.
To make your maple drizzle, stir together melted coconut butter, vanilla, and maple syrup. Once the muffins are cooled, drizzle your coconut butter icing over the muffins.
To make this recipe AIP compliant, omit the eggs and use a gelatin egg instead. Additionally, I've included an AIP-friendly pumpkin pie spice blend, so you be sure to have that ready.
Why Are My Paleo Pumpkin Muffins Healthier?
These Paleo Pumpkin Muffins are full real food ingredients so they won't derail your health even if you want to have a sweet snack or an indulgent breakfast. My favorite ingredients that make these muffins a healthier baked treat include some flavorful favorites of the Paleo community.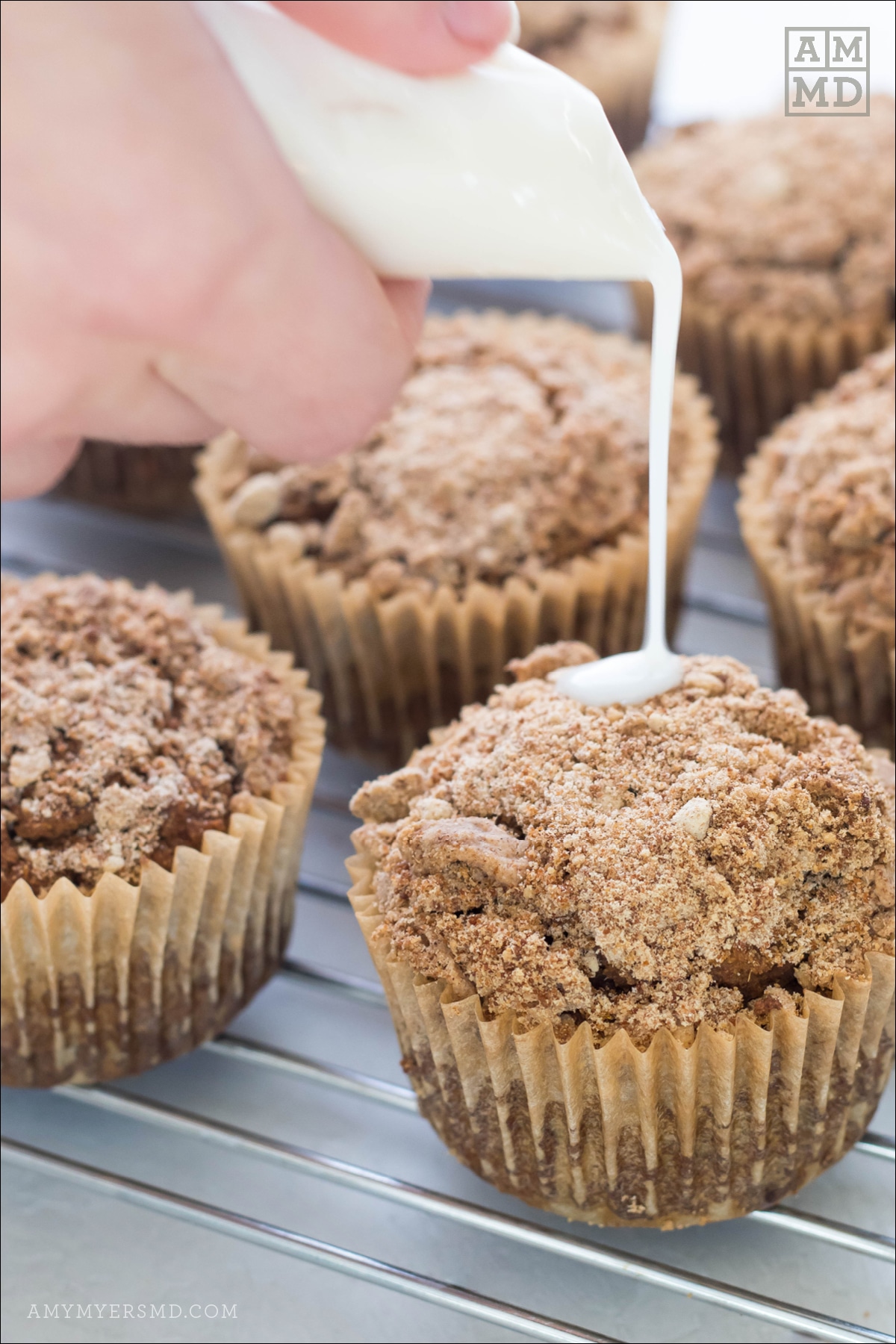 Pumpkin Puree
The darling of the season, pumpkin hosts a ton of great health benefits. You'll not only be keeping your muffins moist and fluffy, you'll also provide your body with fiber, vitamins, and minerals.
Choose a pure pumpkin puree to get amazing nutrients like Vitamin A, Vitamin C, and potassium. You can even use homemade pumpkin puree if you have the time. I find that the stuff from the store, although convenient, is not as flavorful.
Coconut Sugar or Maple Sugar
Coconut sugar and maple sugar are whole food sources of granulated sugar, as these evaporated syrups contain a more intact nutrient profile. White sugar, or cane sugar, is stripped and highly processed.
While unrefined sugar is still sugar, if you've followed a dietary protocol and are in the reintroduction phase, unrefined sugars are allowed in moderation. The Myers Way® is, after all, a way of life, and these natural, wholesomely delicious additions can be enjoyed in moderation.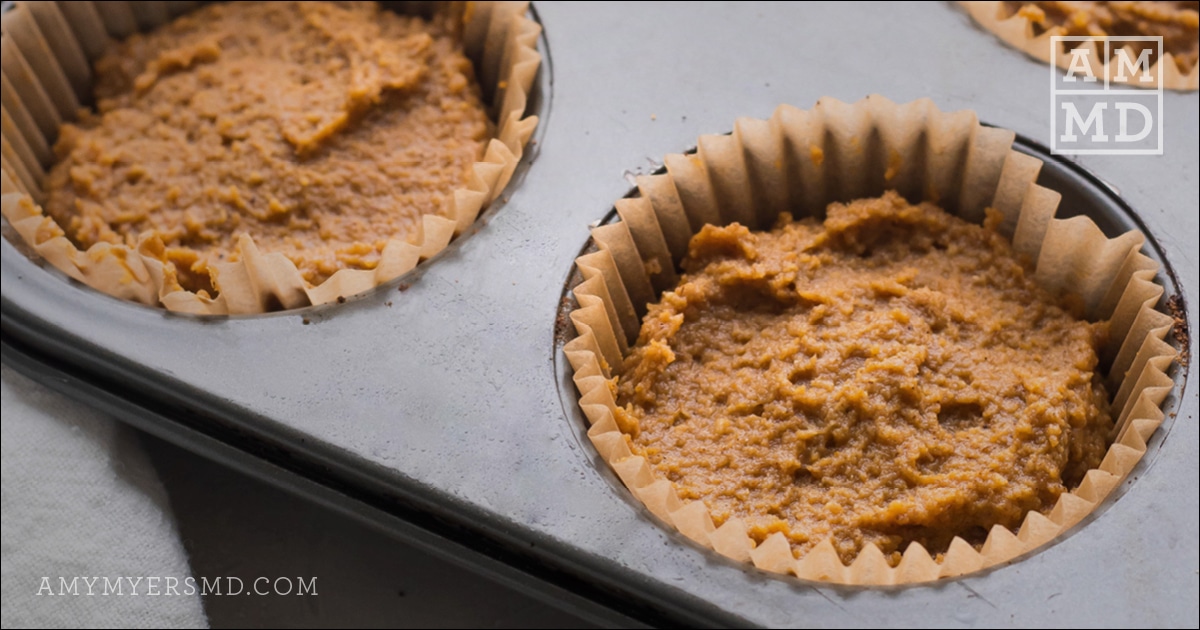 Tigernut Flour
This gluten-free, grain-free flour is actually made of a nutrient-rich tuber high in Vitamin E and iron. Since it's a tuber rather than a nut, tigernut flour is also AIP compliant.
Conventional white wheat flour can lead to chronic inflammation from the proteins found in gluten. Tigernut flour can replace wheat flour at a 1:1 ratio in the foods you love to make and eat (including these muffins!) It's one of the flours I recommend in the essential foods to swap for AIP-friendly cooking.
Tigernut flour is very high in fiber — If you're not meeting the daily recommendations for dietary fiber, tigernut flour could be your new favorite baking ingredient for all of your holiday cakes, muffins, cookies, and more. You'll love the natural sweetness that comes from tigernut flour and lends itself to the rich quality of your recipes.
How to Store Paleo Pumpkin Muffins
You can also store the muffins at room temperature for a day or two, or in the refrigerator for up to a week.
And yes, you can freeze these muffins. These are great to have on hand in the freezer for a quick breakfast, or if you need to whip out a quick treat for some unexpected guests.
If you do choose to freeze a batch, I recommend freezing them without the streusel topping. Wrap each muffin in parchment paper and store in a tightly closed freezer bag. Reheat in a warm oven or in the microwave and top with a new batch of streusel and a fresh drizzle of maple icing.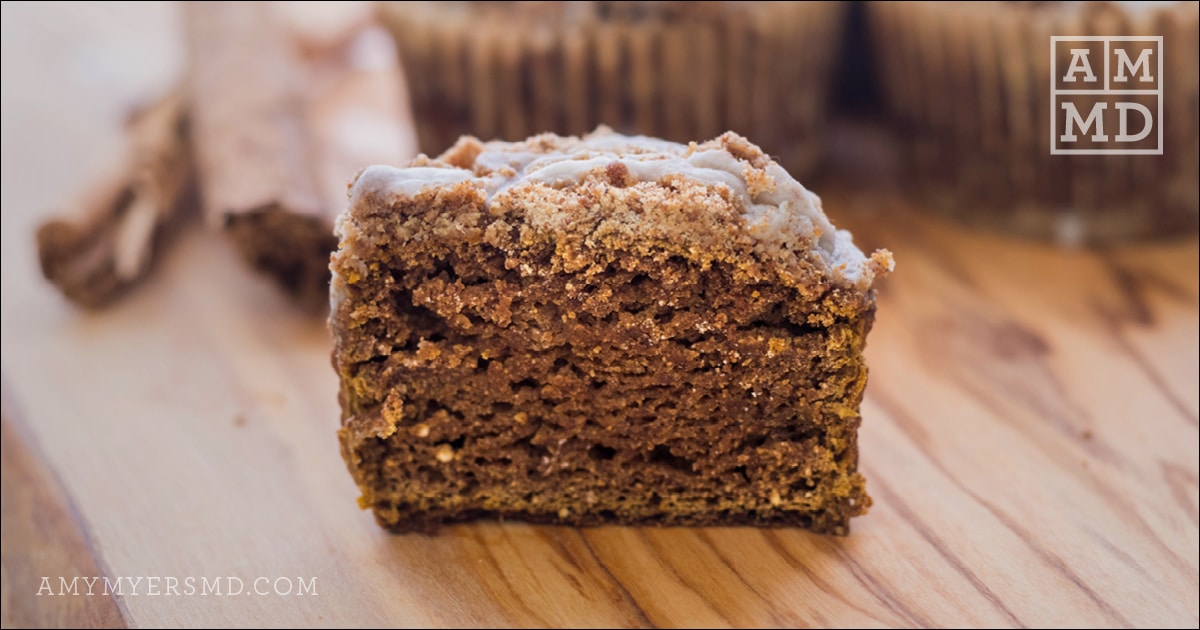 Ingredients
Paleo Pumpkin Muffins
3

egg (or AIP gelatin egg)

1

cup

240.00

ml pumpkin puree (or homemade pumpkin puree)

1/3

cup

80.00

ml full fat coconut milk

1/3

cup

80.00

ml coconut sugar or maple sugar

2

Tbsp

29.57

ml maple syrup

1

tsp

4.93

ml vanilla extract

1 3/4

cup

420.00

ml Tigernut flour

1/4

cup

60.00

ml arrowroot flour

1

tsp

4.93

ml baking soda

1

Tbsp

14.79

ml pumpkin pie spice (or AIP pumpkin pie spice blend)
Maple Icing (optional)
2

Tbsp

29.57

ml coconut butter melted

1/2

Tbsp

7.39

ml maple syrup
vanilla extract
AIP Pumpkin Pie Spice Blend
2

tsp

9.86

ml ground cinnamon

1

tsp

4.93

ml ground mace

1

tsp

4.93

ml ground ginger