Spinach & Artichoke Chicken
Yes, you can enjoy creamy delicious spinach and artichoke dishes on the AIP diet! I'll show you how to make this easy spinach and artichoke chicken skillet with the most delicious AIP creamy spinach and artichoke sauce to spoon over crispy pan-fried chicken.
This whole recipe takes less than 30 minutes to make from scratch and requires minimum prep and chopping. It tastes absolutely delicious thanks to just a few flavorful ingredients and goes so well with many side dishes. Your whole family will love this easy chicken dinner!
High-protein chicken dinner
Chicken breast is my go-to dinner protein because it is lean, healthy, and easy to cook. Chicken breast is not only high in protein, which helps repair and build muscle tissue, but is also a great source of niacin, selenium, phosphorus, and vitamins B6, B12, and riboflavin. These vitamins are important for brain function, energy production, and healthy skin.
I use thin-sliced chicken breast for this recipe, because it cooks quickly and evenly. You can either buy thin-sliced chicken breasts in the store, or buy whole chicken breasts and carefully slice them in half yourself.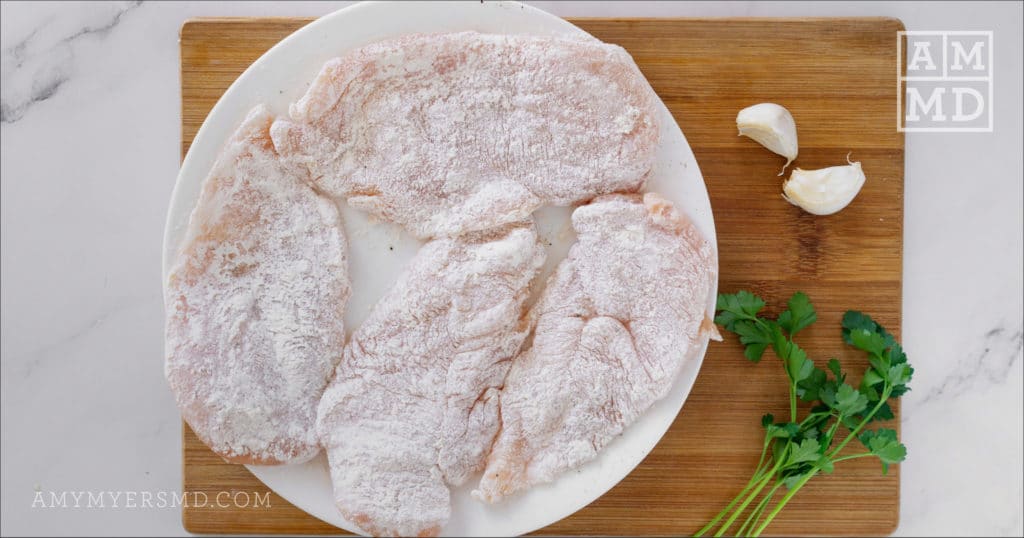 I dredge the thin-sliced chicken breasts in cassava flour, which is an AIP-friendly alternative to wheat flour that does not cause inflammation in the body as wheat does. The cassava flour coating helps make the chicken breasts crispy and golden brown when cooked. If you want to reduce the amount of carbs, you can skip this step and simply cook chicken breasts in a pan, after seasoning them with salt and pepper.
Creamy AIP sauce
My favorite way to make a creamy dairy-free AIP sauce is to use a combination of coconut milk and flavorful chicken broth for the sauce, and to thicken it with a little tapioca starch. I give the sauce flavor by sauteing 2 minced garlic cloves in a pan, and then add the coconut milk, chicken broth, and tapioca starch to the pan, whisking immediately to prevent any clumps. After the liquid comes to a boil, it will start to thicken, thanks to the tapioca starch. This makes the perfect creamy AIP sauce, perfect for serving over crispy chicken.
The coconut milk in the sauce adds more nutrients to this dinner: it is high in potassium, phosphorus, and magnesium, which are electrolytes that help maintain healthy heart, muscle, and nerve function. Coconut milk also contains a lot of iron, which is important for keeping blood cells healthy and preventing anemia.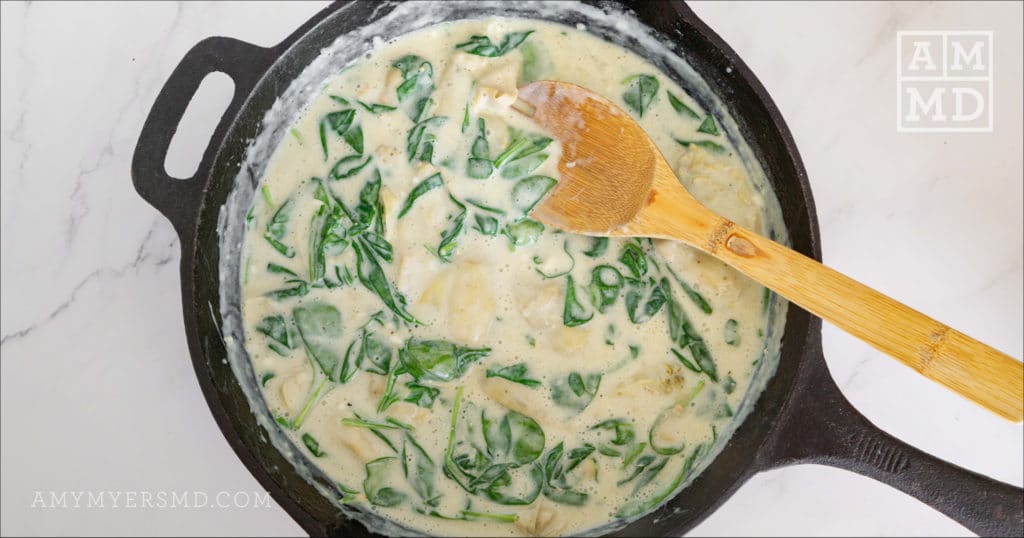 Spinach and artichoke
After the sauce is thickened, I add baby spinach and artichoke hearts to the sauce, and saute for a few more minutes until the spinach wilts down. Spinach is a great source of vitamins A, C, and K. Vitamins A and C play an important role in keeping the immune system healthy, and vitamin K is key for bone health and blood clotting. Spinach is also high in folic acid, which is important for normal cell function and tissue growth, and is an important nutrient for pregnant women and women trying to conceive.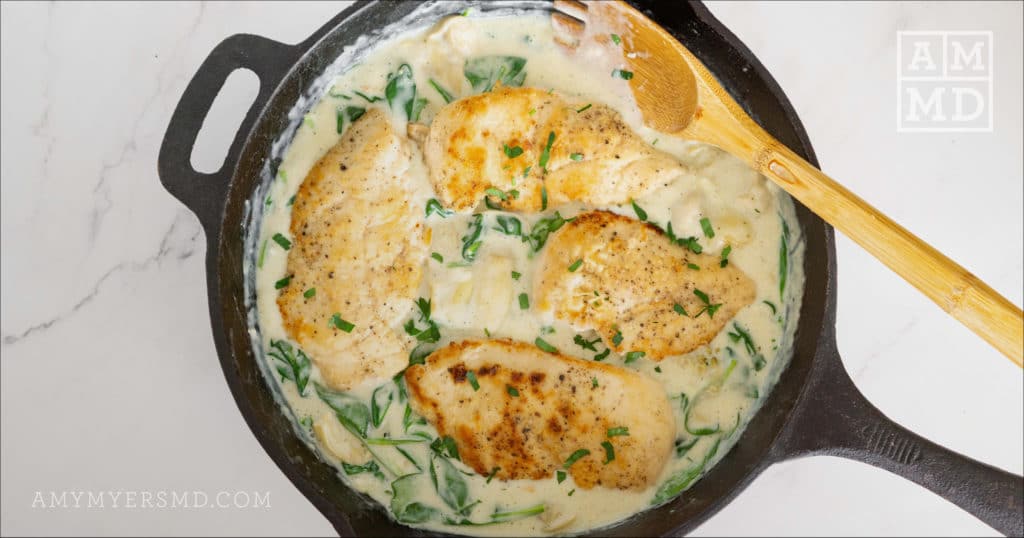 I use marinated or canned artichoke hearts, which are a quick and easy way to add a nice acidic tangy flavor which complements the creamy sauce perfectly. Check the ingredients list when you buy artichoke hearts to make sure they are not marinated with any peppers or nightshade vegetables.
This spinach and artichoke chicken dinner comes together in under 30 minutes and the tasty sauce pairs well with zucchini noodles or cauliflower rice risotto.
Other chicken recipes to try:
Spinach & Artichoke Chicken
---
Ingredients
4

chicken breast thinly sliced (or 2 large chicken breasts, sliced in half)
sea salt to taste
ground black pepper to taste

1/2

cup

120.00

ml Cassava flour

1/4

cup

60.00

ml Cassava flour

2

Tbsp

29.57

ml olive oil

2

cloves garlic minced

1

cup

240.00

ml chicken broth

1

cup

240.00

ml coconut milk

2

Tbsp

29.57

ml tapioca starch

4

cups

960.00

ml baby spinach tightly packed

14

oz

414.04

ml artichoke hearts canned, drained

1

Tbsp

14.79

ml parsley leaves diced

1/2

cup

120.00

ml broccoli chopped
Instructions
Season thinly sliced chicken breasts with salt and pepper on both sides. Spread the cassava flour on a large plate, and dredge the chicken breasts in cassava flour on both sides, pressing down to get the flour to stick to the chicken.

---

Preheat a large skillet. Add 2 tablespoons olive oil, and carefully place the floured chicken breasts into the hot oil. Cook over medium-high heat for 2-3 minutes per side, or until the chicken is fully cooked and golden brown. Set aside on a plate.

---

Add the minced garlic to the same skillet and stir fry for 1-2 minutes, using a spatula to loosen any stuck-on chicken.

---

Add the chicken broth, coconut milk, and tapioca starch, and whisk immediately, to prevent clumping. Bring to a gentle boil, and allow to simmer for 5 minutes, or until the sauce starts to thicken. Season with additional salt and pepper, if desired.

---

Add the baby spinach and artichoke hearts to the sauce. Gently stir to cover the spinach in the sauce, and continue stirring and cooking over medium heat for 2-3 minutes, or until the spinach wilts.

---

Add the baby spinach, artichoke hearts, and broccoli to the sauce. Gently stir to cover the spinach in the sauce, and continue stirring and cooking over medium heat for 2-3 minutes, or until the spinach wilts.

---

Add the cooked chicken breast back to the skillet to warm up for a minute. Serve warm, garnishing with fresh parsley and spooning the creamy spinach and artichoke sauce over the chicken and side dish of your choice.

---