Strawberry Mango Tropical Smoothie
Smoothies are a delicious and quick breakfast that give your day a healthy start. With tropical fruit, Collagen Protein, and my favorite Organic Greens powder, this Strawberry Mango Tropical Smoothie is an amazing, gut-soothing breakfast that will help power your through any morning or mid-day slump. It's also an incredibly versatile option that you can customize with your favorite protein powder to make it heartier, or you can use less liquid and put it in a bowl with additional toppings!
Is this Tropical Smoothie Healthy?
Homemade smoothies are actually a great way to pack healthy foods into a quick meal. This Strawberry Mango Tropical Smoothie features sweet, tropical fruit and juicy berries alongside healthy fats and some of my favorite gut-repairing supplements.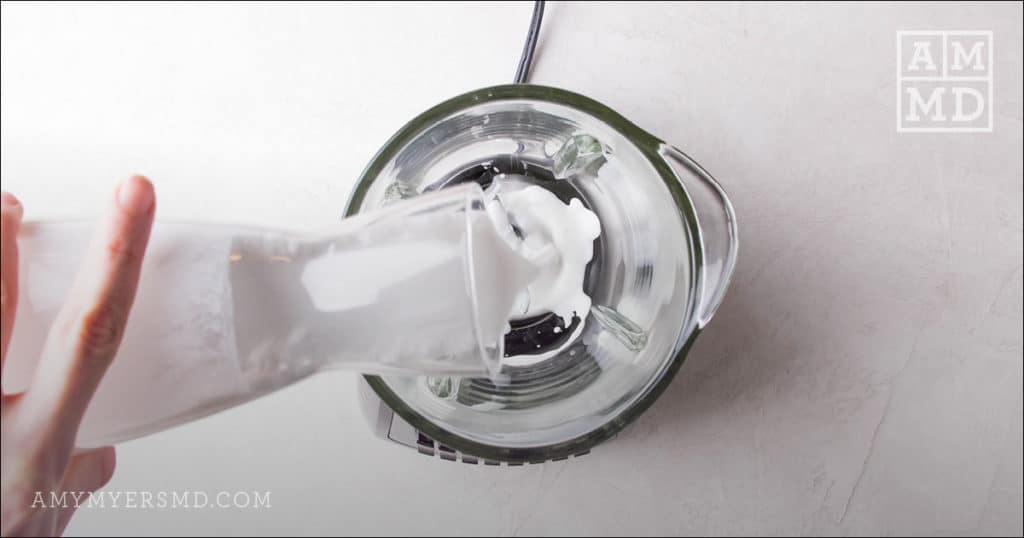 Coconut Milk
Full-fat coconut milk is an essential ingredient to make this recipe extra delicious. It's creamy and satiating and adds extra tropical flavor and velvety texture to this Strawberry Mango Tropical Smoothie. The dose of gut-soothing MCT fats are beneficial too. Use full fat coconut milk from a can, being sure to shake the can to combine the water and cream.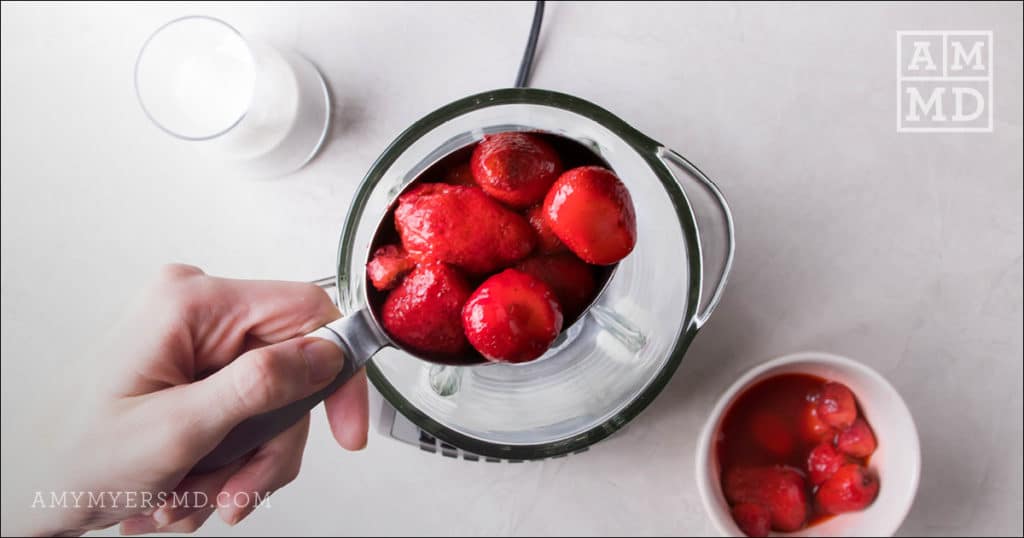 Frozen Strawberries and Mango
Strawberries are a sweet ingredient with a ton of healthy nutrients including folate, potassium, fiber, and antioxidants. Berries are also lower in sugar than other fruits, so not only do they taste good, they also support any goals you might have to lower your sugar intake and maintain healthy blood sugar levels.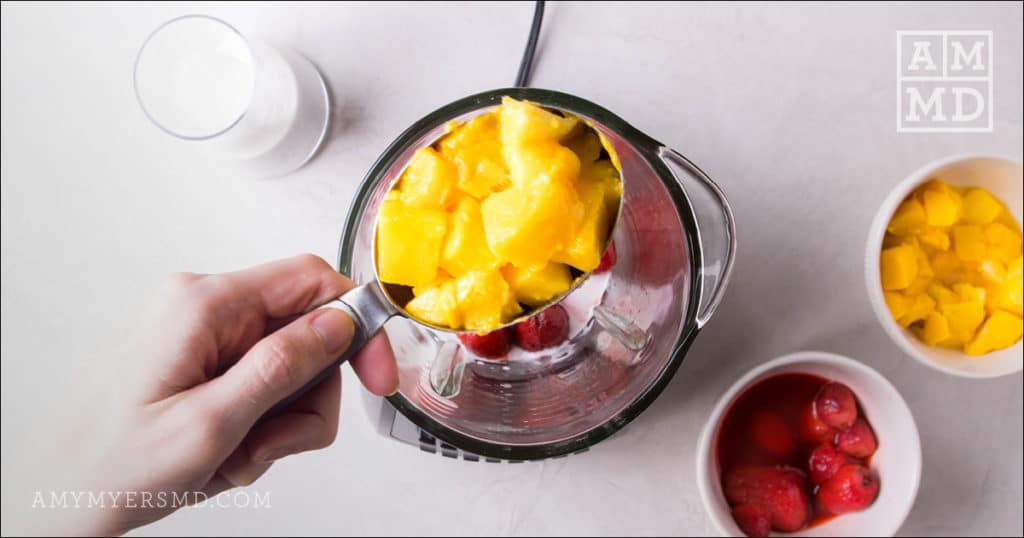 Mango may contain more sugar, yet it also provides nutrients such as copper, folate, and vitamin C. Mango is also a great tropical fruit known to promote healthy digestion, and even though it contains more sugar than berries, mango is full of fiber, which slows the absorption of sugar in the bloodstream and keeps you full. They're a soft and delicious fruit that you can be sure will contribute to your health.
Collagen Protein
This gut-repairing ingredient offers this tasty tropical smoothing protein and amino acids. Collagen is an important part of your diet that can support healthy skin, hair, and nail growth as well as joint and gut health.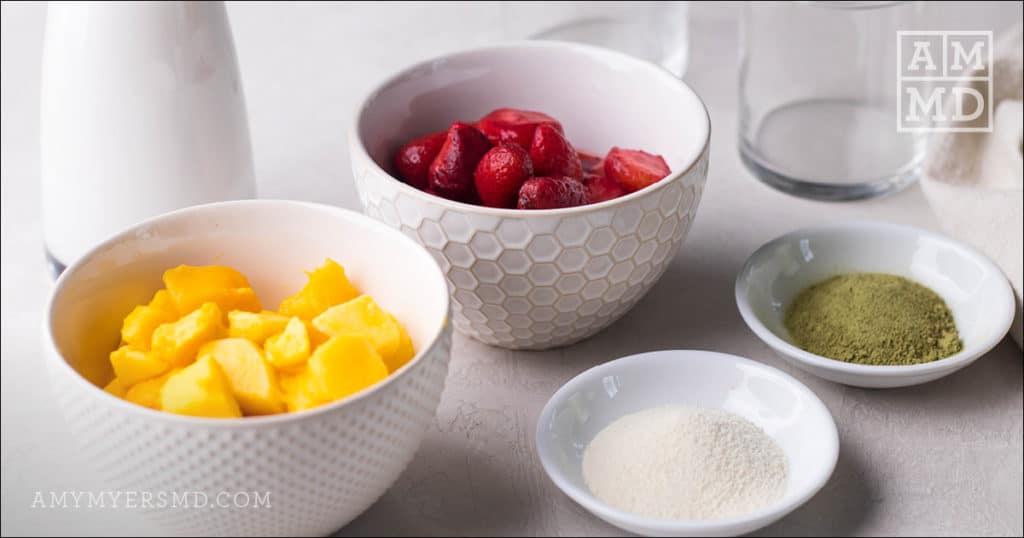 How to Make this Strawberry Mango Smoothie
My take on a Strawberry Mango Tropical Smoothie is simple and perfect for busy mornings, which I'm sure we're all familiar with! All you need to do for this recipe is combine the ingredients in a high-speed blender and blend until smooth.
I don't recommend making smoothies in advance, as the texture and color change the longer it sits. However, you CAN make prepare smoothie packs by portioning your strawberries and mango in reusable freezer bags ahead of time. Then you can add them to the blender with the remaining ingredients in the morning with any additions you want.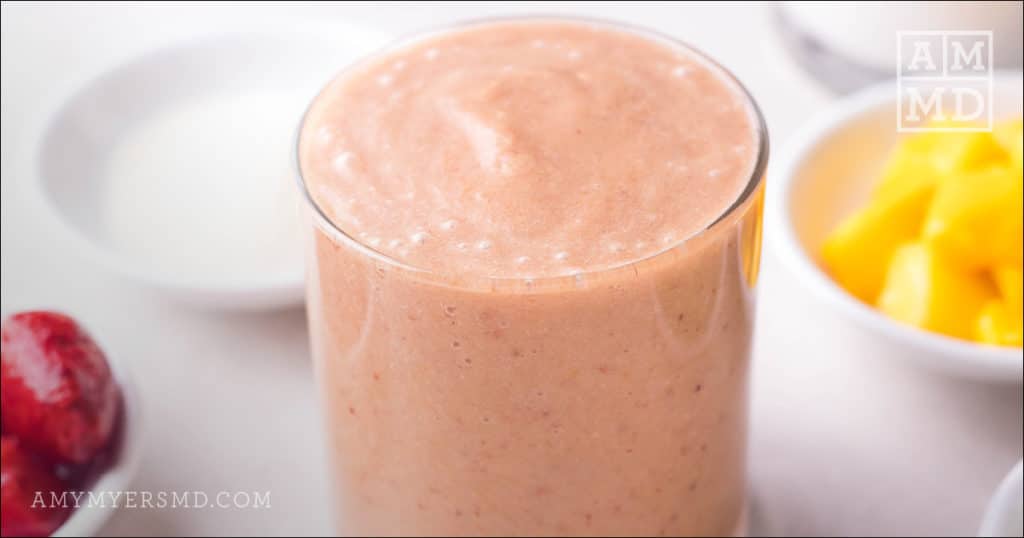 Strawberry Mango Tropical Smoothie
---
Ingredients
Instructions
Place all ingredients into a high-speed blender. Blend until fully combined.

---