Summer Squash Beef Moussaka
Made with a rich meat sauce, tender vegetables, and a silky, dairy-free bechamel, Summer Squash Beef Moussaka is a lightened up version of a traditional Greek layered dish. It's simpler than it looks and is a delicious, flavorful weeknight meal!
What is Moussaka?
A traditional dish in Greece, Egypt, and Turkey, Moussaka is a casserole made by layering potatoes, beef or lamb meat sauce, eggplant, and bechamel.
This Summer Squash Beef Moussaka draws inspiration from popular versions while keeping health in mind. In this recipe we use squash to replace eggplant, a nightshade vegetable that can irritate the gut. We skip frying the vegetables and bake them within the casserole instead. Finally, we alter the bechamel sauce to be dairy and gluten free without sacrificing taste and texture.
Let's get into how it's made.
Summer Squash Beef Moussaka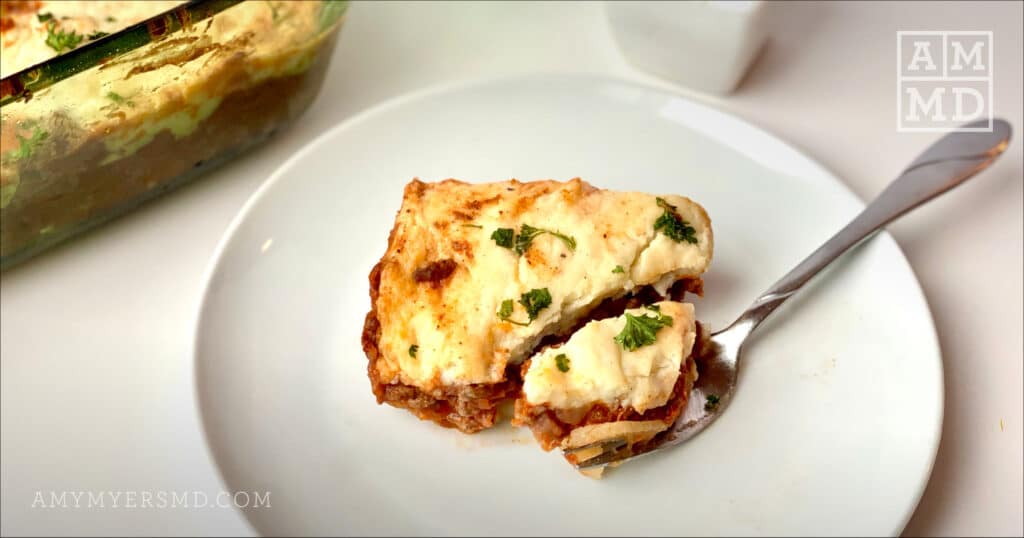 Dr. Amy Myers
May 4th, 2023
https://content.amymyersmd.com/recipe/summer-squash-beef-moussaka/
Summer Squash Beef Moussaka
How to make Summer Squash Beef Moussaka
You'll start off this recipe by prepping your veggies. Wash your produce, peel the white sweet potatoes, and then thinly slice both the white sweet potatoes and squash. Set them aside on a paper towel lined baking sheet and sprinkle with salt. This will draw out the moisture, which you'll later remove before adding them into the casserole.
While the veggies sit, soften your onions and garlic in a saucepan. You'll then add your ground beef (turkey or lamb make great substitutes here) and cook until brown. Now, the fun part—spices!
These spices are probably unlike what you're used to in a lasagna or other meaty casseroles. The cinnamon and nutmeg add a warm twist that tastes both exotic and delicious. Add the spices along with your bay leaf and tomato sauce to simmer. If you can't tolerate acidic foods or tomatoes, you can try pureeing carrots or pumpkin with sauteed onions and garlic for a similar effect.
While the sauce simmers, create your homemade bechamel sauce. It has a fancy name (and a luxurious taste), but is quite simple to prepare with some attentiveness. To keep this both dairy and gluten free, we opt for olive oil instead of butter and gluten free flours instead of all purpose. Start by heating the extra virgin olive oil in a saucepan over medium low heat. Add the rice flour and tapioca flour, stirring constantly until browned (keep a careful eye to avoid burning).
Dr. Amy Myers
May 4th, 2023
https://content.amymyersmd.com/recipe/summer-squash-beef-moussaka/
Summer Squash Beef Moussaka
Next, gradually add the almond milk, whisking constantly. Once it starts to thicken, add more. Once all the milk is added, continue whisking as it simmers until it's perfectly creamy and thick. Add a pinch of nutmeg and salt and pepper to taste. Remove the bechamel from heat.
By now, your meat sauce should be ready to go. Remove the bay leaf and add 5 tablespoons of the bechamel into your sauce. This adds a richer taste and cuts down some of the acidity of the sauce.
Now it's time to assemble your moussaka! Pat dry your potatoes and squash, which should have sweat out their moisture from the salt.
Grease a casserole dish and form the base of the casserole with potatoes. Then, layer half of the meat sauce. On top of that, layer your squash, followed by the other half of the meat sauce.
Top the casserole with the remaining bechamel sauce. Bake your moussaka for 25-30 minutes on 350. It should be beautifully browned and bubbly. Garnish with parsley.
While it's delicious piping hot out of the stove, the flavors deepen as it sits in the fridge, making fabulous leftovers the next day. Enjoy!
Summer Squash Beef Moussaka
---
Ingredients
For the Moussaka
2

tbsp

29.57

ml extra virgin olive oil

1

lb

454.00

g 85% organic grass-fed ground beef

2

white sweet potatoes peeled and thinly sliced

1

sweet onion diced

4

cloves of garlic minced

15

ounces

443.61

ml "nomato" sauce can substitute regular tomato sauce

1 1/2

tsp

7.39

ml dried oregano

1/2

tsp

2.46

ml ground cinnamon

1

leaf bay leaves

1/8

tsp

0.62

ml ground cloves

1/4

tsp

1.23

ml dried thyme

1

cup

240.00

ml homemade bechamel sauce

2

summer sqaush
sea salt to taste
ground black pepper to taste
parsley leaves for garnish
For the non-dairy bechamel sauce
5

tbsp

73.94

ml extra virgin olive oil

2

tbsp

29.57

ml Cassava flour

2

tbsp

29.57

ml tapioca flour

4

cups

960.00

ml unsweetened almond milk

1/4

tsp

1.23

ml ground nutmeg
sea salt to taste
ground black pepper to taste
Instructions
Add your olive oil to a saucepan over medium heat.


---

Once warmed, add rice flour and tapioca flour. Which constantly as it browns, being careful not to let it burn.

---

Once browned, gradually add almond milk. Pour small amounts at a time as you whisk, and pour more as it thickens.

---

Once all milk is incorporated, add nutmeg and salt and pepper to taste. Continue whisking until thick and creamy. Remove from heat once it's reached the desired consistency.

---
Preheat the oven to 350 degrees F.

---

Slice potatoes and squash. Lay them flat on a plate or baking sheet and sprinkle with salt.

---

Heat oil in a large pan or cast iron over medium heat. Add onions and saute until softened, about 5 minutes. Add garlic and saute a minute longer.

---

Add ground beef. Cook until browned, breaking it up as it cooks.


---

Stir in tomato sauce (or nomato sauce), bay leaf, and spices. Bring to a boil, then lower the heat and allow to simmer for 10 - 15 minutes or until reduced and thickened.

---

Remove the bay leaf. Turn off and remove from heat. Stir 5 TBSP of bechamel sauce into the meat sauce.

---

Grease the bottom and sides of a casserole dish. Pat potatoes and squash dry with a paper towel. Layer potato slices on the bottom of the dish, followed by half of the meat mixture. Next, layer the summer squash, followed by the remaining meat mixture.


---

Top with remaining bechamel sauce.

---

Bake for 25 minutes or until bubbly and slightly browned on top.

---

Garnish with fresh parsley and enjoy!

---