Sweet Potato Fritters
If you're looking for a savory breakfast option that's the Myers Way® approved, look no further! These baked Sweet Potato Fritters are the perfect option. They're full of ingredients that will nourish your body and power you through the day, plus they taste delicious. Sweet Potato Fritters are a great, gluten-free option the whole family will enjoy. Whether they've just turned two or eighty-two, no one will want to miss these.
What are Sweet Potato Fritters?
With coconut flour and mashed sweet potato, these Sweet Potato Fritters are a nutrient-dense breakfast, snack, or even a side dish. Sweet potato, leafy greens, and savory onions combine for in a recipe that will satisfy the pickiest of eaters. Not to mention, it's easy! Simply mix all the ingredients together and form them into equal-sized patties. The fritters are baked in the oven to avoid any mess, but you can also make them crispy by lightly pan-frying them on the stovetop after they come out of the oven. Either way, they taste amazing!
Are Sweet Potato Fritters healthy?
They sure are! Although that doesn't make them any less delicious. The sweet potatoes are the star of the recipe; however, don't overlook the supporting roles of vegetables, herbs, and coconut flour.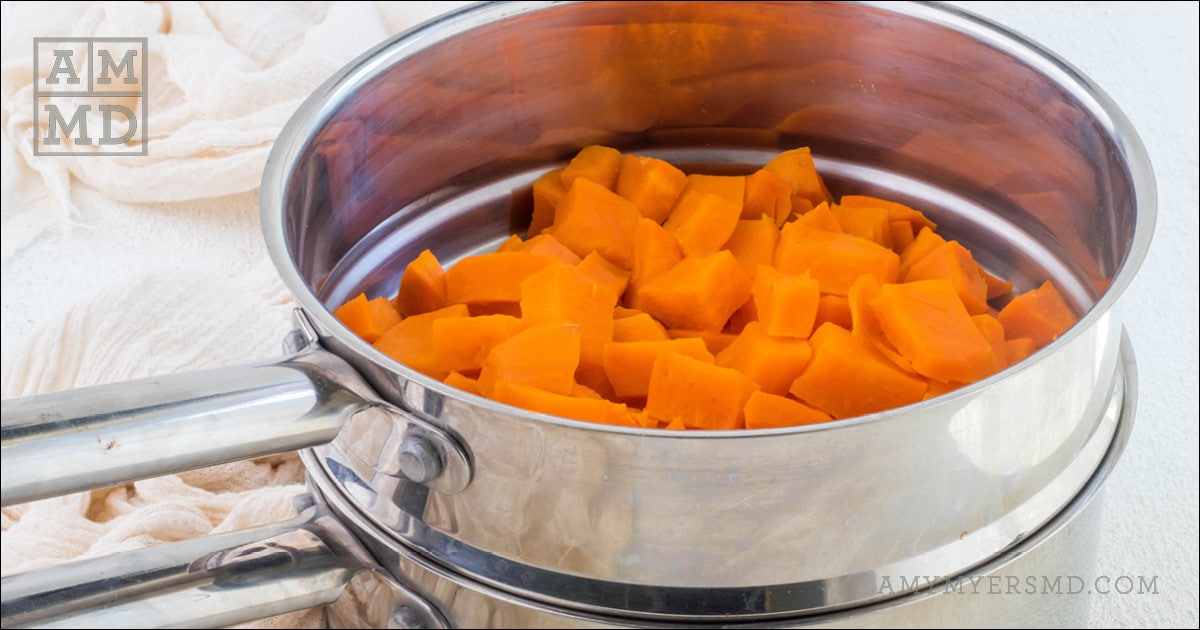 Sweet Potatoes, Spinach, and Kale
Sweet potatoes are an excellent source of beta-carotene, an antioxidant which protects your body from harmful free radical damage and helps to fight inflammation. Some studies suggest that those who consume four servings of beta-carotene rich fruits and vegetables per day are at lower risk for developing chronic illness. Sweet potatoes are also an excellent source of fiber which contains resistant starch that helps feed your body's good bacteria. On top of that, fiber, complex carbohydrates, and potassium in sweet potatoes can help keep your blood sugar stable.
In addition to sweet potato, these fritters feature some popular leafy greens: spinach and kale. In this recipe, they're interchangeable, but that doesn't mean one leafy green provides the same nutrients as the other. Spinach is higher in vitamins K and A, as well as folate while kale offers twice as much vitamin C as spinach.
You can support your body's antioxidant defense and your digestion by including more beta-carotene and vitamin-rich foods, including sweet potato, broccoli, carrots, spinach, kale, asparagus, and squash in your diet.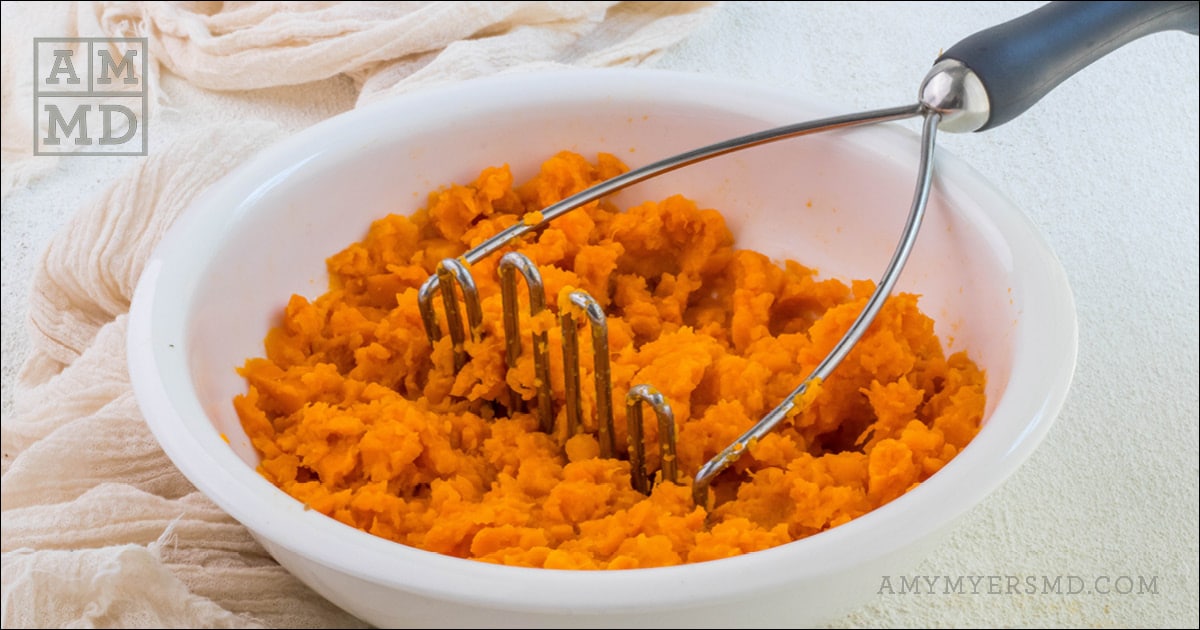 Coconut Flour
Both grain and gluten-free, coconut flour is rich in fiber and healthy fats and low in carbohydrates. This recipe calls for ¾ of a cup of coconut flour—about 30 grams of fiber! Each serving will give you enough fiber to keep you full and satisfied while supporting your digestive system so that it continues to function optimally.
The abundance of healthy fats in coconut flour add more nutrients to fuel your body and keep you satiated. Coconut flour provides you with the same medium-chain triglycerides found in coconut oil and MCT oil. MCTs are a perfect source of fuel for our body—they're easy to convert into energy!
Garlic
The garlic powder in this recipe is equivalent to about two cloves. Garlic is a nutrient powerhouse, exceptionally high in sulfurous compounds that act as antioxidants. It's also a great source of manganese, Vitamin B6, and Vitamin C.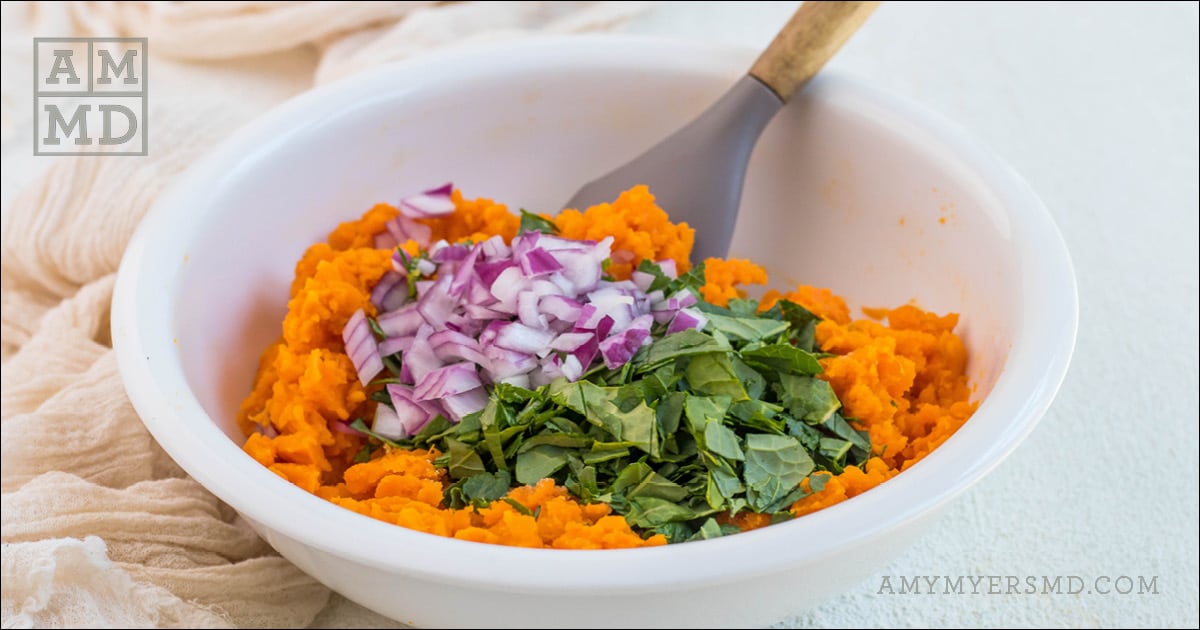 How to make Sweet Potato Fritters:
This is a simple recipe that lends itself to meal prepping or batch cooking. Combine mashed potatoes with chopped greens, onion, coconut flour, garlic powder, and sea salt in a bowl.
Stir until well combined and form into 8-10 patties. Bake until golden brown.
If you'd like to add a crispy outside to your fritters, you can fry lightly on each side in a skillet to crisp the edges.
If prepping in advance, Sweet Potato Fritters keep in an airtight container in the fridge for 3-4 days. For a great meal, I recommend pairing the Sweet Potato Fritters with a home-made hamburger patty made with grass-fed meat, and a dollop of my delicious artichoke hummus.
Can I freeze Sweet Potato Fritters?
Yes, you can freeze them in an airtight container. To ensure your fritters don't freeze together, cut parchment paper into strips or small squares, and place them between the fritters. Then place them in your sealed container (something like a reusable silicone bag works great!). To reheat the fritters, warm them in a skillet or put them in the oven under the broiler until thoroughly heated.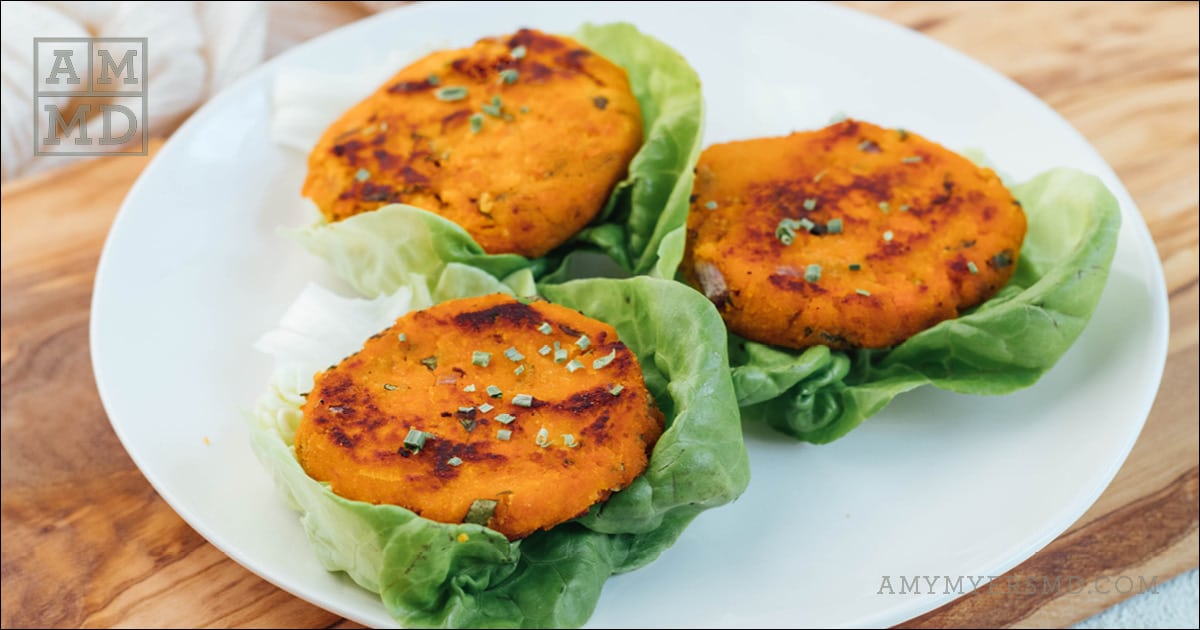 Ingredients
2 

sweet potato

3/4

 cup 

NaN

 ml coconut flour

1

 cup 

240.00

 ml spinach or kale (stems removed and chopped)

1 

white onion finely diced into approximately 1/4 cup

2

 Tbsp 

29.57

 ml full fat coconut milk

1

 tsp 

4.93

 ml garlic powder

1/2

 tsp 

2.46

 ml sea salt

3

 Tbsp 

44.36

 ml Avocado oil or coconut oil (optional)
Instructions
Preheat oven to 350°.

---

Peel the sweet potatoes and cut into ½ inch pieces.

---

Fill a saucepan with 1 inch of filtered water. Place sweet potatoes in a steamer basket in the saucepan and steam until tender- about 12 minutes.

---

Once tender, transfer potatoes to large bowl. Add coconut milk and mash until smooth.

---

Stir in coconut flour, chopped greens, onion, garlic, and sea salt.

---

Once thoroughly combined, form sweet potato mixture into 8-10 individual fritters.

---

Place fritters on a baking sheet lined with parchment paper and bake in oven for 25-30 minutes. Remove and serve, or use frying instructions below.

---

Optional: Heat 1 tablespoon of avocado or coconut oil in a large skillet over low-medium heat. Cook fritters about 3-4 minutes on each side until lightly browned. Work in batches so the fritters are in a single layer to ensure crispness. Add 1 tablespoon of cooking oil to skillet between each batch.

---