Sweet Potato Tots
These Sweet Potato Tots make the perfect side dish or snack, and are a great way to celebrate National Tater Day! They're crispy on the outside, soft and tender on the inside, and so delicious. They are made with only 6 ingredients and are AIP- and Paleo-friendly. Dip them into AIP "nomato" ketchup or a dairy-free yogurt sauce to serve alongside your favorite main dishes!
Healthy sweet potatoes
Did you know that National Tater Day is on March 31? Luckily, we can participate in this delicious food holiday by enjoying sweet taters in all kinds of delicious recipes.
Sweet potatoes are one of my favorite ingredients because they are hearty, starchy enough to feel satisfying, yet very healthy, unlike white potatoes. Sweet potatoes are loaded with an antioxidant called beta carotene, which turns into Vitamin A in the body and may protect eye health from damage and reduce inflammation.
Sweet potatoes also contain a lot of fiber, which keeps our digestive systems healthy. The prebiotic fiber in sweet potatoes support good bacteria in the gut, which help maintain a strong intestinal lining and a healthy gut environment.
The other nutrients in sweet potatoes are manganese, potassium, Vitamins B6, and C. Manganese helps maintain bone mineral density while potassium supports healthy blood pressure levels, which helps modulate muscle and heart contractions and maintains healthy nerve functions. Vitamins B6 and C help protect the body against infection and maintain our immune system.
In addition to all the health benefits, sweet potato is a tasty and versatile ingredient. Its subtle sweetness pairs well with seasonings such as garlic and onion, which are used for this sweet potato tot recipe.
AIP sweet potato tots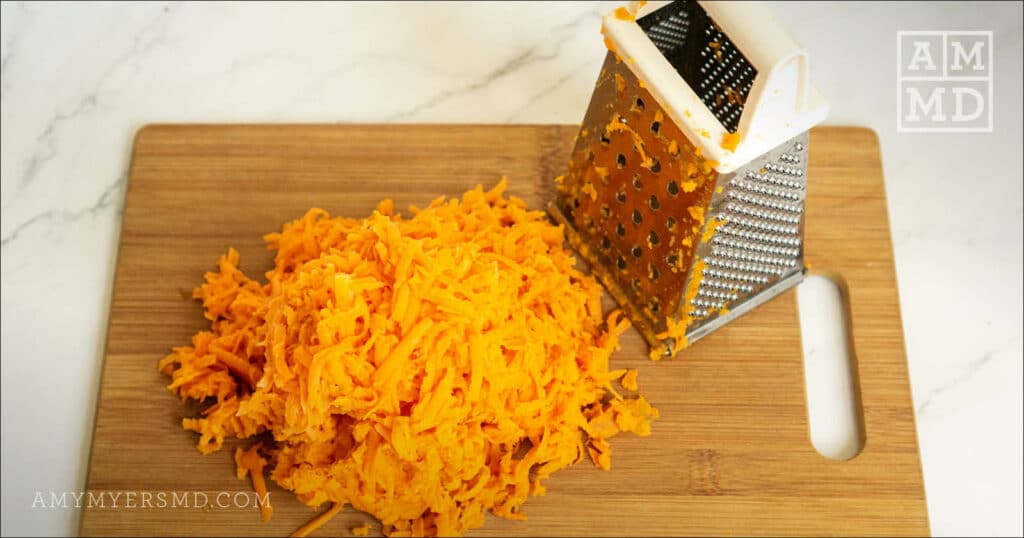 Dr. Amy Myers
March 25th, 2022
https://content.amymyersmd.com/recipe/sweet-potato-tots/
AIP sweet potato tots
Gluten-free, AIP-friendly tots
A lot of homemade tot recipes use flour as the binder and contain seasonings made from nightshade plants, such as paprika. In this recipe, I use a little tapioca starch instead of flour. Tapioca starch is a gluten-free AIP- and Paleo-friendly ingredient that helps absorb any extra moisture in the sweet potatoes and helps them stick together.
Instead of paprika, I season these tots with a little garlic powder, onion powder, and sea salt, which balance out the sweetness of the sweet potatoes.
The other ingredient for these tots is coconut oil. I add coconut oil to the sweet potato mixture to help bind the sweet potatoes. I also brush coconut oil on the tots before baking, to help give them a crisp texture as they bake. If you prefer not to use coconut oil, you can use avocado oil or olive oil instead.
AIP sweet potato tots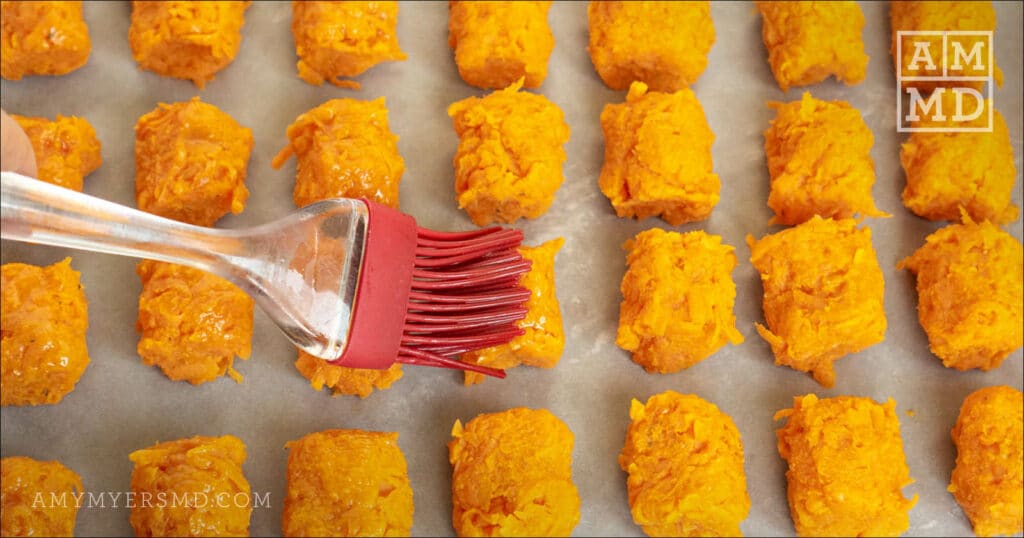 Dr. Amy Myers
March 25th, 2022
https://content.amymyersmd.com/recipe/sweet-potato-tots/
AIP sweet potato tots
How to make sweet potato tots
This recipe is very simple to make, but it does require a little planning ahead because you need to parboil the sweet potatoes to soften them. You can do this step ahead of time because you need the sweet potatoes to cool before you can handle them.
The sweet potatoes need to be boiled until a fork can be inserted but not all the way through – you want the sweet potatoes to retain their firmness instead of being soft enough to mash. The size of the sweet potato will determine how long to boil them for. Small sweet potatoes will need only about 10-12 minutes, while larger sweet potatoes might take as long as 15-18 minutes. It is better to err on the side of undercooking so you don't end up with mushy tots. The tots will bake for 20-25 minutes and will continue to cook in the oven, so don't worry about undercooked tots.
Once the sweet potatoes are boiled and cooled, you can peel them, grate them, and mix them together with the rest of the ingredients. After you mix in the seasonings, taste the sweet potato mixture to make sure it doesn't need more salt.
Line a large baking sheet with parchment paper and brush or spray it with oil. The parchment paper helps the tots not stick to the pan. Form small tots with your hands and place them on the baking sheet. Brush the tops of the tots with coconut oil and bake for 20-25 minutes, or until the tots are crispy and golden brown on the bottom and crispy on top. Allow to cool for a few minutes, then remove from the pan. If any tots get stuck to the baking sheet, carefully slide a knife underneath to loosen them, and they will pop right off.
Serve these tots with AIP "nomato" ketchup or with dairy-free garlic sauce that I use in this veggie tots recipe.
I hope you love these dippable, snackable delicious tots as much as I do!
Serve sweet potato tots with grass-fed burgers, salmon burgers, or your favorite main dish.
More sweet potato recipes to try:
Ingredients
2

lb

908.00

g sweet potato

2

tsp

9.86

ml tapioca starch

1

tsp

4.93

ml sea salt

1

tsp

4.93

ml garlic powder

1

tp onion powder

4

tbsp

59.15

ml coconut oil melted
Instructions
Preheat the oven to 400 degrees Fahrenheit. Line a large baking sheet with parchment paper and brush it with about a tablespoon of coconut oil.

---

Scrub the sweet potatoes clean and boil them for 10-18 minutes until they can be pierced with a fork, but not all the way through and there is some resistance. It is better to err on the side of undercooked than overcooked. Smaller sweet potatoes will be ready in about 10-12 minutes, while larger potatoes take 15-18 minutes. Drain the water and allow the potatoes to cool.

---

Peel the sweet potatoes by scoring the skin with a knife and using your hands to slide all the skin off.

---

Grate the peeled potatoes on the large side of the grater.

---

Combine the grated sweet potatoes with the tapioca starch, sea salt, garlic powder, onion powder, and 2 tablespoons coconut oil. Mix well.

---

Use your hands to form small tots and place them on the oiled parchment paper. Brush the tops of the tots with melted coconut oil.

---

Bake at 400F for 20-25 minutes, or until the bottom is golden and crispy. Keep an eye on them to make sure the edges don't burn.

---

Serve warm with no-mato AIP ketchup, or with garlicky coconut yogurt dip.

---