Turmeric Ginger Iced Tea and Lemon Spritzer
Make this one a double! Two (or more!) delicious drinks with a single recipe, that is. These immune system boosting Turmeric Ginger Tea and Lemon Spritzer recipes are simple to make and full of health benefits. It's so versatile, too! The Turmeric Ginger Tea can be served hot or cold, or chilled and mixed with honey, lemon, and soda water for a refreshing Lemon Spritzer. Whether you're soothing a sore throat or wanting a refreshing summer BBQ spritzer, this recipe is perfect for you.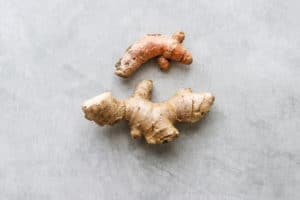 While the Turmeric Ginger Tea creates a comforting drink, for me, as we kick off the summer, this recipe shines as a crowd-pleasing mocktail. The Lemon Spritzer version of this tea recipe is subtly sweet, slightly spicy, and refreshingly effervescent. It will dazzle your tastebuds and your BBQ guests.

What is Turmeric Ginger Tea?
A combination of water steeped in fresh turmeric root and ginger root, Turmeric Ginger Tea is a great way to help balance your body's inflammatory response. Turmeric root gets the majority of its benefits from curcumin, a powerful compound that extremely promising studies have shown to be highly effective at reducing inflammation. Cucurmin in turmeric also helps to maintain optimal blood pressure levels. Ginger root also is effective at reducing inflammation, and improving cholesterol levels.

Does this Tea Have Caffeine?
Absolutely not! Although it is called tea, there aren't any tea leaves in this drink, which means it is caffeine free. The concentrate is high in antioxidants and contains vitamin c, beta carotene, and flavonoids. It also supports a healthy inflammatory response, promotes a healthy immune system and respiratory function, balances blood pressure, and helps maintain optimal cholesterol levels. It's a delicious powerhouse you can whip up on the weekend and share with friends or enjoy all week.
Turmeric Ginger Iced Tea and Lemon Spritzer
---
Ingredients
Turmeric Ginger Iced Tea
3

quarts

2838.00

ml water filtered

4

inches

10.16

cm ginger root

4

inches

10.16

cm turmeric root
Lemon Spritzer
6

cups

1440.00

ml Turmeric Ginger Iced Tea

6

cups

1440.00

ml sparkling water or soda water

1/3

cup

80.00

ml lemon juice

1/4

cup

NaN

ml honey omit if following a Candida diet or SIBO diet
lemon wedge for garnish (optional)
basil leaves for garnish (optional)
Instructions
Add water, peeled ginger root, and peeled turmeric root to a large stockpot and bring to a boil over high heat. Reduce heat to low, and simmer for about 40 minutes, stirring occasionally until the liquid is reduced to about 64 ounces, and is a light golden color.

---

Remove from heat. Using a wire mesh strainer, strain water into a 2-quart glass jar with a lid, and refrigerate at least 4 hours to chill.

---

For a single serving of unsweetened Turmeric Ginger Iced Tea, pour 12 ounces over a pint glass filled with ice.

---

Garnish with a lemon slice and fresh basil if desired.

---

Store covered in the fridge for up to a week.

---
For the Lemon Spritzer option, combine lemon juice, honey, and Turmeric Ginger Tea in a blender carafe or a large pitcher.

---

Use a blender or hand mixer to combine.

---

Pour into a pitcher, add soda water, and serve over ice.

---

Garnish with a lemon slice and fresh basil if desired.

---