Warm Coconut Berry Delight
My recipe for Warm Coconut Berry Delight is a delicious, nutrient-dense treat that makes a great breakfast, snack, or healthy dessert. This dish is layered with frozen blueberries, shredded coconut, and almonds for a delight with satisfying textures and great taste.
This Warm Coconut Berry Delight can be prepared in advance and enjoyed for days on end. Plus, it's a great way to support your body with healthy, sweet, and delicious whole foods.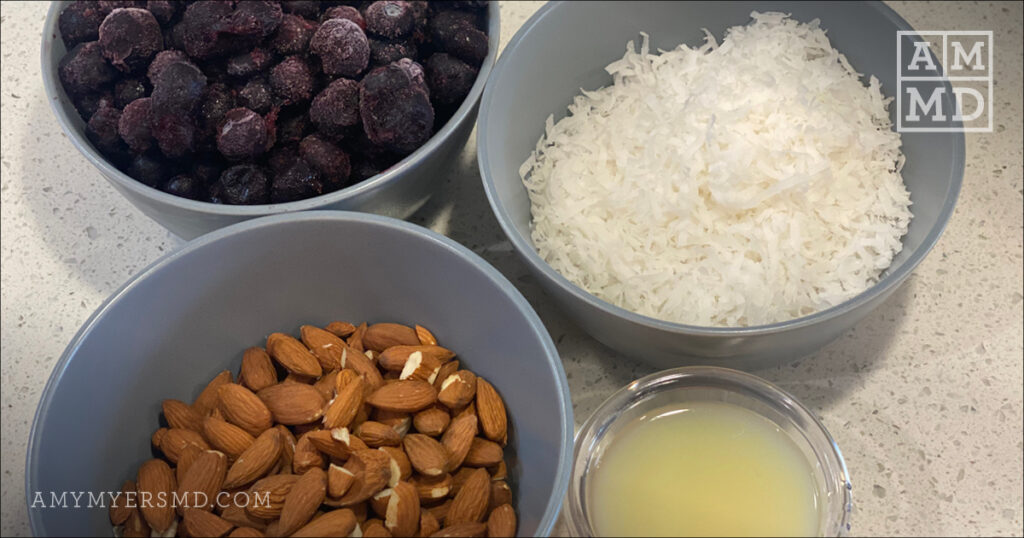 Dr. Amy Myers
August 12th, 2021
https://content.amymyersmd.com/recipe/warm-coconut-berry-delight/
Ingredients for delight – blueberries, shredded coconut, and almonds – in separate bowls
Berries
Berries are one of the healthiest fruits available. They're full of antioxidants including anthocyanins, ellagic acid, and resveratrol. These antioxidants help protect your body from oxidative damage, protect your cells, and may even reduce the risk of developing certain diseases. Berries are lower in sugar compared to other fruits and provide exceptional amounts of fiber to help with digestion and keep you full.
In this Coconut Berry Delight recipe, I used organic frozen blueberries. You can also use strawberries, blackberries, elderberries, or currants if you want to use what's available locally or add some variety to your diet. All these berries are extremely healthy, and by including a variety of berries into your diet, you can get a wider variety of nutrients.
Look for organic berries that are in season and available locally for the most nutrient-rich Delight recipe.
Shredded Coconut
Coconut is high in electrolytes such as potassium, magnesium, and phosphorus, which help maintain normal heart, muscle, and nerve function.
Unlike many other fruits that are high in carbs, coconuts provide mostly fat in the form of medium-chain triglycerides (MCTs). Your body metabolizes MCT differently than other types of fats, absorbing them directly in your small intestine and rapidly using them for energy. That's one of the reasons this dish makes the perfect breakfast or snack to keep you full and energized throughout the day.
Coconuts also contain powerful antioxidants that may help protect your cells from oxidative damage, are high in iron, and are super easy to incorporate into your diet in fun, adventurous ways.
Almonds
Even though almonds are not recommended for those following an AIP diet, they have a lot of benefits and can be a great addition to your diet if you are in the reintroduction phase and can tolerate almonds.
Almonds are high in Vitamin E, which is a healthy fat and a powerful antioxidant that may contribute to reduced blood pressure and a reduced risk of cancer. Almonds are also high in magnesium, which helps manage blood sugar levels.
Even though almonds are high in calories, they can help keep you full for longer thanks to high amounts of fat, fiber, and protein, making them a great snack to help support healthy weight loss.
In addition to all these benefits, almonds contain calcium, manganese, copper, and zinc, which all contribute to bone health and strength. Not bad for a little nut!
How to Make This Warm Coconut Berry Delight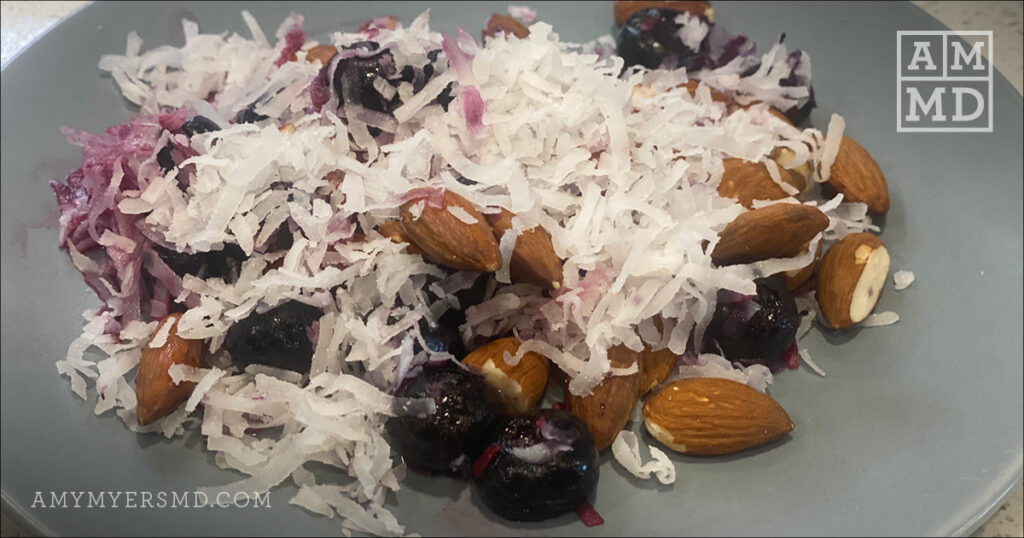 Dr. Amy Myers
August 12th, 2021
https://content.amymyersmd.com/recipe/warm-coconut-berry-delight/
Finished warm coconut berry delight on a blue plate
One of the best things about this dish is that it only requires three ingredients (or more if you want to add different types of berries) and one pan to make. To make this Warm Coconut Berry Delight, simply place your berries of choice in a pan and cover with shredded coconut and almonds before placing in the oven to bake.
The best part? The taste and texture of this dish is so good, your friends and family would never guess how quick and easy it was to make! Serve fresh from the oven or wait for it to cool down in the fridge for a refreshing summertime treat.
Warm Coconut Berry Delight
---
Ingredients
2

cups

480.00

ml frozen berries

1/2

cup

120.00

ml unsweetened shredded coconut

1/2

cup

120.00

ml almonds

4

Tbsp

59.15

ml lemon juice
Instructions
Preheat oven to 350 degrees F.

---

Place the berries in a pie pan and sprinkle the shredded coconut evenly over the berries, followed by the sliced almonds.

---

Drizzle the dish with fresh lemon juice.

---

Bake for 15 minutes.

---

Finish under the broiler on high heat for another minute or until the almonds start to brown.

---