Zucchini-Wrapped Sausage Bites
Zucchini-Wrapped Sausage Bites are a tasty recipe that looks impressive, yet is actually very easy to make with just a few ingredients! Seasoned, grilled slices of zucchini are so good when wrapped around your favorite AIP-friendly sausage.
These sausage bites pair well with my delicious dairy-free creamy dip. Serve them as finger food on a decorative skewer or as a light lunch.
Two main ingredients: zucchini and sausage
You'll make this tasty little appetizer with just two simple main ingredients: zucchini and sausage.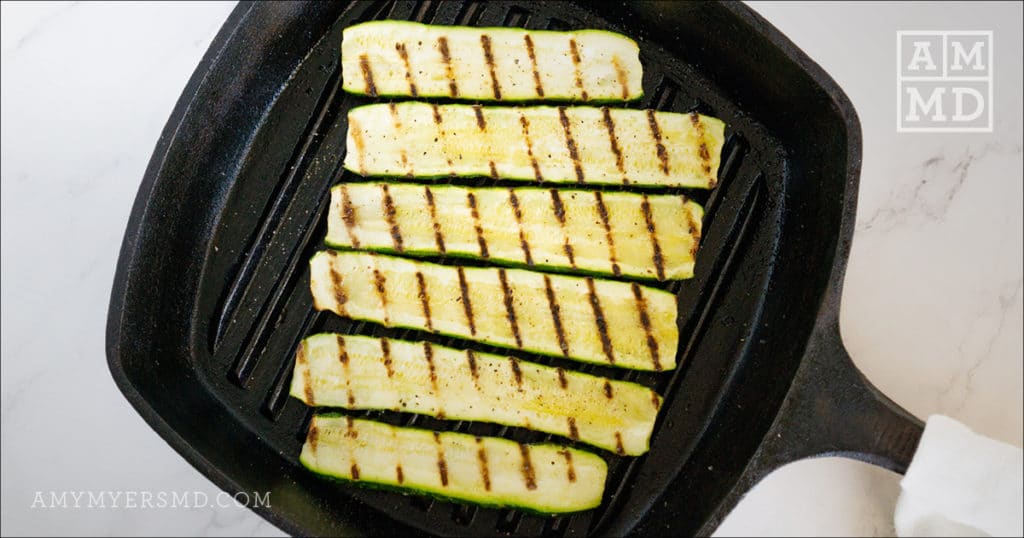 Start by slicing zucchini into thin slices along its length. Then, season it with olive oil, salt, and pepper.
Next, cook the seasoned zucchini and sausage using a grill pan or on an outdoor grill. They both take about the same amount of time to cook. That makes this a very quick recipe!
Once you've cooked both the sausage and zucchini, just slice the sausage into rounds about the width of the zucchini strips. Then, wrap the cooked zucchini around the sausage, and secure with a decorative skewer to hold them together!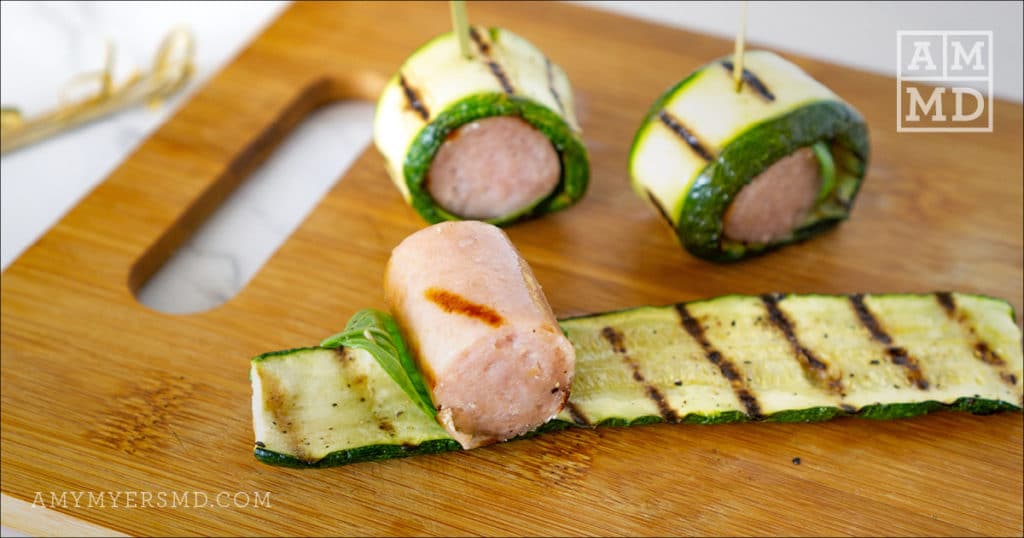 I like to add a fresh basil leaf to these zucchini sausage roll ups, for a burst of fresh flavor.
Vitamin-rich zucchini
Zucchini is a healthy, low-calorie, low-carb vegetable that contains a lot of nutrients that our bodies. It packs a whole lot of vitamins A, C, B6, and K, manganese, potassium, and magnesium in one neat package. These nutrients support your vision and your immune system. They also help to grow and repair tissues, strengthen bones, and can even help reduce high blood pressure.
AIP-friendly sausage
Sausage is a good source of the protein that builds and repairs muscle tissue. Sausages are typically made with pork, which is a great source of thiamin. This B-soluble vitamin assists with the metabolism of carbohydrates, protein, and fat. It also contains a significant amount of phosphorus, which helps strengthen bones. Pork also contains riboflavin, which helps the body release energy from the foods we eat, and vitamin B-6 and niacin. These are important for keeping the enzymes in your body functioning well.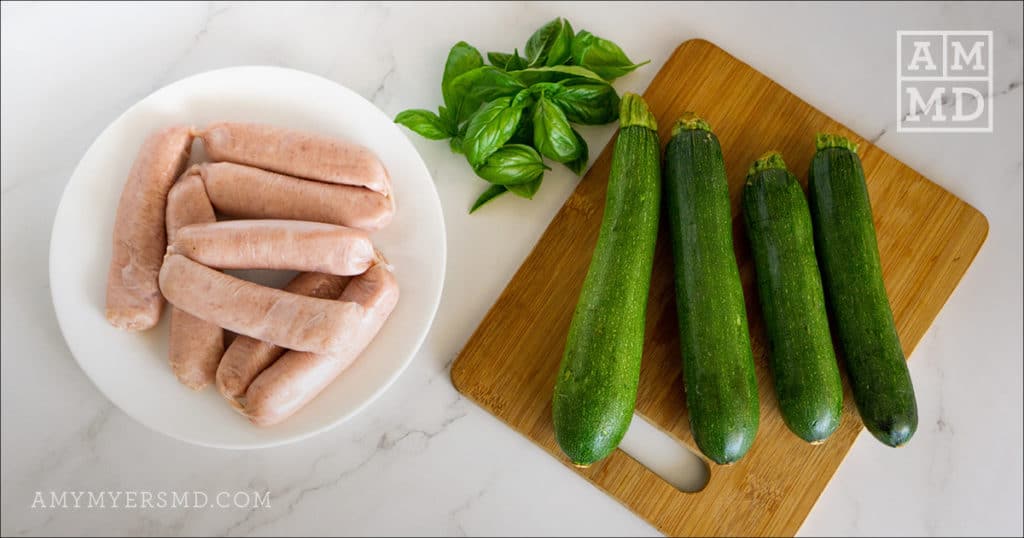 Many pork sausages are seasoned with spices from the nightshade family, such as spicy cayenne pepper or paprika extract, which can be irritating to the gut. Make sure to look for a sausage without these seasonings if you are following the autoimmune protocol.
Dairy-free creamy dip
I like to serve these appetizers with a tasty creamy dip. The base for this dairy-free dip is plain coconut yogurt. Season it with fresh herbs, garlic, lemon juice, salt, and pepper, for a lovely zesty flavor that pairs perfectly with these bites.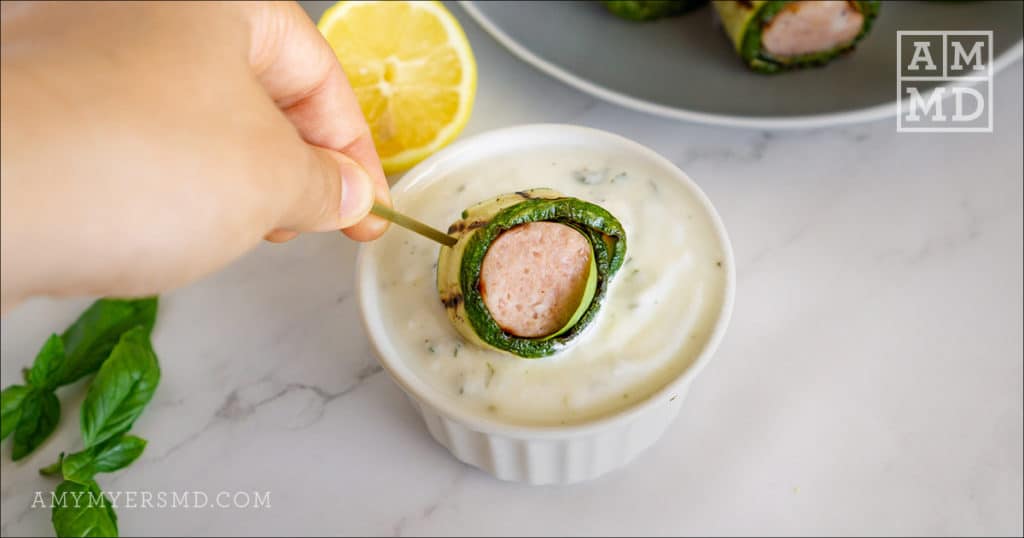 These bites make a great appetizer for a vegetarian main dish, such as Chimichurri Cauliflower Steaks or Stuffed Acorn Squash.
Other recipes you may like:
Zucchini-Wrapped Sausage Bites
---
Ingredients
1

lb

454.00

g sausage

8

zucchini

1

Tbsp

14.79

ml extra virgin olive oil
sea salt to taste
ground black pepper to taste

4

basil leaves

1/2

cup

120.00

ml plain coconut yogurt

1

cloves garlic minced

1

Tbsp

14.79

ml lemon juice
Instructions
Trim the ends off the zucchini and slice the zucchini into long strips about ¼ inch thick.

---

Brush the zucchini with olive oil and season both sides with salt and pepper.

---

Working in batches, cook the zucchini strips on a grill or in a grill pan for about 6-8 minutes per side, or until the zucchini is soft and bends without breaking.

---

At the same time, cook the sausage in batches on a grill or in a grill pan about 6-8 minutes per side, or until fully cooked.

---

Allow the sausage to cool, and cut it into pieces as wide as your zucchini stips.

---

Assemble the zucchini strips: Place a basil leaf and a piece of sausage on a grilled zucchini strip, wrap the zucchini around the sausage, and secure with a decorative skewer.

---

Prepare the coconut yogurt dip: Mince 1-2 tablespoons of basil leaves and mix them with the coconut yogurt, minced garlic, lemon juice, salt, and pepper. Mix well, and serve with the zucchini-wrapped sausage bites.

---