AIP Avocado Coconut Smoothie
This rich and creamy Avocado Coconut Smoothie is easy to make with just a few ingredients and is so satisfying! It's great for a quick breakfast on the go or as a healthy snack when you're craving a sweet treat. This AIP smoothie is Paleo-friendly and can be made vegan with one simple ingredient swap.
Healthy avocado smoothie
If you've never had an avocado smoothie, you have to give it a try! Ripe Hass avocados are the perfect ingredient to add healthy fats, nutrients, and creaminess to a smoothie. This smoothie has a subtle avocado flavor when blended with the other ingredients and sweetened slightly.
Avocados are very nutritious. They're rich in healthy fats, which help keep us full and reduce inflammation in the bowels. They're also high in B vitamins, which are important for healthy energy levels, proper digestion, hormone production, cell health, and brain function. In addition, avocados are high in vitamins C, E, and K, which are essential for a healthy immune system, anti-inflammatory and antioxidant function.
Make sure to get a ripe Hass avocado, which will blend easily and add lots of creaminess to the smoothie.
This smoothie is sweetened with a touch of honey (about a tablespoon per serving). If you want to make this smoothie vegan, just substitute the honey for maple syrup, or for a ripe banana to add some sweetness.
avocado coconut smoothie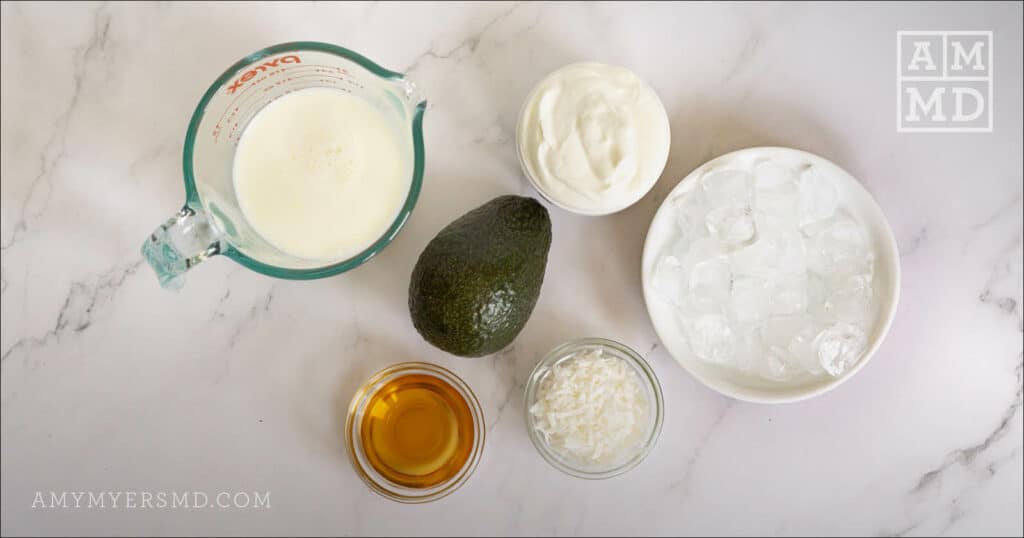 Dr. Amy Myers
June 10th, 2022
https://content.amymyersmd.com/recipe/aip-avocado-coconut-smoothie/
avocado coconut smoothie
Dairy-free coconut smoothie
I use three kinds of coconut ingredients in this smoothie: coconut yogurt, coconut milk, and coconut flakes (shredded coconut). The coconut yogurt is thick and creamy, making for a thick smoothie. The coconut milk helps the smoothie blend easily, and the coconut flakes add fiber and delicious coconut flavor.
All three types of coconut ingredients in this smoothie have important health benefits.
Coconut milk and yogurt are great dairy-free ingredients for smoothies. Coconut milk is rich in electrolytes, which help regular fluids in the body. It is also high in antioxidants, which help prevent effects of aging and tumor growth. Coconut milk contains iron, which is important for preventing anemia, and has anti-inflammatory properties.
avocado coconut smoothie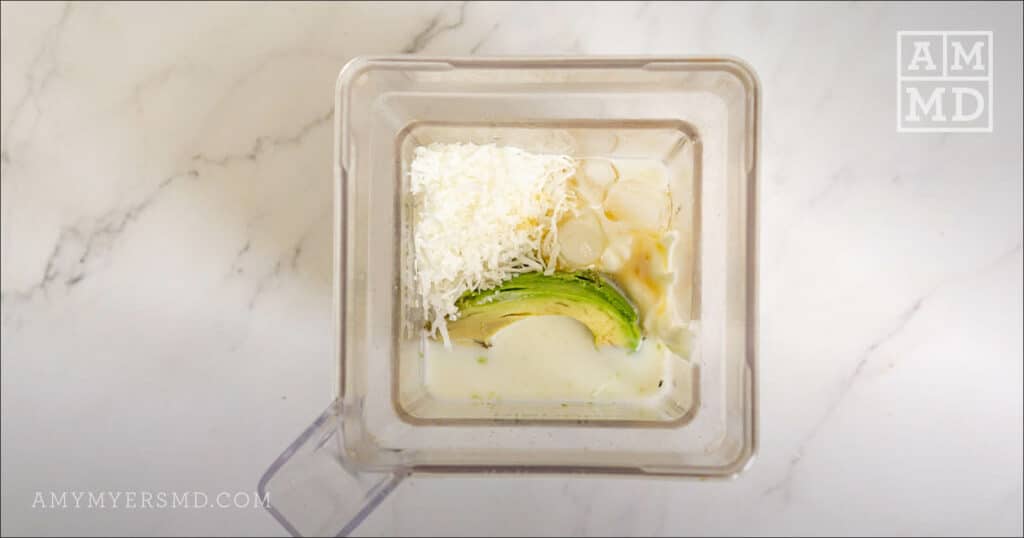 Dr. Amy Myers
June 10th, 2022
https://content.amymyersmd.com/recipe/aip-avocado-coconut-smoothie/
avocado coconut smoothie
Coconut yogurt is made from coconut milk and probiotics. You can look for store-bought coconut yogurt that doesn't have any refined sugars or gut-irritating thickeners, or you can make your own AIP coconut yogurt. The probiotic bacteria in coconut yogurt are "good bacteria" that help maintain a healthy balance of gut bacteria. Eating probiotics and having healthy bacteria in the gut can help reduce digestive issues, inflammation, obesity, and allergies.
Coconut milk, coconut yogurt, and dried shredded coconut all contain healthy fats, which make this a very filling smoothie.
Shredded coconut also contains fiber, which helps keep us full and helps prevent digestive disorders. Coconut is also high in manganese, copper, iron, and selenium. Manganese is important for bone health and metabolism. Copper and iron help form red blood cells, and selenium is an antioxidant that helps keep skin cells healthy and boosts your metabolism. Make sure to use unsweetened coconut flakes so your smoothie does not have any refined sugar in it, which can cause blood sugar spikes and irritate the gut.
I like to toast some coconut flakes in a pan until golden brown and fragrant and use that as garnish on top of my smoothies.
I hope you get to try this smoothie and enjoy it as much as I do!
More smoothie recipes to try
AIP Avocado Coconut Smoothie
---
Ingredients
1

ripe avocado

1

cup

240.00

ml plain coconut yogurt no sugar or preservatives added

1/2

cup

120.00

ml coconut milk unsweetened

1/4

cup

60.00

ml unsweetened coconut flakes

2

tbsp

29.57

ml honey

1

cup

240.00

ml ice cubes

2

tbsp

29.57

ml coconut flakes optional garnish, toasted
Instructions
Add all the ingredients to a blender and process until smooth. Serve immediately, garnishing with toasted coconut flakes. To toast coconut flakes, heat them over medium heat in a skillet stirring frequently for 3-5 minutes, or until golden brown.

---