Crispy Air Fryer Chicken
Fried chicken can be healthy! This easy, Crispy Air Fryer Chicken is gluten-free, grain-free, and low-carb. I'm so excited to share this recipe with you, because I got to use my brand new air fryer! The fried chicken breast in this recipe comes together in under 30 minutes, so not only does this recipe let you use a fun kitchen appliance, it's also quick and perfect for a weeknight dinner! Crispy on the outside, and juicy on the inside, this fried chicken breast is suitable for Paleo, keto, and gluten-free diets.
How is Air-Fried Chicken Healthy?
This Crispy Air Fryer Chicken is a healthier alternative to traditional, deep-fried chicken breast. Most fried chicken is breaded with white flour or breadcrumbs and dunked in a vat full of boiling vegetable oil. This air fryer version is grain free, AIP-friendly, and made with nutrient-dense ingredients. Plus, there's no oily mess!
Tigernut Flour and Arrowroot Starch
You won't find processed white flour or breadcrumbs in this recipe. Instead, the chicken breast is breaded with a mixture of tigernut flour and arrowroot starch. Tigernut flour is a grain-free, gluten-free flour alternative made from dried tigernuts (which are actually a tuber – not a nut!).
Tigernuts are rich in fiber, magnesium, iron, and zinc. They're also a source of resistant starch.
Arrowroot starch is used in AIP or Paleo cooking and baking as a thickening agent, but it is also an excellent way to provide the highly-desired crispiness that many gluten-free breading is missing.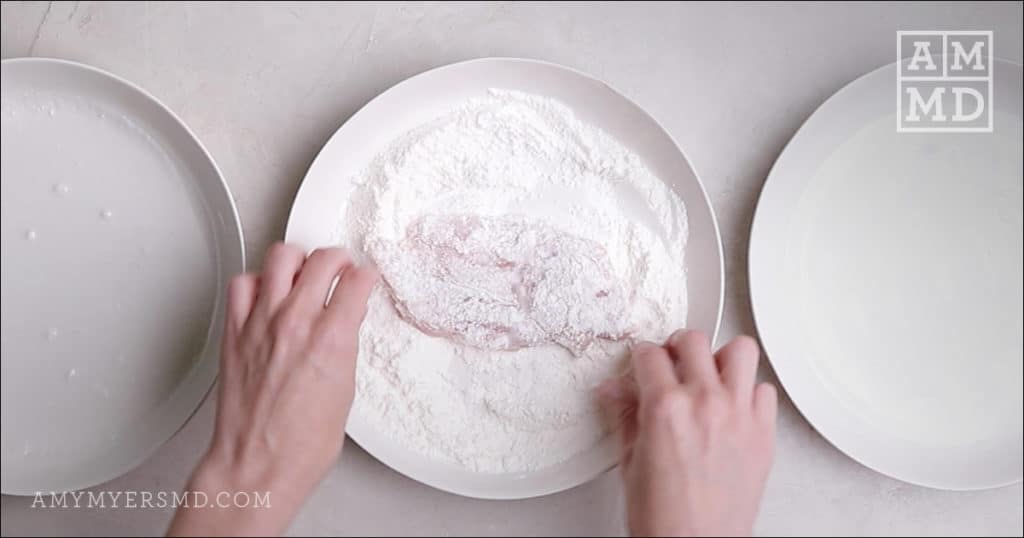 Coconut Milk
Coconut milk is full of healthy fats, and the fats are what is actually helping the breading stick to this egg-free, battered chicken breast. Coconut milk also eliminates the need for any dairy in this AIP-compliant fried chicken recipe.
Olive Oil
Most fried chicken recipes call for highly-processed vegetable or seed oils such as canola oil. Using the air fryer cuts down the amount of oil tremendously, making this a lighter option. In fact, in this recipe, you'll be using a minimally processed cooking spray. Instead of opting for all purpose cooking spray, choose an olive oil variety. Olive oil is rich in heart-healthy monounsaturated fats and has a neutral flavor.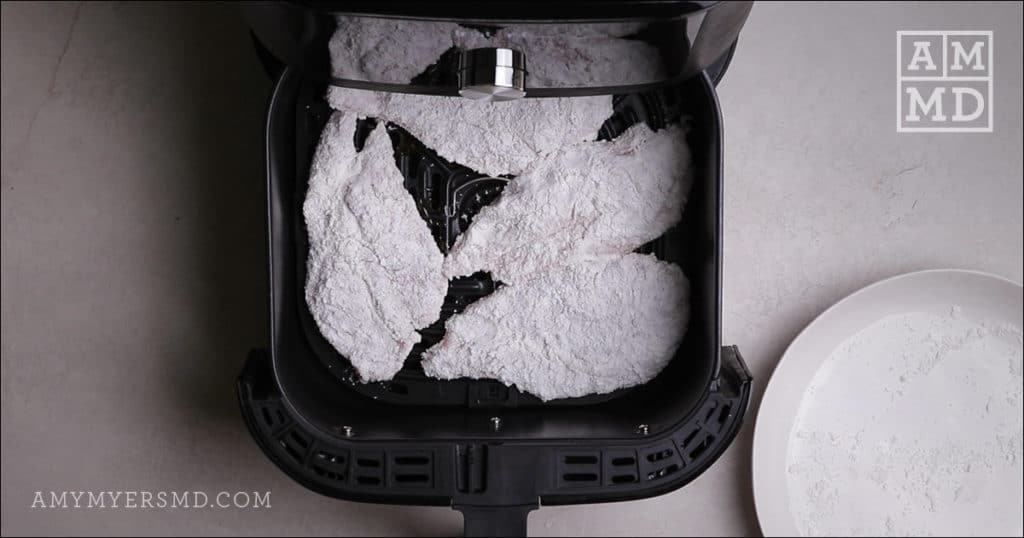 How to Make Air Fryer Chicken Breast
This Crispy Air Fryer Chicken recipe comes together in under 30 minutes and has just 6 ingredients. It's easy to make and perfect for a quick weeknight dinner.
To make this recipe, begin by preparing your chicken. Slice each chicken breast in half widthwise, so you have 4 thinner slices. Pat each breast dry with a paper towel to remove moisture. Set aside.
Next, pour your coconut milk into a small bowl and set aside. In a separate bowl, stir together the tigernut flour, arrowroot starch, and sea salt.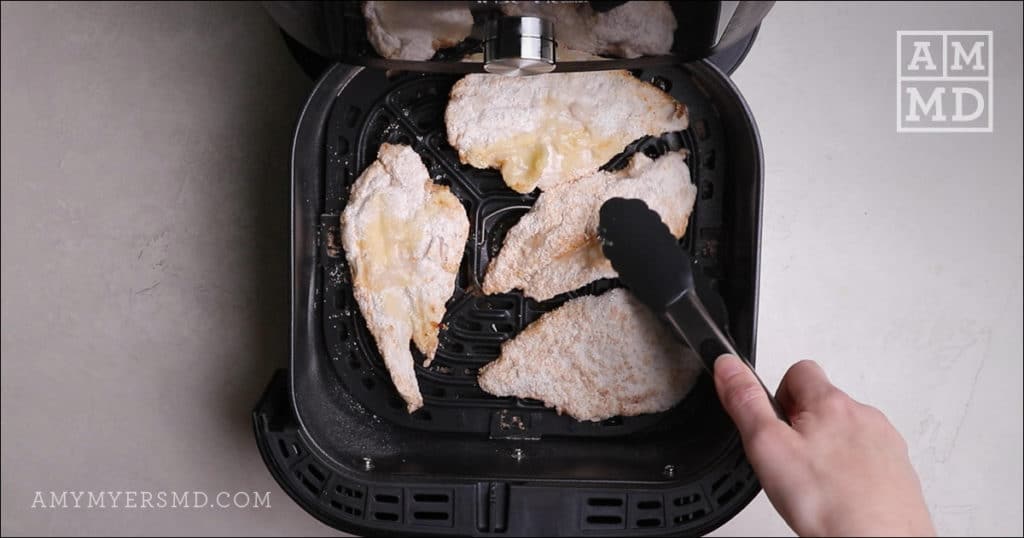 Now, coat each sliced chicken breast in the coconut milk and then dredge through the flour mixture. Place each chicken breast on a baking sheet after dredging, to ensure the coating stays clean.
After coating each breast, go back and dredge each one in the flour mixture again for extra coating. Spray your air fryer basket and each breast lightly with the olive oil spray.
Working in batches if needed, place the breaded chicken in a single layer in the air fryer basket. Cook at 375 degrees for 10 minutes, then carefully flip and cook for another 5 minutes. The breading should be golden and the internal temperature should be 165 degrees.
Serve alongside sweet potato fries or a dinner salad.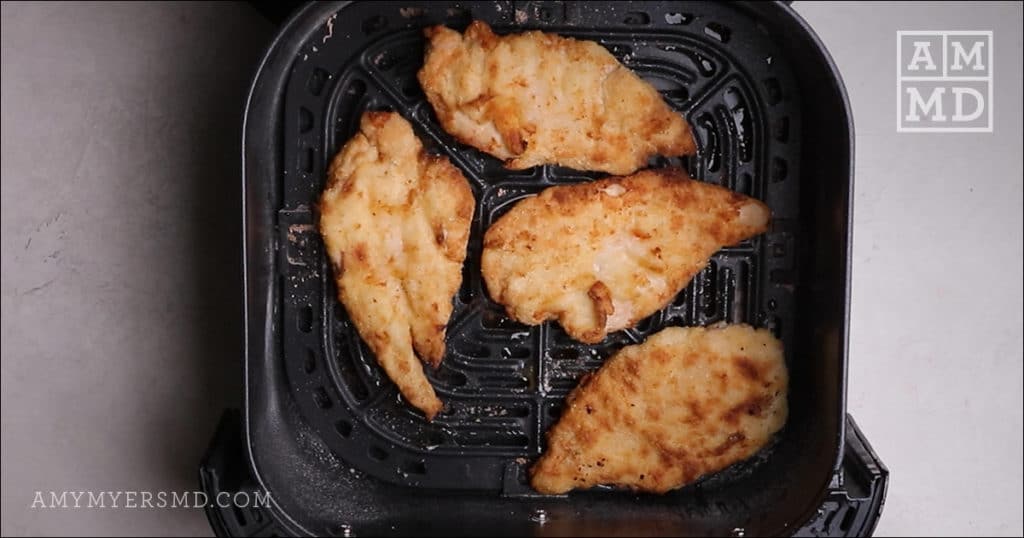 How to Store Air Fryer Fried Chicken Breast
Cooked chicken will stay fresh in an airtight container in the refrigerator for up to 4 days. To reheat, simply return the chilled fried chicken bread to the air fryers for about 5 minutes at 375 degrees, or until the chicken is warmed through and the breading is crisp.
Can I freeze any leftovers?
I do not recommend freezing your Crispy Air Fryer Chicken. Freezing will draw in too much moisture and the breading will become soggy and fragile.
Other chicken breast recipes you'll love: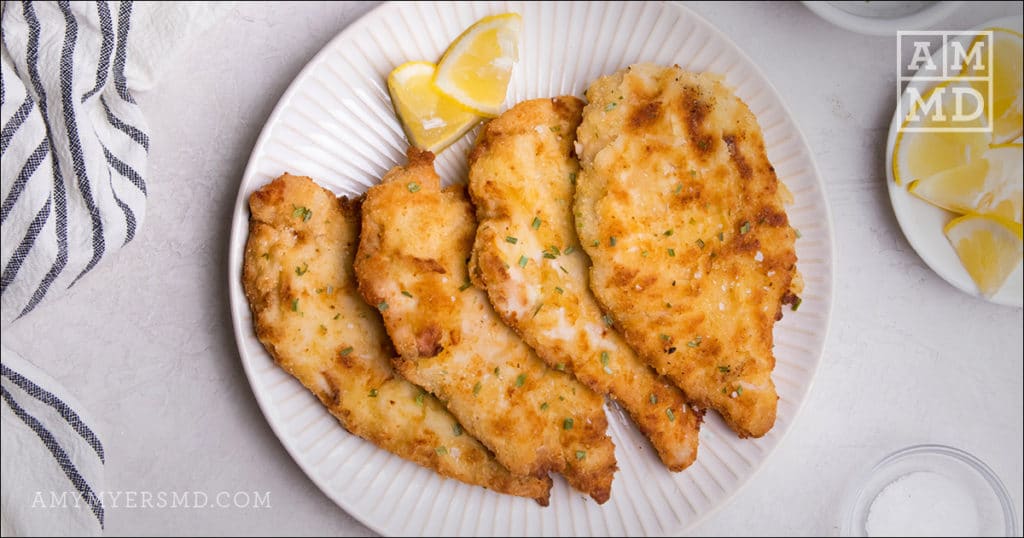 Ingredients
6

chicken breast approximately 1 1/2 lbs, boneless, skinless

1/3

cup

80.00

ml Tigernut flour

1/4

cup

60.00

ml arrowroot starch

1/2

tsp

2.46

ml sea salt

1/3

cup

80.00

ml coconut milk from a can or carton
extra virgin olive oil or cooking spray
Instructions
Slice each chicken breast in half so you have 2 pieces from each breast. Dry each chicken breast with a paper towel. This helps the chicken get crispy. Set aside.

---

Pour coconut milk into a shallow, wide bowl. Set to the side.

---

Stir together tigernut flour, arrowroot starch, and salt in a large bowl.

---

One at a time, coat chicken breasts in the coconut milk then dredge in flour mixture. Place on a baking sheet to keep chicken breasts from overlapping, so the coating stays clean on each. After you've coated each chicken breast, go back and dip each breast in the flour mixture one more time.

---

Working in batches if needed, place chicken breasts in the air fryer basket in a single layer, and cook at 375°F for 10 minutes. Flip chicken, and then cook for another 5 minutes, until coating is golden and chicken is cooked through. Internal temperature should reach at least 165°.

---