Bacon Ranch Pasta Salad
This fabulous Bacon Ranch Pasta Salad copycat recipe is low carb, keto friendly, AIP, Paleo, and Whole30 compliant! It's an easy and healthy recipe to make ahead and serve at your next BBQ. This cold pasta salad is gluten free because it uses heart of palm noodles in place of traditional bowtie pasta. Make it with store-bought mayo for a simple approach, or whip up a batch of the eggless mayo for an alternative dressing option. I've created this as a side dish recipe (it's great to bring along to a any party!) but you can add chicken to make it a great main dish on a warm night. We get a lot of those in Austin!
A Great Make-Ahead
This Bacon Ranch Pasta Salad can be made in advance and kept in the refrigerator for up to a week. I've made this recipe for a Sunday afternoon get-together, then portioned out the leftovers to take to the office for lunch along with chicken or chilled grilled salmon. Both are great additions to this wheat-free pasta dish! In fact, I recommend making the salad a day ahead so the flavors can blend overnight.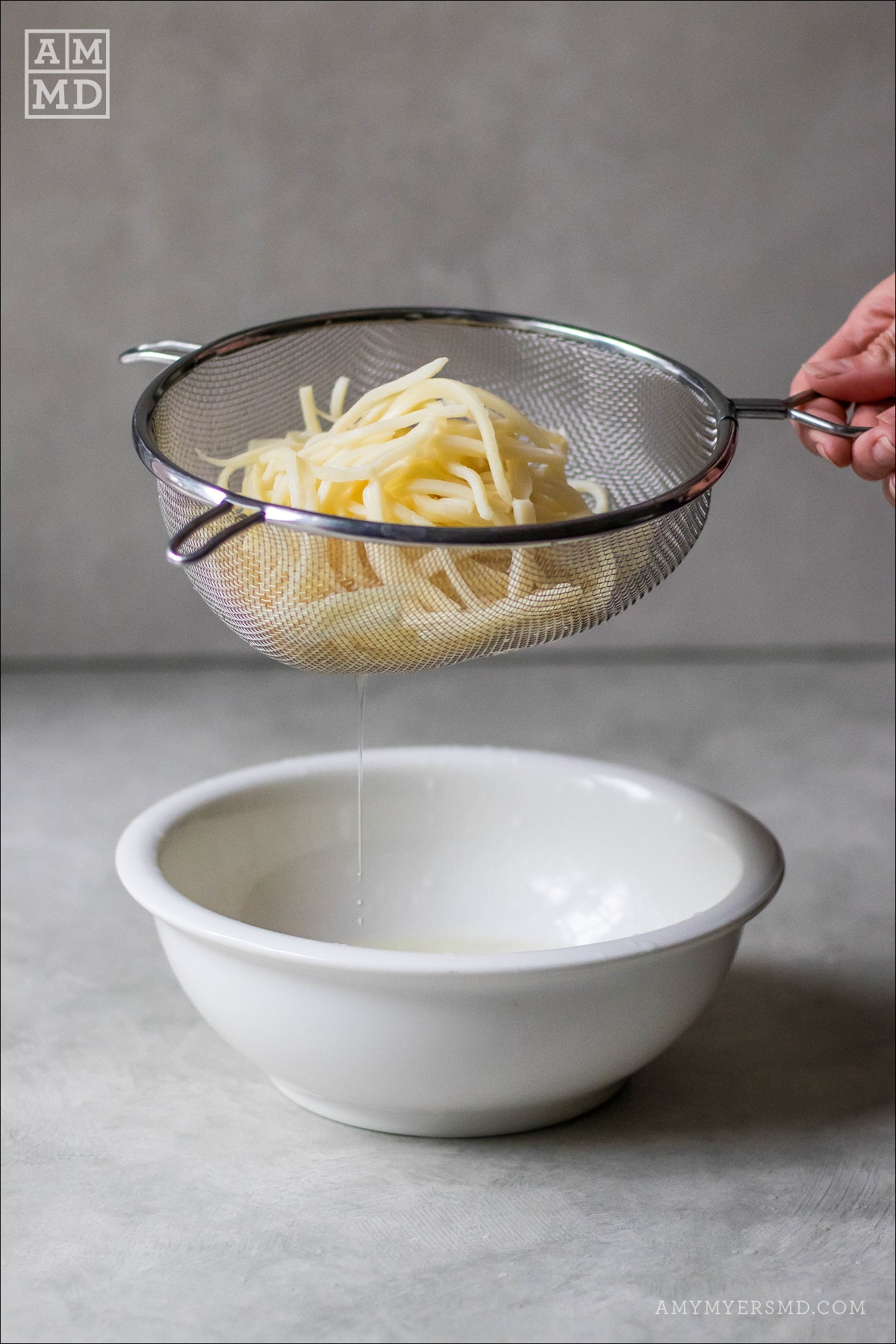 How do I prep Heart of Palm noodles?
This is one of my new favorite ingredients! Noodles made from the heart of palm vegetable are delicious. If you can't find a ready-made variety, you can julienne the hearts of palm to make the same noodles with a little more effort.
Heart of palm noodles are super easy to prep! It's as simple as opening a can or bag of the noodles, draining the water, and soaking for about 30 minutes in water or coconut milk to neutralize the flavor. No need to cook these at all, after they've soaked they're good to go!
Easy to customize for your taste
You can easily customize this recipe. The ranch seasonings and herbs can be switched with substitutes if you have a personal intolerance to one or more included in the recipe below. I've swapped the parsley for dried cilantro, and left out the garlic and onion when I was serving this to friends following a low-fodmap diet.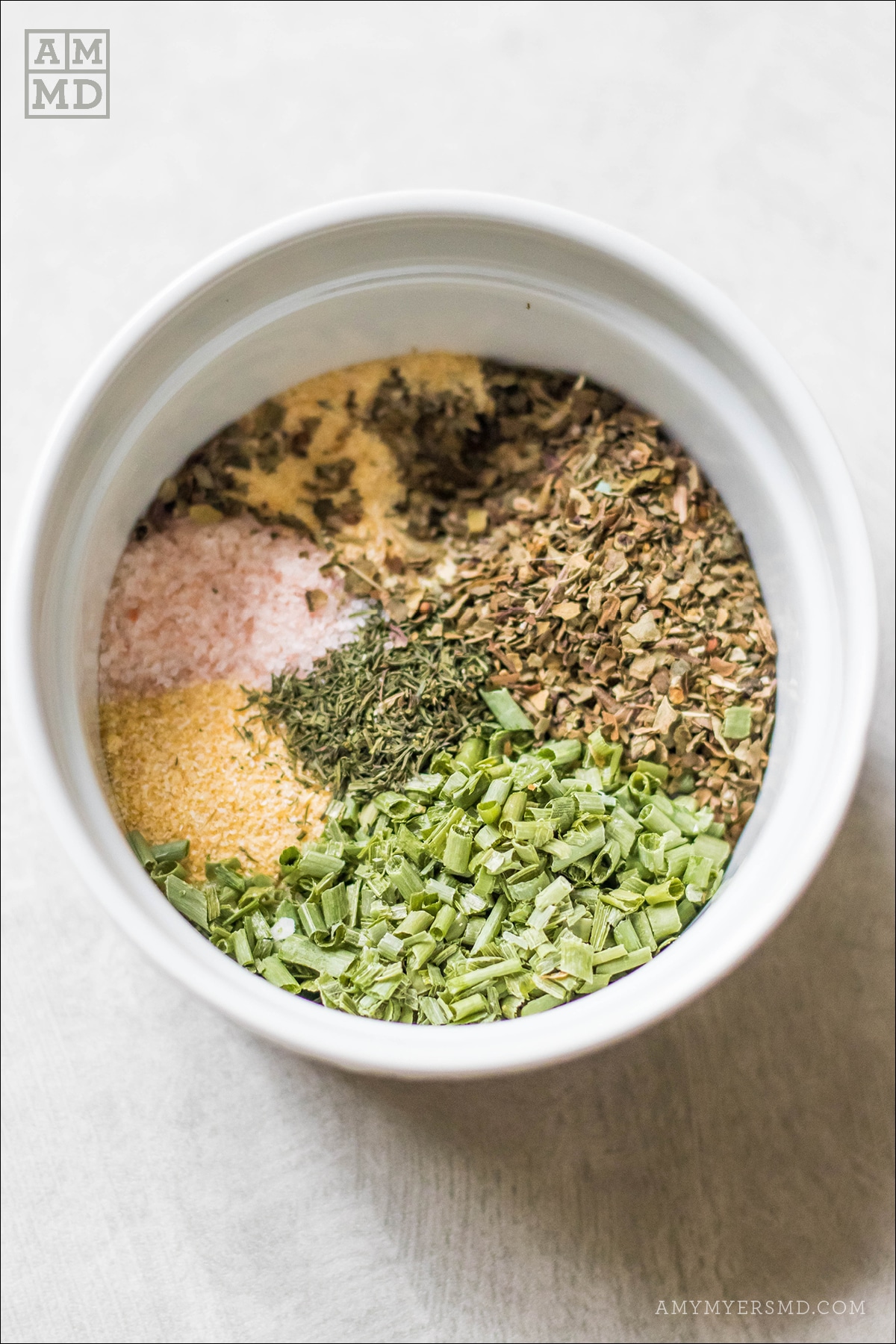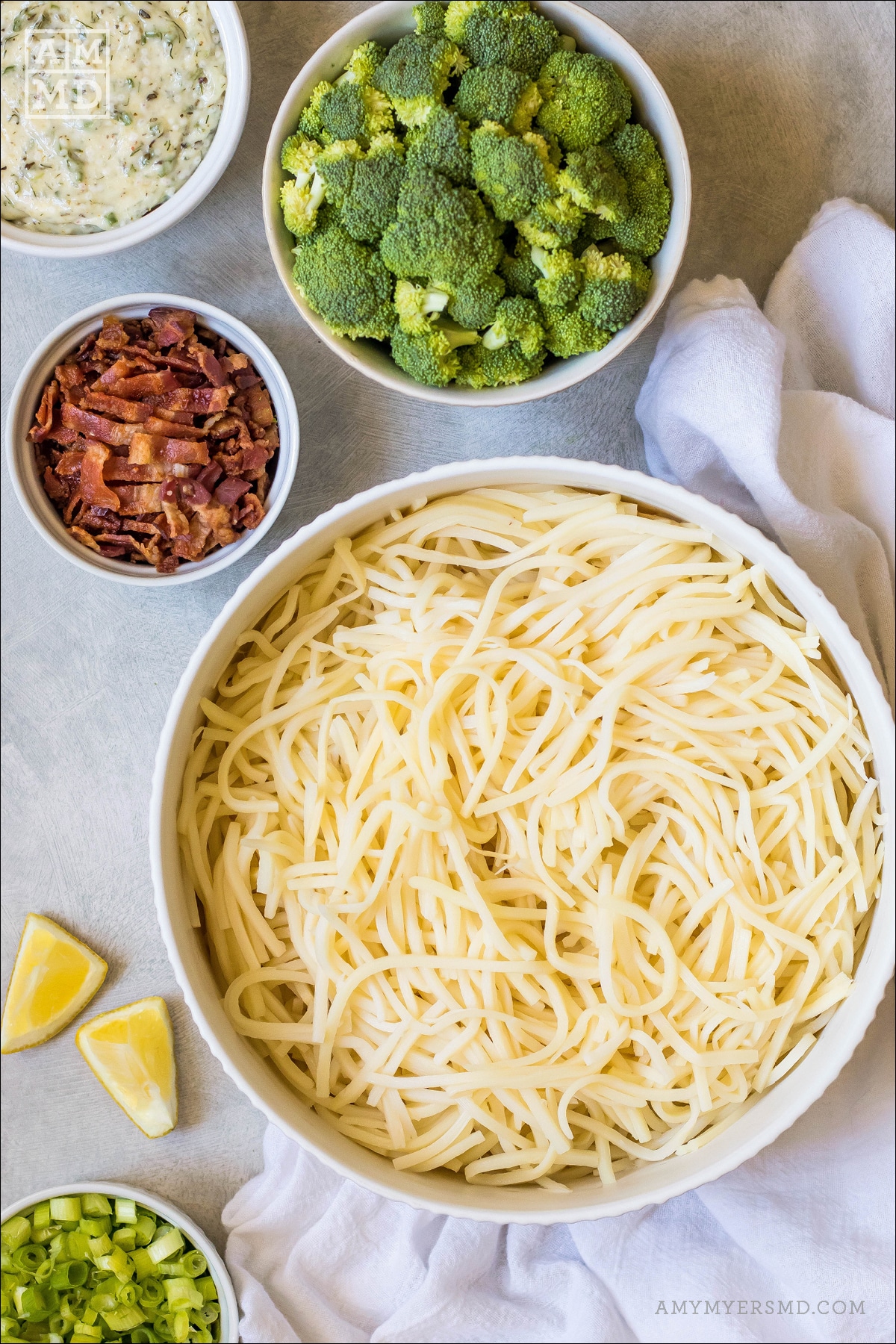 You might find you want to mix up the vegetables in this recipe for a new variation. Try swapping the broccoli for celery and diced apple, or adding chopped avocado if you plan to serve the dish right away.
Can I make this Bacon Ranch Pasta Salad without mayo?
You can make this pasta salad recipe with or without traditional mayo. If you choose to use mayo, I recommend one made with avocado oil.
Some people, like those following an autoimmune diet and anyone who avoids eggs, might like to make this pasta salad without traditional mayonnaise. For you, I've included an eggless mayo recipe, which is equally delicious. In fact, I alternate between regular mayo and this dressing just for a change of pace!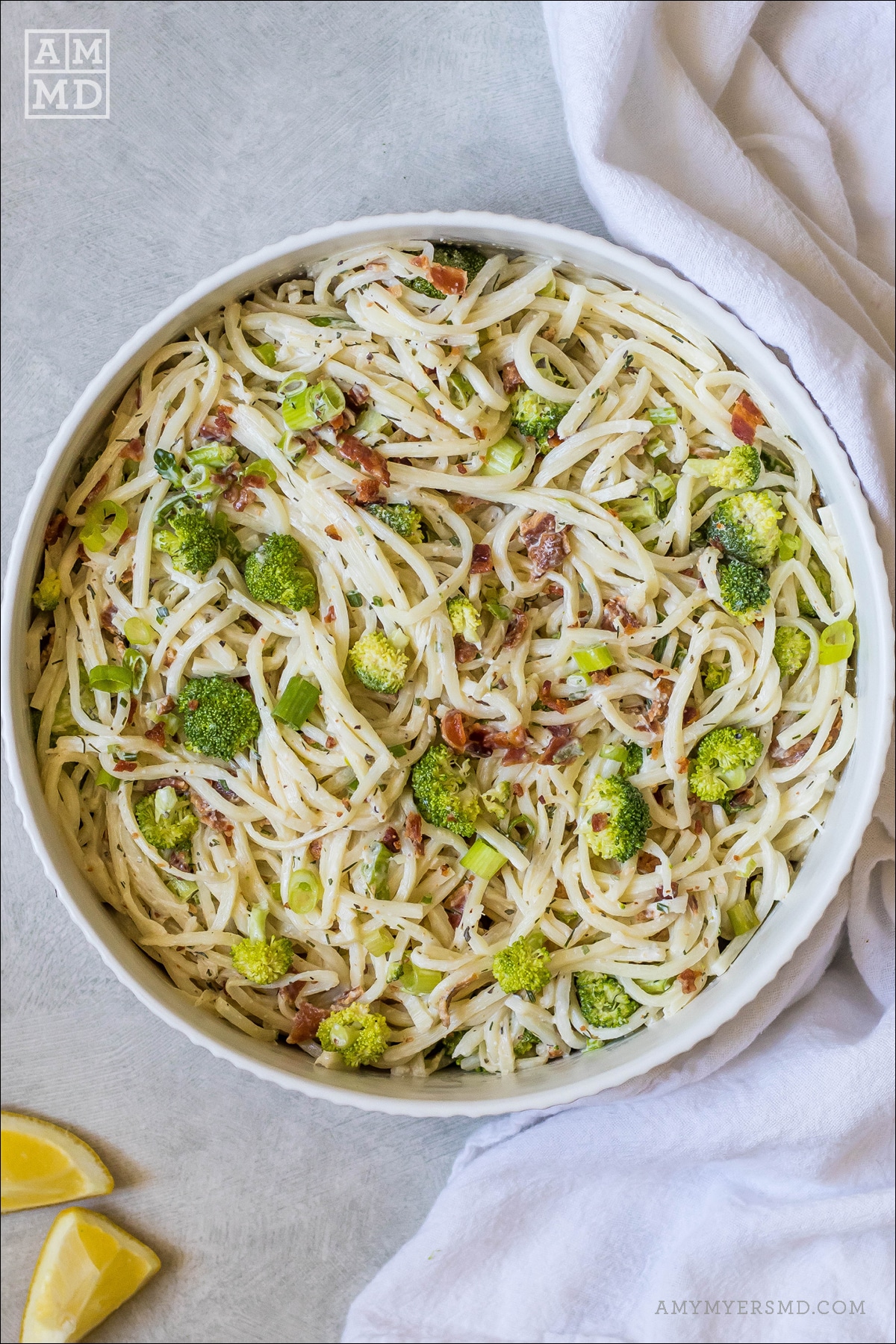 Ingredients
Ingredients for Pasta Salad
3

cans heart of palm noodles (or 4 cups julienned heart of palm)

1

cup

240.00

ml broccoli

1/2

cup

120.00

ml green onions diced (omit for SIBO protocol)

3

slices nitrate-free bacon

5

slices nitrate-free bacon

3/4

cup

180.00

ml mayo (use recipe for egg-free mayo below for AIP option)

1

Tbsp

14.79

ml chives dried

1

Tbsp

14.79

ml parsley dried

1

tsp

4.93

ml dill dried

1

tsp

4.93

ml granulated garlic (omit for SIBO protocol)

1/2

tsp

2.46

ml sea salt

1/2

tsp

2.46

ml onion powder (omit for SIBO protocol)

1

lemon
Ingredients for Eggless, AIP Mayo
2/3

cup

160.00

ml Avocado oil

1/4

cup

60.00

ml extra virgin olive oil

1/4

cup

60.00

ml palm shortening

2

tsp

9.86

ml apple cider vinegar

1

tsp

4.93

ml garlic powder (omit for SIBO)

1

scoop The Myers Way® Collagen Protein

3/4

tsp

3.70

ml sea salt
Instructions
Strain the noodles from the water in the can. Place noodles in a bowl of water or coconut milk. Set aside to soak for 30 minutes to neutralize the flavor.

---

In the meantime, bring 3 cups of water with a pinch of salt to a boil over high heat. Meanwhile, wash and cut off the florets of your broccoli. Discard the stalks. Add the florets to boiling water. Blanch the florets for about 4 minutes until tare bright green and crisp-tender. Drain well and set aside.


---

Cook the bacon over medium heat. Drain, then chop. Chop green onion and set aside.

---

Add the chives, parsley, dill, garlic, sea salt, and onion powder to ¾ cup of mayo or the alternate dressing. Stir to combine.

---

Add all ingredients to a large bowl and stir until everything is evenly coated. Let chill in the refrigerator for about 20 minutes before serving. Prior to serving, add a squeeze of fresh lemon juice to brighten the flavors.

---
Using a stand or hand mixer, combine all ingredients and mix on medium or high speed for 8-10 minutes, until soft peaks form. Store covered in a glass jar in the refrigerator for up to a month.

---