Baked Cod
This recipe for tender, flaky baked cod is a go-to when I am craving a seafood dinner. It takes just over 15 minutes to prepare with only 5 main ingredients. This cod recipe is light and flavorful, thanks to a quick lemony Dijon sauce that is brushed onto the cod before baking. If you're looking for a great AIP-friendly cod recipe for the whole family, give this one a try! This baked cod is also suitable for the Paleo and SIBO diets.
Healthy nutritious cod
Cod is often overlooked when people think about making a seafood dinner, but it is a tasty, flaky fish with a mild flavor and a lot of nutritional value and health benefits.
Cod is high in protein but low in fat and carbs, making it a low-calorie seafood option. Cod is also high in B vitamins and minerals. B vitamins, such as vitamin B6, B12, and niacin are essential for metabolizing nutrients and helping the body release energy from food. They also help form red blood cells and DNA, and are required for healthy chemical reactions in our bodies.
Cod is high in phosphorus, which is important for healthy bones and teeth, and in selenium, which helps protect and make DNA within our cells.
On top of all these health benefits, cod is also lower in mercury than other popular seafood choices, such as tuna, king mackerel, or swordfish, making it a great option for dinner!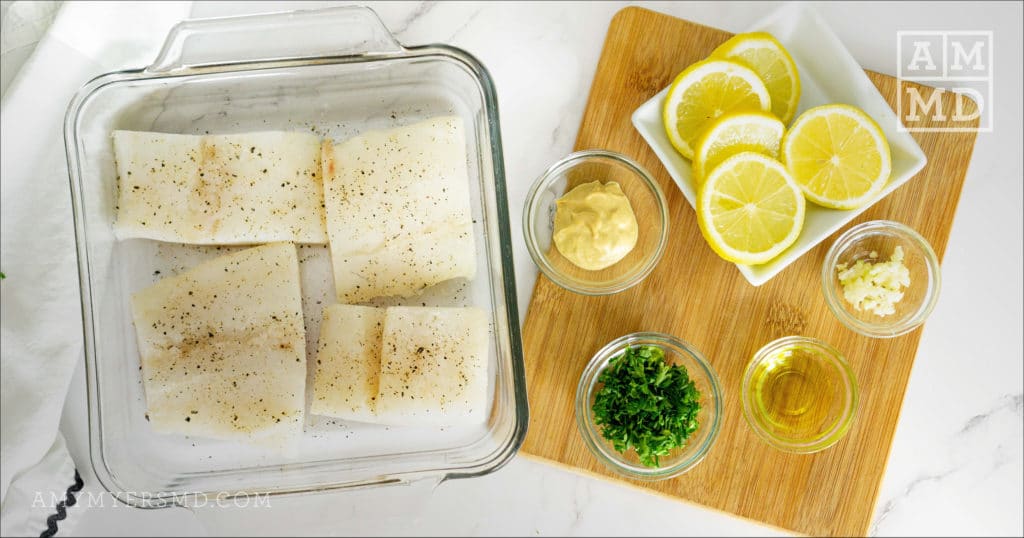 Lemon Dijon baked cod
This baked cod recipe requires only a few ingredients to make a delicious, light sauce: simply whisk together fresh lemon juice, olive oil, Dijon mustard, and fresh parsley in a small bowl and brush the sauce onto cod fillets that have been seasoned with salt and pepper.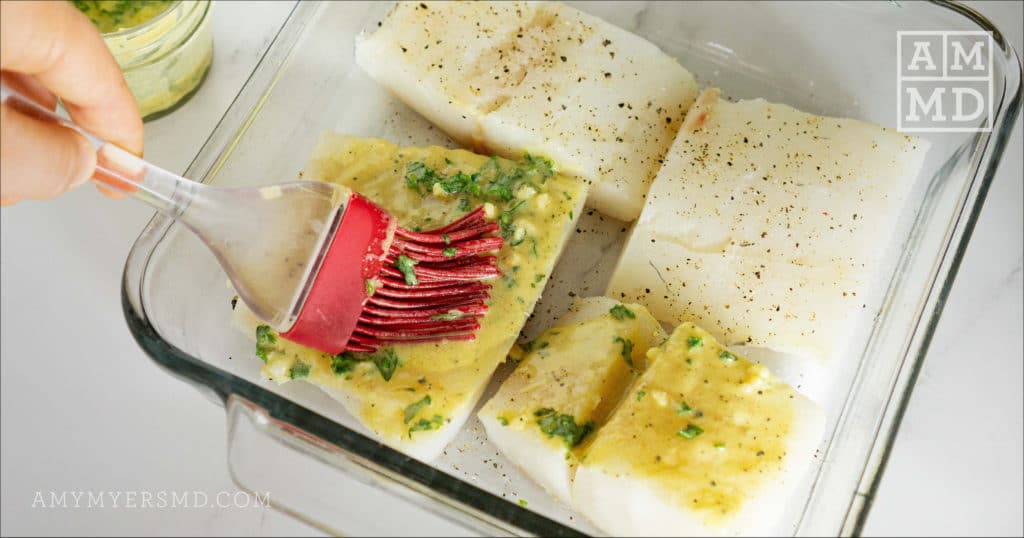 The lemon and Dijon mustard give the cod lots of fresh flavor, while olive oil adds healthy monounsaturated fat that is good for the heart and has anti-inflammatory properties.
Bake the cod for about 15 minutes, or until it is fully cooked and flakes easily with a fork.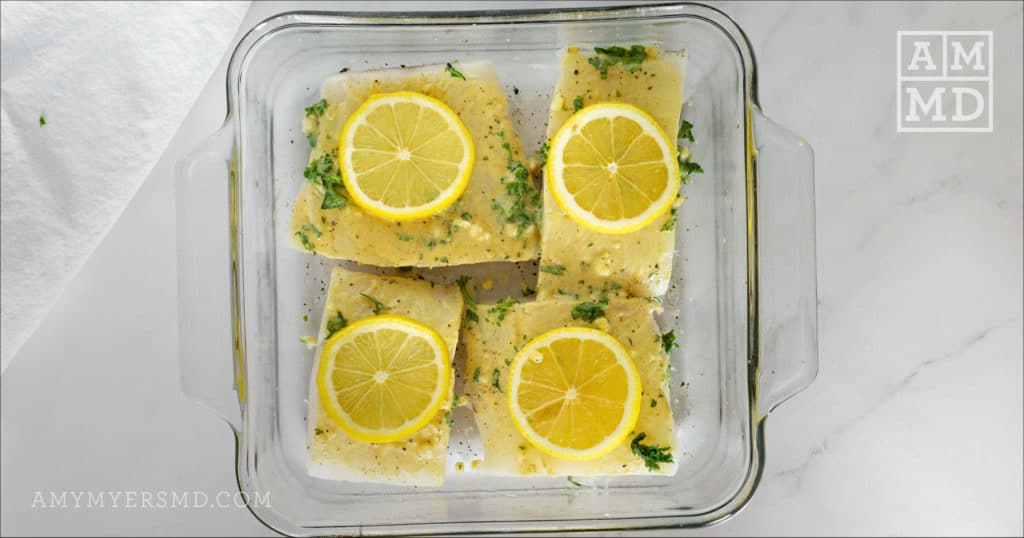 I served this cod with roasted asparagus with a creamy bacon sauce, but it is also great with a side of Italian chopped salad or zucchini noodle salad for a light, low-carb dinner.
Other seafood recipes to try:
Ingredients
4

cod fillets
ground black pepper to taste
sea salt to taste

2

Tbsp

29.57

ml extra virgin olive oil

2

Tbsp

29.57

ml dijon mustard

2

Tbsp

29.57

ml lemon juice

1

Tbsp

14.79

ml MCT oil

1

Tbsp

14.79

ml parsley

1

clove garlic minced

4

lemon wedge
Instructions
Preheat oven to 400 degrees Fahrenheit.

---

Pat the cod dry with a paper towel. Season with salt and pepper.

---

In a small bowl, whisk together the olive oil, Dijon mustard, lemon juice, parsley, and minced garlic to make a sauce. Brush the sauce over the tops of the seasoned cod fillets.

---

In a small bowl, whisk together the olive oil, Dijon mustard, lemon juice, MCT oil parsley, and minced garlic to make a sauce. Brush the sauce over the tops of the seasoned cod fillets.

---

Place lemon slices on top of each piece of cod, then bake at 400 degrees for 12-15 minutes, or until the cod is fully cooked.

---