Blueberry Sheet Pan Pancakes
If you've never had sheet pan pancakes, you're in for a treat! Sheet pan pancakes are an easy way to enjoy pancakes without standing over the stove flipping them individually. You just prepare the pancake batter, pour it into a baking dish, and bake. They cook up perfectly and everyone can enjoy warm pancakes together!
These AIP sheet pan pancakes are so tasty and easy to make! Fresh blueberries give these pancakes a burst of flavor, color, and nutrients. This blueberry sheet pan pancake recipe makes 4 servings, but the recipe can be doubled easily if you're making breakfast for a bigger family or for guests. Give these sheet pan pancakes a try if you're looking for a new AIP breakfast idea!
AIP pancake flours
These sheet pan pancakes use three types of flours and starches to get the perfect AIP pancake batter: cassava flour, tigernut flour, and tapioca starch. All of these ingredients are great grain-free, nut-free options for people following a Paleo diet, and for those who are gluten intolerant.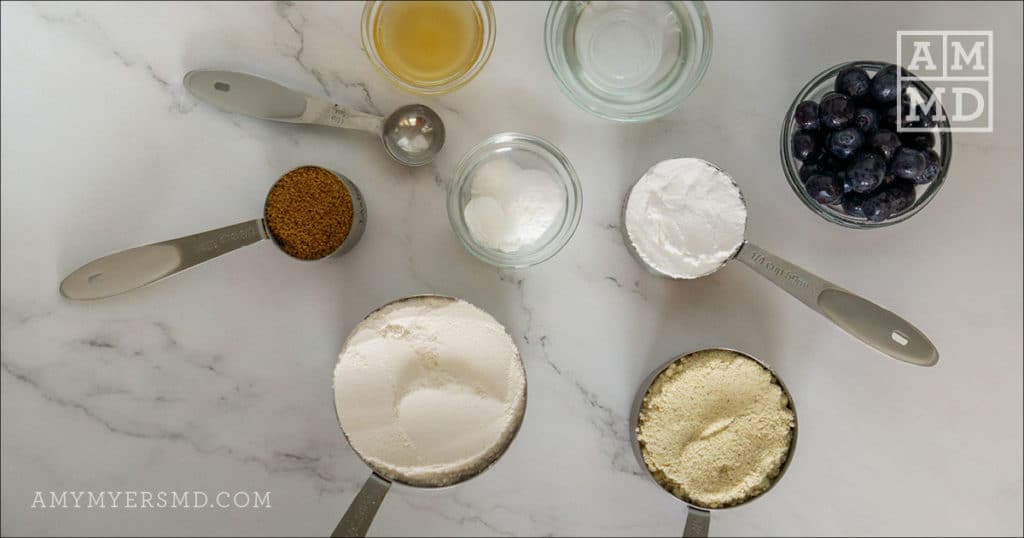 Cassava flour and tapioca starch
Cassava flour and tapioca starch are both made from the root of the cassava plant, also known as yucca. Both of these are used as a wheat flour substitute. These ingredients provide energy similar to the energy provided by wheat flour without causing a spike in blood sugar.
Cassava is high in resistant starch, which is a type of starch that has similar benefits as fiber for the digestive system. Resistant starch also helps feed the "good" bacteria in the gut and may help support your body's inflammatory response.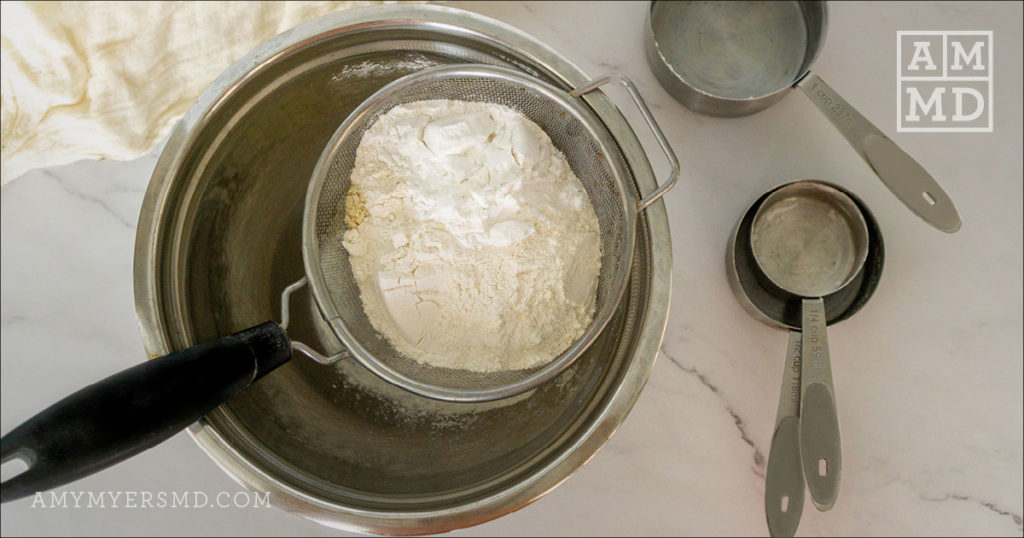 Tigernut flour
Tigernut flour is made by grinding tigernuts, which are small edible tubers the size of chickpeas. Tigernuts contain a lot of fiber, resistant starch, and vitamin E. The type of fiber found in tigernuts is insoluble fiber, which helps food move through the digestive system easily. Vitamin E is an antioxidant that helps protect cells against free radicals. It also helps boost the immune system and can help cells fight infections.
AIP-compliant leavening agent for baking
This recipe uses baking soda and apple cider vinegar as the leavening agent to give these pancakes some rise. The baking soda is mixed into the dry ingredients with the flours. The apple cider vinegar is added to the wet ingredients: the coconut milk and coconut oil. When the wet ingredients are added to the dry ingredients, the baking soda reacts with the vinegar and forms tiny bubbles, which help give these AIP pancakes some rise.
It is important not to overstir the pancake batter so that all the bubbles don't pop. This is why I add the blueberries on top of the batter in the baking pan instead of stirring them in.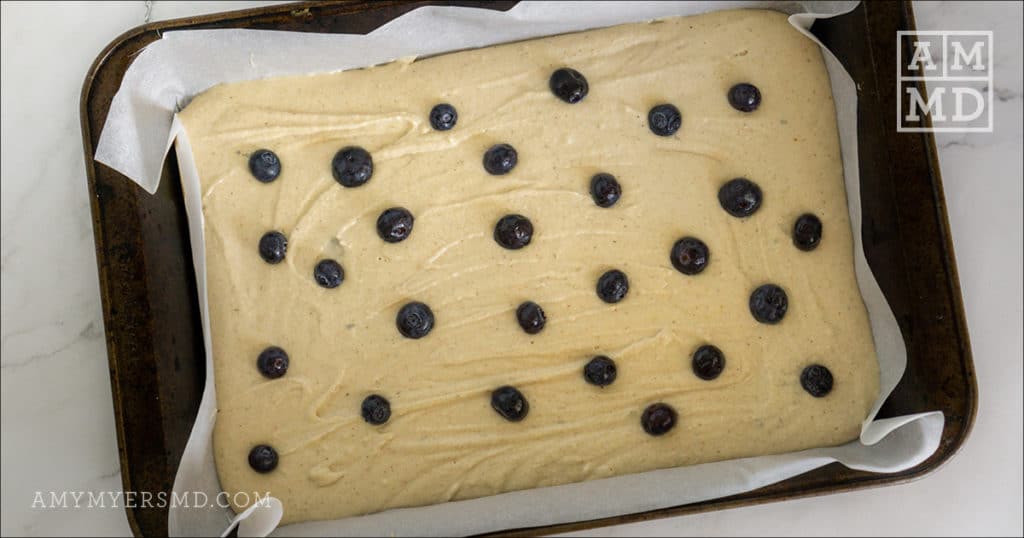 Blueberries
Fresh blueberries add a nice burst of flavor to these pancakes. I used a half cup of blueberries and arranged them all over the pancake batter in the sheet pan, but you can use as much as 1 cup for this recipe to add more flavor, color, and nutrients. You can also use frozen blueberries when fresh are not available.
Blueberries are one of the best sources of antioxidants and also contain a lot of vitamin C, vitamin K, and manganese. Vitamin C can help support the body's immune system and can help manage high blood pressure. Vitamin K helps improve bone health and helps with calcium absorption. Manganese has been shown to reduce inflammation and is essential for keeping the thyroid working properly.
Not bad for a tasty little berry!
Baking sheet pan pancakes
These AIP pancakes are best when baked in an 8×12 inch baking pan.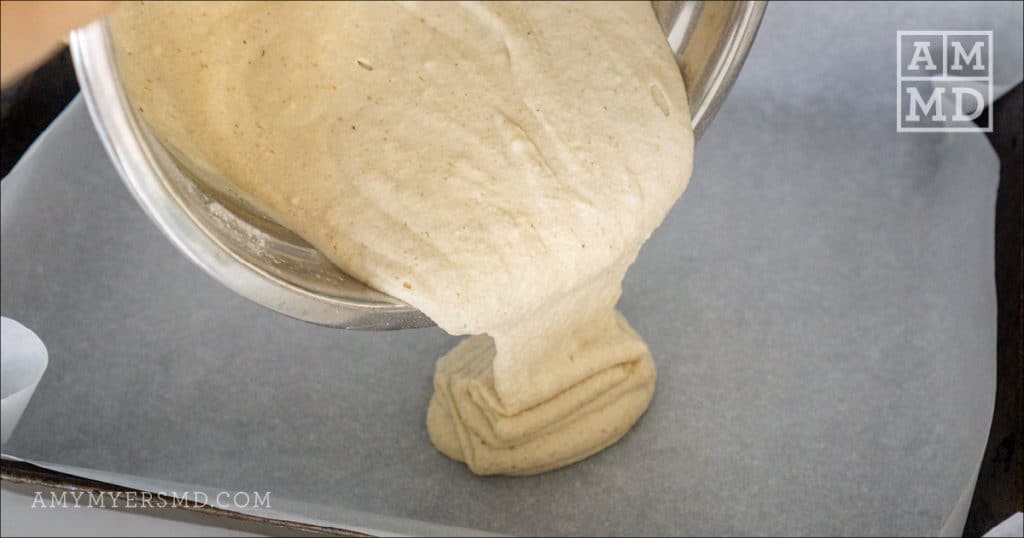 The easiest way to bake pancakes is to line a baking pan with parchment paper. This will prevent the pancakes from sticking – you don't even need to brush it with oil. In fact, the sides of the pancakes will pull away from the parchment paper – that's one of the ways you can tell that the pancakes are done.
These pancakes take about 25 minutes to fully bake. Once you try sheet pan pancakes, you'll see why I am a big fan! It is so easy to pour the pancake batter in a pan, put it in the oven, set a timer, and walk away – much easier than standing over the stove flipping pancakes individually.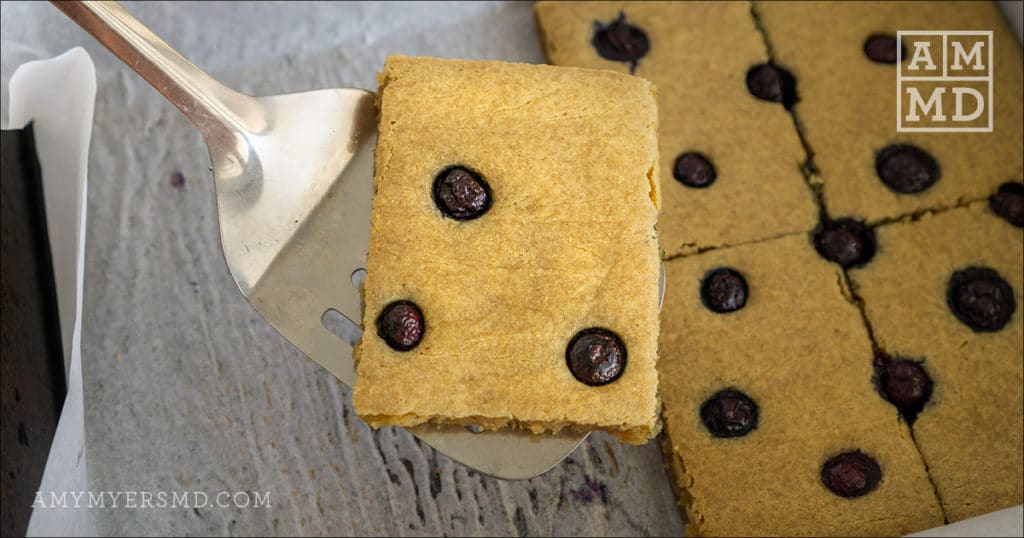 The other benefit of sheet pan pancakes is that all the pancakes are done at the same time, so you can sit down and enjoy this delicious AIP breakfast together. Or enjoy them on "breakfast for dinner" night! I hope you love these blueberry sheet pan pancakes as much as I do!
Doubling the recipe and how to heat up leftovers
Sheet pan pancakes are great for making large batches of pancakes without spending any extra time. If you want to double the recipe, I recommend splitting the batter between two baking dishes.
To enjoy leftover pancakes, preheat the oven to 350˚F and bake them for 5-10 minutes, or until heated through.
Other recipes you might enjoy:
Tropical Yogurt
Strawberry Mango Tropical smoothie
Grain-Free Overnight 'Oats' Parfait
Blueberry Sheet Pan Pancakes
---
Ingredients
1

cup

240.00

ml Cassava flour

1/2

cup

120.00

ml Tigernut flour

1/4

cup

60.00

ml tapioca starch

2

Tbsp

29.57

ml coconut sugar

2

tsp

9.86

ml baking soda

1/2

tsp

2.46

ml sea salt

2

cup

480.00

ml full fat coconut milk (plus up to ~2 Tbsp extra)

3

Tbsp

44.36

ml coconut oil

1

Tbsp

14.79

ml apple cider vinegar

1/2

cup

120.00

ml blueberries fresh or frozen
Instructions
Preheat oven to 350˚F. Line an 8x12 inch baking sheet (or similar size baking sheet) with parchment paper.

---

In a large bowl, sift together the cassava flour, tigernut flour, and tapioca starch. Add the coconut sugar, baking soda, and salt. Mix well.

---

In a medium bowl, combine 1.5 cups coconut milk, coconut oil, and apple cider vinegar. Whisk together, and slowly add to the dry ingredients being careful not to overstir.

---

Add additional coconut milk 1-2 tablespoons at a time if the batter is very thick.

---

Pour the pancake batter into the parchment-lined baking sheet. Top with blueberries. Bake 25-30 minutes, or until the edges turn golden brown and the top springs back when pressed gently. Remove from the oven and let rest for 5 minutes.

---

Cut into 8-12 squares. Serve warm.

---