'Cheesy' Cauliflower Bake
If you're looking for the ultimate comfort food side dish, look no further than this dairy-free 'Cheesy' Cauliflower Bake. This hearty cauliflower casserole tastes rich and savory with a delicious, dairy-free "cheese" sauce and bacon crumbles to keep your gut and your tastebuds happy.
A Plate of 'Cheesy' Cauliflower Bake – Amy Myers MD®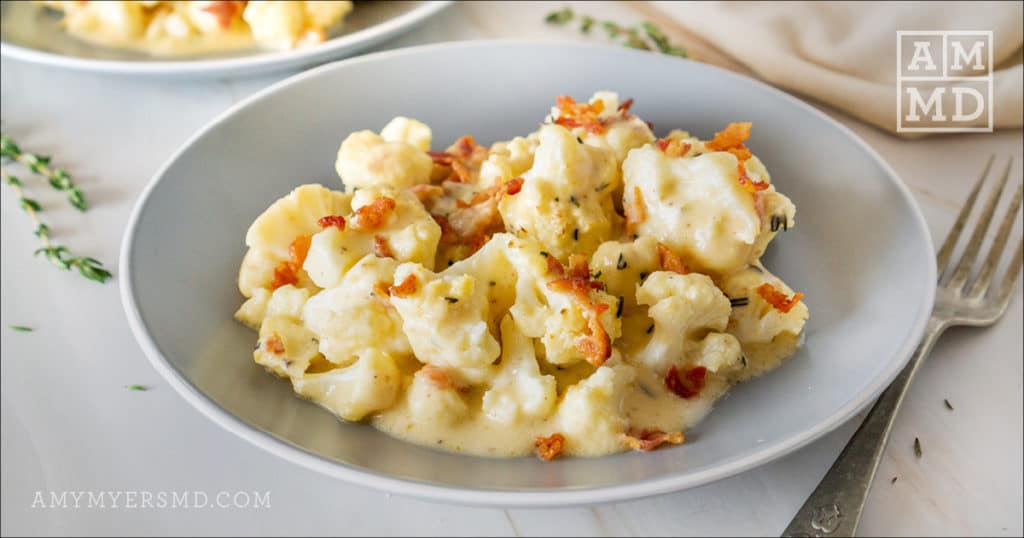 Dr. Amy Myers
November 18th, 2020
https://content.amymyersmd.com/recipe/cheesy-cauliflower-bake/
A Plate of 'Cheesy' Cauliflower Bake – Featured Image – Amy Myers MD®
So next time you're craving a cheesy, gooey casserole, make this AIP cauliflower bake and enjoy a delicious, warming meal!
Healthy cauliflower casserole
This cauliflower casserole is made with a whole head of cauliflower – about 3 lbs! Casseroles made with vegetables, such as my Keto Green Bean Casserole, are a great way to get more vegetables in your diet while still enjoying your comfort food.
Cauliflower is one of the healthiest foods you can eat! It is a cruciferous vegetable that is low in calories and high in vitamins and nutrients. This vegetable is rich in Vitamins C and K, which are important for a robust immune system, strong bones, and healthy blood clotting. It contains a lot of fiber, which helps us feel full and feeds the healthy bacteria in the gut.
Cauliflower ready to bake – Amy Myers MD®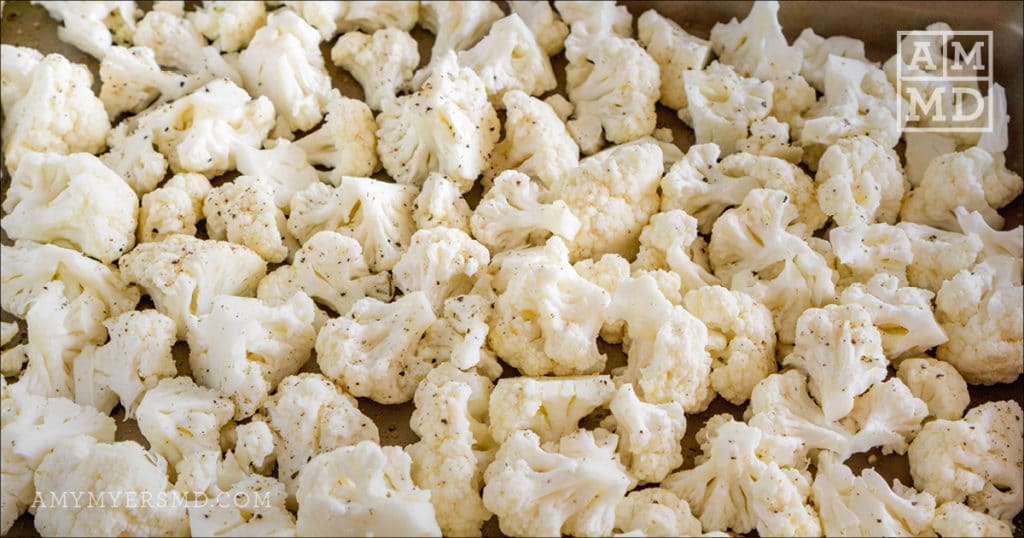 Dr. Amy Myers
November 18th, 2020
https://content.amymyersmd.com/recipe/cheesy-cauliflower-bake/
Cauliflower ready to bake – Amy Myers MD®
Cauliflower is also a great source of antioxidants, such as glucosinolates, which protect cells from damage and have anti-inflammatory and antibacterial effects, and may help prevent cancer.
Cauliflower is one of my favorite vegetables because it is so healthy and delicious! To make this cauliflower side dish, start by roasting cauliflower florets in the oven until they are fork-tender. Roasting cauliflower is one of my favorite ways to cook cauliflower because the oven brings out its rich flavor.
How to make dairy-free cheese sauce
This AIP-friendly "cheese" sauce comes together in just a few minutes and can be made while the cauliflower is roasting.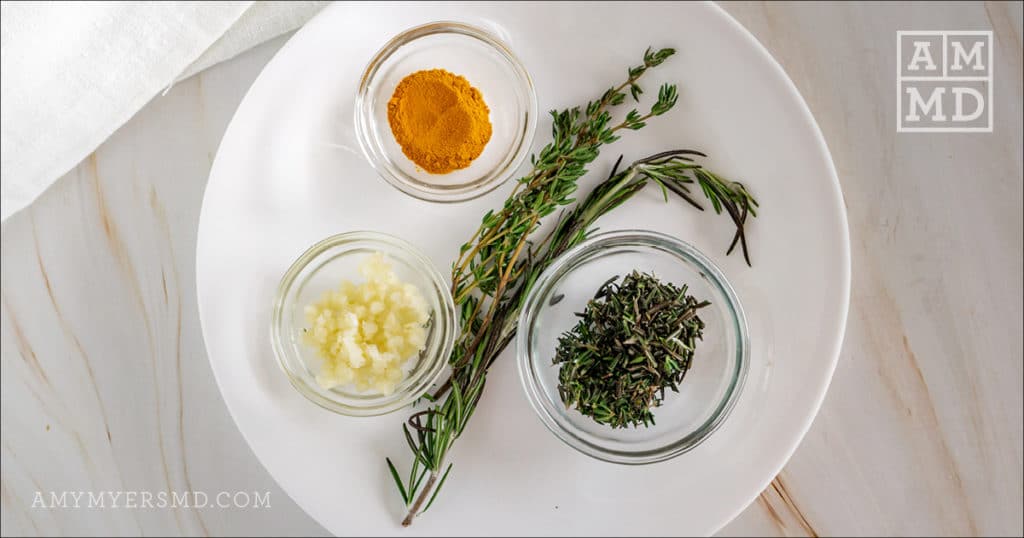 Start with cooking a few slices of bacon and setting them aside on a paper towel. Then sauté fresh garlic in the bacon drippings, and add fresh rosemary and thyme. This combination gives the dairy-free cheese sauce a lot of flavor.
Then, add coconut milk and Chicken Bone Broth Collagen. The coconut milk adds a creamy richness to the sauce. The Chicken Bone Broth Collagen adds nourishing protein to this casserole in the form of collagen peptides.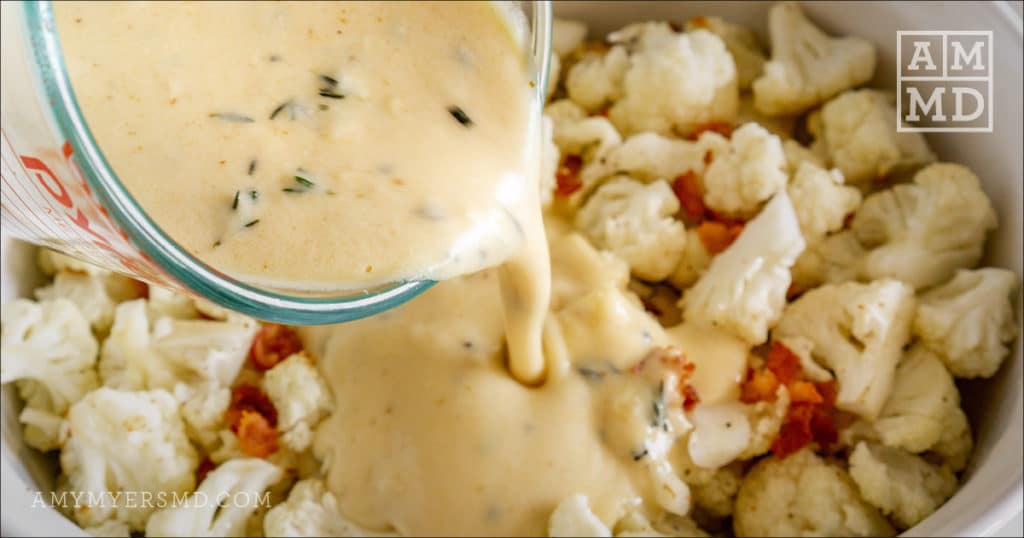 The sauce is thickened with tapioca starch, which is a great gluten-free thickener for sauces. To give the sauce a traditional yellow cheesy color, I add a bit of turmeric powder. Turmeric is loaded with antioxidants, which help protect the body against free radicals, and has a strong anti-inflammatory effect in the body.
Bake and serve
To finish the casserole, you combine the roasted cauliflower, crumbled cooked bacon, and the cheese sauce, and then bake it in the oven for 15 minutes until it is bubbling slightly. This casserole can be served on its own for a light, lower-carb meal, since it is hearty and full of fiber and protein to keep you full and satisfied. Or you can serve it with roasted chicken and a side of mashed parsnips, spooning the cheesy sauce over the parsnips.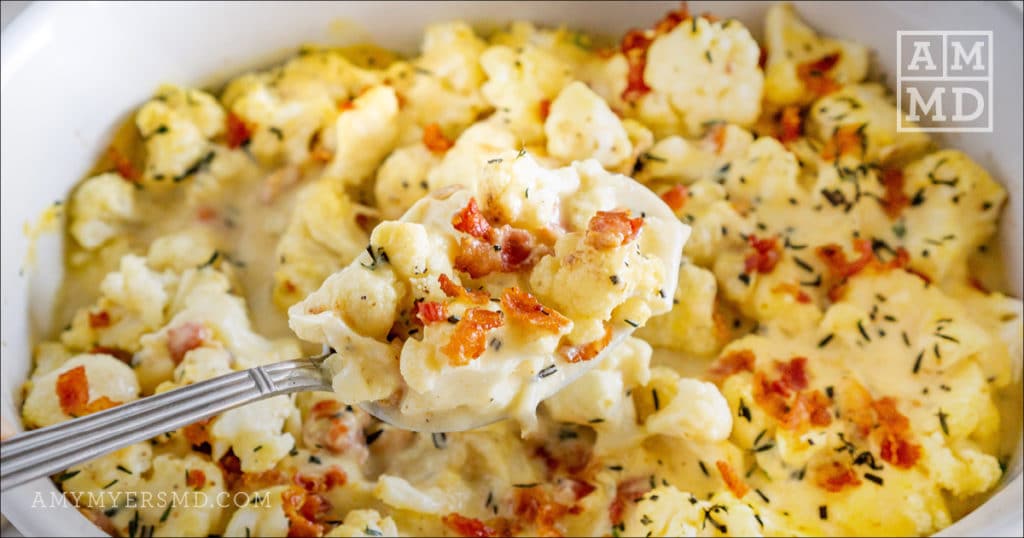 How to reheat leftovers
This casserole makes about 6 side-dish servings or 4 larger main course servings. If you have leftovers, it is best to reheat them in the oven. Bake at 350˚F until warmed through and the casserole is bubbling slightly.
Other cauliflower recipes you will love:
'Cheesy' Cauliflower Bake
---
Servings
6 side dish servings
Ingredients
5

cups

1200.00

ml cauliflower about 1 head

1

Tbsp

14.79

ml extra virgin olive oil
sea salt to taste
ground black pepper to taste

1/2

tbsp

7.39

ml extra virgin olive oil

6

slices nitrate-free bacon chopped

2

cloves garlic

1

tsp

4.93

ml rosemary minced

1

tsp

4.93

ml thyme from 5-8 sprigs

1 1/2

cup

360.00

ml coconut milk approximately 14 oz

1

cup

240.00

ml chicken bone broth

1/4

tsp

1.23

ml turmeric powder

1

Tbsp

14.79

ml tapioca starch
Instructions
Preheat oven to 425°F.

---

Cut the cauliflower into small florets. Toss them with olive oil, and spread on a large baking sheet. Season with salt and pepper.

---

Roast for 20-25 minutes, or until the cauliflower is softened to your taste.

---

While the cauliflower is roasting, cook the chopped bacon in a medium saucepan until crispy. Transfer to a paper towel to cool. Carefully drain excess grease, leaving about ½ tablespoon in the saucepan.

---

Add 1/2 tablespoon olive oil to the pan, add the minced garlic, and sauté over medium heat for 2-3 minutes. Add the fresh rosemary and thyme, and stir. Add the coconut milk, chicken bone broth, and turmeric powder. Whisk in the tapioca starch. Bring to a gentle boil, then lower the heat and simmer for about 5 minutes, or until the sauce is thickened, stirring frequently.

---

Add the minced garlic to the bacon drippings, and sauté over medium heat for 2-3 minutes. Add the fresh rosemary and thyme, and stir. Add the coconut milk, chicken bone broth, and turmeric powder. Whisk in the tapioca starch. Bring to a gentle boil, then lower the heat and simmer for about 5 minutes, or until the sauce is thickened, stirring frequently.

---

Carefully remove the roasted cauliflower florets from the oven and reduce the heat to 375°F.

---

Transfer to cauliflower to 2.5 quart casserole dish. Carefully pour the sauce over the cauliflower. Top with additional rosemary and thyme, if desired. Return to oven to bake for 15 minutes. Serve warm.

---

Transfer to cauliflower to 2.5 quart casserole dish. Stir in half the crumbled bacon. Carefully pour the sauce over the cauliflower. Top with remaining bacon and additional rosemary and thyme, if desired. Return to oven to bake for 15 minutes. Serve warm.

---