Gluten-Free Garlic Rosemary Crackers
Make a batch of these Gluten-Free Garlic Rosemary Crackers and serve with your favorite dips or as part of a charcuterie board! These crackers are gluten-free AND grain-free because they're made with cassava flour and almond flour. They are crispy, tasty, and have a wonderful flavor of garlic, rosemary, and a touch of sea salt.
These crackers are easy to make from pantry ingredients and they last for weeks. They're great for entertaining or everyday snacking, so give them a try!
Grain-free, gluten-free crackers
The main ingredients in these grain-free, gluten-free crackers are cassava flour and almond flour. Cassava is made from the root of the cassava plant, also known as yucca. It's a great gluten-free alternative to wheat flour. It is high in resistant starch, which is a type of starch that has the same benefits as fiber. Resistant starch also helps feed the "good" bacteria in the gut and may help reduce inflammation.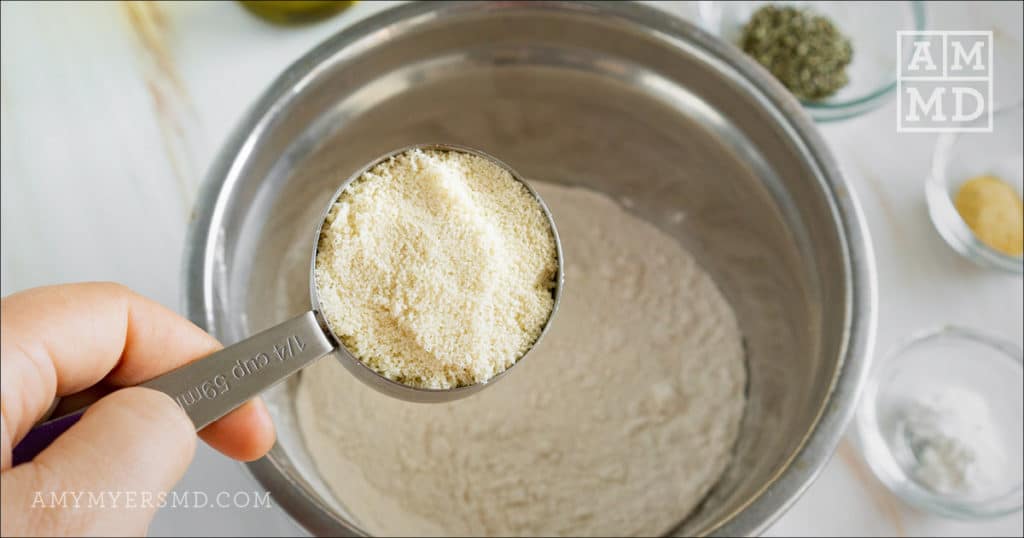 Almond flour is made from finely ground blanched and peeled almonds. It gives these crackers a subtle nutty flavor while giving the texture of the crackers a nice richness. Almonds are high in vitamin E, magnesium, and potassium. These help your heart stay healthy by lowering LDL cholesterol and helping the blood circulate. They are also loaded with phosphorus, which is important for healthy bones and teeth.
Almonds are not recommended on the AIP diet. However, they can be a great addition if you are in the reintroduction phase and can tolerate almonds.
Make sure to use finely ground almond flour for these crackers so that the texture of the two flours is similar!
Crunch from olive oil
The flavor in these crackers comes from garlic powder, dried rosemary, sea salt, and olive oil. All of these are ingredients that can be stored in your pantry so you can easily prepare these crackers any day!
Olive oil is mixed into the dough for these crackers as well as to brush the dough during baking. The oil is what helps make these crackers crispy, and it also adds flavor and nutrition to these crackers.
Olive oil contains healthy monounsaturated fats, which helps reduce inflammation in the body. It also contains antioxidants which may reduce the risk of chronic diseases and help fight inflammation.
How to make Gluten-free garlic rosemary crackers with cassava and almond flours
These crackers are easy to make. You'll combine all the ingredients in one bowl and mix together with a fork until you have a shaggy dough. Then use your hands to combine the dough and mix it all together into one smooth ball.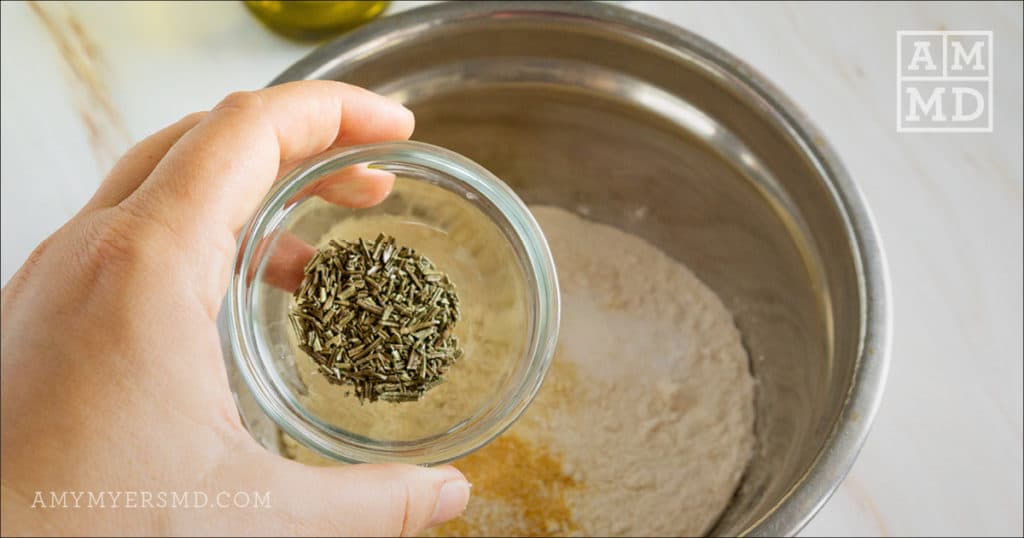 Next, roll out the dough on a clean surface. Try to get it as thin as possible – about ⅛ inches in thickness is what you should strive for.
Transfer the dough to a large baking sheet lined with parchment paper. Then, use a knife to cut it into 1-2 inch square pieces. Remove the uneven edges on the outside of the dough. Shape the scraps into a ball, then roll it out again and place onto the baking sheet. This way you use up all the scraps of dough without wasting any!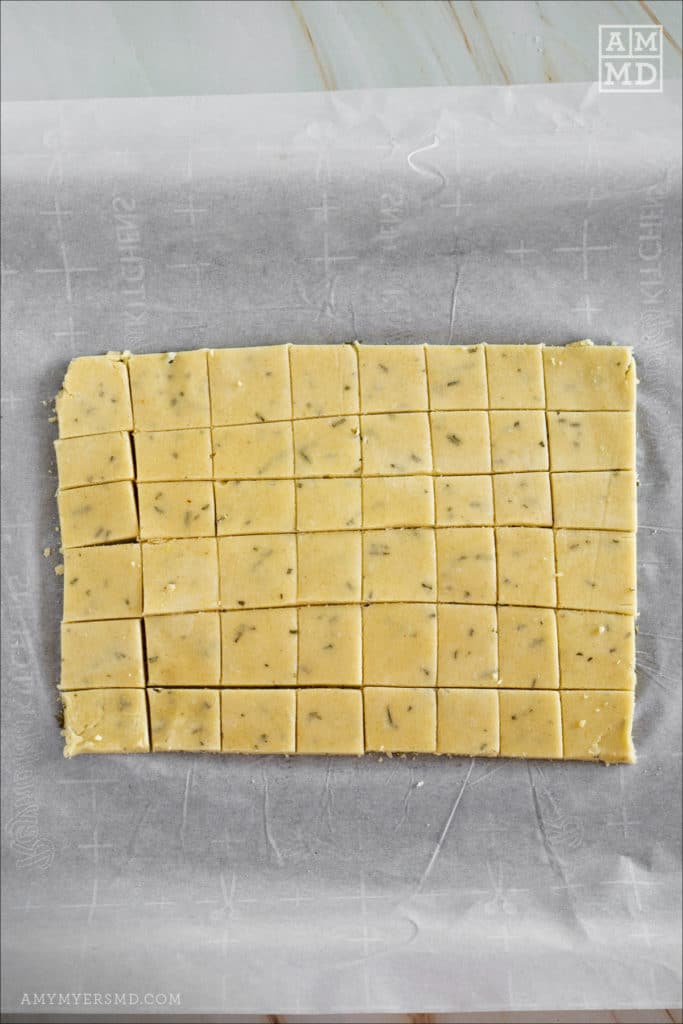 Bake at 300˚F for about 30 minutes, then carefully remove from the oven and brush the crackers with olive oil. Bake for another 15 minutes, allow to cool, and enjoy your crackers!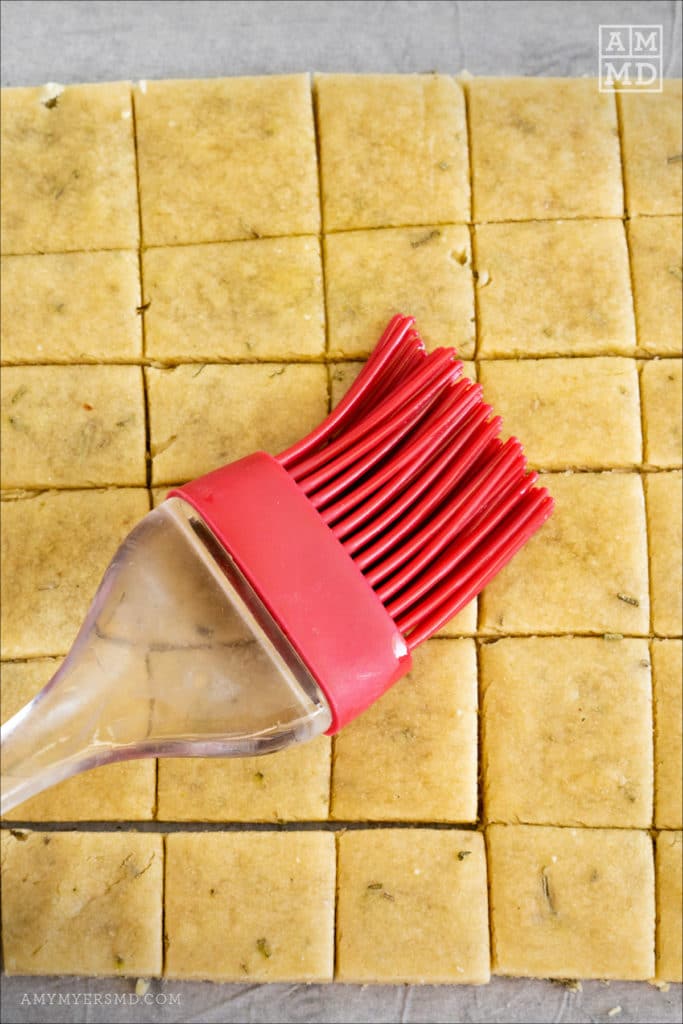 I love serving these crackers with a charcuterie board around the holidays. They are also great with soup or with dip for a heartier snack. You can also switch up the seasonings for these crackers and use dried thyme or dill instead of rosemary. They're so versatile, you'll want to try then with everything!
Other recipes you might enjoy:
Gluten-Free Garlic Rosemary Crackers
---
Ingredients
1 1/4

cups

300.00

ml Cassava flour

1/4

cup

60.00

ml almond flour finely ground

1

Tbsp

14.79

ml dried rosemary

1/2

tsp

2.46

ml sea salt or more, to taste

1/2

tsp

2.46

ml garlic powder

1/8

tsp

0.62

ml baking soda

1/4

tsp

1.23

ml cream of tartar

1/2

cup

120.00

ml water

8

Tbsp

NaN

ml extra virgin olive oil divided
Instructions
Preheat oven to 300˚F. Line a large baking sheet with parchment paper.


---

Combine all the ingredients except 2 tablespoons olive oil in a medium bowl, and stir together with a fork until a shaggy clumpy dough forms. Then, use your hands to mix the dough together and shape into a smooth ball.


---

Roll out the dough on a clean smooth surface until it is about ⅛ inch thick. Transfer the dough to the lined baking sheet. Use a knife to cut the dough into squares or rectangles about 1-2 inches across.

---

Remove the excess scraps of dough from the edges of the crackers, roll the scraps into a ball, and repeat step 3.


---

Bake for 30 minutes. Carefully remove from the oven and brush with the remaining 2 tablespoons of olive oil. Return to oven for 15-20 minutes, or until the crackers are firm to the touch. Remove from the oven and sprinkle with additional sea salt, if desired.

---

Allow to cool completely. They will harden and get crispier when they cool. Store in a sealed container at room temperature for up to 7 days.

---