Gluten Free Orange Chicken
This gluten-free Orange Chicken is better than any takeout orange chicken, and much healthier, too! This recipe has crispy, flavorful chicken bites tossed in a sticky-sweet orange sauce that is made from fresh orange juice and unrefined sugar sweetener. It's so good you will definitely be reaching for seconds! This recipe is AIP- and paleo-friendly, and is a great family-friendly recipe that both kids and adults love.
Healthier AIP orange chicken
Orange chicken from Chinese restaurants is made with many ingredients that we avoid in order to keep our gut healthy. It contains wheat flour, corn starch, peppers, soy sauce, refined sugar, and often MSG. It is also deep fried, typically in soy or peanut oils, which are a no-no for an AIP diet.
This healthier orange chicken is made without all these unhealthy ingredients! The chicken is coated in a mixture of AIP-friendly gluten-free flours: cassava flour and tapioca starch. Both are great gluten-free flour alternatives that are made from the cassava plant, instead of from wheat grain. The flour mixture is seasoned with garlic and onion powder, as well as salt and pepper. The flour-coated chicken is then pan-fried in coconut oil to make crispy, golden-brown chicken pieces, which are then coated in the orange sauce.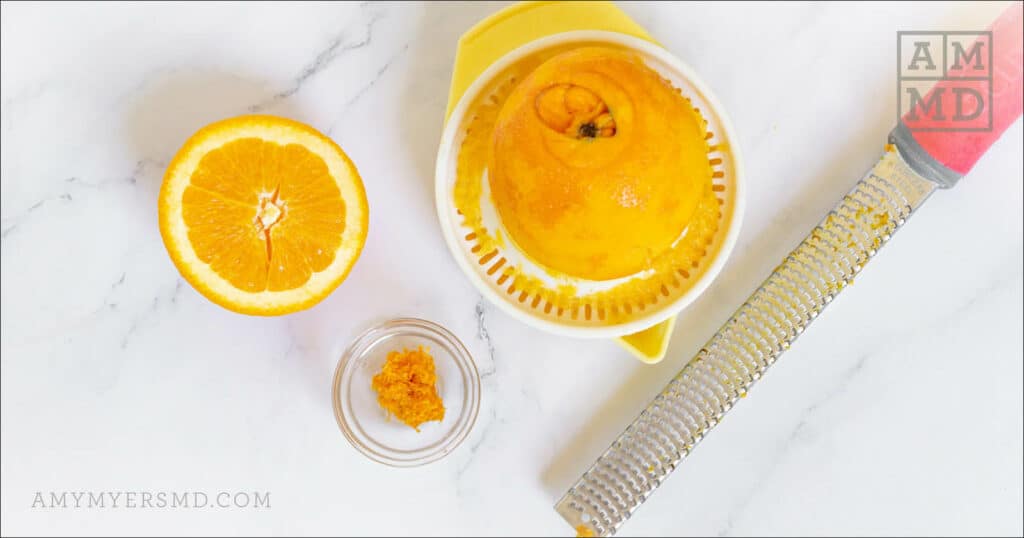 Dr. Amy Myers
November 4th, 2022
https://content.amymyersmd.com/recipe/gluten-free-orange-chicken/
The orange sauce is made with fresh orange juice and zest, soy-free coconut aminos, an AIP-friendly sauce thickener (tapioca starch), unrefined sweetener (honey), and healthy organic raw apple cider vinegar.
The result is tasty, crispy chicken coated in a delicious orange sauce that is made with better-for-you ingredients.
Orange juice contains a lot of vitamin C and potassium, which are important for a healthy immune system and for healthy blood pressure levels. Honey is a natural sweetener that has anti-inflammatory and antibacterial properties. It is a great AIP-compliant sweetener that does not cause as much of a blood sugar spike as refined sugar.
Orange chicken is high in protein from the chicken. I used chicken breast in this recipe, which is a lean protein that helps repair and build muscle tissues. Chicken breast is also a good source of vitamins B6, B12, riboflavin, niacin, selenium, and phosphorus. These nutrients are important for energy metabolism and production, healthy brain function, and healthy skin.
Tips for choosing ingredients
To get the most health benefits, make sure to choose organic, free-range, pasture-raised, hormone- and antibiotic-free chicken.
Choose organic oranges for this recipe, so you can use the zest from the skin and have the freshest flavor. I recommend buying 2 oranges, just in case the oranges are not very juicy. You'll need about ¾ cup fresh-squeezed orange juice to make the orange sauce.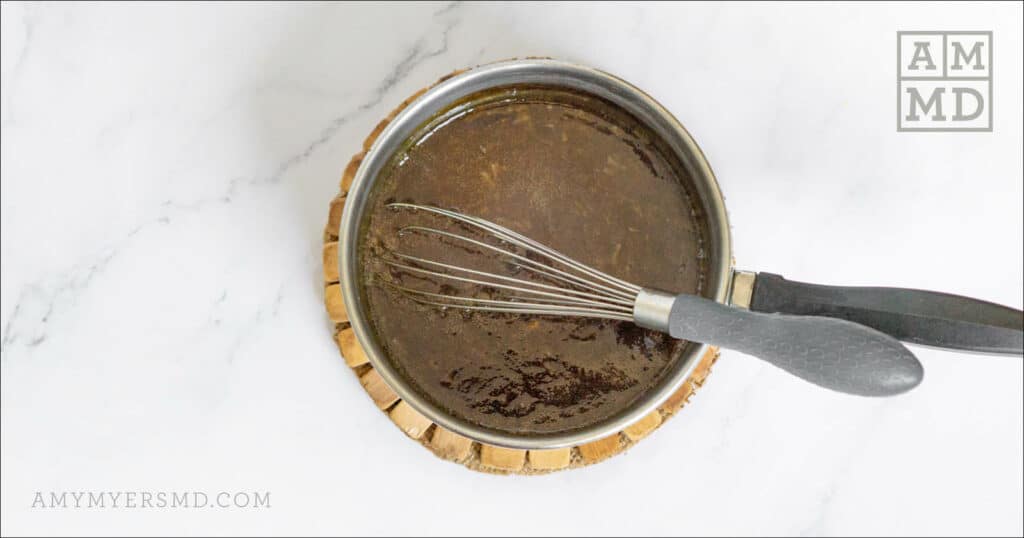 Dr. Amy Myers
November 4th, 2022
https://content.amymyersmd.com/recipe/gluten-free-orange-chicken/
How to make orange chicken
Homemade orange chicken is actually very easy to make, you can have dinner on the table in under 30 minutes! You'll dredge chopped chicken in seasoned gluten-free flour and pan-fry it until crispy and fully cooked.
Then you combine all the ingredients for the orange sauce in a small saucepan, whisk together, and bring to a boil. After just a few minutes of simmering, the sauce will start to thicken and it is ready to use.
You'll add the sauce to the chicken in the pan, stir to combine, and it is ready to serve!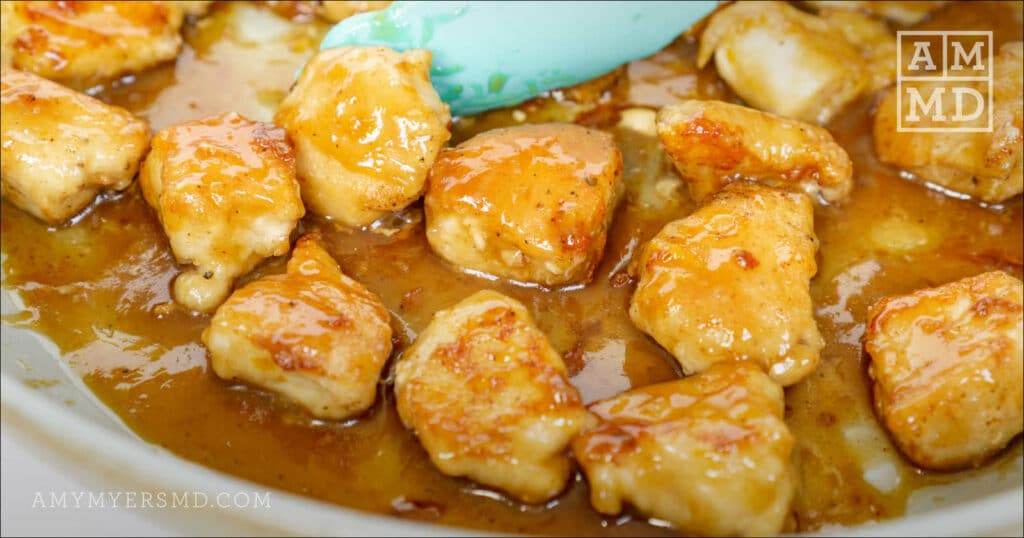 Dr. Amy Myers
November 4th, 2022
https://content.amymyersmd.com/recipe/gluten-free-orange-chicken/
What to serve with orange chicken
Orange chicken is great over riced cauliflower, you can spoon extra sauce over the cauliflower. You can also toss some steamed broccoli in the extra sauce and serve it as a vegetable side dish.
You can also serve some salad on the side, such as this easy cucumber salad.
Gluten Free Orange Chicken
---
Ingredients
For the chicken:
1

lb

454.00

g organic chicken breast cut into even 1-2 inch pieces

1/2

cup

120.00

ml Cassava flour

1/4

cup

60.00

ml tapioca starch

1/2

tsp

2.46

ml onion powder

1/2

tsp

2.46

ml garlic powder

1

tsp

4.93

ml sea salt to taste

pinch of

ground black pepper to taste

2

tbsp

29.57

ml coconut oil or cooking
For the orange sauce:
1/2

cup

120.00

ml fresh squeezed orange juice from 1 large orange
orange zest from 1 large orange

1/4

cup

60.00

ml honey to taste

1/4

cup

60.00

ml raw apple cider vinegar

2

tbsp

29.57

ml Coconut aminos

1

cloves of garlic minced

1

tbsp

14.79

ml tapioca starch
Instructions
In a large bowl, combine the cassava flour, tapioca starch, ½ teaspoon salt (reserve the rest!), onion powder, and garlic powder. Mix well.


---

Season the diced chicken with the remaining salt and pepper, then add to the gluten-free flour mixture and stir with a fork to thoroughly coat the chicken in the flour mixture.


---

Preheat oil in a large skillet over high heat. Add the coated chicken pieces, shaking excess flour into the bowl, and cook over medium-high heat for 3-4 minutes per side, or until the chicken is golden brown, crispy, and fully cooked. Remove the pan from the heat.


---

In a small saucepan, combine all the ingredients for the orange sauce and whisk together until no clumps remain. Heat over medium heat, bring to a gentle boil, then reduce the heat and simmer for 2-3 minutes, stirring often, until the sauce thickens.


---

Add the sauce to the pan and coat the chicken in the sauce. Serve hot over steamed cauliflower rice, garnishing with fresh chopped herbs, scallions, or chives.


---