Greek Chicken Skillet
This Greek Chicken Skillet is loaded with authentic Greek flavors and is very easy to make! Chicken thighs are cooked in one pan with olives, fresh herbs, and feta cheese in a tasty broth. This is a low-carb chicken dinner that is great for busy weeknights. If you love Mediterranean flavors, you're going to love this recipe!
Healthy chicken thigh recipe
Chicken thighs are a great protein to cook with because they are flavorful and juicy. They cook quickly and are not as easy to overcook as chicken breast, which can turn out dry if not cooked perfectly.
In addition to the great flavor, chicken thighs are a great source of many essential nutrients. They are high in protein, which is important for building and repairing muscle. Chicken thighs contain iron and zinc, which support the immune system. Compared to chicken breast, thighs and other dark meat have higher amounts of B vitamins, such as niacin, thiamine, and B12, which are important for healthy blood cells, brain function, and energy levels.
In this recipe, I use skinless boneless chicken thighs to cut down on the fat and cooking time. You really don't need the skin for this recipe because the chicken thighs are cooked in a very tasty broth so they stay juicy and are very delicious!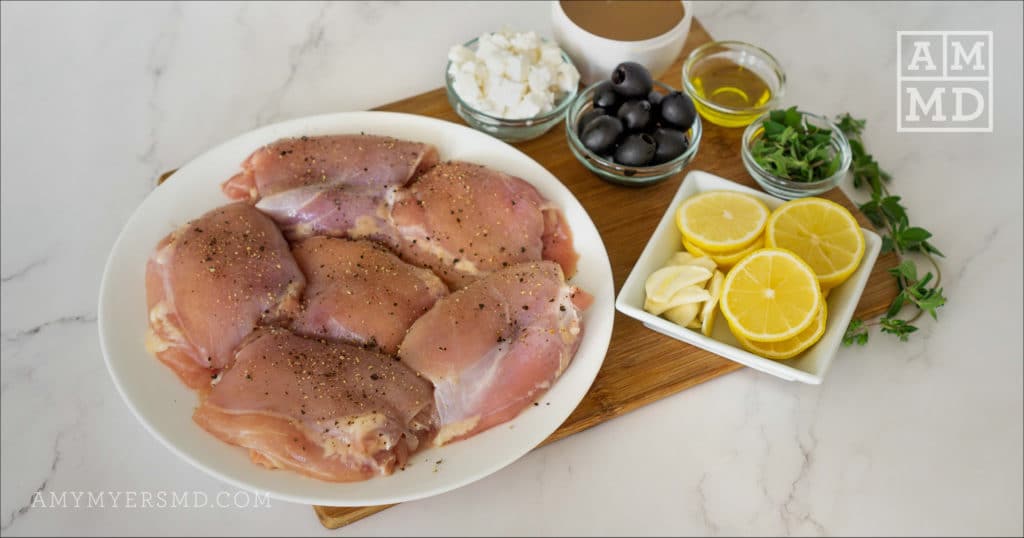 Greek chicken with olives
The Greek-inspired ingredients that give this chicken so much flavor are kalamata olives, fresh lemons, sheep's feta cheese, fresh oregano, and a tasty chicken broth.
Olives are a source of vitamin E and healthy fats, which are important for brain health. Lemons are a great source of vitamin C, which is important for our immune system. Oregano gives this dish so much fresh flavor and adds antioxidant, antibacterial, and antiviral benefits.
Sheep's feta cheese is used in moderation to give this dish a lovely tangy, salty, creaminess. Cheese made from sheep's milk is a great alternative to cow's milk cheese because it is higher in many nutrients, such as protein, calcium, iron, magnesium, zinc, and riboflavin. In addition, sheep's milk is better tolerated by many people who are lactose intolerant or sensitive to cow's milk.
If you are able to add sheep's milk to your diet then this is a great recipe to start with. If sheep's milk is not an option for you, then simply skip it – this chicken dish is tasty enough without it!
How to make baked Greek chicken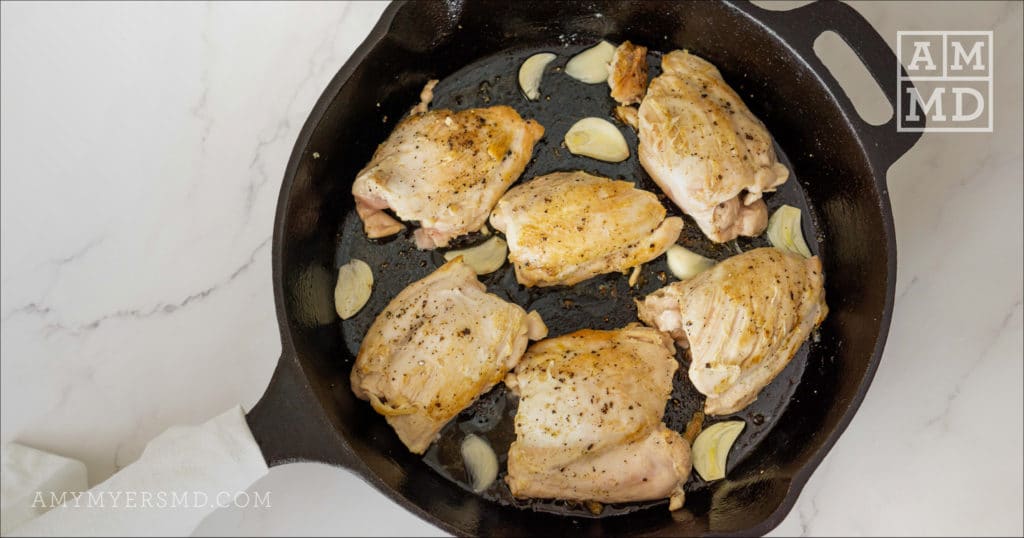 For this recipe, you simply season skinless, boneless chicken thighs with salt and pepper and brown them on each side in a large skillet.
Then add sliced garlic, chicken broth, olives, and feta cheese (if using) to the skillet. Top each chicken thigh with a sliced lemon and add fresh oregano to the skillet.
Bake at 400 degrees Fahrenheit for 15-20 minutes, or until a meat thermometer confirms that the temperature is at least 165 degrees.
The tasty broth that is used to bake this chicken keeps the chicken thighs nice and juicy, and gives it lots of flavor.
Serve these chicken thighs with a side of cauliflower rice risotto or mashed parsnips, spooning the extra sauce over your side dish.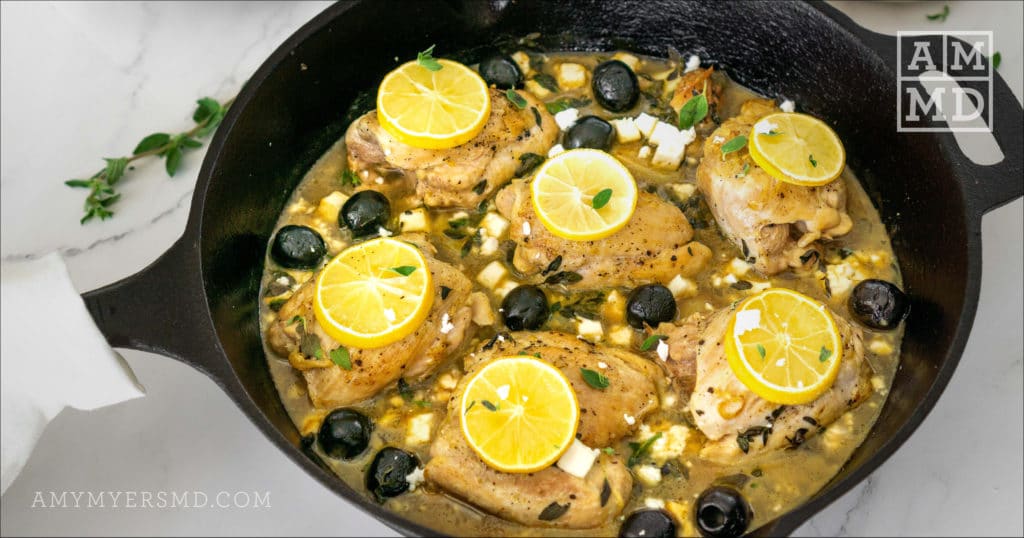 Other chicken recipes you will love:
Ingredients
6

chicken thigh skinless, boneless

3

cloves garlic thinly sliced
sea salt
ground black pepper

1

Tbsp

14.79

ml olive oil

3/4

cup

180.00

ml chicken broth

1/2

cup

120.00

ml kalamata olives whole or sliced

1/2

cup

120.00

ml sheep's feta cheese crumbled

1/4

cup

60.00

ml fresh oregano leaves

2

lemon
Instructions
Preheat your own to 400 degrees Fahrenheit.

---

Pat the chicken thighs dry with a paper towel and season with salt and pepper on all sides.

---

Preheat a large oven-safe skillet, add the olive oil, and brown the chicken for about 3-4 minutes per side over high heat. The chicken won't be fully cooked yet, and that's okay.

---

Remove from heat and add the sliced garlic to the bottom of the pan and let it cook from the heat of the skillet for a minute.

---

Pour the chicken broth around the chicken thighs. Add the olives, sheep's feta cheese, and half of the fresh oregano all around the chicken thighs. Place a lemon slices on top of each chicken thigh.

---

Place the chicken skillet into the oven and bake at 400 degrees for 15-20 minutes, or until the chicken is fully cooked and registers 165 degrees with a meat thermometer in the thickest part of the chicken thigh. Allow to cool for 5 minutes, then garnish with fresh oregano to serve.

---