Instant Pot Mongolian Beef
When you crave the ease of eating out but don't want to risk filling your body with sodium, sugar, and possibly even gluten, this Instant Pot Mongolian Beef is an easy, healthy copycat of a favorite restaurant meal! My Mongolian Beef recipe uses healthy fats and wholesome ingredients to make it Paleo, AIP, and The Myers Way® approved. Using an Instant Pot also makes it a quick weeknight dish that's perfect for even the busiest families.
Is Mongolian Beef Healthy?
Absolutely. This Instant Pot Mongolian Beef is made entirely of clean ingredients. It's gluten-free, dairy-free, soy-free, and it can even fit into more than one dietary protocol. Don't let all that fool you — it tastes just like the dish you would find at a restaurant (and way better than any take-out)! Let's take a look at some of the star ingredients:
Flank Steak
Using flank steak from grass-fed cattle gives this recipe a healthy dose of protein, B vitamins, and iron. Grass-fed beef has a better Omega-3 to Omega-6 ratio than grain-fed beef, and it's also high in zinc. You'll be able to taste the difference between the steak you use in your Mongolian Beef and any cheap meat from the restaurant on the corner.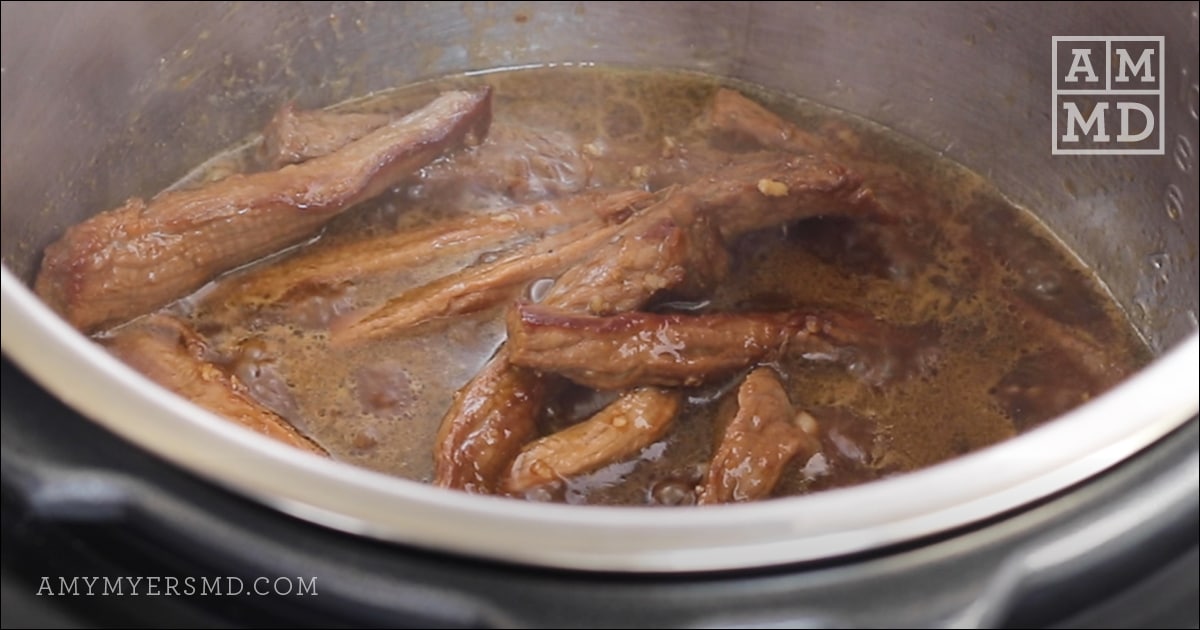 Green Onions
Green onions offer an amazing nutrient package in even small amounts. Don't miss the chance to use the healthy garnish in as many recipes as possible. It gives the dish amazing flavor and offers vitamins A, K, and C along with a range of B vitamins and minerals.
Coconut Aminos
This is the soy sauce alternative for your recipe. Most soy sauce is made from genetically modified soy, a highly phytoestrogenic food that can disrupt hormonal balance. You can avoid any MSG-laden soy sauce by using coconut aminos in its place. Made from coconut tree sap, this condiment offers a slightly sweet, tangy flavor that makes for a cleaner alternative to soy sauce.
What to Serve With Mongolian Beef
The recipe stands well on its own, or it can be served with even more veggies like broccoli and cauliflower rice, or even something unexpected such as avocado. If you're hoping to maintain your weight with a heartier recipe to power you through your next workout, you can increase the carbohydrates by pairing this alongside roasted sweet potato.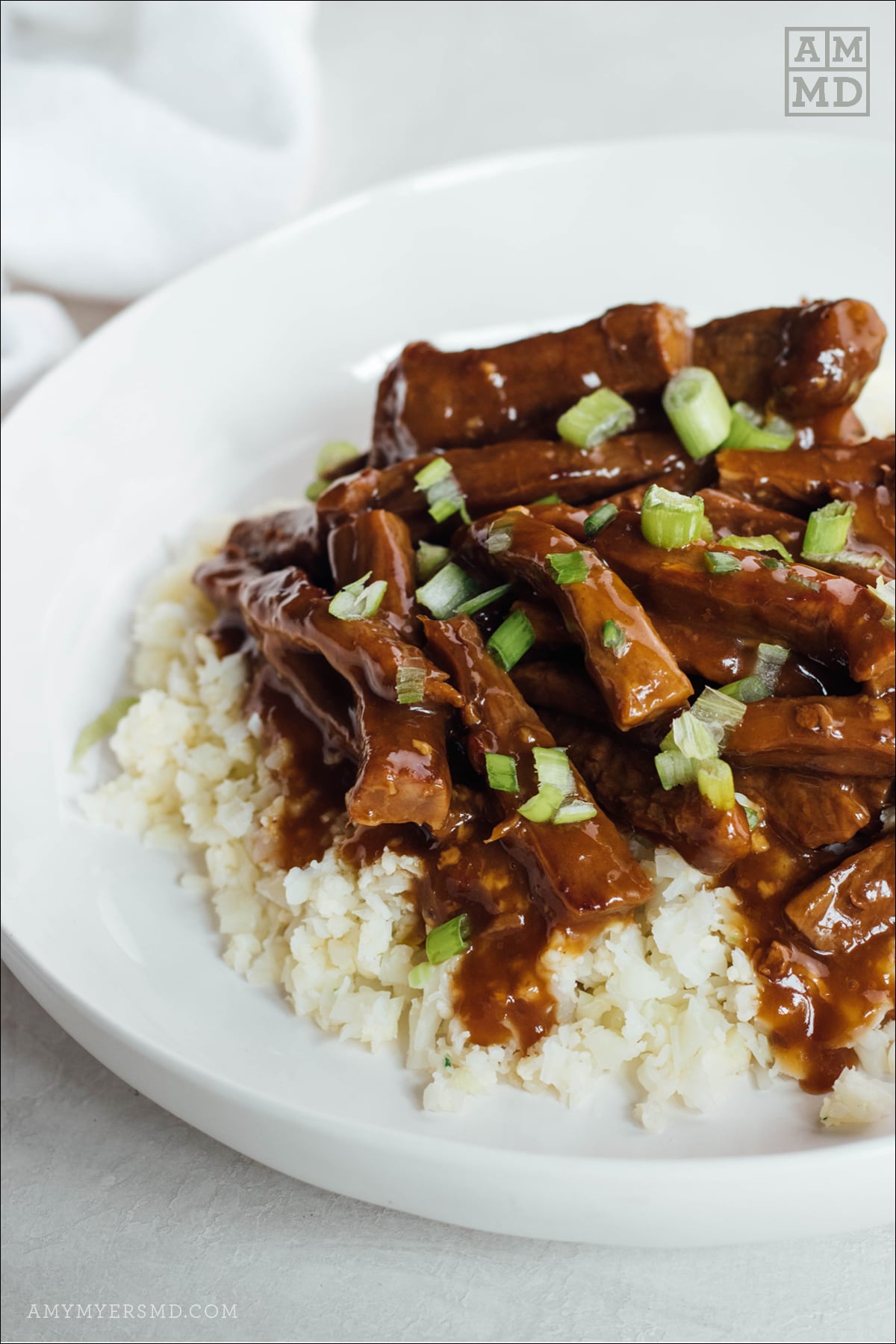 Can You Freeze Mongolian Beef?
Yes; this recipe for Instant Pot Mongolian Beef freezes well. It's a great recipe to double for freezer leftovers. I only recommend leaving the green onions out of the dish until you can garnish it after reheating.
To freeze, first let the Mongolian Beef cool completely at room temperature. Then freeze separate portions in airtight containers or reusable silicone bags.
To reheat, allow it to thaw in the refrigerator for several hours before warming up on the stovetop. This method will yield the best texture.
How to Make Mongolian Beef
This is one of those recipes that looks difficult, yet is actually really easy. That's mostly thanks to the Instant Pot, which can have this meal ready to serve in under 30 minutes.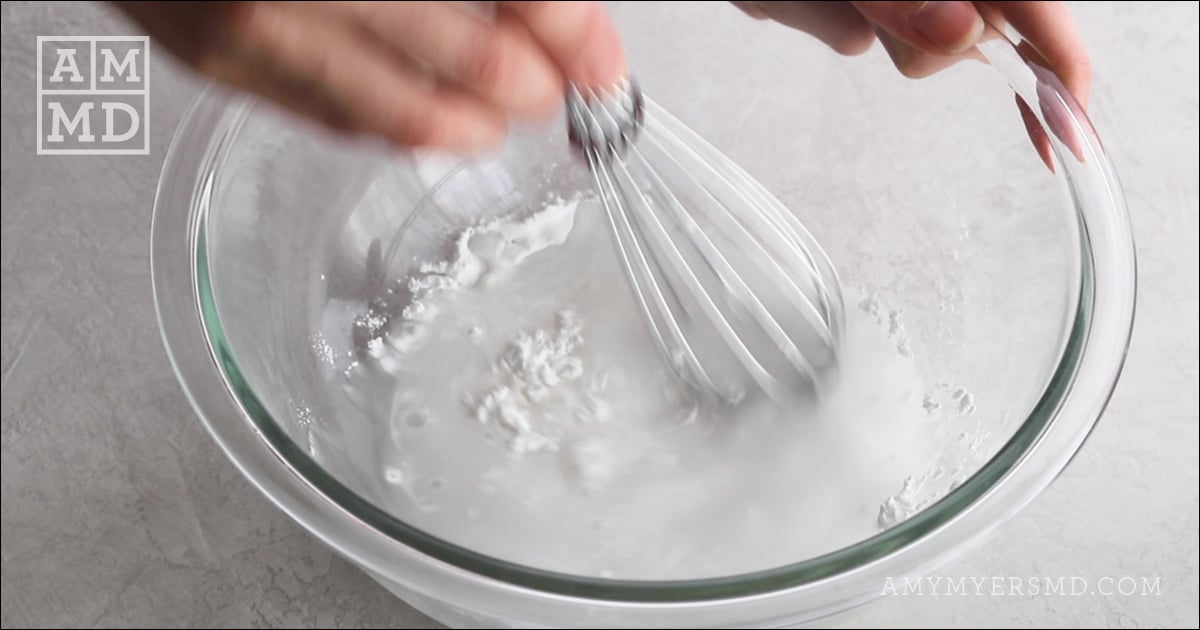 I recommend measuring all of your ingredients before you start cooking, so that the many components for your Mongolian Beef ready to go. Once you have all your ingredients ready, preheat your Instant Pot on the 'Saute More' function. While that heats up, combine arrowroot starch and flank steak in a bowl or bag and shake to coat. Saute the strips in the Instant Pot, deglazing with a little water if it sticks.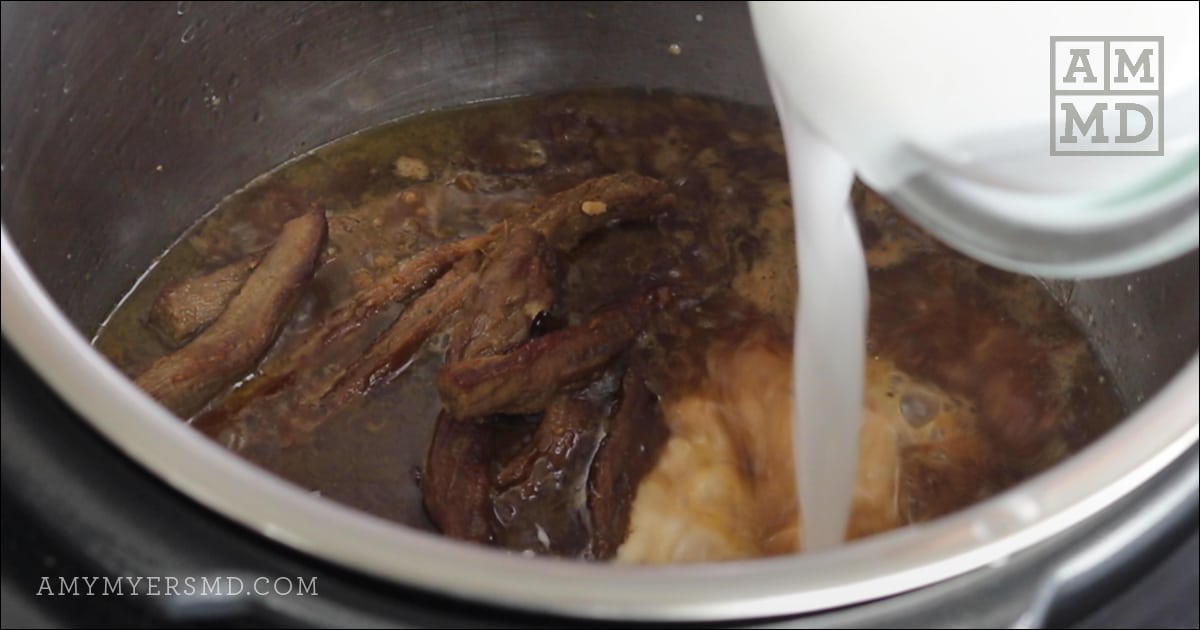 Now, add the rest of your ingredients, stir, and cook on HIGH for 2 minutes. Let the pressure release naturally while you make your arrowroot slurry.
Whisk your remaining arrowroot starch and water until well combined, then add it to the Instant Pot and turn on the Saute function once more. Allow the sauce to thicken for 2-3 minutes, then let everything settle for 8-10 minutes to thicken further.
Serve with green onions and your favorite side!
Instant Pot Mongolian Beef
---
Ingredients
3

Tbls

44.36

ml coconut oil or avocado oil

1/2

tsp

2.46

ml ground ginger

4

cloves garlic finely minced

1/4

cup

60.00

ml Coconut aminos

2

Tbsp

29.57

ml Coconut aminos

1/8

cup

30.00

ml gluten-free fish sauce (can sup 1/8 cup additional coconut aminos)

1/2

cup

120.00

ml Coconut aminos

1 1/4

cup

300.00

ml water divided

1/4

cup

60.00

ml coconut sugar packed

1

lb

454.00

g flank steak thinly sliced

3

Tbls

44.36

ml arrowroot starch divided

4

Tbsp

59.15

ml green onions approximately 2 stalks, sliced
Instructions
Heat your pressure cooker: press 'Sauté' and make sure it is on the "Less" setting. This means that the food will be sautéed over low-medium heat. Wait for the Instant Pot to read HOT.

---

While waiting for the Instant Pot to heat, add sliced beef to a large bowl, add 1 tablespoon arrowroot start and stir well to coat the beef.

---

Add the oil to the Instant Pot. Once it's hot, add the beef in batches and sauté for 3 minutes, stirring a few times. Do not fully cook the beef, it should be only lightly browned on the outside.

---

Using a wooden spoon, scrape the bottom of the pot to remove anything that sticks. If you don't do this, you'll get a burn notice during the cooking process.

---

Add remaining ingredients to the pot: minced garlic, minced ginger, coconut aminos, coconut sugar, and 1 cup of water.

---

Add remaining ingredients to the pot: minced garlic, minced ginger, coconut aminos, fish sauce, coconut sugar, and 1 cup of water.

---

Stir well until all the ingredients are combined.

---

Close lid and pressure cook on High Pressure for 2 minutes. Let the pressure release naturally for 10 minutes. Hit "Cancel" to turn off the heat. Release the remaining pressure and then open the lid.

---

In a small bowl, whisk together arrowroot starch with 1/4 cup water. With the Instant Pot on the Sauté function, add the slurry to the pot, stir to combine, and cook for 2-3 minutes until the sauce thickens.

---

Turn off the Instant Pot and serve over cauliflower rice.

---

Garnish with fresh chopped green onions.

---