Mexican Chicken with Mango Salsa and Avocado
This Mexican Chicken with Mango Salsa and Avocado will have your taste buds dancing! Flavorful, juicy chicken breast that has a Mexican-inspired flavor but made AIP-friendly without using any peppers is topped with fruity, delicious mango salsa and served with creamy avocado. The chicken can be pan-fried or grilled, and the whole recipe is really easy to prepare. This Mexican chicken is gluten-free and suitable for the AIP and Paleo diets. It's the perfect light lunch for summer.
AIP Mexican Chicken
If you're following the AIP protocol diet, you might have been avoiding Mexican dishes because spicy peppers are used as a seasoning in most Mexican dishes. This AIP-friendly Mexican chicken has all the smoky flavors of Mexican dishes without the nightshade peppers. To make this chicken, I make a quick and easy marinade combining ground cumin, ground coriander, fresh garlic, salt, and olive oil. I marinate the chicken in this marinade for a half hour—just enough time to prepare the mango salsa. If you prefer to prep the chicken in advance, the chicken can marinade for up to overnight in the refrigerator.
Healthy Mexican chicken breast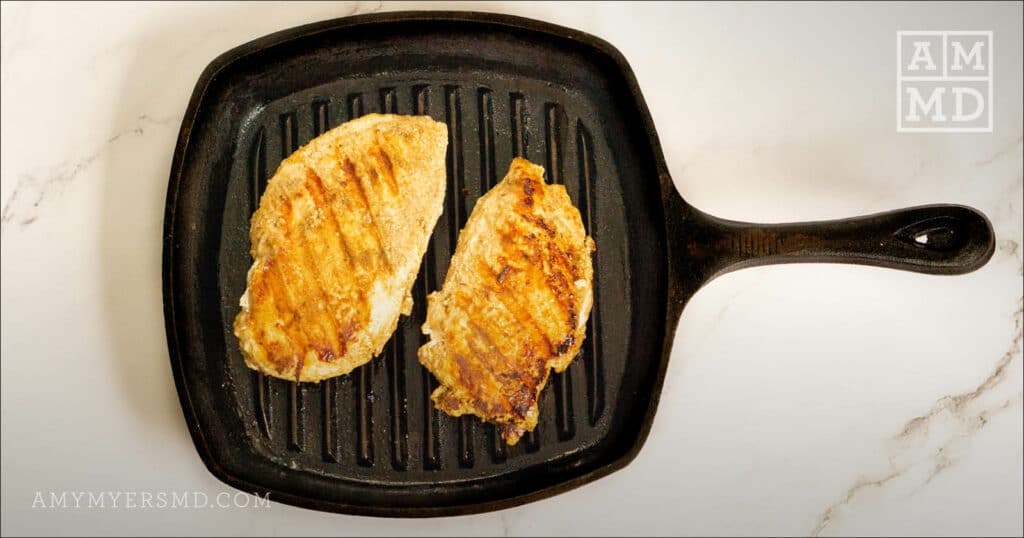 Dr. Amy Myers
April 22nd, 2022
https://content.amymyersmd.com/recipe/mexican-chicken-mango-salsa-and-avocado/
Organic, free-range, hormone- and antibiotic-free chicken breast is such a healthy ingredient. Not only is it high in protein, which is essential for building and repairing muscle tissue, but organic chicken has more vitamins and minerals, such as Vitamin D, Vitamin A, and iron. Vitamin D helps the body absorb calcium, which Vitamin A helps our eyesight and to keep the immune system healthy. Iron is essential for preventing anemia and healthy muscle activity.
AIP Mango salsa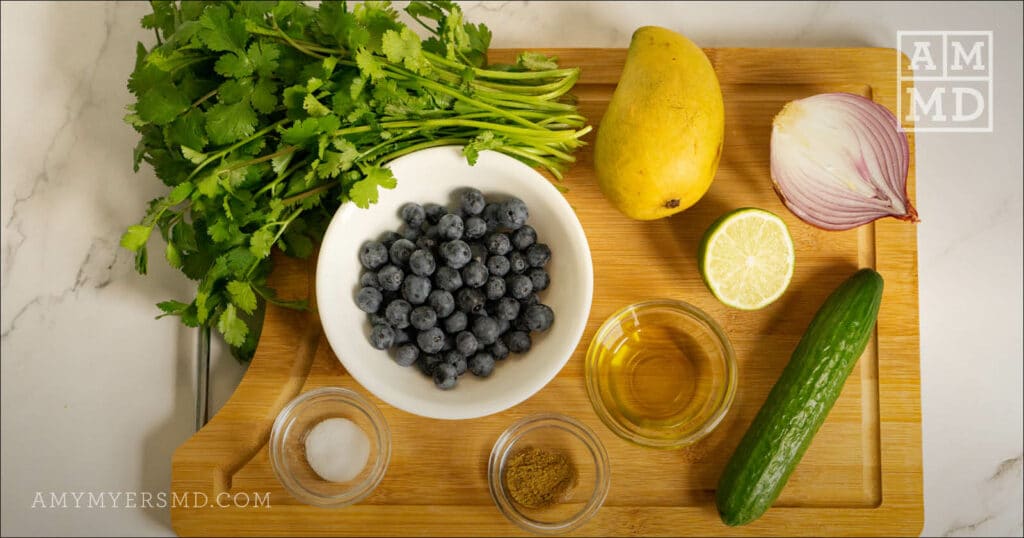 Dr. Amy Myers
April 22nd, 2022
https://content.amymyersmd.com/recipe/mexican-chicken-mango-salsa-and-avocado/
I top this chicken with the tastiest, juiciest mango salsa, made without spicy peppers or tomatoes to be AIP-compliant. This salsa contains fresh diced mango, fresh blueberries, chopped cucumber, fresh red onion, and cilantro. It is seasoned with fresh lime juice, ground cumin, sea salt, and ground black pepper.
Mango is very high in Vitamin C, copper, folate, Vitamin B6, and fiber. Vitamin C and B6 help support our immune system, copper and folate are important nutrients for healthy fetal growth and development during pregnancy, and fiber is essential for a healthy digestive tract.
Blueberries are another healthy ingredient in this salsa, and they are very high in antioxidants, making them excellent for preventing oxidative damage to our cells.
The cumin in the salsa gives it a nice smoky flavor, and the fresh lime juice balances out the natural sweetness of the mango and blueberries.
The salsa is very easy to put together – simply combine all the ingredients in a bowl and it is ready to eat! You can also marinate the salsa for up to 3 hours, or overnight, if you want to prepare it ahead of time.
What to serve with Mexican chicken with mango salsa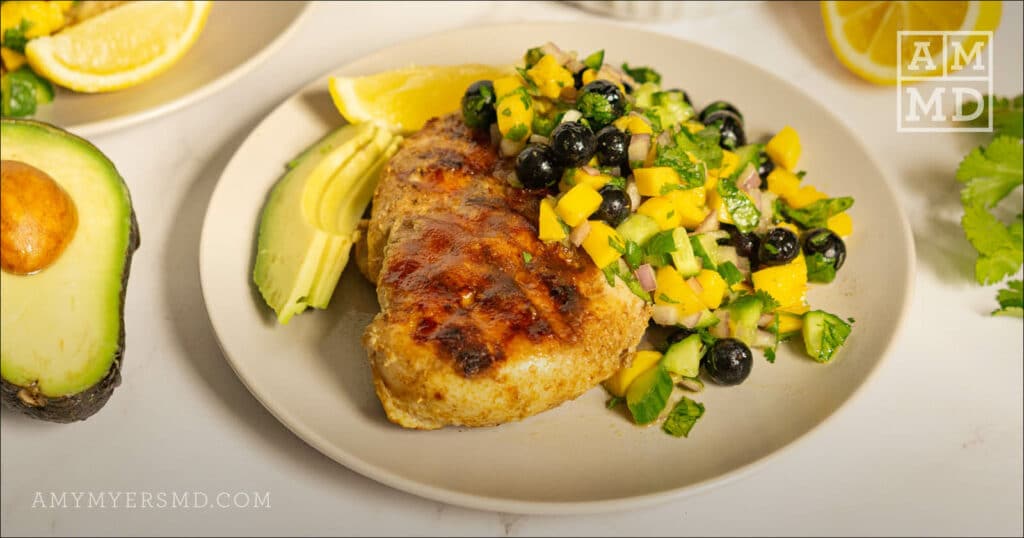 Dr. Amy Myers
April 22nd, 2022
https://content.amymyersmd.com/recipe/mexican-chicken-mango-salsa-and-avocado/
I love serving this mango salsa over Mexican chicken with a few slices of avocado on the side. The creaminess of the avocado goes perfectly with the sweet salsa and smoky chicken. You can also choose to chop up the avocado and add it directly to the salsa.
If you want to make this a heartier meal, serve this chicken over this Mexican Rice Bowl, or chop the chicken and top it with mango to serve as tacos in cassava flour tortillas.
You can also choose to serve this chicken with mango salsa over shredded cabbage, like I do in these Fish "Taco" Bowls.
Either way, I think you will love the combination of flavors in this recipe!
Mexican Chicken with Mango Salsa and Avocado
---
Ingredients
For the Mexican Chicken:
2

 lb 

908.00

 g chicken breast (4 chicken breasts)

2

 tbsp 

29.57

 ml extra virgin olive oil

1

 clove garlic minced

2

 tsp 

9.86

 ml ground cumin

1

 tsp 

4.93

 ml ground coriander

1

 tsp 

4.93

 ml sea salt

2

 tbsp 

29.57

 ml water
For the mango salsa:
1 

mango large, diced

3/4

 cup 

180.00

 ml blueberries

1/2 

red onion minced

1 

cucumber small, diced

1/2

 cup  

120.00

 ml cilantro minced

1

 tbsp 

14.79

 ml extra virgin olive oil

1

 tbsp 

14.79

 ml lime juice

1/2

 tsp 

2.46

 ml ground cumin

1/2

 tsp 

2.46

 ml sea salt

1/2

 tsp 

2.46

 ml ground black pepper
For serving:
1 

avocado

1 

lime cut into wedges