No-Bake Pumpkin Pie
The less cooking you have to do for the holidays, the better. This No-Bake Pumpkin Pie is the perfect healthy dessert to follow Thanksgiving dinner and enjoy throughout the fall and winter months. It's an easy crowd-pleaser and can fit a variety of diets, from sugar-free to Paleo to The Myers Way®.
My No-Bake Pumpkin Pie's Healthy Ingredients
No-Bake Pumpkin Pie is a delicious and healthy dessert made with real, whole-food ingredients. It has no refined sugar and it can be made completely sugar free. This recipe is also great for those on elimination diets including The Myers Way® because it contains no gluten, grains, eggs, or inflammatory oils, and you can take out the maple syrup if you haven't reached reintroduction. Here are some of the healthy ingredient swaps I made for this No-Bake Pumpkin Pie:
Pumpkin Puree
The fall favorite — this orange, starchy vegetable is a traditional ingredient for beloved fall desserts. It provides the classic taste you may know very well to my No-Bake Pumpkin Pie, and contains nutrients such as beta carotene, Vitamin K, Vitamin C, potassium, and fiber.
Stevia
Stevia replaces sugar in this recipe. As a non-caloric sweetener, stevia won't affect your blood sugar the way real sugar does, but it still adds sweetness to the dessert. Opt for an organic, minimally-processed powdered stevia extract with no added ingredients.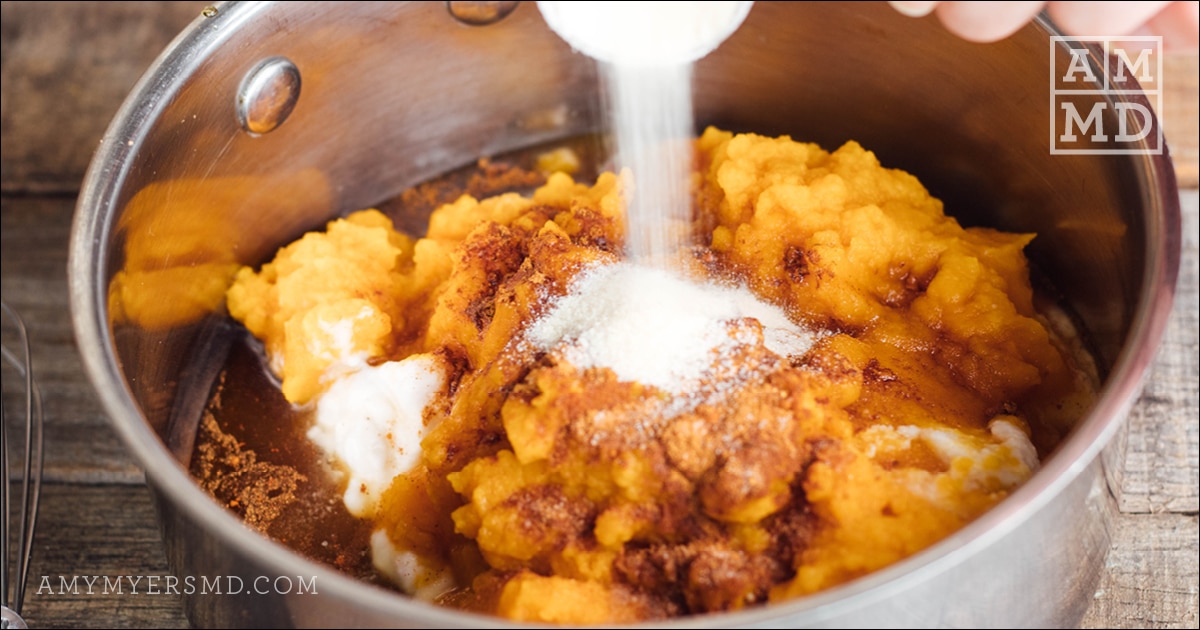 Gelatin
Although eggs are a nutrient-dense food, they're also a common allergen. If you can't tolerate eggs or want to make an allergen-friendly dessert for a party, this No-Bake Pumpkin Pie is the perfect choice! The recipe uses gelatin to bind ingredients and create a wonderful texture and provide gut-repairing nutrients.
Coconut Cream
Coconut cream replaces cream cheese, whipped cream, or any other dairy ingredients used in most no-bake pie recipes. Coconut cream is my favorite dairy-free alternative because it is a fantastic source of healthy fats, making this a satiating dessert with a rich texture and decadent taste.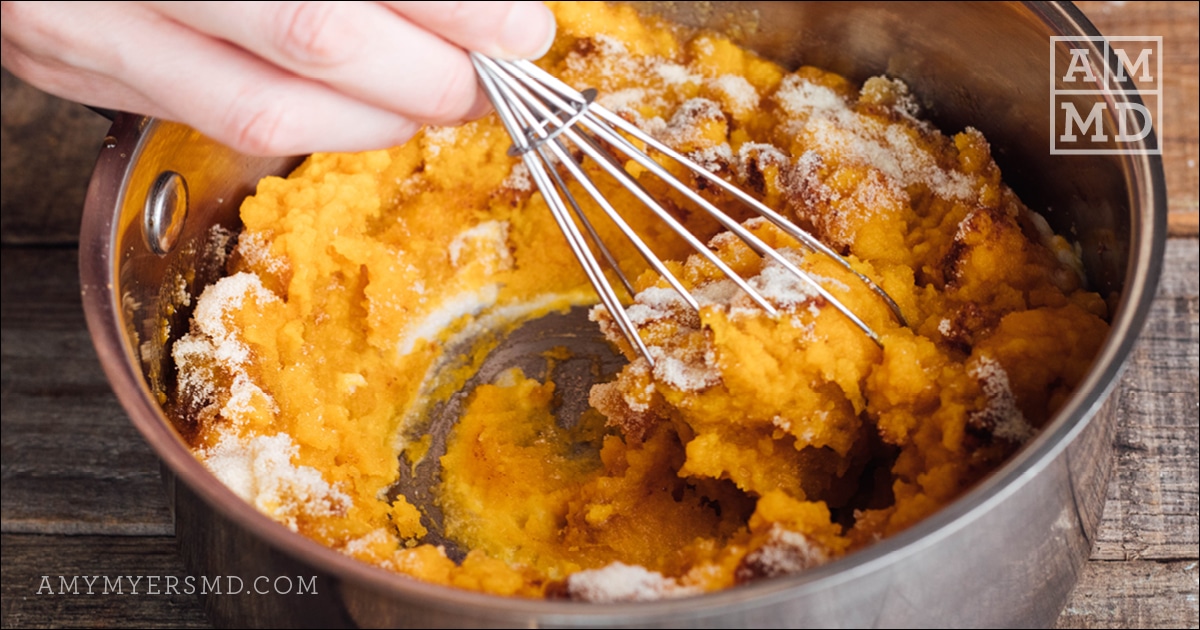 How to Make No-Bake Pumpkin Pie
This No-Bake Pumpkin Pie is so easy to make. I guarantee that it will become a staple in your holiday celebrations as you get into the hectic season and need to whip something up fast for everyone to enjoy. You're in the kitchen for less than 15-20 minutes and you can even make it the night before a get together and store it in the fridge until it's time to bring out dessert.
First, make sure you have a cold, medium-sized pot on hand. You can put one in the refrigerator for several minutes prior to starting. In the cold pot, add all of your ingredients and stir over medium-low heat until the gelatin dissolves. Whisk the mixture to eliminate any clumps and continue cooking for 5-10 minutes, or until the mixture is smooth and heated through.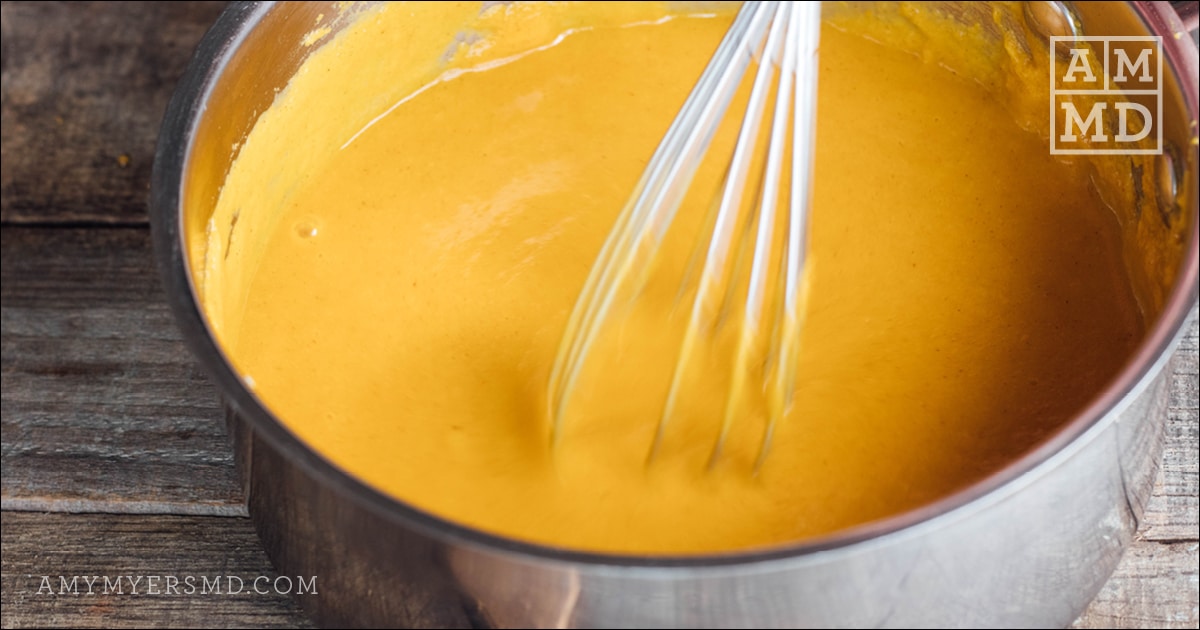 Add your mixture to a heat-safe high speed blender or food processor to blend together, then pour into 6 small ramekins. Let these set for at least six hours in the refrigerator or until the top springs back slightly and the mixture is chilled all the way through.
Serve these No-Bake Pumpkin Pies cold and garnish with additional coconut cream and cinnamon.
Make it Sugar-Free
To make this recipe sugar free, simply eliminate the maple syrup. The stevia extract will provide all the sweetness you need, and leaving the maple syrup out doesn't affect the texture of your No-Bake Pumpkin Pie in the least.
I hope you enjoy it!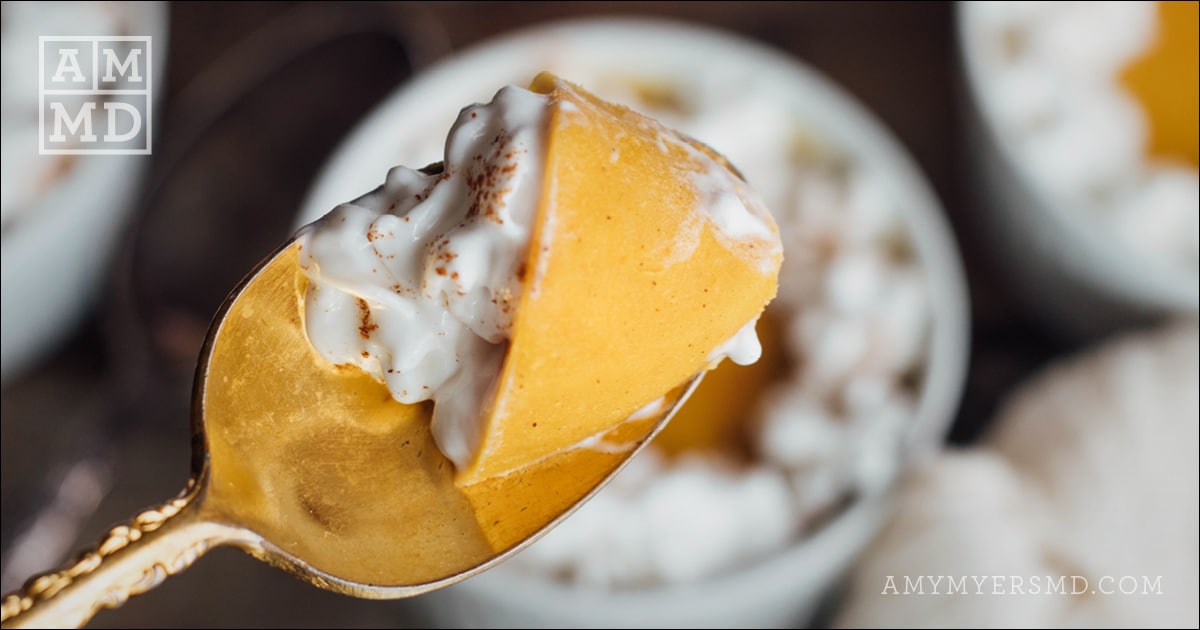 Ingredients
2

cups

480.00

ml pumpkin puree

1/4

tsp

1.23

ml powdered stevia

1/2

cup

120.00

ml coconut cream

2

scoop The Myers Way® Gelatin

1/2

tsp

2.46

ml pumpkin pie spice

2

Tbsp

29.57

ml maple syrup

1/4

tsp

1.23

ml sea salt
Instructions
To a cold medium-sized pot, add all ingredients. Then turn on the heat to medium-low and continue stirring the mixture to dissolve the gelatin. Whisk well to eliminate any clumps. After cooking for about 5-10 minutes, add the mixture to high-speed blender or food processor to blend all ingredients.

---

Pour batter into 6 greased ramekins and place in the refrigerator for at least 6 hours or until set. Once set, serve cold and enjoy!

---

Garnish with additional whipped coconut cream and cinnamon, if desired.

---