Grain-Free Overnight 'Oats' Parfait
These Grain-Free Overnight 'Oats' are the perfect breakfast any day of the week. They take just a few minutes to prepare and are loaded with nutritious ingredients! This recipe is naturally sweetened with a bit of banana and contains cinnamon and crunchy cacao nibs for additional flavor.
Grain-free Overnight 'Oats' are made with shredded coconut and one other unexpected ingredient: riced cauliflower. The riced cauliflower and shredded coconut give these Grain-Free Overnight 'Oats' the texture you look for in traditional oatmeal.
The cauliflower 'oats' for these parfaits are layered with coconut yogurt, cacao nibs, and toasted shredded coconut for a stunning AIP breakfast. They're dairy-free, gluten-free, Paleo, and oh-so-good!.
So start your day off right with delicious AIP (reintroduction phase!) overnight '0ats' The Myers Way®!
Grain-free overnight 'oats'
The trick to making grain-free 'oats' is getting the texture right, and I perfected it with riced cauliflower and a few other ingredients.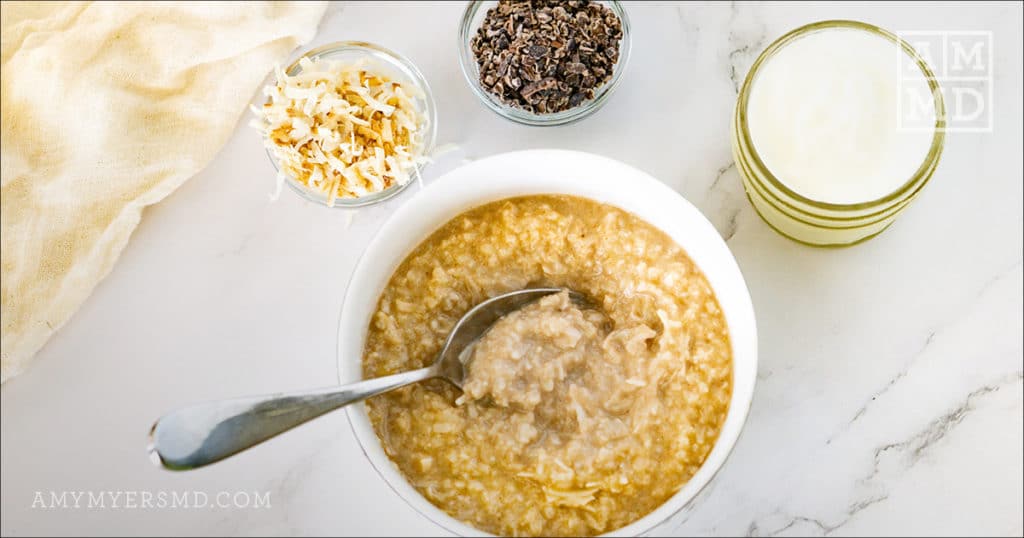 I start by blending together banana and coconut milk with cinnamon. Then I add steamed riced cauliflower and unsweetened shredded coconut and pulse for a few seconds.
This results in 'oats' that have a really nice texture similar to regular cooked oats.
This cauliflower 'oats' mixture can be enjoyed right away, or placed in the fridge for a few hours or overnight to thicken slightly.
If you prefer a thicker breakfast parfait, you can use coconut yogurt instead of coconut milk in the 'oats' mixture.
Assembling your breakfast
You can assemble your Grain-Free Overnight 'Oats' as you would a parfait. Prepare your parfaits at night for a quick, ready-to-eat breakfast in the morning. Alternatively, you can make your 'oats' look like a parfait the morning after letting the grain-free 'oats' sit in the fridge overnight.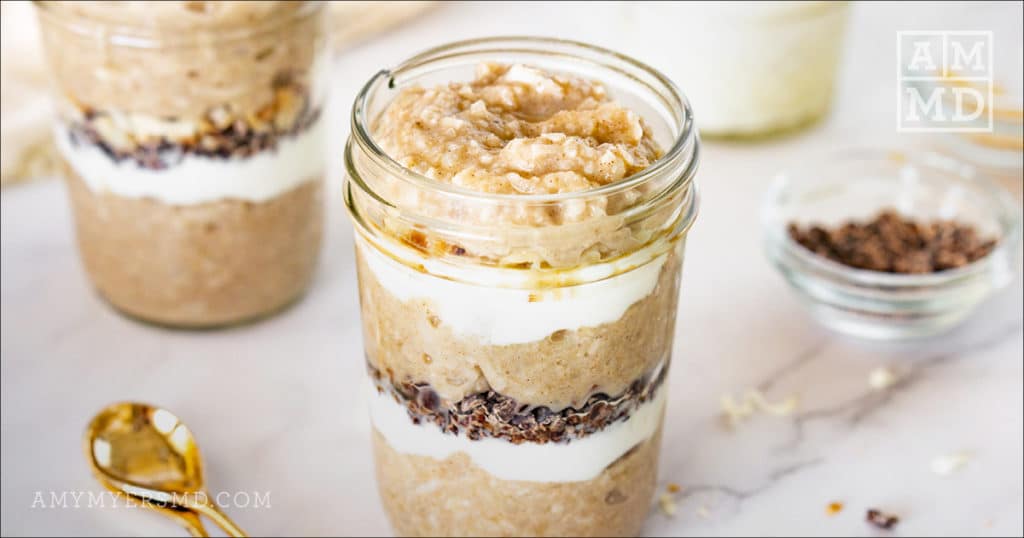 To assemble the parfaits, just layer the cauliflower 'oats' mixture with coconut yogurt, cacao nibs, and toasted coconut.
Nutritious breakfast
This breakfast is one of my favorites because not only is it easy to make and absolutely delicious and satisfying, but it is also loaded with nutritious ingredients.
Banana
These overnight 'oats' are naturally sweetened with banana, which also adds fiber, potassium, and Vitamin B6 to start your day off right. These nutrients help regulate our digestive tract, produce red blood cells, maintain a healthy nervous system, heart, and blood pressure.
Cauliflower
Cauliflower is a nutritional powerhouse, and cauliflower 'oats' are a great way to add some vegetables to your breakfast.
Cauliflower is high in fiber, which assists with digestion and satiety and can help promote a healthy weight.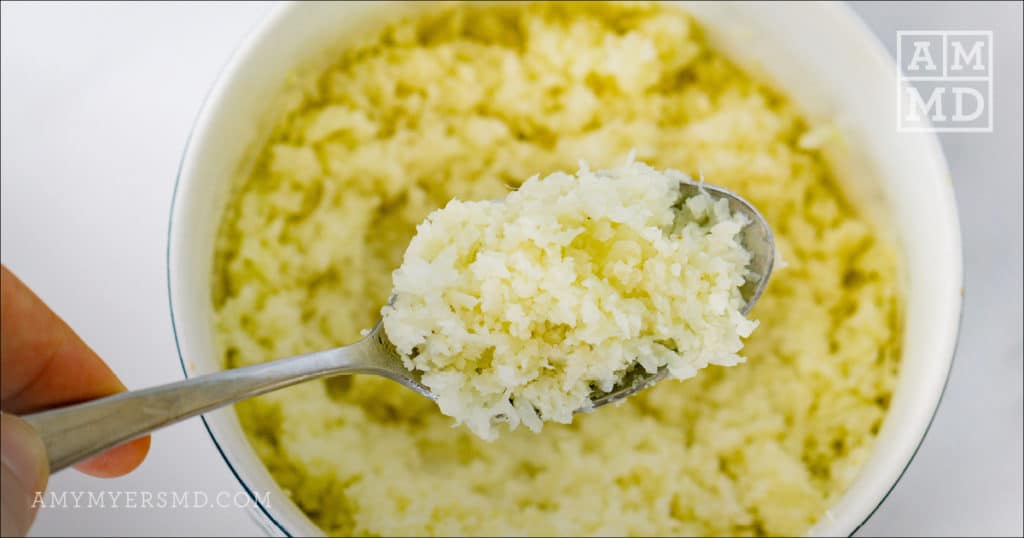 Cauliflower is also high in choline, an essential nutrient for memory and learning that must be obtained from your diet. In addition, cauliflower is high in vitamins C, K, and B6. Vitamin C is an important antioxidant that can help strengthen the body's immune system and manage high blood pressure. Vitamin K helps improve bone health and helps with the absorption of calcium. Vitamin B6 may help reduce depression and improve your mood.
Coconut
This recipe uses coconut yogurt and shredded coconut. Coconut is high in electrolytes such as potassium, magnesium, and phosphorus. These electrolytes help maintain normal heart, muscle, and nerve function. Coconut milk is also high in iron, which helps keep the blood cells healthy and prevent anemia.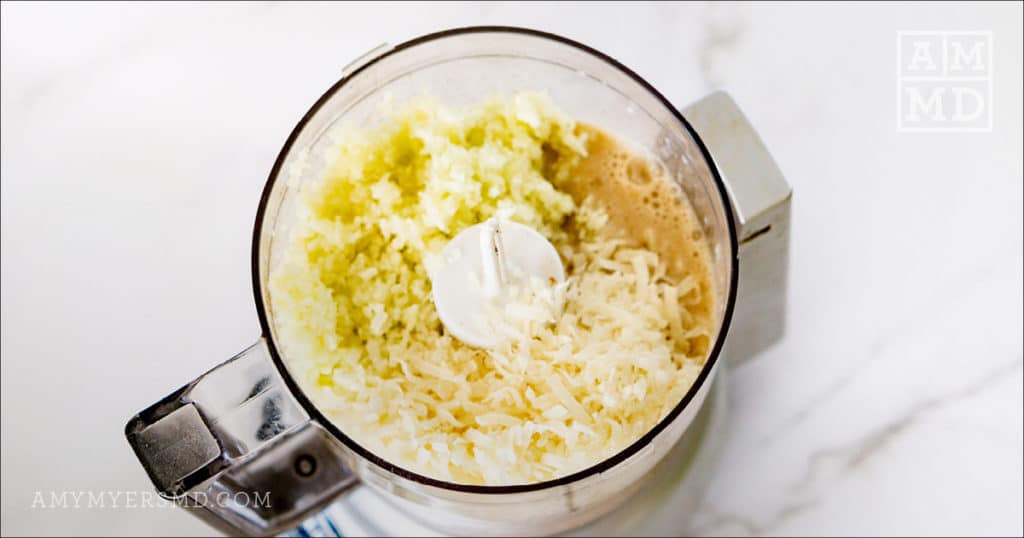 Cacao nibs
Cacao nibs add a wonderful chocolate flavor and crunch to these parfaits. Cacao is loaded with flavanols, which are antioxidants that have been shown to reduce fatigue, improve heart health, cognitive function, and regulate blood pressure. In addition, cacao nibs also add a bit of fiber to this healthy breakfast!
I hope you love these grain-free overnight 'oats' as much as I do! They are a great way to add healthy vegetables, nutrients, and fiber to your breakfast.
You might also enjoy these easy nutritious breakfast recipes:
Grain-Free Overnight 'Oats' Parfait
---
Ingredients
1

banana broken into 4-5 pieces

1/2

cup

120.00

ml coconut milk (or coconut yogurt for thicker consistency, see notes)

1/2

tsp

2.46

ml ground cinnamon

1/2

lb

227.00

g riced cauliflower steamed or cooked

1/2

cup

120.00

ml unsweetened shredded coconut divided

1/2

cup

120.00

ml plain coconut yogurt

2

Tbsp

29.57

ml Cacao nibs
Instructions
In a small food processor, process the banana (reserve a few slices for garnish, if you like), coconut milk or yogurt, and cinnamon until smooth. Add the steamed riced cauliflower and ½ cup shredded coconut, and pulse a few times to combine. The mixture should have the consistency of cooked oatmeal. If it is too thick, add more coconut milk or coconut yogurt, a tablespoon at a time. If it is too thin, add more shredded coconut or steamed riced cauliflower, a tablespoon at a time.

---

Prepare the parfaits by layering the cauliflower 'oats,' coconut yogurt, cacao nibs, and the remaining 2 tablespoons of shredded coconut in two 8-12 oz jars or glasses. Top with cacao nibs, toasted shredded coconut, and banana slices if desired. Refrigerate for at least 2 hours or overnight.

---

Serve chilled or bring to room temperature.

---