Pantry Staple Pesto Pizza
This Pantry Staple Pesto Pizza is a healthy, delicious meal made using ingredients found in any AIP-friendly pantry. Which means it doesn't jeopardize your gut health!If you've ditched gluten and dairy, this Pesto Pizza will become an instant favorite for the nights when you don't want to leave the house and delivery isn't an option. The gluten-free pizza crust is made with shelf-stable ingredients, and comes out of the oven crisp and toasty. It pairs perfectly with a dairy-free pesto.
We try our best to cook at home as often as possible, and when a pizza craving hits, my favorite option is actually homemade! I love making a pizza that I can feel comfortable feeding to my whole family. A pizza that is free of nightshade vegetables, gluten, dairy, eggs, and nuts. So I created a delicious and flavorful AIP pesto pizza using pantry staples that will make you happy to stay in on a Friday night! You don't want to miss this recipe.
What ingredients do you need for this healthy, AIP pizza?
While there are non-negotiable ingredients for the crust, you can use just about anything in the refrigerator as a topping. To keep this recipe completely pantry-friendly, you can use canned olives, canned artichokes, and even canned proteins!
My favorite way to assemble an AIP pizza is with a dairy-free and nut-free pesto sauce as the base, and topping it with caramelized onions, kalamata olives, and shredded rotisserie chicken breast. You can also use a "Nomato Sauce," fresh basil, and any vegetables left over at the end of the week to clear the fridge or cupboard.
I always prefer to use my fresh, Dairy-Free and Nut-Free Pesto sauce on my pizza. However, if you can tolerate nuts, you can usually find a dairy-free, shelf-stable pesto in your local health food store.
Otherwise, here are the ingredients you will need to make an amazing and healthy Pantry Staple Pesto Pizza: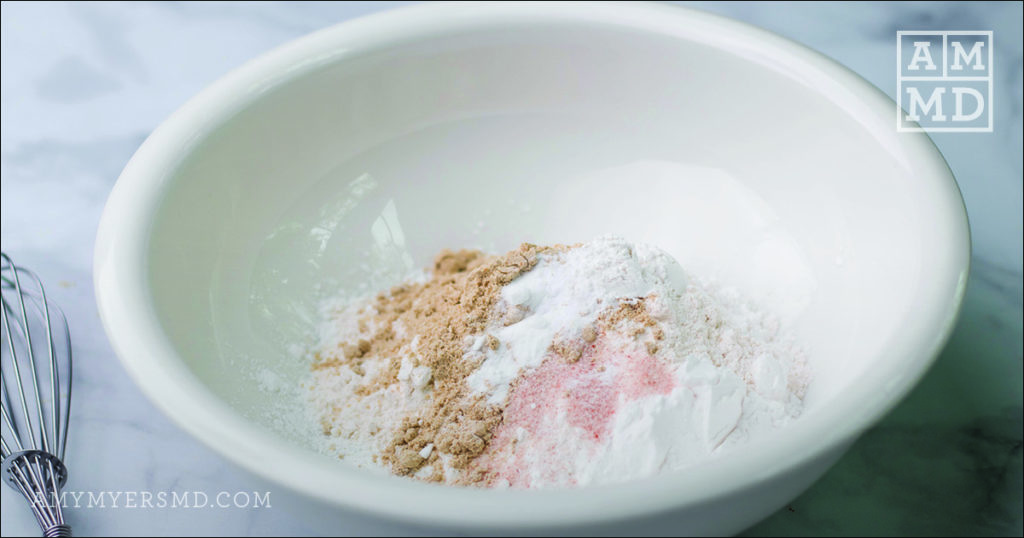 Gluten-Free Flours
Not all gluten-free and grain-free flours are the same. They contain varying amounts of starch, protein, and fat, which means it can be difficult to swap one out for another. The combination that I've found to work best for this pizza crust is arrowroot starch, tigernut flour, and coconut flour.
The coconut flour absorbs a lot of the liquid, while the arrowroot starch and tigernut flour provide a much-desired chewiness to the texture of your crust. I recommend preparing this recipe as written — only make swaps only if you're an experienced AIP baker.
The only flour swap you might be able to make would have you replacing arrowroot starch with tapioca starch, but even this will yield a change in the final texture.
Gelatin
Because this pizza is gluten-free and egg-free, it's missing two common binding ingredients. For this reason, the gelatin is a key ingredient in this crust. Gelatin is a great substitute for gluten and eggs and it also supports gut health. This handy, AIP ingredient can assist with the repair and regeneration of the gut cell wall.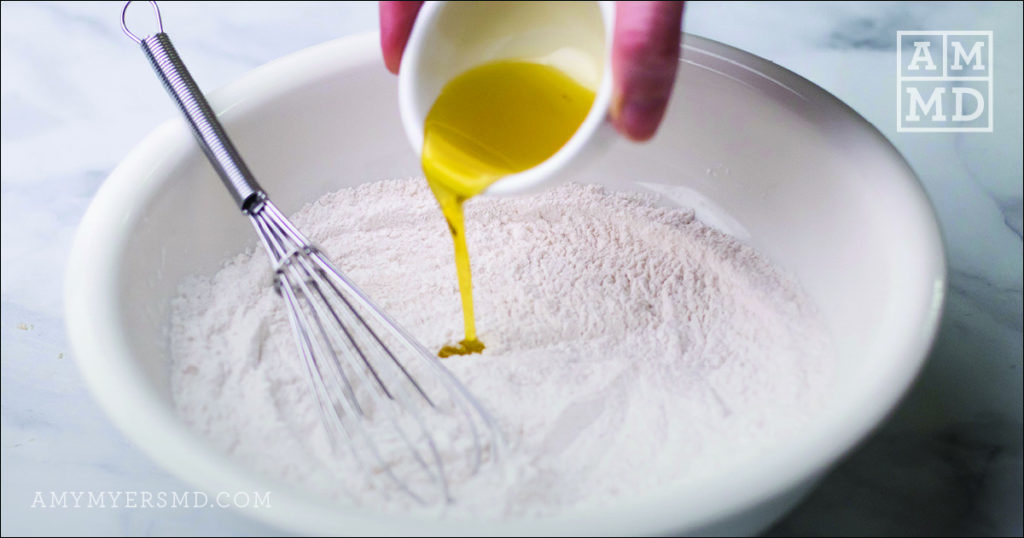 Palm Shortening
Sustainably harvested palm shortening is an excellent replacement for butter, lard, and hydrogenated baking oil solids. It also keeps my recipe completely dairy-free. Palm oil is high in Vitamin E and contains nearly equal amounts of unsaturated and saturated fats for a healthy balance of essential nutrients.
This pizza crust is made almost like a pastry, so I don't recommend swapping palm oil with other fats unless you know how the texture will change. The palm shortening is added in small pieces to the dough, which helps create a soft and flakey texture that cannot be replicated easily with other fats. If you don't have palm shortening on hand, the only other fat I would suggest trying is coconut oil. However, it will yield a different end result.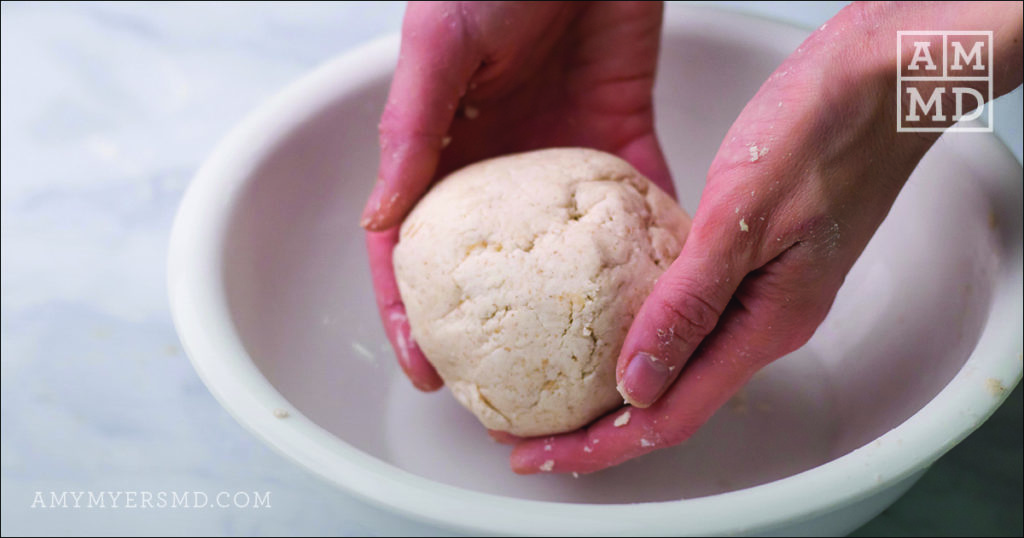 How to make this Pantry Staple Pesto Pizza
While this may seem complex, these AIP and paleo pantry ingredients don't actually overcomplicate things. It's no more complicated than making a gluten-filled pizza crust.
To make it even easier, you can use pre-cooked chicken and leftover vegetables as your toppings.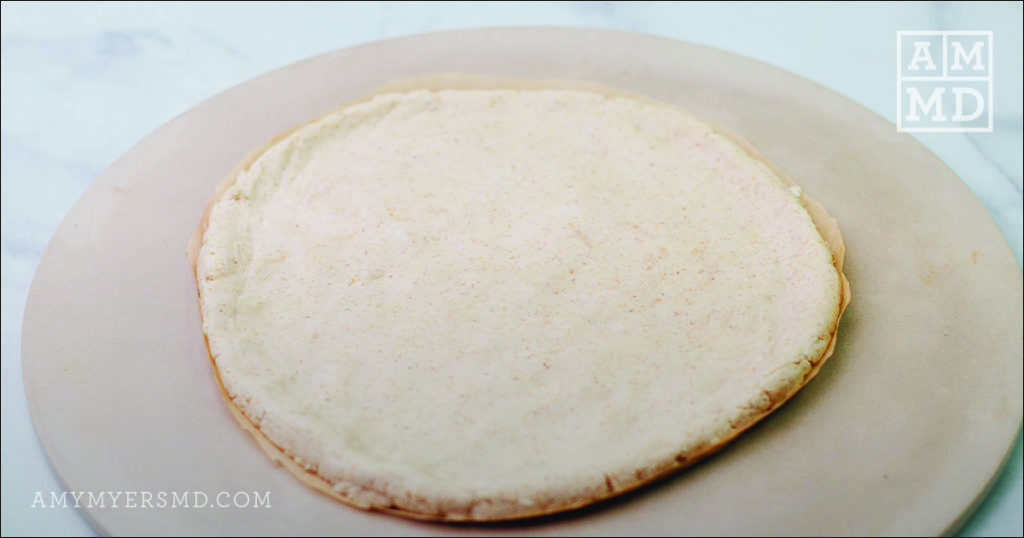 1. Make the crust
Sift together the dry ingredients, and stir well before adding olive oil and full-fat coconut milk from a can. You may need to add a few additional tablespoons of coconut milk to get the dough together, but you'll start with 1 cup.
Next, break the palm shortening into small pieces with your hands, and work the pieces into the dough. This will start to bring the dough together into a ball. You may need to add a few additional tablespoons of coconut milk, depending on the brand of coconut flour you use. Some brands are more absorbent than others.
Once your dough easily forms into a ball, allow it to chill in the refrigerator for 20 minutes. While the dough is chilling, preheat your oven to 375 degrees fahrenheit. Place a pizza stone or baking sheet into the oven to get it hot.
After 20 minutes in the refrigerator, place the dough between two sheets of parchment paper. Use your hands or a rolling pin to shape or roll your dough into a pizza shape. Remove the hot pizza stone or cookie sheet from the preheated oven and carefully slide the dough onto it. I like to drizzle olive oil on the crust of my pizza, along with flakey salt for extra flavor, but this is optional.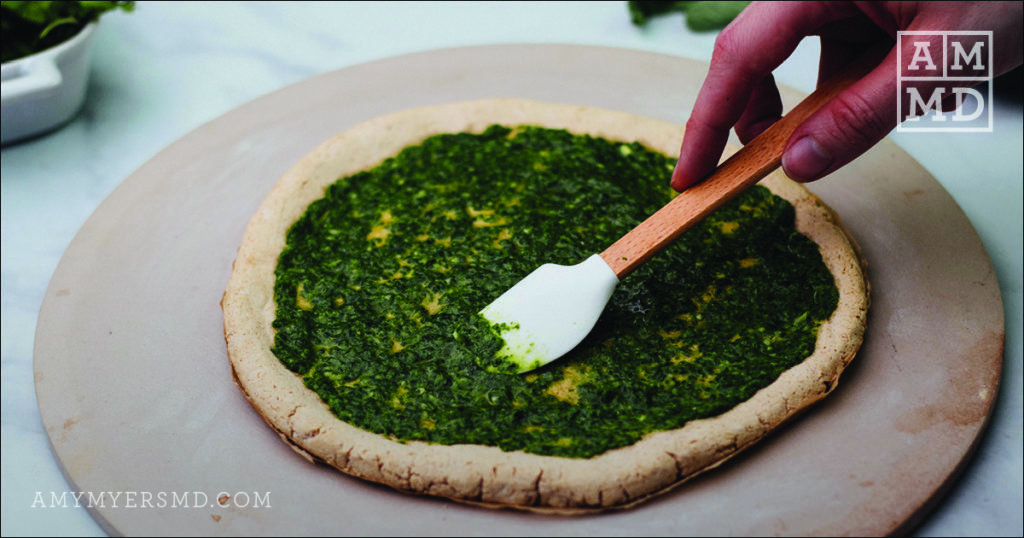 Bake the pizza crust for about 12 minutes, or until it is starting to become golden brown. Remove from the oven and add your toppings.
2. Assemble your pizza
After the crust is finished cooking, it's time to add your toppings! I like to use a pesto sauce, along with chopped kalamata olives, shredded chicken, and caramelized onions. Return the pizza to the oven for another 3 minutes to heat the toppings all through.
Remove from the oven, slice with a pizza cutter, and serve.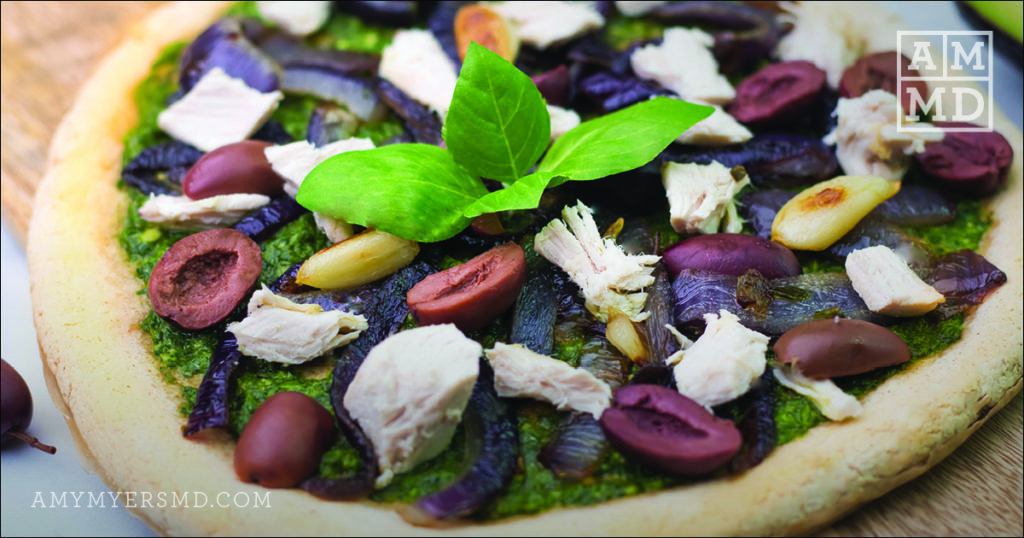 Pantry Staple Pesto Pizza
---
Ingredients
Pizza Crust
1

cup

240.00

ml arrowroot starch

1

cup

240.00

ml Tigernut flour

2/3

cup

160.00

ml coconut flour

1/2

tsp

NaN

ml sea salt

2

scoop The Myers Way® Gelatin

2

Tbsp

29.57

ml extra virgin olive oil plus additional for drizzling

1

cup

240.00

ml full fat coconut milk (plus 1-4 Tbsp more as needed)

1/3

cup

80.00

ml palm oil
Optional Toppings
chicken breast cooked, shredded
caramelized onions
kalamata olives
artichoke hearts
mushrooms
Instructions
Preheat your oven to 375 degrees.

---

Combine the arrowroot starch, tigernut flour, coconut flour, sea salt, and gelatin in a large mixing bowl. Whisk to combine.

---

Pour 1 cup coconut milk into the flour mixture, adding 2-4 Tbsp additional of milk if dough is too dry.

---

Using your hands, break the palm shortening into small pieces and crumble it into the flour mixture, combining with your hands until a soft ball of dough forms.

---

Chill the dough in the refrigerator for 20 minutes. Remove from the fridge and place onto a sheet of parchment paper. Cover the top of the dough with a second sheet. Use a rolling pin to roll the dough to about ¼ inch thick. I made a crust that was slightly thicker all the way around the dough.

---

Place into the preheated oven for 12 minutes. Remove from the oven, add desired favorite or shelf-stable toppings, and return pizza to the oven for another 3 minutes.

---

Remove from oven, slice, and serve.

---