Veggie Tots
While regular tater tots made with russets may be off the menu, AIP Veggie Tots are a healthy alternative that taste absolutely delicious! Unfortunately, it's difficult to find AIP tots made with unprocessed veggies in grocery stores, because they are often full of inflammatory ingredients including potatoes, flour, and eggs. Luckily, these homemade, AIP Veggie Tots are easy to make with just a few ingredients — plus everything tastes better with fresh vegetables. Once you try these grain-free, egg-free Veggie Tots, they'll be one of your go-to, healthy snacks.
A healthy, nutrient-dense snack
My Veggie Tots are a great, healthy snack jam-packed with nutrient-dense vegetables. They're made with sweet potato, zucchini, a few seasonings, and fiber-rich, paleo-friendly coconut flour works to bind them together.
Sweet Potato
This recipe uses sweet potato instead of regular russet potato. Sweet potato is full of fiber, vitamins, minerals, and antioxidants. The fiber in sweet potatoes promotes healthy digestion and keeps things moving in your gut. Prebiotic fiber in sweet potatoes also support the growth of good bacteria which help maintain a healthy environment in your gut and strong intestinal lining.
Sweet potatoes are high in vitamins A, B6, and C, as well as manganese, and potassium. Vitamin A is actually an antioxidant that has been known to help protect eye health from damage and support a healthy response to inflammation.
Manganese is essential to maintaining optimal bone mineral density and supports your body's inflammatory response, while potassium works to support healthy blood pressure levels. A healthy blood pressure modulates muscle and heart contractions, and helps maintain healthy nerve functions as well.
Not to mention, sweet potato is a tasty and vibrant vegetable that even kids enjoy. So you can feel confident with the knowledge that you're providing you and your family with satisfying and healthy foods to fuel your activities throughout the day.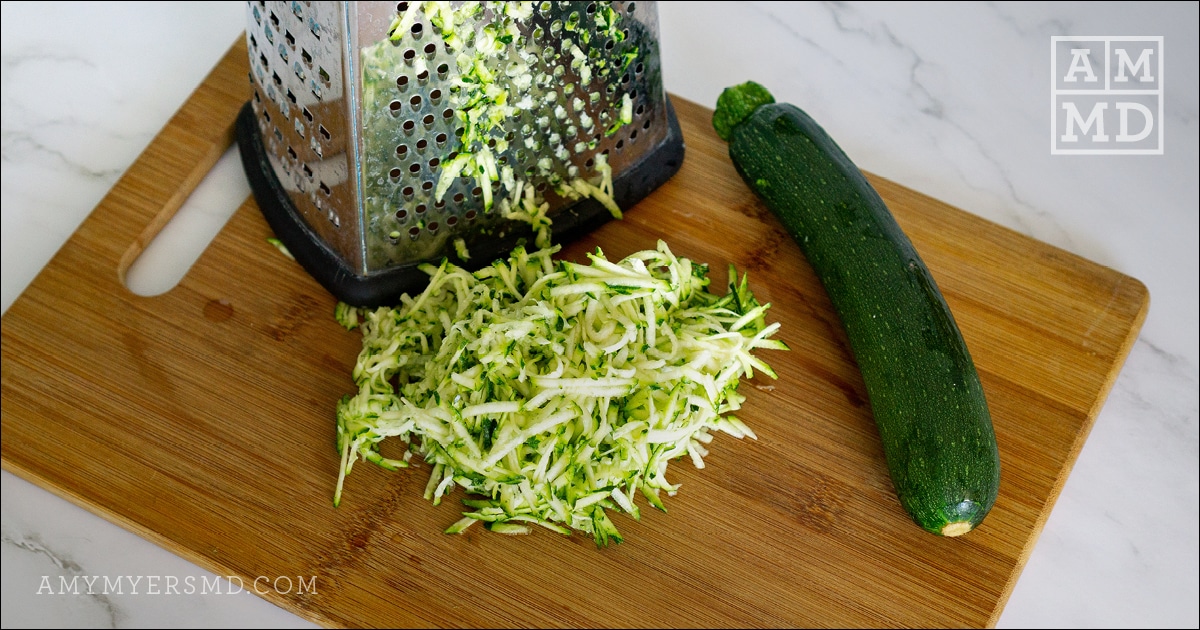 Zucchini
Zucchini is a versatile summer squash that, like sweet potato, contains many vitamins and minerals. This includes vitamins A, B6 and C, manganese, and potassium. They're also incredibly hydrating because they're full of water.
For this recipe, I actually recommend squeezing out some of the liquid after grating your zucchini to ensure the coconut flour is better able to bind your ingredients together.
Both the zucchini and the sweet potato are grated and mixed together with garlic powder, onion powder, and salt. All of these ingredients make a flavorful Veggie Tot with a great texture. The combination of dense sweet potato and fresh zucchini perfectly balances this healthy and satisfying snack.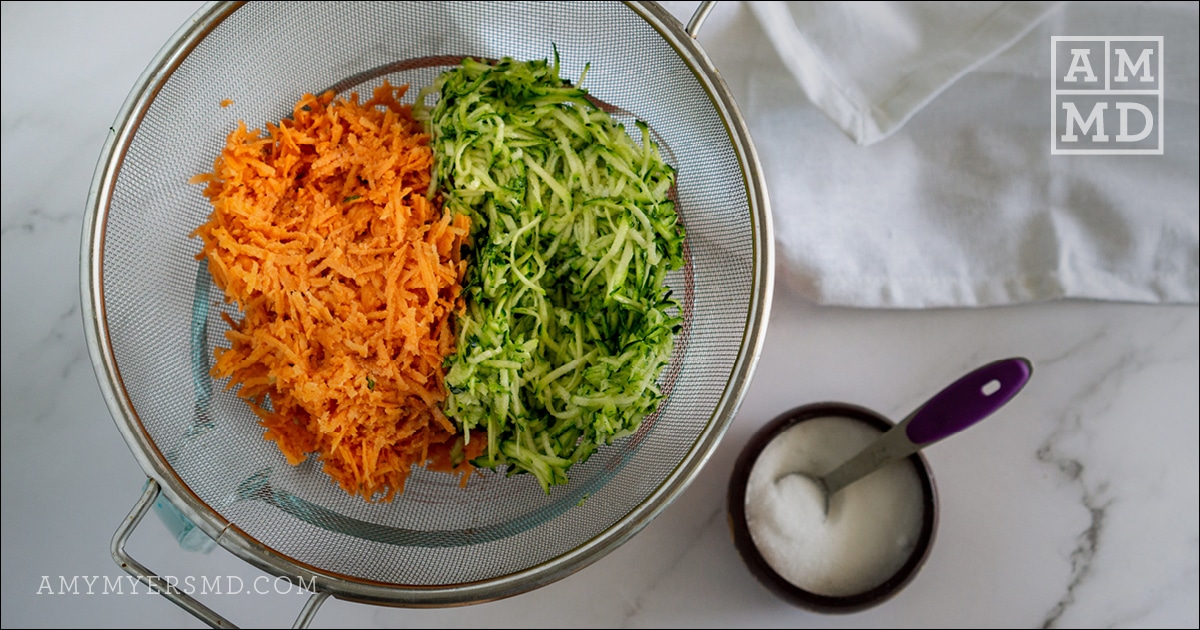 How to make gluten-free, egg-free Veggie Tots
Generic tater tots made with alternative vegetables usually have wheat flour and eggs to help bind the ingredients together. The key to making AIP Veggie Tots bind together without inflammatory ingredients is finely grating the vegetables and making sure there is no extra liquid.
To make Veggie Tots, use the smaller setting on a grater for both the sweet potato and zucchini.
After combining the grated vegetables with salt, put them in a colander to strain the additional liquid from the veggies. Then squeeze the mixture by hand to ensure your vegetables are ready for the next step. Zucchini has a high water content, so you may have almost a full cup of water strained from the grated zucchini and sweet potato.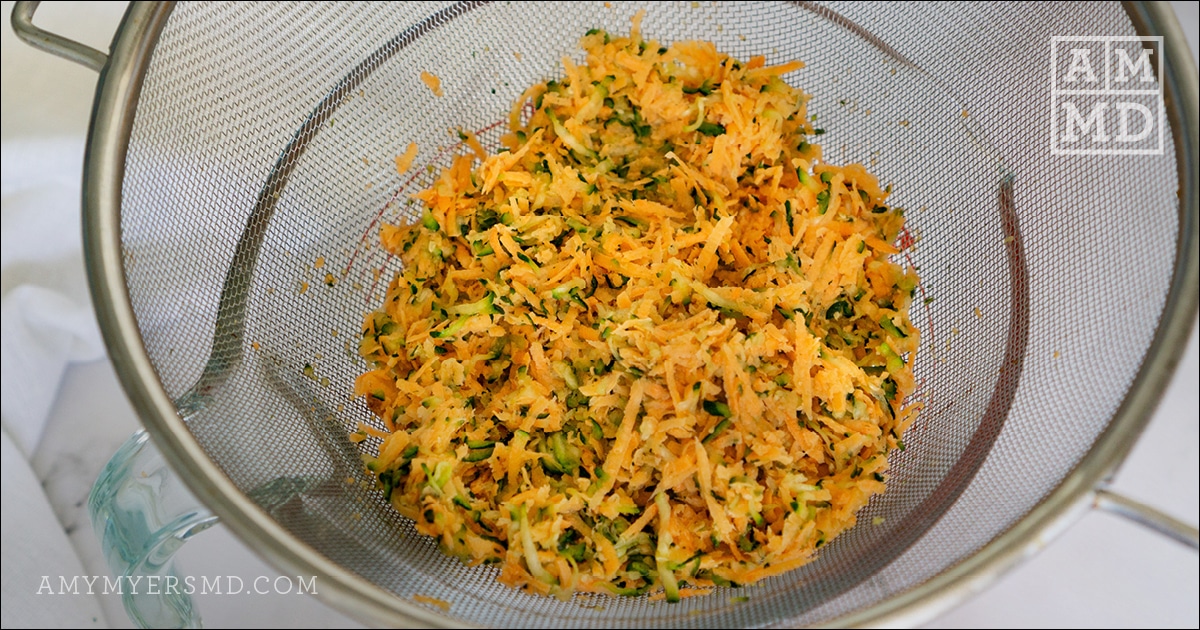 Combine the grated veggies with garlic powder, onion powder, and coconut flour. The coconut flour helps absorb any remaining liquid and bind the grated vegetables together.
After all the ingredients have been combined, the Veggie Tots are ready to be formed. This is a fun way to get the whole family in the kitchen. The kids will love shaping their tots and being able to get their hands messy. You'll love that your kids are not only helping in the kitchen, they're also getting excited to eat something they made themselves.
The Veggie Tots are then baked at 350 degrees for 25-30 minutes, which is long enough for the sweet potato to cook through and get crispy around the edges.
What to serve with Veggie Tots
These Veggie Tots can be dipped into AIP ketchup, or a dairy-free, AIP, garlic yogurt sauce, which I've included a recipe for below. It is a simple dip made with coconut milk yogurt, lemon juice, powdered garlic, sea salt, pepper, and parsley. This delicious dip brings so much flavor and tang to a great veggie recipe.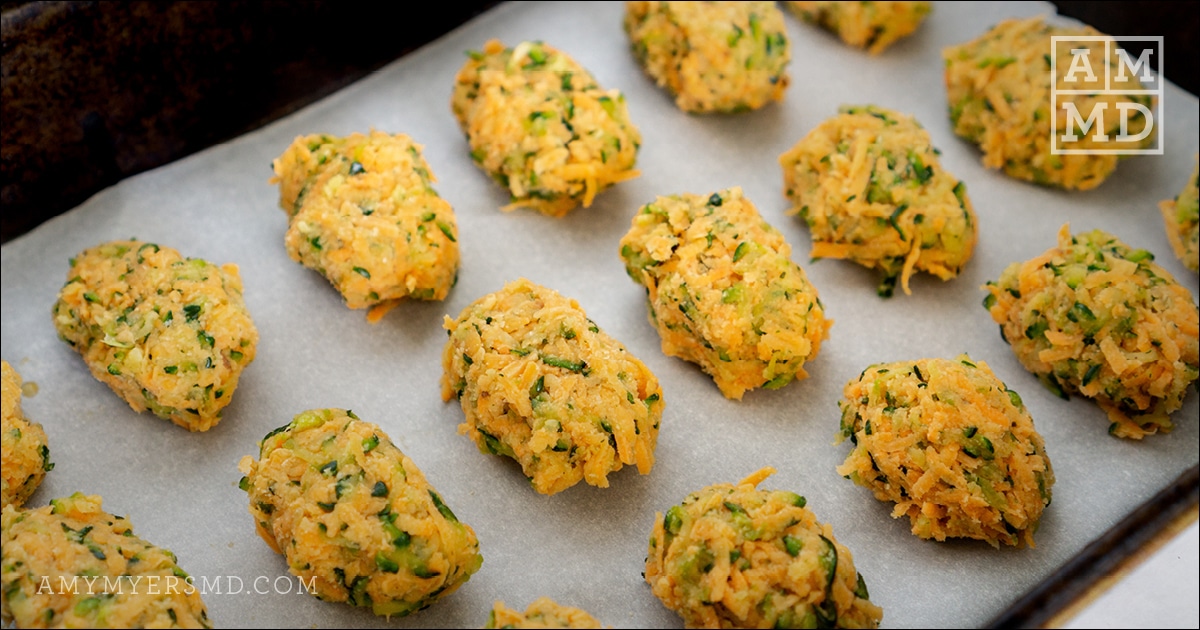 How to serve Veggie Tots
AIP Veggie Tots make an excellent snack, or a delicious side dish to any protocol-approved dinner. Not to mention, this kid-friendly recipe can be snacked on throughout the day. And of course these tots can be served with a delicious and juicy gluten-free and dairy-free burger.
However you choose to eat them, I know you'll enjoy these Veggie Tots as much as I do!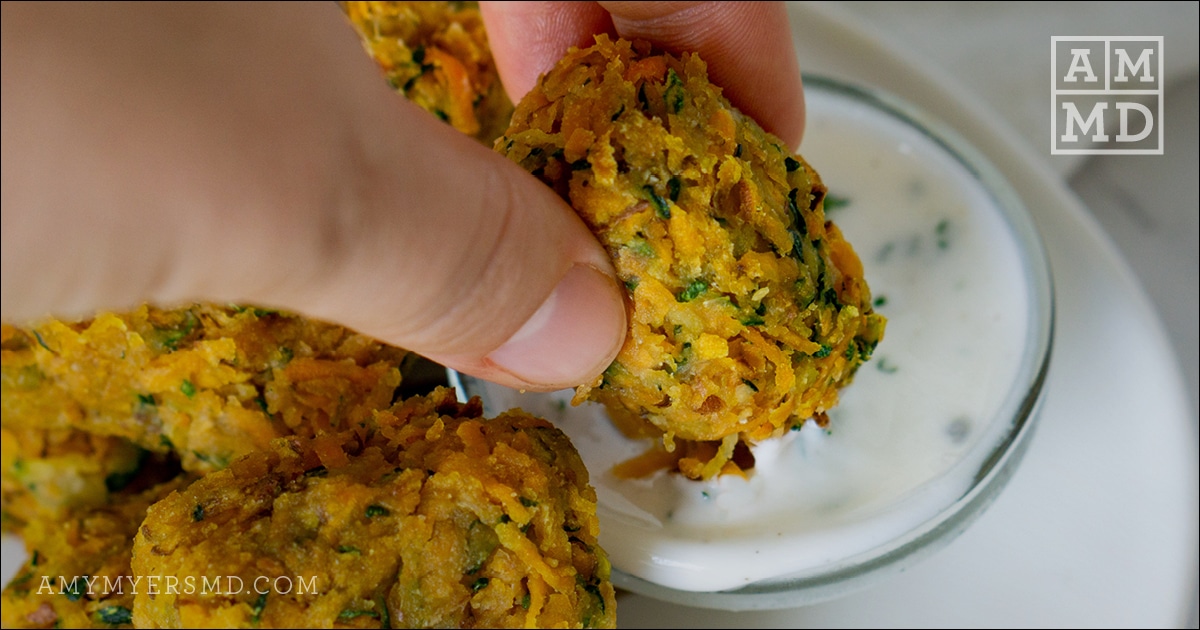 Ingredients
For the Veggie Tots
1

sweet potato

2

zucchini

1/2

tsp

2.46

ml sea salt more to taste

1/4

cup

60.00

ml coconut flour plus additional 1-2 Tbsp as needed

1/2

tsp

2.46

ml garlic powder omit for SIBO

1/2

tsp

2.46

ml onion powder omit for SIBO

1/2

tsp

2.46

ml ground black pepper

1

Tbsp

14.79

ml olive oil or coconut oil
For the Dairy-Free Garlic Yogurt
1/4

cup

60.00

ml plain coconut yogurt

2

tsp

9.86

ml lemon juice

1

tsp

4.93

ml parsley finely minced (or 1/2 tsp dried parsley)

1/4

tsp

1.23

ml garlic powder more to taste

1/4

tsp

1.23

ml sea salt to taste

1/4

tsp

1.23

ml ground black pepper to taste
Instructions
Preheat oven to 350 degrees. Line a large baking sheet with parchment paper.

---

Thoroughly clean the sweet potato and zucchini. Grate the sweet potato and zucchini with their skins on a fine grater. Place in a colander over a bowl and season with salt. Allow to stand for 10 minutes.

---

Use your hands to squeeze the remaining liquid from the grated vegetables — you should collect almost a full cup of liquid. Don't skip this step, otherwise your Veggie Tots might not hold together while baking.

---

Add ¼ cup coconut flour and ½ teaspoon each garlic and onion powder to the strained grated vegetables and mix well. Use your hands to scoop out 1 rounded tablespoon of the vegetable mixture and shape into "tots," about 1 and a half inches long. If the Veggie Tots are not holding together, add 1-2 more tablespoons of coconut flour.

---

Arrange the Veggie Tots on the baking sheet lined with parchment paper. Spray or brush the tops with olive oil or coconut oil.

---

Bake at 350 degrees for 25-30 minutes, or until the bottoms are golden brown and the vegetables are cooked through. Prepare Dairy-Free Garlic Yogurt while tots are in the oven. Remove Veggie Tots from oven and allow to rest for 5 minutes. Use spatula to remove the Veggie Tots from the baking sheet.

---

Serve the Veggie Tots warm with AIP garlic yogurt dip or with AIP ketchup.

---
Combine all ingredients in a small bowl and mix until smooth.

---

Serve with warm Veggie Tots.

---