Asparagus With Creamy Bacon Sauce
Need an easy vegetable side dish idea? Make this roasted asparagus with a creamy dairy-free Dijon sauce with bacon. Ready in 15 minutes with just a few easy ingredients, this asparagus tastes like a gourmet restaurant-quality meal! The 10-minute creamy dairy-free sauce is perfect for spooning over the asparagus and your protein of choice, such as fish or chicken.
This asparagus side dish is AIP, paleo, and SIBO diet-friendly.
Roasted asparagus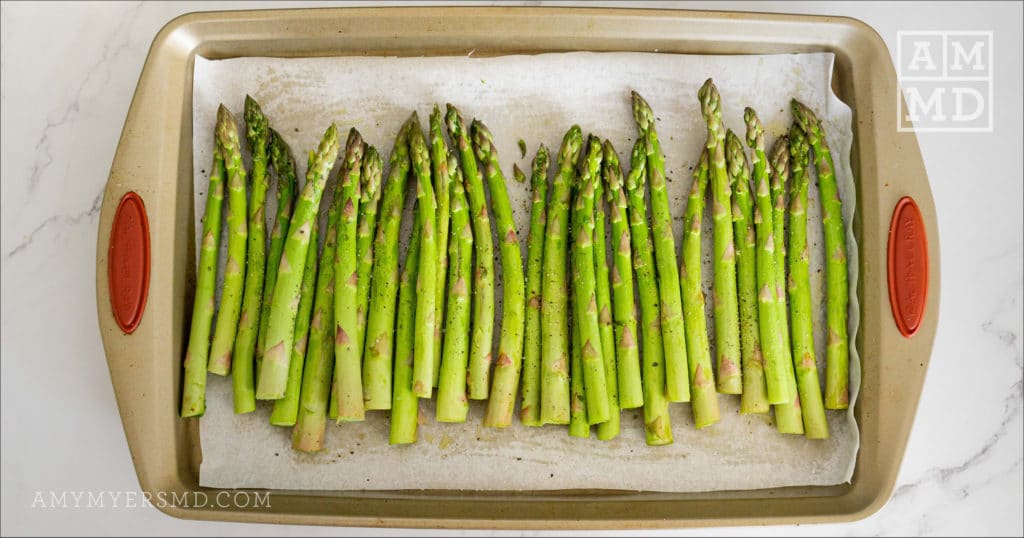 Roasting asparagus brings out its wonderful, nutty flavor. Depending on its thickness, asparagus is cooked in 10-15 minutes, making it the perfect quick side dish when you're short on time.
Asparagus is great for our diets because it is low in calories but high in nutrients and vitamins. It contains a lot of vitamin K, which helps support healthy bones and blood flow. It is also high in fiber, which helps us feel full and satisfied. Asparagus contains prebiotic fiber, which helps our gut maintain healthy probiotic bacteria that is needed for digestion health. In addition, asparagus is high in vitamins A, C, E, folate, and potassium.
Creamy AIP bacon sauce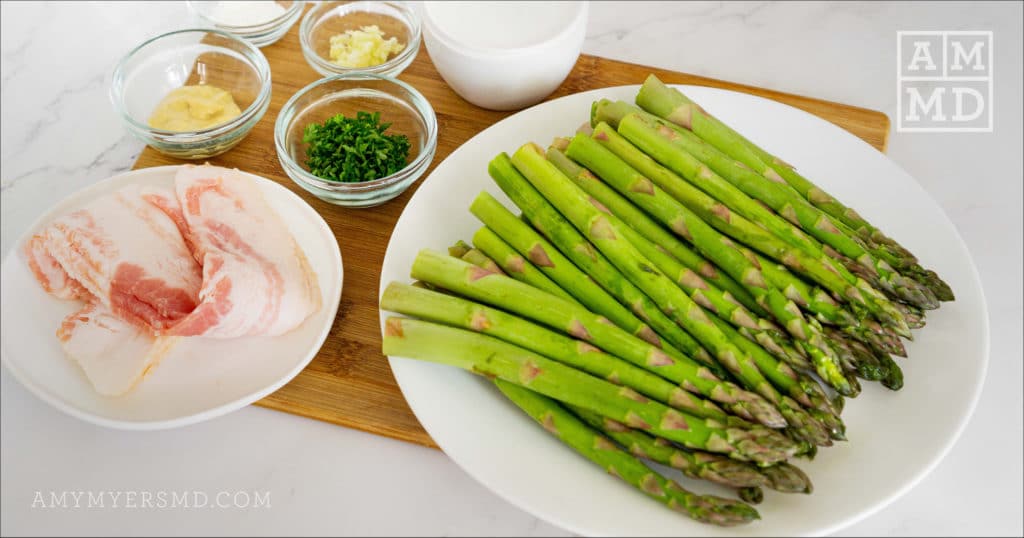 As delicious as roasted asparagus is on its own, it tastes even better when served with this tasty creamy dairy-free sauce that is flavored with Dijon mustard and bacon.
This sauce can be prepared quickly on the stove-top while the asparagus is roasting:
Cook 4 slices of bacon and let it cool before crumbling it. You will discard most of the bacon drippings, leaving only ½ tablespoon or so in the pan. While bacon might have a reputation of being an unhealthy food, if you choose uncured bacon and discard most of the bacon drippings, you'll end up with lots of flavor for your dishes along with some protein, without too much extra fat.
To make the sauce, you'll saute minced garlic in the bacon drippings for a minute, then add coconut milk, Dijon mustard, and tapioca starch to the sauce, whisking immediately to incorporate the tapioca starch.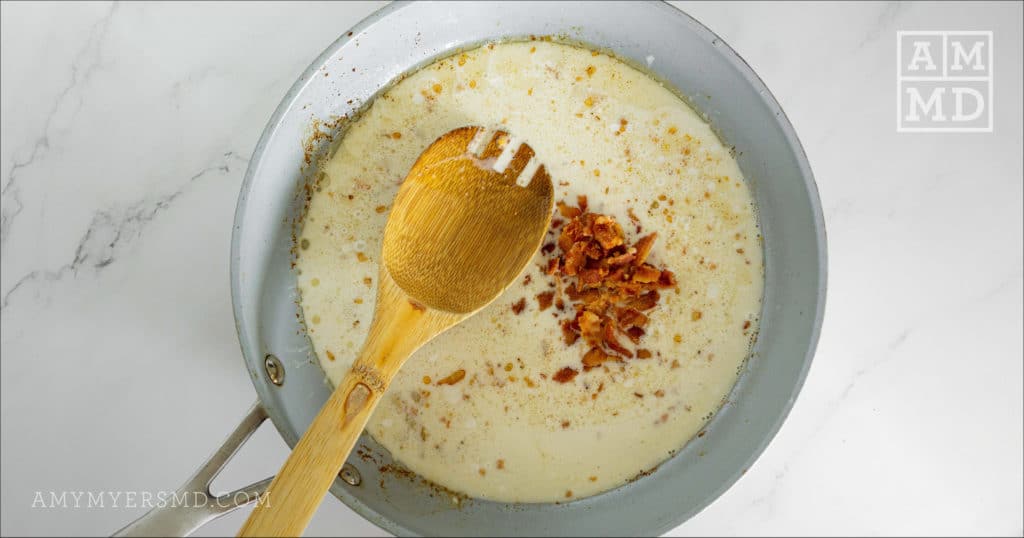 The coconut milk gives the sauce a rich creaminess and adds other nutrients to this dish: it is high in electrolytes, such as potassium, magnesium, and phosphorus. These electrolytes help maintain normal muscle, heart, and nerve function. Coconut milk is also high in iron, which keeps the blood cells healthy and helps prevent anemia.
The tapioca starch is an AIP-friendly flour alternative that is used to thicken the sauce a little so it is not watery and coats the asparagus better.
This recipe makes a little bit of extra sauce, which is a good thing because you'll want to spoon it over everything! This sauce goes perfectly with most proteins, such as baked cod or chicken, and makes a great sauce for a starchy side dish, such as mashed parsnips or sweet potato mash.
Asparagus With Creamy Bacon Sauce
---
Ingredients
2

lb

908.00

g asparagus

1

Tbsp

14.79

ml olive oil
sea salt to taste
ground black pepper to taste

4

slices nitrate-free bacon

1

cloves garlic minced

3/4

cup

180.00

ml coconut milk

1

Tbsp

14.79

ml dijon mustard

1/2

Tbsp

7.39

ml tapioca starch

1

Tbsp

14.79

ml parsley leaves minced
Instructions
Preheat oven to 400 degrees Fahrenheit.

---

Trim the ends off the asparagus. Place the asparagus on a large baking sheet and toss with olive oil, salt, and pepper. Bake at 400 degrees for 10-15 minutes, or until the asparagus is cooked to your liking.

---

Prepare the sauce while the asparagus is cooking: Cook the bacon slices in a large skillet over medium heat until crispy. Set aside on a paper towel and allow to cool. Crumble the bacon when it is cool to the touch.

---

Drain the extra bacon drippings from the pan into a heat-safe container, reserving about ½ a tablespoon of bacon drippings in the pan. Add the minced garlic to the skillet and saute for about a minute, or until the garlic starts to turn golden brown.

---

Whisk in the coconut milk, Dijon mustard, and tapioca starch and stir immediately to prevent any clumps from forming. Bring to a gentle boil and allow to simmer for 1-2 minutes, or until thickened to your liking. Stir in the minced parsley and half of the crumbled bacon.

---

To serve, place the roasted asparagus on a plate and spoon the sauce on top. Garnish with remaining bacon bits.

---