Spicy Bang-Bang Shrimp
If you're looking for a simple, quick, and delicious dinner, then it's a good thing you've found my Spicy Bang-Bang Shrimp. In this recipe, crispy shrimp are tossed in a creamy, spicy sauce that comes together in just a few minutes.
AIP Bang-Bang Shrimp can be served for a quick and easy weeknight dinner and they also make a great appetizer for entertaining. I'll show you how to get shrimp nice and crispy without using flour, and how to make a spicy creamy, dairy-free AIP Bang-Bang Shrimp sauce.
The secret ingredient
While I don't recommend overloading your body with starches (especially if you're combating Candida overgrowth,) tapioca starch is a key ingredient in this AIP Bang Bang Shrimp recipe. Don't worry though! Even though it is used in both the coating of the shrimp and to thicken the spicy sauce, there really isn't that much of this ingredient in the whole recipe — it's just really important!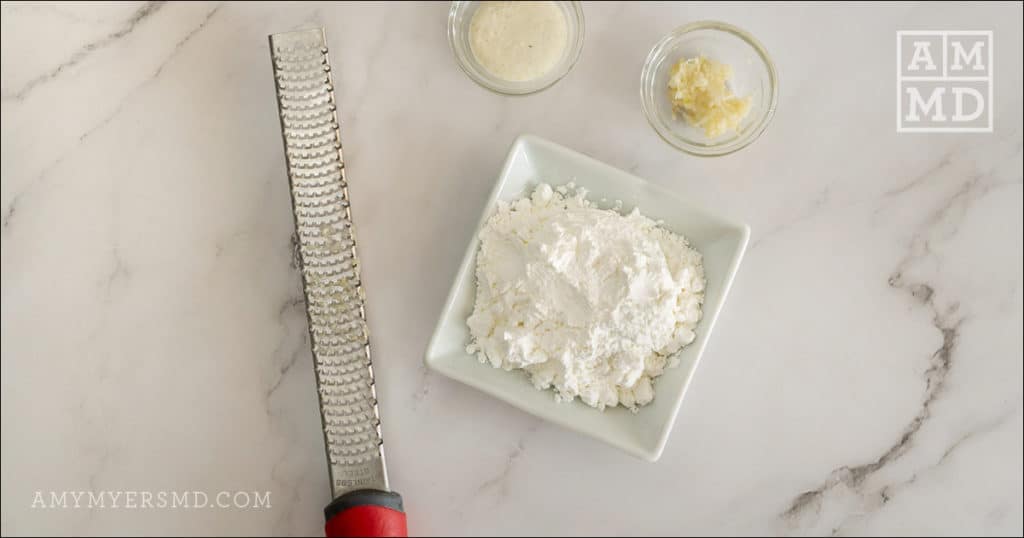 Tapioca starch is used instead of flour to give your shrimp a crispy coating when they are cooked.
Tapioca starch is also used to thicken the spicy sauce so that it can perfectly coat the crispy shrimp.
Tapioca starch is extracted from the root of the cassava plant, yet it is not interchangeable with cassava flour. It is a great, gluten-free alternative to wheat and other grains. Tapioca starch is also a good alternative to cornstarch to help thicken sauces, soups, and desserts!
Crispy shrimp
While tapioca starch may be the secret to getting a delicious crispy coating on AIP Bang Bang Shrimp, the shrimp is the star of the show. This shrimp gets perfectly crispy because the tapioca starch helps absorb any extra moisture, so you don't need to cook them in a heavy layer of breading, or fry them using inflammatory oils.
This recipe uses freshly grated garlic, sea salt, and freshly ground black pepper to give it your shrimp exceptional flavor.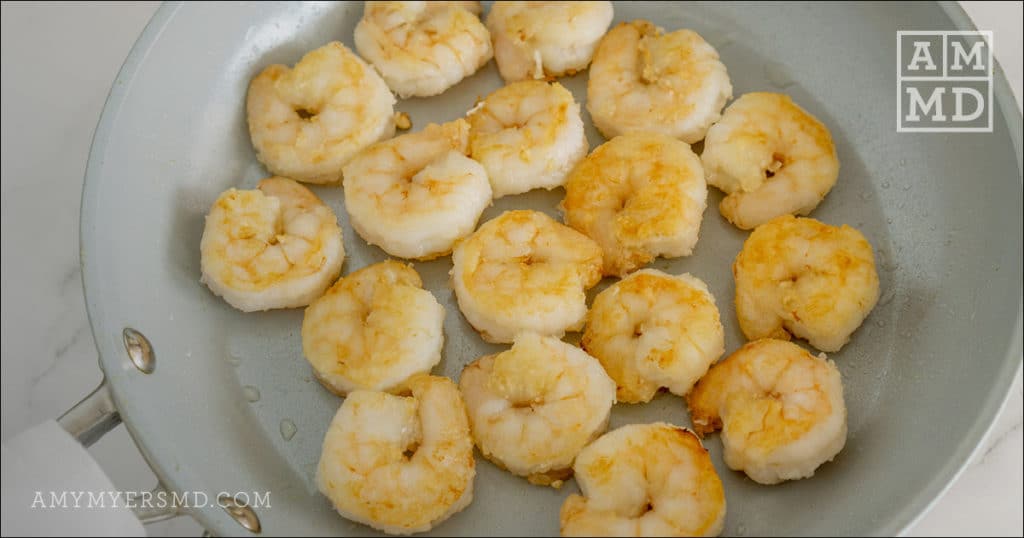 In addition to being delicious, shrimp is an excellent source of lean protein, which is essential for muscle and tissue repair, among other aspects of overall health. Shrimp is also a source of selenium, a mineral that may help promote heart health and reduce inflammation. Shrimp also contains iodine, which is an important aspect of optimal thyroid function and brain health.
As if that wasn't enough, shrimp is high in omega-3 fatty acids, which can help lower blood pressure, reduce triglyceride levels, and increase 'good' HDL cholesterol.
Dairy-free, AIP Bang Bang Shrimp sauce
To make the sauce dairy-free, yet maintain a super delicious and creamy texture, this recipe uses coconut milk. Coconut milk is high in electrolytes such as magnesium, potassium, and phosphorus. Electrolytes help maintain healthy muscles, bones, and teeth in addition to supporting the immune system and keeping you hydrated.
Unsweetened coconut milk has a tangy flavor which makes it an excellent alternative to regular cow's milk products in many creamy sauces.
I use a tablespoon of tapioca starch to help thicken the sauce, so that it sticks to the crispy crust of the shrimp, and makes every bite of this AIP Bang-Bang Shrimp a flavorful one.
AIP spices for Bang-Bang Shrimp sauce
Regular peppers and nightshades are not a part of the AIP diet, and they can cause discomfort and inflammation in some people. So the delicious spice and flavor in my recipe for Bang-Bang Shrimp comes from horseradish, garlic, lime juice, and salt.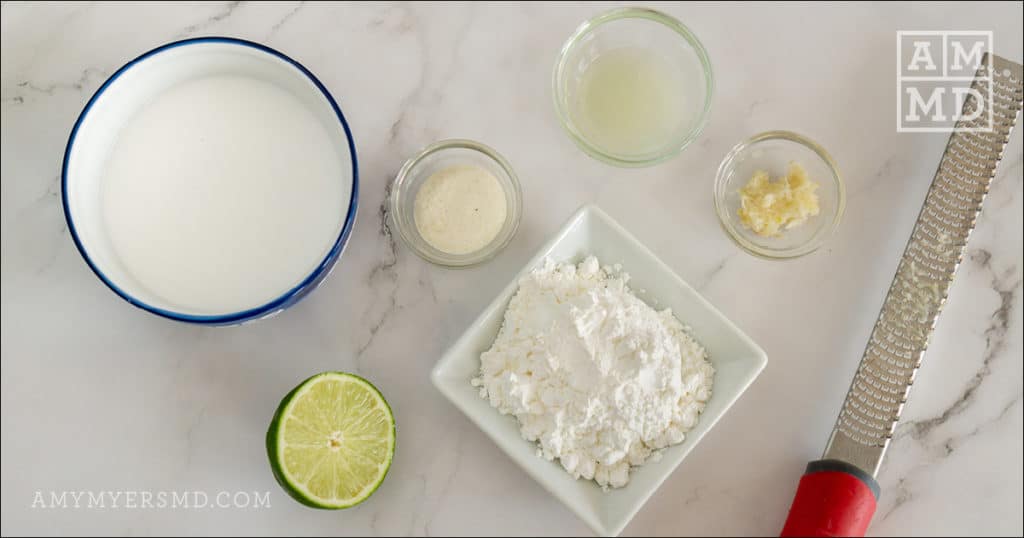 Horseradish is a spicy ingredient that you can use to add heat to your recipes. Horseradish is a root that can be ground or grated and is used as a condiment all over the world — it's not a pepper, or related to nightshades in any way.
For this recipe, I used finely grated horseradish and whisked it into the coconut milk along with finely grated garlic.
You can find grated horseradish in many stores. Make sure to look at the ingredients and check that the horseradish doesn't contain any nasty additives such as sugar, cornstarch, or even egg yolks.
Alternatively, you can grate a small piece of horseradish root and use it for this recipe, just like you would grate a piece of ginger.
What to eat with your Spicy Bang-Bang Shrimp
I like to eat this bang bang shrimp with a side of Shaved Radish Cucumber Salad or over Creamy Summer Squash Pasta.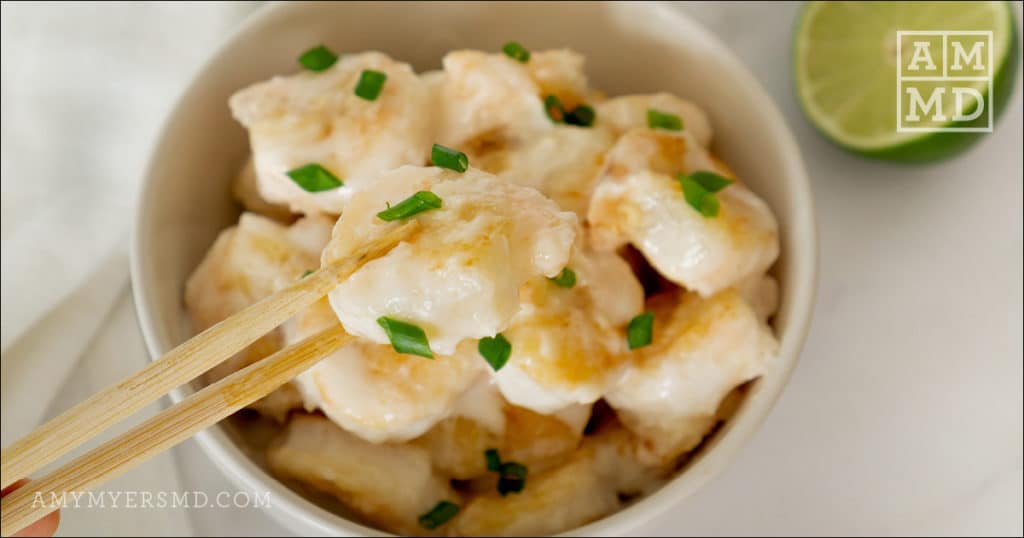 If you want to keep things simple, another great way to enjoy this dish is over a bed of fluffy, cauliflower rice! You can make cauliflower rice by grating a head of fresh cauliflower, or chopping it into florets and putting it into a food processor until it reaches the consistency of rice (make sure not to over process it, or it will get mushy). Cook the cauliflower rice on a pan over the stove until it reaches your desired consistency.
With these components you'll have a delicious, healthier, AIP meal on the table in under 30 minutes. Enjoy!
If you liked this recipe, then you'll love:
Ingredients
For the Shrimp
1

lb

454.00

g wild-caught shrimp thawed, cleaned, deveined, and tails removed

1

cloves garlic finely minced

1/4

tsp

1.23

ml sea salt

1/4

cup

60.00

ml tapioca starch

2

Tbsp

29.57

ml tapioca starch

1

Tbsp

14.79

ml coconut oil

1

scallions chopped

1/2

lime sliced into wedges
For the AIP Bang-Bang Sauce
1

cup

240.00

ml full fat coconut milk

1

Tbsp

14.79

ml tapioca starch

1/2

Tbsp

7.39

ml tapioca starch

1

Tbsp

14.79

ml lime juice

2

tsp

9.86

ml grated horseradish or more to taste

1

clove garlic finely minced

1/4

tsp

1.23

ml sea salt or more to taste
Instructions
Pat the shrimp dry with a paper towel or a clean kitchen towel. In a large bowl, combine the shrimp with the grated garlic and salt, and mix well, making sure the shrimp is well seasoned. Add the tapioca starch and toss to coat the shrimp completely.

---

Heat the coconut oil in a large skillet. Carefully place the shrimp in the hot oil and cook over high heat for 2 minutes per side, or until the shrimp is fully cooked. Remove from heat and set aside.

---

Combine the sauce ingredients in a small saucepan and whisk until all the lumps from the tapioca starch are gone. Taste the sauce, and add more grated horseradish if you want more spice. Bring to a gentle boil, stirring frequently, then reduce the heat and cook for 5 minutes.

---

Toss the shrimp with the bang bang shrimp sauce, garnish with diced scallions, and serve warm with additional lime wedges.

---