Ground Chicken Burgers with Cilantro Aioli
My favorite recipe for healthy chicken burgers just got an upgrade with a delicious cilantro aioli The Myers Way®. These juicy ground chicken burgers are the perfect weeknight dinner. All of the ingredients are Paleo, gluten-free, Whole30, and The Myers Way® so you can feel good about what you're eating. Full of protein and healthy fats, Ground Chicken Burgers with Cilantro Aioli will keep you happy, healthy, and satisfied.
Are Ground Chicken Burgers Healthy?
Of course! Ground chicken burgers are not only a healthy dinner for you and your family, these burgers are also a completely gluten-free recipe that is Paleo and Whole30. You can serve these chicken burgers on top of your favorite lettuce leaves for a low-carb option, or with sweet potato fries for a meal that's full of healthy carbs (you can even make a "bun" with round slices of roasted sweet potato). The burgers are also full of satiating fat and protein, so they'll stand on their own without any additional carbohydrates. Here are some of the best ingredients in my favorite Ground Chicken Burgers with Cilantro Aioli.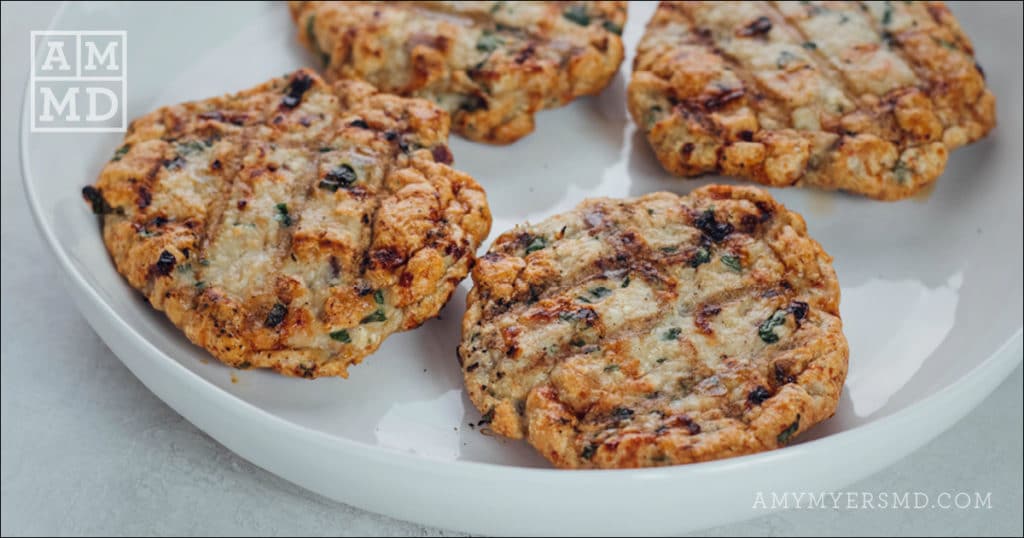 Ground Chicken
The star ingredient of these chicken burgers is, of course, the ground chicken. Using free-range, pasture-raised ground chicken gives this meal some substantial protein, vitamin E, and B vitamins, including selenium and phosphorus.
Cilantro
Cilantro is one of the best herbs to include in your diet. It's a fantastic way to support your detoxification pathways and has been shown to help balance blood sugar levels.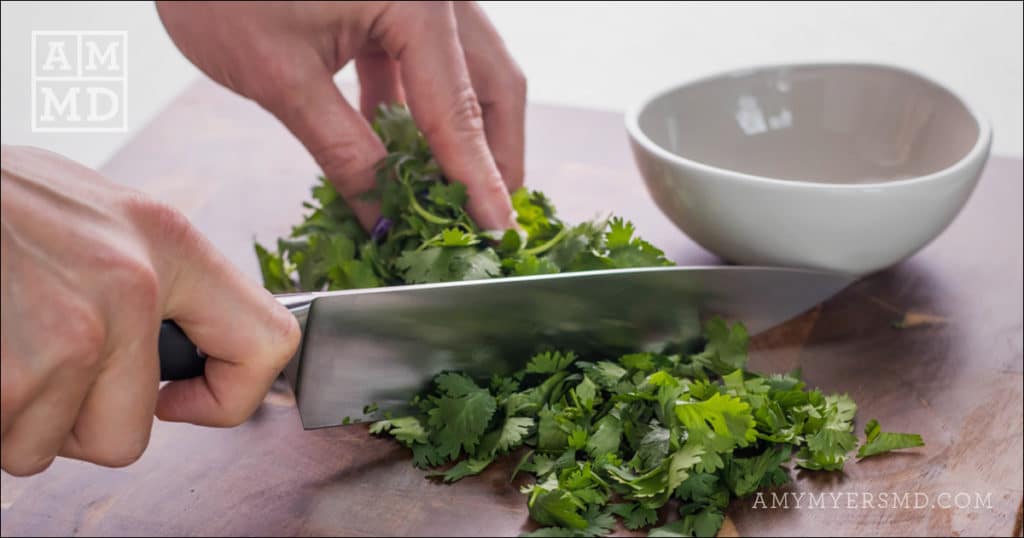 Red Onion
Red onions not only provide an amazing flavor, they're also full of nutrients. Red onions contain an antioxidant compound called quercetin that helps fight damage from free radicals. They're also high in allicin, chromium, Vitamin C, and Vitamin B6.
Can you Bake Ground Chicken Burgers?
You certainly can. The texture may be a little different and they will likely be a little less juicy than if you cook the burger on a grill, but they will still be delicious. If you do bake them, be sure not to overcook the burgers. I recommend baking them in a 400 degree oven for about 20-25 minutes.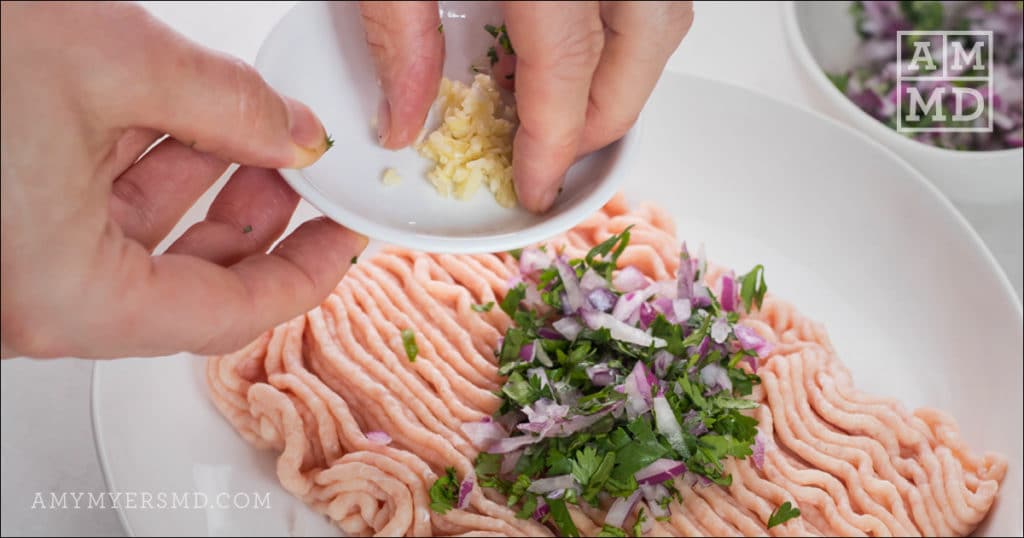 How to Make Ground Chicken Burgers
These burgers are simple and quick to make. You'll combine your ground chicken with cilantro, onion, garlic, and spices before forming it into four patties of equal size. Each patty will be four ounces, which equates to a single serving of protein.
Then it's time to make your cilantro aioli. Use a food processor or blender to combine the coconut cream, cilantro, garlic, lime juice, and spices. Let this chill in the refrigerator while you grill the chicken patties.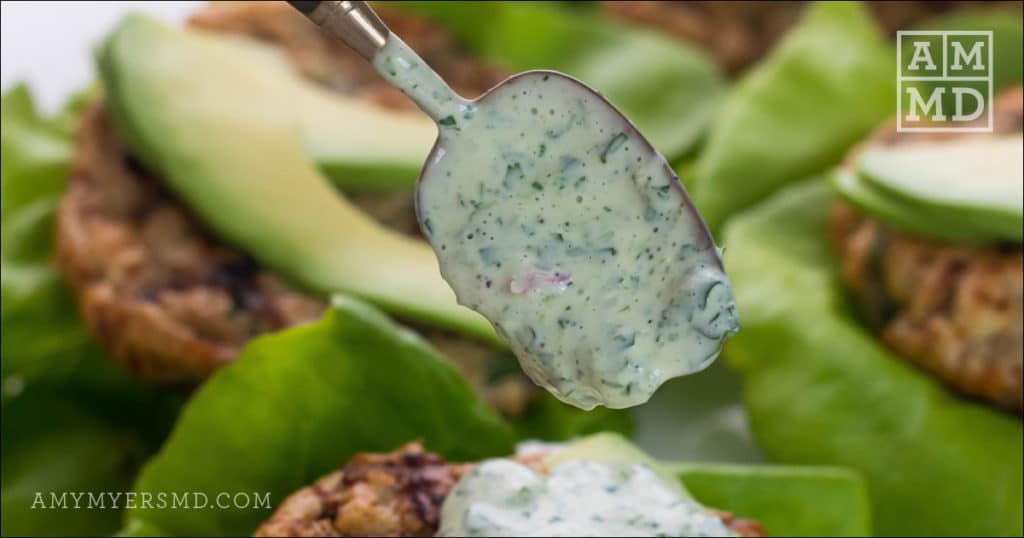 These patties are best cooked for 4-5 minutes each side over medium heat on a grill or cast-iron skillet. Both methods allow the patties to get deliciously browned on the outside, while remaining juicy on the inside. Alternately, you can bake the burgers in a 400 degree oven for 20-25 minutes.
You can make it a recipe for a keto meal with some sliced avocado, Quick Pickled Onions, and lettuce wraps. Or increase the carb count with some sweet potato fries and a large salad. Then drizzle your burgers with cilantro aioli for a healthy, wholesome, and flavorful dinner!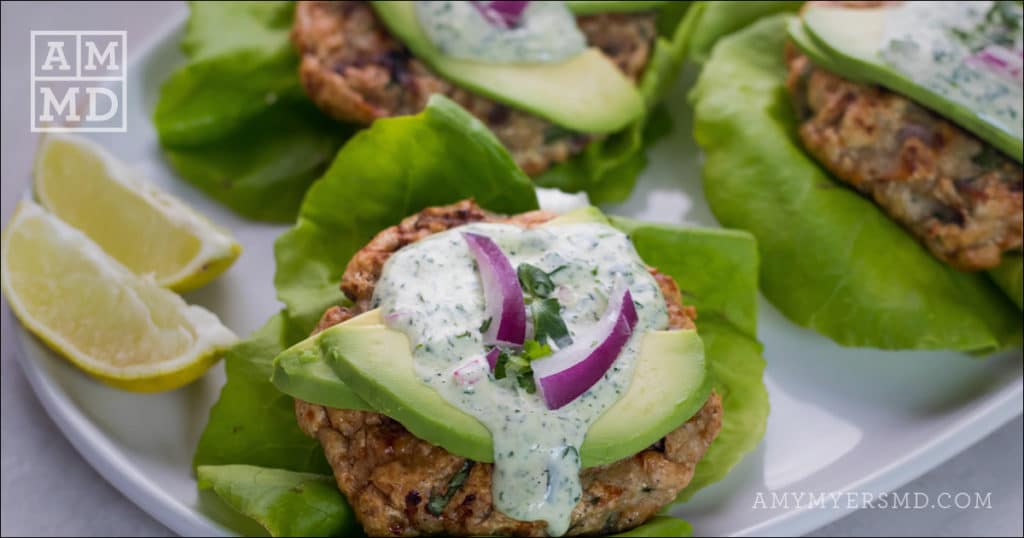 Ground Chicken Burgers with Cilantro Aioli
---
Ingredients
Ground Chicken Burgers
1

lb

454.00

g ground chicken

1/4

cup

60.00

ml cilantro chopped

1

cloves garlic minced

1

red onion finely chopped into approximately 1/4 cup

1/2

tsp

2.46

ml cumin (omit for AIP)

1/4

tsp

1.23

ml sea salt

1/4

tsp

1.23

ml ground black pepper

3

Tbsp

NaN

ml coconut flour

1

avocado sliced
Cilantro Aioli
1/2

cup

120.00

ml coconut cream

1/4

cup

60.00

ml cilantro chopped
lime juice from 1/2 lime

1/8

tsp

0.62

ml sea salt

1/8

tsp

0.62

ml ground black pepper
Instructions
In a bowl, combine chicken with cilantro, garlic, onion, spices, and coconut flour. If your burgers are too wet, add coconut flour to the mixture 1 Tbsp at a time until desired consistency is reached. I used 2 tbsp.

---

Wash and oil your hands to prevent the chicken from sticking, and form into 4 individual patties.

---

In a small food processor or blender, add coconut cream, cilantro, lime juice, garlic, salt, and pepper. Blend until well combined. Place in refrigerator until ready to serve.


---

Preheat grill to medium heat or a large cast iron skillet. Grease grill or cast iron skillet with avocado oil. Cook burgers for 4-5 minutes on each side or until cooked through.

---

Serve wrapped in lettuce or on a bed of salad. Top with Cilantro Aioli and any additional burger toppings such as pickles, sliced onions, and avocado.

---