Garlic & Herb Stuffed Mushrooms
Stuffed mushrooms are a favorite appetizer around here! Try this dairy-free, gluten-free AIP-friendly version of Garlic and Herb Stuffed Mushrooms. These stuffed mushrooms are made without bread crumbs and are roasted until juicy and delicious while the garlicky stuffing is baked until it's perfectly crispy on top. There's a secret ingredient I use to make the mushroom stuffing extra flavorful and filling!
Stuffed Mushrooms – An Antioxidant-Rich Appetizer
These stuffed mushrooms are made with cremini mushrooms, also known as baby bella mushrooms. Cremini mushrooms have amazing health benefits, like many other mushroom species. They have a large amount of selenium, which helps promote healthy thyroid functions and supports the immune system. They are the only plant-based source of dietary vitamin D, which is important for healthy brain and nervous system development. Mushrooms also have a good amount of potassium and phosphorus, which are important for balancing electrolytes in the body, helping muscles recover from exercise, and manage the body's energy storage and usage. On top of that, mushrooms are fairly low in calories and are absolutely delicious when roasted!
If you prefer to use white button mushrooms because of their mellower flavor, you can use those in this recipe instead of cremini mushrooms.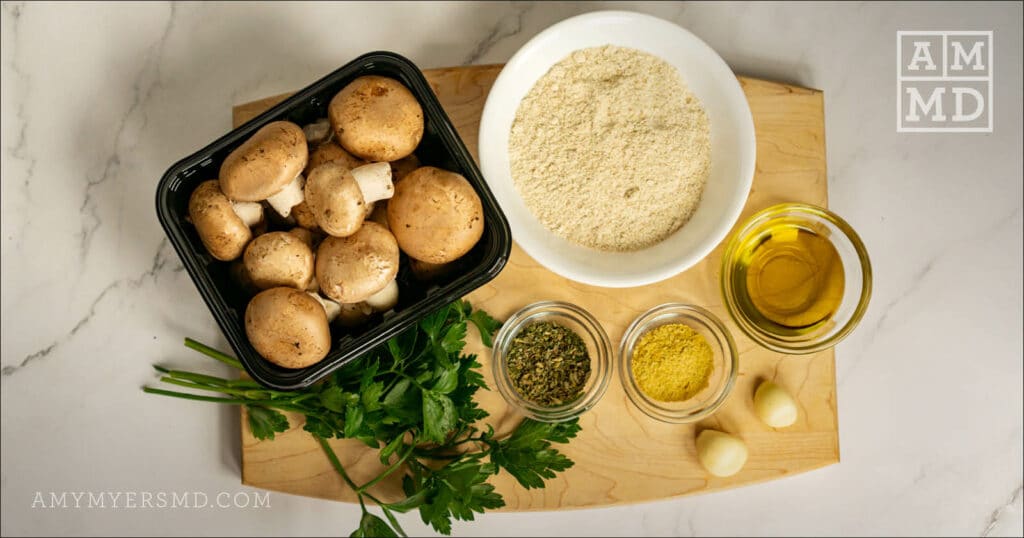 Dr. Amy Myers
December 10th, 2021
https://content.amymyersmd.com/recipe/garlic-herb-stuffed-mushroom/
garlic and herb stuffed mushrooms
AIP Mushroom Stuffing
The ingredient list for the flavorful stuffing for these mushrooms is short: fresh garlic, fresh and dry herbs, tiger nut flour, olive oil, nutritional yeast, a touch of sea salt, and mushroom stems. Yes, mushroom stems!
Cremini mushroom stems are perfectly edible and have a similar flavor as the mushroom caps. Instead of discarding the mushroom stems once I remove them from the mushroom caps, I grate them into small pieces and mix them right into the stuffing mix. The stems add bulk and nutrition to the filling, and the moisture from the mushroom stems makes the filling stick together without adding gut-irritating binders, such as cheese or egg.
I use tiger nut flour instead of bread crumbs for this filling. The coarse texture and nutty flavor of tiger nut flour is perfect for stuffed mushrooms. Tiger nut flour is a gluten-free, grain-free flour that makes a great substitute for bread crumbs and flour in AIP recipes, and it adds a lot of fiber, vitamin E, and iron to this dish. Fiber helps our digestive system, vitamin E may help with prevention of heart disease, and iron helps eliminate fatigue and prevent anemia.
To make the stuffing, simply mix the grated mushroom stems together with the rest of the stuffing ingredients and let it rest for a few minutes. The stuffing should be a little crumbly but should stick together well when squeezed into a ball with your hand. If it is too crumbly, add a small drizzle of olive oil or a little bit more grated mushroom stems and mix together. If it is too wet when squeezed together, add a little more tiger nut flour.
Dr. Amy Myers
December 10th, 2021
https://content.amymyersmd.com/recipe/garlic-herb-stuffed-mushroom/
garlic and herb stuffed mushrooms
Roasting Stuffed Mushrooms
To make the stuffed mushrooms arrange the mushroom caps on a baking pan. Add about 1-2 tablespoons of stuffing to each cap and use your hands to squeeze it into the mushroom cap, making sure it sticks together on top and forms a small mound on top of each mushroom. Bake at 400 degrees in a preheated oven for 18-20 minutes, or until the mushrooms are roasted to your liking and the topping is golden brown on top.
These stuffed mushrooms are best when served warm. I'm sure you and you guests will love them as much as I do!
More Mushroom Recipes to Try
Garlic & Herb Stuffed Mushrooms
---
Ingredients
16

baby bella mushrooms

3/4

cups

180.00

ml tiger nut flower

2

cloves garlic finely minced

2

tbsp

29.57

ml parsley finely minsed

2

tbsp

29.57

ml olive oil

1

tbsp

14.79

ml Nutritional yeast optional

2

tsp

9.86

ml Italian seasoning or use equal parts dry parsley, oregano, basil, and marjoram

1

tsp

4.93

ml sea salt
Instructions
Preheat oven to 400 degrees Fahrenheit.

---

Clean the mushrooms by wiping them with a damp clean cloth or paper towel, removing all the dirt. Gently remove the mushroom stems and cut off any dirty ends from the stems. Do not discard the stems!

---

Use a grater to grate the mushroom stems to make about ¾ cup grated mushrooms.

---

In a medium bowl, combine all the ingredients from the tiger nut flour through the sea salt. Add the grated mushroom steps and mix well. The mixture should not be too dry or crumbly, you should be able to make a ball in your hand and it should keep its form.

---

Stuff each mushroom cap with about 1-2 tablespoons of the stuffing mixture and place in a baking pan.

---

Bake at 400 degrees Fahrenheit for 18-20 minutes, or until the mushrooms are cooked to your liking and the stuffing is golden-brown. Serve warm, garnishing with fresh or dried parsley.

---