You wouldn't believe the surprise on people's faces when they find out that I'm 52. They all tell me that I look much younger, then ask how I keep my skin looking so young and healthy. Since a lot of you have asked about my skincare routine, I have a surprise for you — I'm going to tell you what my morning and bedtime skincare routines are today!
When you hear the phrase skincare, you might think of going to your dermatologist or a long aisle of beauty products at your local drug or grocery store. There are so many products on the market and many of them have ingredients that can do more damage than good.
Did you know that 60% of what comes in contact with your skin is absorbed? It's true. That means all of the skin care products you use affect the health of your skin. The ugly truth is that the skin care industry is not heavily regulated in terms of safety. That means any ingredient a company wants to use can be put into your face wash, lotions, and creams.
I'll discuss the beauty industry and why I created my own line of skincare products later. First, let me tell you about my morning and evening skincare routines.
My Skincare Routine
When it comes to skincare, there's a lot of information about the best routines. It can be overwhelming. What about the ingredients? Should retinol be applied before you moisturize? How long should you wait after washing your face before applying a wrinkle cream or anti-aging serum? And most importantly, how many products should you use?
Well, I have you covered! You only need to use three products daily on your skin – a cleanser with vitamin C, an age-defying serum that includes retinol and hyaluronic acid, and a hydrating cream to keep your skin feeling soft and looking youthful. It's the same three products I use in my morning and evening skincare routines. So, let's go over my skincare routine that I do in the morning and evening.
Dr. Myers's Skincare Routine – infographic – Dr. Amy Myers MD®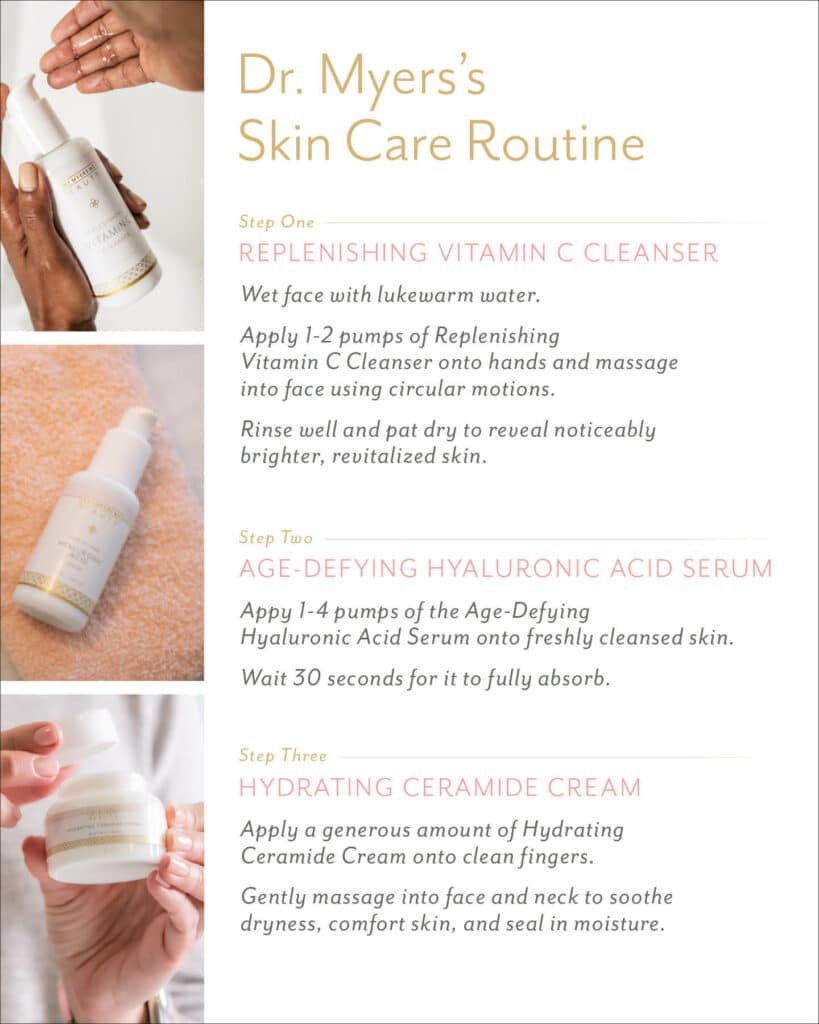 Dr. Amy Myers
January 26th, 2022
https://content.amymyersmd.com/article/am-pm-myers-skincare-routine/
Dr. Myers's Skincare Routine – infographic – Dr. Amy Myers MD®
Step 1. I Wash My Face with a Vitamin C Cleanser
I begin by rinsing my face with lukewarm water. I recommend getting a filtration system for your facets to keep toxins from the tap water from absorbing into your skin. I use under-sink filtration systems from Aquasana throughout my house.
Next, I apply 1 to 2 pumps of Replenishing Vitamin C Cleanser onto my hands and massage it into my face in a gentle, circular pattern. An effective cleanser shouldn't require aggressive scrubbing – be gentle with your skin! Once the cleanser is applied, I rinse it off with warm water and pat dry my face with a clean towel.
Why Should Your Cleanser Include Vitamin C?
Antioxidants such as vitamin C are key to rejuvenating your skin. Vitamin C shields against oxidative damage and hyperpigmentation, fortifying your skin's natural moisture barrier while invigorating and promoting renewed elasticity. The benefits of vitamin C for your skin don't stop there. Here are some of the bonus benefits Vitamin C has for your skin:
It's an anti-aging powerhouse
It promotes a firmer skin texture
It boosts radiance by supporting hydration
It facilitates a healthy inflammatory response
Step 2. Apply Age-Defying Hyaluronic Acid Serum
Once I pat my face completely dry, I apply 4 pumps of Age-Defying Hyaluronic Acid Serum on to my skin. Once the serum is distributed in dots on my skin, I use a rose quartz roller to evenly apply the serum. I concentrate the serum on the places on my face that need the most anti-aging attention such as my forehead and laugh lines. Using a quartz roller can also improve blood circulation in your face and reduce puffiness.1
Once the serum is applied, I wait 30 seconds for it to absorb before I do anything else. This is a great time to relax and think of things you're grateful for. Remember, physical health and mental health are closely linked. Take this time for self-care and gratitude.
Age-Defying Hyaluronic Acid Serum contains both hyaluronic acid and retinol, two very popular ingredients in skincare products – and for good reason. Let me tell you about why your skin needs hyaluronic acid and retinol.
What is Hyaluronic Acid?
We all look for that fountain of youth to keep us looking younger. However, did you know that your skin contains its own "fountain of youth?" It's called hyaluronic acid. This jello-like humectant (moisture-binding ingredient) attracts water and keeps the skin plump, smooth, and supple.
Hyaluronic acid is a hydrating superhero. It helps our skin protect itself while also reducing the appearance of wrinkles and fine lines. It's pretty incredible!
Hyaluronic acid binds to collagen, keeping essential moisture below your skin's surface for dewy, taught, and a youthful skin appearance. Hyaluronic acid also supports your body's natural collagen production.2 Those are just a few of the benefits of hyaluronic acid for your skin. Here's more:
It hydrates your skin – It increases skin moisture to keep it elastic and smooth
Promotes cell growth – It supports tissue regeneration and a healthy inflammatory response.
Anti-aging – Wrinkles are a natural part of the aging process. However, due to its hydrating and smoothing properties, hyaluronic acid can help reduce the appearance of wrinkles.
Promotes pigmentation –When there is cell growth, it promotes proper pigmentation of your skin.
What are the benefits of retinol?
Retinol is the anti-aging powerhouse. It reduces the appearance of fine lines and discoloration while delivering unparalleled exfoliation. Retinol works by binding to retinoid receptors on your skin. In the middle layer of skin, it neutralizes free radicals to support the production of elastin and collagen.3
Retinol is a type of retinoid derived from vitamin A, which plays an essential role in supporting skin, eye, reproductive health, and immune system function. 4
While retinol's benefits are amazing, it can be a lot for your skin to handle at first and cause irritation. If you're just beginning your skincare routine, I recommend using retinol every other day to start while your skin gets used to it. If it doesn't cause irritation or redness, you can begin using it every day.
Step 3. Apply Hydrating Ceramide Cream
Once the Age-Defying Hyaluronic Acid Serum has absorbed I then apply a generous amount of Hydrating Ceramide Cream onto my fingers. Then I gently massage the cream into my face and neck to soothe dryness, comfort my skin, and seal in the moisture. I always make sure to apply the cream in an upwards motion so that I'm not tugging on my skin. Just think of what direction you DON'T want your skin to go and ensure you aren't pulling that way.
Why it's Important to Use a Moisturizer
Our skin protects us from everything – bacteria, pathogens, environmental toxins, and UV light from the sun. When your skin is dry and cracked, your defenses against bacteria and viruses are weakened.
A key ingredient in Hydrating Ceramide Cream is ceramide, which is a waxy lipid found in the skin's outermost layer. These lipids are essential in maintaining the skin barrier. When you moisturize with ceramides, it soothes dryness, itchiness, and scaliness caused by a weakened skin barrier. What's more is that moisturized skin has better texture and less lines and wrinkles.
I highly recommend doing this skincare routine in the morning and in the evening. With all the bacteria your face comes in contact with from touching your skin, your makeup, and your dirty phone, it's important to go to bed with clean skin.
It's just as important to do this skincare routine in the morning as well because you're on your pillow overnight and your skin gets clogged up. Plus, it gives you a clean canvas for your makeup and energizes you for the day.
Now that you know my secret to keeping my skin looking so young and healthy, let me tell you why your skincare products should be toxic free and how you can find the cleanest skincare products on the market.
Why Clean Skincare Matters
It's true that I only use three products, however they each do so much! I believe you shouldn't have to compromise your standards when it comes to selecting beauty products that work. The cosmetic industry argues that it's perfectly fine to use toxic ingredients such as parabens, phthalates, and formaldehyde-releasing preservatives on your face because only tiny amounts are used in each product and are therefore not harmful.
However, with daily use, these toxic chemicals add up and wreak havoc on your body and your health! My high-performance, doctor-designed formulas are nontoxic and rich in the purest forms of bioactive botanical ingredients so you can experience healthy skin without sacrificing results! And now you can get all three of the same products I use to keep my skin looking radiant and youthful in one simple skincare kit for your own morning and evening skincare routines.
The Essential Beauty Kit I Use Every Day
The Essential Beauty Kit has all three products in my morning and evening skincare routine, including the Vitamin C Cleanser, Age-Defying Hyaluronic Acid Serum, and the Hydrating Ceramide Cream.
I designed the Essential Beauty Kit to include everything you need to nourish and protect your skin from the signs of aging. My complete hydration routine includes three physician-formulated skincare products that replenish, restore, and rejuvenate your skin to reveal a noticeably healthier-looking, youthful complexion. What's missing? Toxins. The Essential Beauty Kit contains carefully chosen exotic oils and organically-sourced botanical extracts because natural beauty calls for natural ingredients.
Get More Out of Your Skincare Routine
To take your skincare routine to the next level, I designed the Enhanced Beauty Kit, a breakthrough combination of physician-formulated skincare products and pharmaceutical-grade supplements designed to create nourished, healthy-looking skin from the inside out.
It includes all three of the same products I use in my skincare routine as well as Collagen Protein and Radiance. I personally formulated Radiance to include seven target micronutrients that act as superfoods for your extracellular matrix.
Radiance works from the inside out to moisturize, protect and nourish your hair, skin and nails with key micronutrients. Something you won't find in most hair, skin and nails formulas is L-Proline. I included it because it supports and stimulates the production of alpha keratin and collagen – key building blocks of your hair, skin and nails.
Just because you get older doesn't mean you have to sacrifice radiant and youthful-looking skin. By giving your skin the nutrients it needs, along with the proper care from a morning and evening skincare routine, you can have your skin looking smooth and illuminating.