With such an impressive array of health and fitness gadgets on the market today, taking control of your health has never been easier. Our modern lifestyles are hectic and stressful, making it challenging to stick to healthy routines and achieve your goals.
Luckily, as technology advances rapidly, the selection of health and fitness gadgets grows each year. Whether you're looking to lose weight, improve your sleep, track your fitness, support your metabolic health, or ease anxiety, there's a device out there for you!
I understand how overwhelming it is to figure out which new device is the perfect fit for your health, fitness, and nutrition goals. Don't worry. I am going to tell you about some of my favorite new health and fitness gadgets. Let's plugin! 
Home Workout Machines
Today's modern home workout machines are sleek, innovative, and – most notably – get results. They come with a long catalog of virtual classes that you can take conveniently from your home. Two of my favorites are Peloton and The Mirror by Lululemon Athletica.
The Mirror by Lululemon Athletica
The Mirror by Lululemon is an innovative health and fitness tool that provides personal one-on-one training. It's a smart home workout system that streams guided workouts both live and on-demand and offers all the perks of group fitness classes without leaving the comfort of your home. The Mirror recommends classes that fit your health and fitness goals and tracks your progress.
It's sleek yet does take up a considerable amount of room if you don't mount it to the wall. The Mirror is a bit expensive and can cost anywhere from $1,495 to $2,045, depending on which package you choose. There's also a monthly membership cost of $39/ month to access their 10,000+ workout classes.
YouTube is a less costly alternative and offers a variety of free workout videos, including cardio and strength training, yoga, and Pilates. You can always do these classes using bodyweight and without additional equipment.
Peloton
Peloton grew in popularity during the Covid-19 pandemic as a way to exercise at home. The Peloton bike costs $1,445, with an additional cost of $12.99 to $44 per month to access their catalog of online classes.
I understand that some health and fitness gadgets are costly, and the good news is that cheaper alternatives to the Peloton bike are available. You can purchase a DMASUN indoor stationary bike for $339 on Amazon and still access the Peloton or other online classes on your tablet.
If you don't want to buy the bike, you can still access their catalog of classes through the Peloton app, which has thousands of live and on-demand workouts that don't require equipment.
health and fitness gadgets – infographic – Amy Myers MD®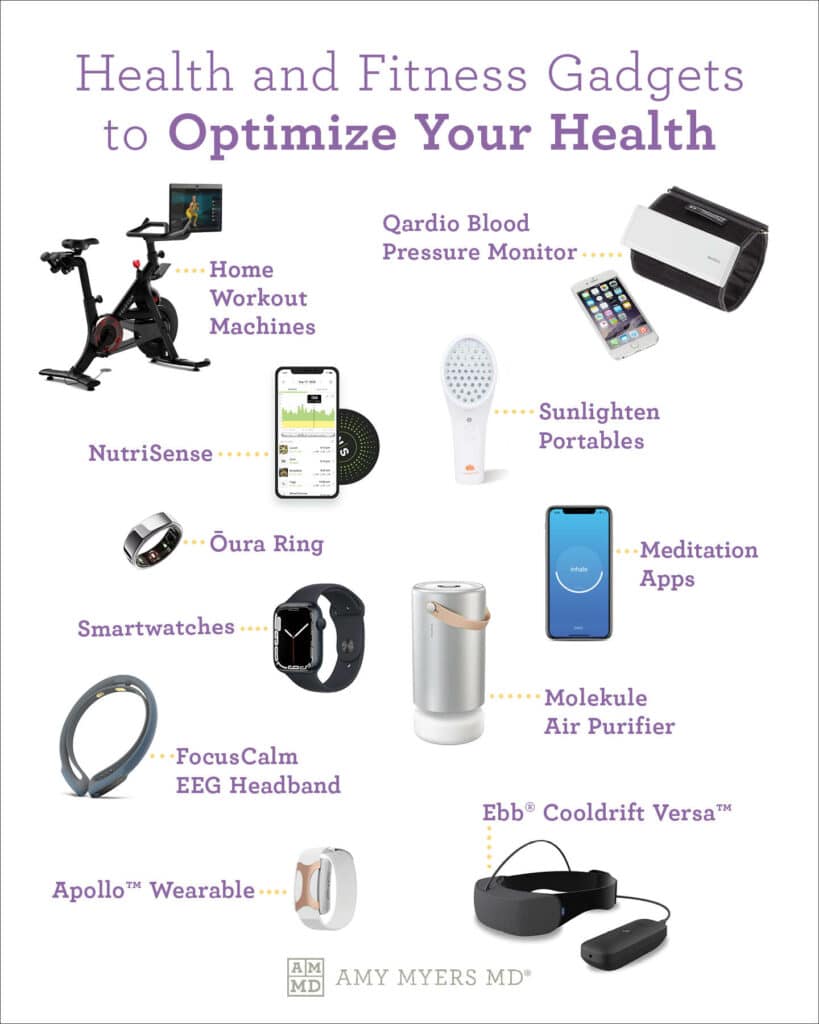 Dr. Amy Myers
August 21st, 2022
https://content.amymyersmd.com/article/health-and-fitness-gadgets/
health and fitness gadgets – infographic – Amy Myers MD®
Smartwatches
Smartwatches are a great gadget to help you reach your health and fitness goals. In the past, watches were a fashion accessory or used to tell you what time it was. Today's watches are also tiny computers that serve as wellness trackers, timekeepers, and communication devices.
Smartwatches can track your fitness, sleep patterns, heart rate, and calories burned, and even provide basic health screenings such as an electrocardiogram (EGG) and blood oxygen levels. As a functional medicine doctor, I understand firsthand how beneficial these wellness trackers are for patients and doctors. The best part is your watch sends this data to your other devices so you can share it with your functional medicine practitioner. Some of the most popular smartwatches include:
Apple Watch ($199 – $399)
Garmin ($350 to $1,300)
Fossil ® Smartwatch ($200 to $300)
FitBit ($79 – $300)
Smartwatches provide greater insight into your overall health, offer clues about potential areas of improvement, and empower you to take control of your health.
Ōura Ring
Jewelry also is a fashionable way to reach your health and fitness goals. Just as a watch, jewelry is no longer just a fashion accessory.
The Ōura ring is a stylish piece of jewelry that I personally wear. It does more than just make a fashion statement. It collects data about my sleep cycles, activity levels, heart rate, and body temperature. The cost of the Ōura ring ranges from $299 – $399. . I personally wear an Ōura ring to help me track my activity level each day, and sleep quality each night.
NutriSense
If you have diabetes, you are constantly checking your blood glucose levels. Continuous glucose monitors (CGM) are growing in popularity, even among those without being diagnosed with diabetes.
CGMs give valuable 24-hour insight into metabolic health by continuously measuring your blood glucose levels every few seconds. They can tell you what foods spike your glucose levels and how your levels respond to exercise, stress and sleep.
NutriSense is a popular CGM placed on the back of your arm for 14 consecutive days. The monitor collects blood glucose readings at 15-minute intervals and sends its lessons to the NutriSense app on your phone.
A NutriSense CGM costs between $199 to $350 per month. There are a few more affordable alternatives, such as the Freestyle Libre 2, Eversense, and Levels monitors.
FocusCalm EEG Headband
Much like heart monitors measure your pulse, the FocusCalm EEG Headband measures the electrical activity in your brain using electroencephalogram (EEG) signals to measure brain waves. 1
It is an innovative tool that provides brain activity feedback to help you train your brain to relax and slow down through meditation and brain games. Not only does this help you respond better to stress, it also improves your overall cognitive function and reduces age-related brain degeneration.2
The FocusCalm EEG Headband continuously monitors your progress as you practice. The FocusCalm EEG Headband costs $199.99 and is the most affordable device of this type.
Sunlighten Portables
I absolutely love my Sunlighten infrared sauna. It's probably my favorite health and fitness gadget and a great way to relax and detoxify my body, two of the amazing benefits of infrared therapy. However, I understand that installing an infrared sauna in your home is not always practical.
Sunlighten portables allow you to reap all the benefits of infrared sauna therapy without sacrificing space in your home or blowing your budget. Their Solo System costs $2,600 and is a full-body infrared sauna that is compact, portable, and can be folded up and stored away when not in use.
One of the benefits of infrared therapy is weight loss. Just 30 minutes in an infrared sauna can burn up to 600 calories! The heat generated in an infrared sauna causes your heart rate to increase the same way it would if you were doing moderate cardiovascular exercise.
Sunlighten's lumiNIR portable light therapy wand benefits your skin using near-infrared, red light, near-infrared/red light combo, and blue light to help rejuvenate your skin. The IuniNIR costs between $249 and $499.
Apollo™ Wearable
Stress is inevitable in our fast-paced modern world. Long days at the office, stressful jobs, financial trouble, relationship problems, and long daily commutes aren't conducive to a zen life. The Apollo™ Wearable is designed to be a "wearable hug" to soothe your nervous system and help you regulate your stress response.
Its soft, silent vibrations get delivered through a stylish band worn on your wrist or ankle to signal to your nervous system that you are safe. The vibrations activate your parasympathetic nervous system to reduce cortisol levels.
The Apollo™ Wearable costs $349 and offers insights on when you are stressed and how to improve sleep through an app.
Meditation Apps
Chronic stress can lead to many health issues, including hormone imbalances, mood disorders, thyroid dysfunction, and autoimmune disease. Learning to manage your stress response is critical to maintaining optimal health.
As a busy mom, physician, and CEO, I know firsthand how stressful and overwhelming life can sometimes be. Research shows that mindfulness and meditation can help you effectively manage depression, anxiety, and stress, which is why meditation has become a vital part of my daily routine.3
Sometimes the simplest health and fitness gadgets are the most effective. Here are some of my favorite meditation apps:
Calm: The Calm app offers guided meditations, from mindfulness and anxiety to gratitude. It even features nature sounds and sleep guides for $14.99 a month. Depending on your needs and availability, the sessions range from three to twenty-five minutes. The app helps track your progress and encourages you to practice meditation regularly.
Headspace: As one of the most popular meditation apps, Headspace provides meditations that help boost motivation, relax and unwind, and alleviate daily stress. It costs $12.99 a month, includes meditation sessions for children, and even includes animations to help you learn and understand how meditation works.
Insight Timer: Insight Timer allows you to select guided meditation sessions by some of the best mindfulness teachers practicing today. It allows you to choose how long your session will last, what type of meditation you're looking for, or meditate independently without guidance audio. It is also a budget-friendly app at just $9.99 per month.
Molecule Air Purifier
People spend an estimated 90% of their time indoors. Considering that indoor air can be up to five times more polluted than outdoor air, it's no surprise that the Environmental Protection Agency (EPA) ranks indoor air pollution as one of the top 5 environmental risks to public health. Of course, pollution outside your home too, and toxins can quickly build up in your body when you constantly breathe them in. A high toxic burden has been linked to autoimmune disease and can create chronic inflammation in your body.
A great way to reduce the amount of toxins in your indoor air is to invest in a high-quality air purifier such as Molekule. The price ranges from $399 for a mini air purifier to $799 for a full-sized unit. They use PECO technology to break down pollutants such as mold, allergens, viruses, and bacteria and can destroy contaminants 1,000 times smaller than many standard HEPA filters.
Ebb® CoolDrift Versa™
With all of the health and fitness gadgets out there, some of my favorites are the ones that focus on improving sleep quality, such as the Ebb® CoolDrift Versa™.
Good sleep is crucial for feeling rested and recharged each day and vital for brain health, metabolism, immune function, and lowering inflammation. Many people take over-the-counter or prescription medications to help them fall asleep and stay asleep. However, there are more natural approaches I recommend taking first.
I use my Chilipad by Sleep.Me at night to maintain a relaxed, comfortable temperature to help me fall asleep faster and enjoy a more restful, restorative sleep.
The Ebb® CoolDrift Versa™ is an alternative to the Chilipad by Sleep.Me that uses innovative cooling technology to help you wind down and relax at the end of the evening to set you up for a good night's sleep. The price of the Ebb® CoolDrift Versa™ is only $239.
With so many new gadgets appearing on the market to help you reach your health and fitness goals, it cannot be easy to keep up. The devices I talked about provide great insights into your health and empower you to take back your health and achieve optimal health.