Have you ever finished a big holiday meal and experienced the painful symptoms of heartburn, bloating, gas, or a stomach ache?
Even if you are following The Myers Way® and avoiding toxic and inflammatory foods, your gut might be low in key chemicals needed to properly digest your food and avoid these symptoms. But the holidays are a time for enjoying family, friends, and the spirit of giving, not recovering from what can sometimes feel like a food hangover!
To help you enjoy a pain-free holiday meal, I want to share my top three tools to ensure you properly digest your food.
1. Take Digestive Enzymes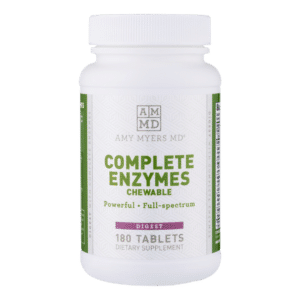 Your stomach's digestive enzymes help you break down and absorb nutrients, allowing your food to digest properly. This digestive enzyme supplement I carry in my store offers an exceptionally complete blend of enzymes, to support the digestion of protein, fats, carbs, fiber, and sugar.
2. Supplement with Gut Restore with Betaine and HCL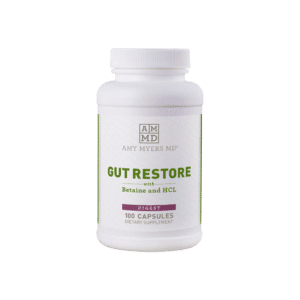 Contrary to popular belief, heartburn is typically a result of too little stomach acid, not too much. HCL is the primary stomach acid, and taking Gut Restore with Betaine and HCL before a meal will help prevent heartburn.
3. Enjoy The Myers Way® AIP & Paleo Holiday Recipes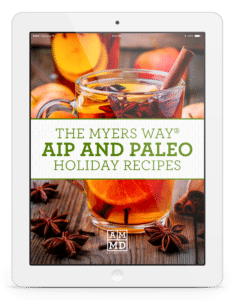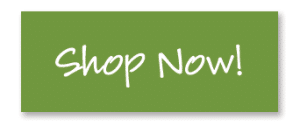 Reverse Chronic Illnesses So You Can Take Back Your Health!
Are you ready to beat your symptoms, regain your energy, and feel like yourself again? Whether you have Hashimoto's, Graves', or any of the hundreds of other autoimmune diseases, I want you to know you CAN reverse your condition!
Tens of thousands of people around the world have already taken back their health using my New York Times Bestsellers, The Autoimmune Solution and The Thyroid Connection. Are you ready to join them?
In each book you'll learn how to address the true underlying causes of your symptoms using simple yet proven dietary and lifestyle changes. Best of all, you'll get step-by-step, four-week plans to put all of the principles into practice and truly make optimal health a way of life!