Spring is in the air and so are thoughts of summer vacation plans. While travel restrictions are still in place for some of the world, many of you are getting ready for family vacations to the beach, amusement parks, or maybe you're headed overseas this summer. However, there's a new type of vacation that's growing in popularity – wellness travel, or simply, traveling for mental health.
In theory, vacations are a chance to get away from the daily stressors in our lives. Yet, vacations can often be just as stressful due to the planning, keeping up with itineraries, our attachment to technology, and feeling pressure to get in everything you want to see or do. I've been there.
As I said, wellness travel is a growing trend for vacationing because it truly means getting away from everything so you can actually rest, rejuvenate and relieve stress. I'm going to give you tips on how to take a wellness vacation, the different types of wellness travel, and why you should take a wellness vacation this summer. First, let's talk more about this popular new trend. 
Wellness Vacationing: A New Trend
People have always viewed vacationing as a way to get away from the daily norm. Maybe you took a vacation to Disneyworld as a kid with your family. Or maybe you remember spending your summers at a lake house or on the beach.
How does replacing the traditional vacation with spending a week in Patagonia, Chile with a yoga instructor sound? Maybe scaling a mountain in the Pacific Northwest with a group of fitness-minded people is more your style.. Or perhaps, a weekend camping trip or a getaway to a private beach sounds like a great way to get away.
Welcome to the world of wellness travel. A growing number of the population are beginning to seek out wellness vacations to kickstart or begin a healthy lifestyle.1 The Global Wellness Institute (GWI) defines wellness travel as "travel associated with the maintaining or enhancing one's well being."2
Wellness travel promotes your health and well-being, both physical and mental, through activities that get you moving and help you relieve stress. When you have constant stressors in your life, your immune system never really turns off. When your inflammatory immune system response is on for too long, it eventually goes rogue and begins attacking healthy tissue. 
Let's talk more about stress, how it affects your body, and how wellness travel can help you relieve stress.
Stress and Your Body
When you experience any kind of stress, whether physical (an injury), emotional (going through the loss of a loved one or a breakup), or mental (overloaded at work, financial stress, or an on-the-go lifestyle), your body processes it the same way – through the adrenal glands. 
When your body faces a stressful situation your adrenal glands create a flood of stress hormones, specifically cortisol. Our stress response evolved primarily as a means of self-preservation from our ancestors facing immediate, life-threatening situations. Unfortunately, that response isn't ideal for the type of chronic, ongoing stress we face today.
When your body releases cortisol, it signals your immune system to be on high alert. Your immune system responds with inflammation. Once the stressor has passed, cortisol signals your immune system to calm down. This system works really well when you encounter acute stress that happens suddenly and then passes. Yet way too many of us are dealing with chronic stress, constant sleep deprivation, poor diets, long hours at work, problems in our relationships… The list goes on and on.
When you have constant stressors in your life, your immune system never really gets to turn off. Your inflammatory immune response is activated for too long and eventually goes rogue, attacking your own bodily tissues. Pretty soon, your stress hormones try to suppress the response but go overboard, leaving you with a weakened immune system. 
Wellness travel is a great way to relieve acute stress and give your adrenal glands and immune system a much-needed break. So, what are some of the different types of wellness trips? Well, I'm going to tell you about some of my favorite types.  
Types of Wellness Vacations
Wellness travel can be anything from a yoga retreat, a nature trip, going to a private beach, a weekend spa trip, a camping trip, or even a staycation in your own city. Remember, the idea of wellness travel is to relieve stress. Just getting away from your daily routine by staying in a nice hotel in your own city can still help you relieve stress. Here are a few of the types of wellness vacations you can take.
Wellness Retreats
Wellness retreats are guided trips with like-minded people. Yoga retreats are the most popular types of wellness retreats however they aren't the only kind. Wellness trips can include a woman's retreat, a meditation retreat, or a fitness retreat. The one element that is common in all wellness retreats is that they are guided.
A wellness retreat is a trip that focuses on fitness or mindfulness that is planned by a yoga teacher, fitness instructor, or a spiritual guide. They typically take place in a secluded area in nature with a group of people. Having a guide is a great way to avoid the stress of planning and the pressure of knowing what to do and where to go.
Healthy meals are prepared and included in the price of the trip and while the itineraries are planned in advance with activities like yoga classes, meditation, workshops, or fitness classes, they aren't required to be followed to participate.
The purpose of wellness retreats are to meet new people with similar interests, relieve stress, and be away from outside distractions.
Wellness Travel to Nature
If wellness retreats aren't your style, and your wanderlust spirit is looking for more of a secluded wellness vacation, then a trip to nature is a great way to reduce stress.
You've probably seen the Instagram-ready photos of snow-capped mountains, beautiful blue lakes, and the walking trail surrounded by tall, leaf-filled trees. These picturesque wellness travel destinations typically involve a tent in the woods or maybe just a day trip into nature to get away from the hustle of everyday life.
These destinations for wellness travel are growing in popularity because of their very nature of seclusion. They force you to disconnect from your emails, social media, and texts. Good luck getting a signal deep in the woods at a national park or in the Arizona desert.
Private Beach Trips
I know what you're thinking… Beaches are overcrowded and not always relaxing. When you think of beach vacations you might picture your kids playing in the sand or gathering with friends for a cookout or evening by a fire with activities planned all day long.
A beach wellness vacation is a completely different experience. That's because the idea behind wellness travel to a beach is that it's designed for luxury. Beach wellness vacations include going to a hotel on a remote, isolated, and uncrowded island and offer many amenities such as spas, massages, private tours, and private cabanas.
Popular destinations for beach wellness travel include The Maldives, Greece, Mexico, Sri Lanka, and Costa Rica. These destinations can be expensive, however, there are plenty of privacy breaches in the United States that are slightly cheaper such as Dry Tortugas, Florida, Enderts Beach, California, and Kauapea Beach, Hawaii.3
Glamping
Glamping takes the same concept as nature wellness travel and adds luxury. Instead of a traditional tent, you spend your nights with running water, electricity, and a real mattress. My husband Xavier, and I take our RV camping all the time with our daughter, Elle.
Glamping wellness travel might also offer some amenities such as a full menu of spa services such as a hot tub, massages, and facials. This type of wellness travel is perfect if you want the luxuries of a hotel deep in the middle of nature.
Weekend Getaway
If you don't have time for a full week or more to take a wellness vacation, a nice weekend getaway to a nearby town is the perfect wellness vacation to recharge. Find an Airbnb or bed and breakfast, and spend the night in a new place to see the sights, try a new restaurant, and visit an antique shop or winery. A weekend getaway can be a nice way to reset and get away from your daily stressors. You may not even realize the beauty that's in your own state! They are also a cheaper option than wellness retreats or trips to national parks or private beaches.
A Staycation
As with a weekend getaway, a staycation is a great way to experience wellness travel. Remember, the idea of wellness travel is to enhance or enrich your mental health. A staycation involves staying at home or spending a day playing tourist in your own city. Often we don't spend time "seeing the sights" in our own cities because we've lived there too long. This is a great chance to see something new. You might even consider booking an overnight stay at a luxury hotel in your own city. Just a change of scenery and a break in everyday responsibilities and stressors can be beneficial to relieve stress. 
These types of wellness travel are great alternatives to traditional vacations to reduce stress and rejuvenate your overall well-being. However, if you fall into the same vacation habits of always checking your emails, eating meals full of processed foods, and not supporting your overall health, you won't experience the intended stress-relieving benefits of wellness travel. Let's talk about some tips if you take a wellness vacation this summer. 
3 Tips for Wellness Travel
Tips for wellness travel – Infographic – Amy Myers MD®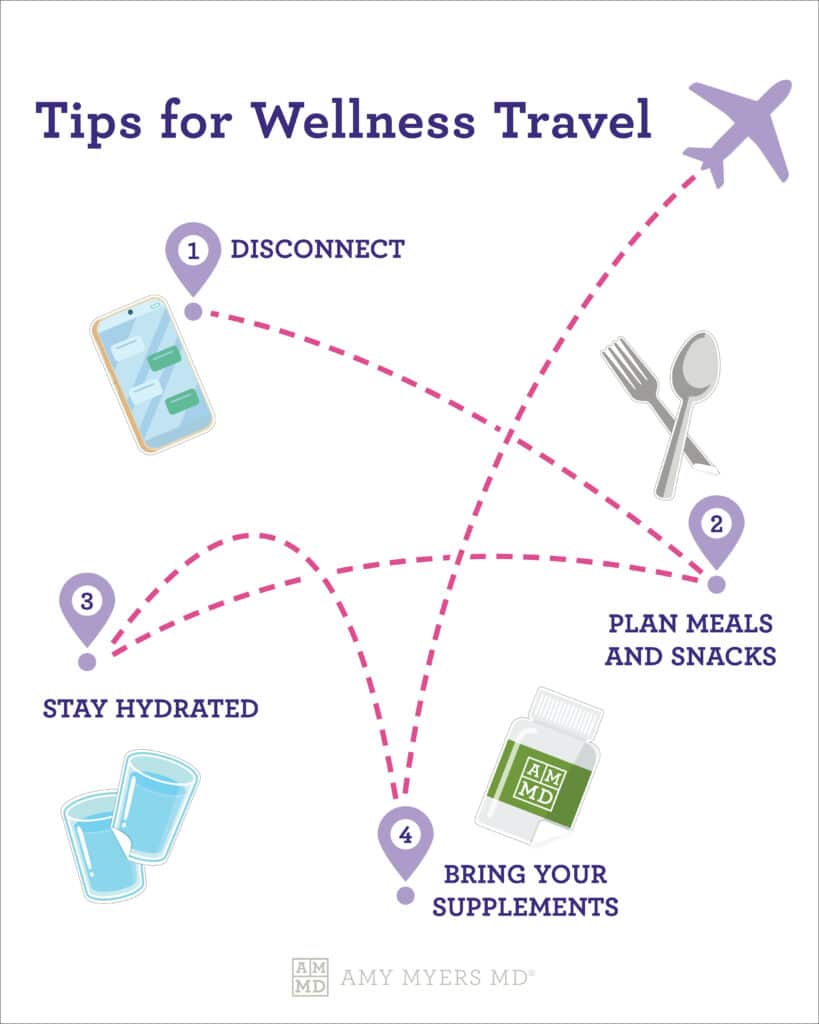 Dr. Amy Myers
March 20th, 2022
https://content.amymyersmd.com/article/wellness-travel/
Tips for wellness travel – Infographic – Amy Myers MD®
1. Disconnect From Everything
The best way to get the most out of your wellness vacation is to completely disconnect. Yes, that includes the camera on your phone. Sure, you want to get that gorgeous Instagram photo. However, even picking up your phone for a photo could tempt you to check your emails or social media. Maybe take a disposable camera with you to capture the moment, instead of being tempted by picking up your phone.
You can't truly let go of stress when screens are still connecting you to the stresses of the world. To get the most from your wellness travel, turn off the phone, don't check emails, social media, and text messages, and just take in the experience.
2. Plan meals and only meals
The nice thing about wellness travel is that most of the experience requires no itineraries or plans. In some cases such as a yoga retreat, those are already prepared for you, including meals. If you aren't taking a wellness retreat where the meals aren't included, then meals, and only meals, should be planned in advance.
I always check the menu at restaurants to make sure there are gluten and dairy-free options available for me. If there are restaurants available, look at the menu in advance. You can always call the restaurant or most now have their menus available online. 
Another option is to plan and prepare your meals ahead of time. Go grocery shopping before your trip to buy foods to fit your diet and prepare before your wellness travel. Be sure to include lots of nutrient-dense foods such as leafy green vegetables, organic meats,healthy snacks, and plenty of water.
3. Stay hydrated
Being outdoors can be a great way to relieve stress. However, a stress-free trip can quickly turn stressful if you aren't staying hydrated during your wellness vacation.
Your body depends on water to survive. Every cell, tissue, and organ in your body needs water to work properly. Your body uses water to remove waste, lubricate your joints, and maintain body temperature.4 The optimal amount of water to drink everyday is half your body weight in ounces. For example, if you weigh 140 pounds, you should drink 70 ounces of water every day.5
Remember, the ultimate goal is to keep your home environment as clean as possible so you don't have to stress about every little thing like drinking filtered water. I take my stainless steel water bottle with me when I travel and fill it when I see water stations. It's not the end of the world if you don't drink filtered water for a couple of days. Enjoy your wellness trip.
Supplement Your Wellness Vacation
If you are planning wellness travel it's important to take your supplements with you. There are specific supplements I recommend you pack for your wellness trip this summer to support your stress response, detoxification, and your nutrition. Here are the supplements to take along with you during wellness travel.
The Myers Way® Multivitamin
The first supplement to be sure to pack is The Myers Way® Multivitamin. I recommend everyone take a high-quality multivitamin to get a full spectrum of nutrients your body requires. If you're traveling, you likely will not be getting optimal levels of nutrients from food. My physician-formulated multivitamin is designed to build the ultimate foundation for optimal health. 
Rest and Restore™
Restful sleep is just as important on a wellness vacation as it is during everyday life, maybe even more so. The idea of wellness travel is to relax and recharge, right? Rest and Restore™ is a physician-formulated combination of targeted amino acids and minerals designed to support relaxation and a healthy night's sleep. Rest and Restore™  is the ideal combination of PharmaGABA®, L-Theanine, Magnesium, and Glycine to optimally support relaxation and a healthy night's sleep. 
ZenAdapt™
Everyone could use a little support to relax, especially on a wellness vacation. ZenAdapt™ is my adaptogenic herbal blend for fast-acting, profound relaxation. ZenAdapt™ gives your body the support it needs to respond in a calm, even-keeled manner so you can get the most out of your wellness trip.
Traveling for your physical or mental health isn't a new concept, yet wellness travel is the fastest growing area in tourism.6
Traditional vacations can cause more stress than they relieve. Sticking to itineraries along with dealing with large crowds while trying to get in everything can take its toll and leave you more stressed than you were before you arrived. The idea with wellness travel is to check out feeling healthier and better than when you checked in! I'd love to hear about your wellness travel plans for this summer – comment below.