AIP Charcuterie Board with Tzatziki Dip
Put together the ultimate AIP charcuterie board with a variety of AIP-friendly uncured cold cuts, gluten-free AIP crackers, fresh veggie crudites, and an easy, delicious coconut yogurt tzatziki dip! This charcuterie board takes just a few minutes to put together and is sure to be a hit for any special occasion.
The ultimate charcuterie board
A great charcuterie board has a variety of flavors, textures, and ingredients. I always make sure to have crispy AIP crackers (such as my Gluten-Free Garlic Rosemary Crackers), a few different kinds of salt-cured, nightshade-free cold cuts, crunchy raw veggies, salty bites such as pickles and olives that I like to serve in a separate dish, and a tasty dip or two.
The trick to making a gorgeous charcuterie board is to pick a board or a plate that is just the right size for all of your ingredients, so that it does not appear empty.
Below are a few of my favorite ingredients for AIP charcuterie boards.
AIP cold cuts for charcuterie boards
Most cold cuts and cured meats are not AIP-compliant because they are loaded with preservatives, seasoned with nightshades like spicy pepper, and sometimes even contain sugars. However, it is possible to find AIP cold cuts and dry-cured meats. We can enjoy them in moderation while getting some extra protein with our appetizer!
Look for high quality organic meats that are cured without any nitrates, nitrites, or sugar. Make sure the only ingredients are organic beef or pork and salt, and that the meats are not seasoned with any pepper or paprika derivatives.
Prosciutto, dry-cured beef, or even some beef jerky can be great AIP-friendly options for appetizer trays! Just check the ingredients to be sure.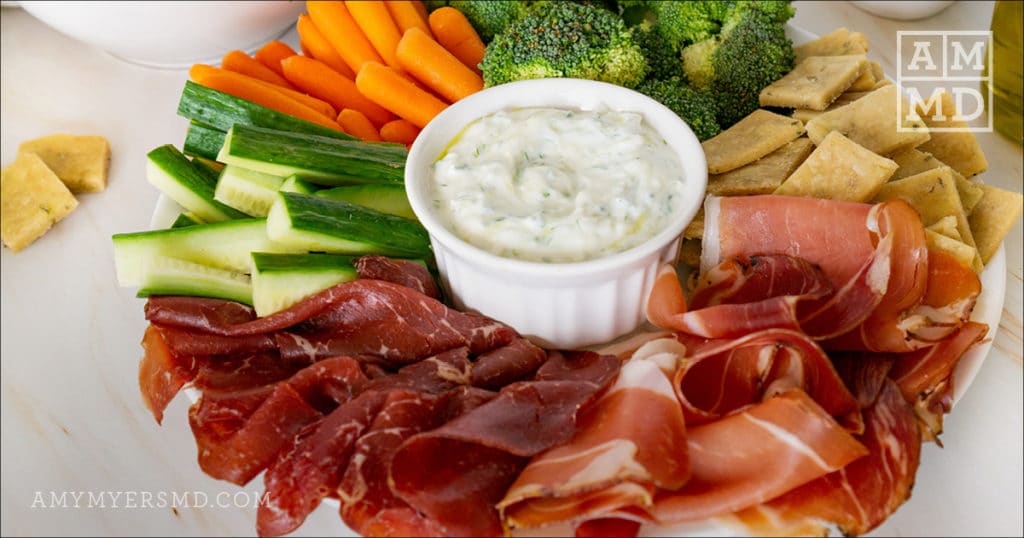 More AIP-friendly charcuterie board ideas
In addition to quality meats, I like to add a wide variety of crispy plant-based ingredients to my appetizer trays. Some of my favorite additions are:
Avocado chunks (spritz with lemon juice)
Cauliflower flor
Celery sticks
Cucumber slices
Gluten-free breadsticks or flatbreads
Jicama sticks
Sweet potato hummus
AIP tzatziki
The dip I made for this AIP appetizer tray is dairy-free tzatziki, made with coconut milk yogurt.
Tzatziki is a Middle Eastern yogurt dip made with yogurt, cucumbers, garlic, olive oil, lemon juice, fresh herbs, and salt. It is a very quick dip to make that doesn't require any cooking, and it is loaded with nutrients from the cucumber and gut-healthy probiotic bacteria from the coconut yogurt.
To make tzatziki, start by grating your cucumber. Keep the skin on the cucumber for extra texture and a higher amount of vitamins K, B, and C.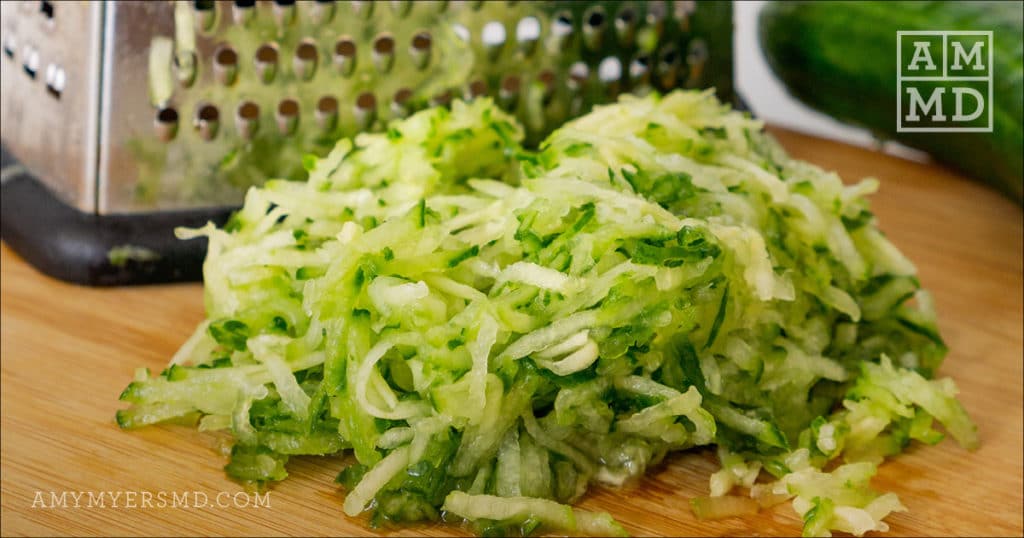 Strain the cucumber through a cheesecloth and discard the cucumber liquid (or add it to a glass of water to make cucumber water!). You should end up with about equal parts grated cucumber and liquid.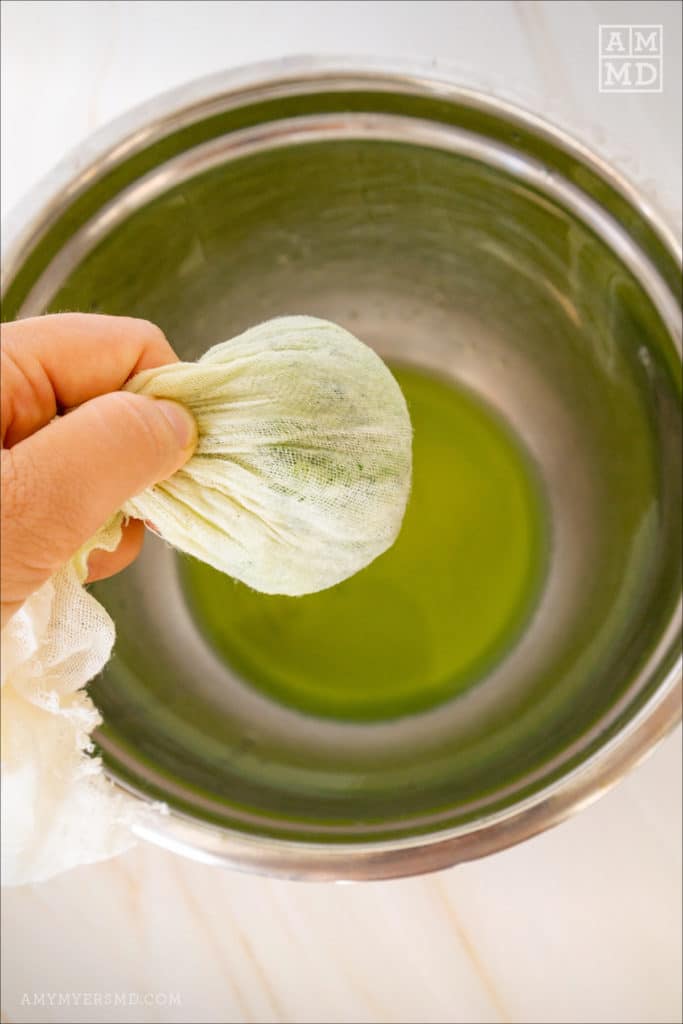 Then, simply combine all the ingredients in a bowl and stir. You can serve the tzatziki immediately, or refrigerate for up to 24 hours before serving. Keep reading to see the recipe card with the full instructions and details for how to make this tzatziki.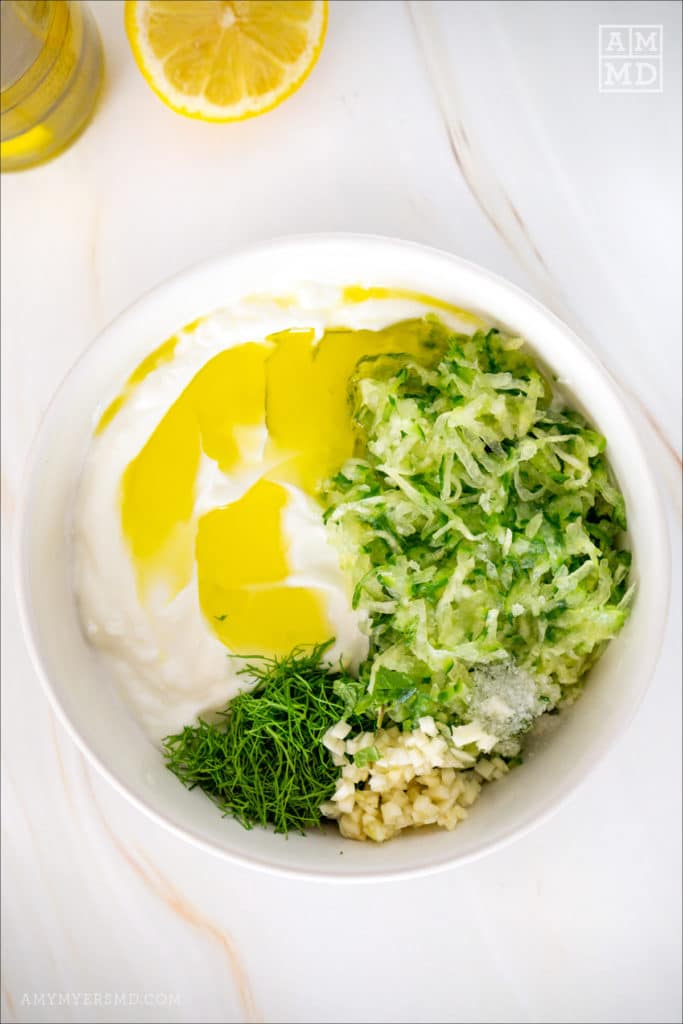 You can make oil-free tzatziki by skipping the olive oil, however, I like the heart-healthy monounsaturated fats that it adds to this dip!
This lemony, creamy, dairy-free dip is great with veggies and crackers.
I hope you get to try this tzatziki and that it makes it to your appetizer platter this holiday season — it makes any meal festive!
Other appetizers you will love:
AIP Charcuterie Board with Tzatziki Dip
---
Ingredients
For the board
1/2

lb

227.00

g prosciutto

1/2

lb

227.00

g dry-aged beef

1

cup

240.00

ml baby carrots

1/2

cup

120.00

ml broccoli about 8 florets

1

cucumber cut into sticks

1/2

cup

120.00

ml green olives

1/2

cup

120.00

ml cornichons or other small pickles

1/4

cup

60.00

ml artichoke hearts

1

cup

240.00

ml Gluten-free crackers

1

avocado sliced
For the dip
1

cucumber grated and strained

2

Tbsp

29.57

ml dill minced

1

Tbsp

14.79

ml extra virgin olive oil

1

Tbsp

14.79

ml lemon juice

1/2

tsp

2.46

ml sea salt or more to taste

1

cup

240.00

ml plain coconut yogurt
Instructions
Arrange sliced avocado, prosciutto, beef, broccoli, and cucumber on a board or plate leaving a space at the center for the dip. Place olives, pickles, and artichoke hearts in small dishes.

---

Arrange prosciutto, beef. carrots, broccoli, and cucumber on a board or plate leaving a space at the center for the dip. Place olives and pickles and artichoke hearts in small dishes.

---

Grate the cucumber, and place it in a cheesecloth that has been folded in half. Twist the cheesecloth to strain out as much liquid as possible from the cucumber. You should have about equal parts cucumber and liquid.


---

In a medium bowl, combine the coconut yogurt, grated cucumber, and the rest of the tzatziki ingredients. Mix to combine, season with additional salt, if desired. Place dip in the center of the board.

---