Banana Cream Pie Parfaits
These AIP Banana Cream Pie Parfaits make the most delicious dessert! Layers of homemade dairy-free, egg-free banana pudding, fresh bananas, and an AIP "cookie" crumble give this easy dessert an irresistible texture combination. You will love the flavor of these AIP banana parfaits and how convenient it is to prepare them – all the parts of this parfait can be prepared in advance for an easy dessert as soon as the craving strikes!
Dairy-free, egg-free banana cream pudding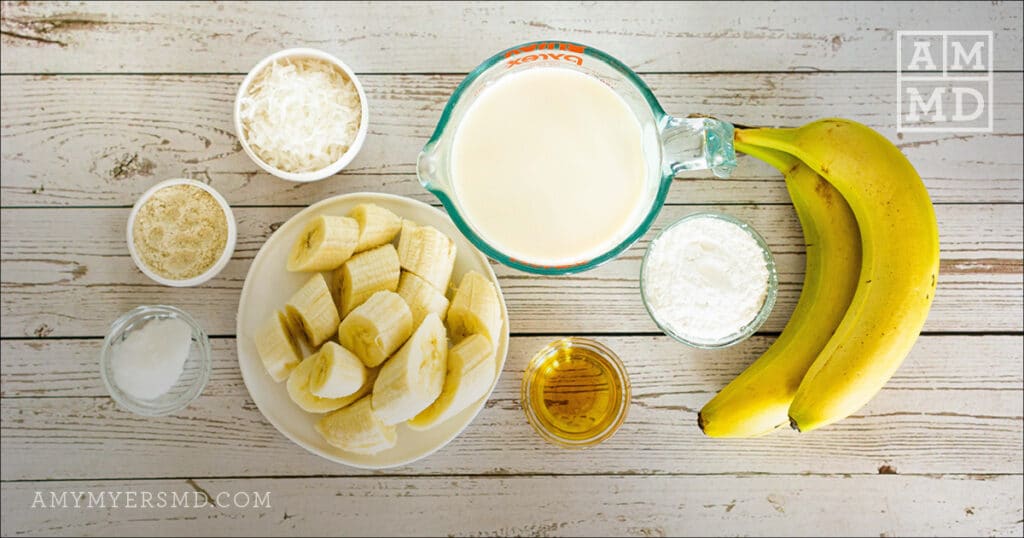 My favorite part about this recipe is the easy 3-ingredient banana pudding. Made with fresh bananas, coconut milk, and tapioca starch to thicken the mixture, this pudding is the perfect easy, healthy dessert!
This pudding is naturally sweetened with bananas, which are not only delicious, but a very healthy fruit! Bananas contain a lot of vitamin B6, which helps maintain a healthy nervous system, make red blood cells, and metabolize amino acids, carbohydrates, and fats to produce energy for the body. Bananas also contain vitamin C, which helps maintain a healthy immune system and produce collagen, as well as minerals, such as manganese and potassium, which help protect against free radical damage and maintain healthy blood pressure.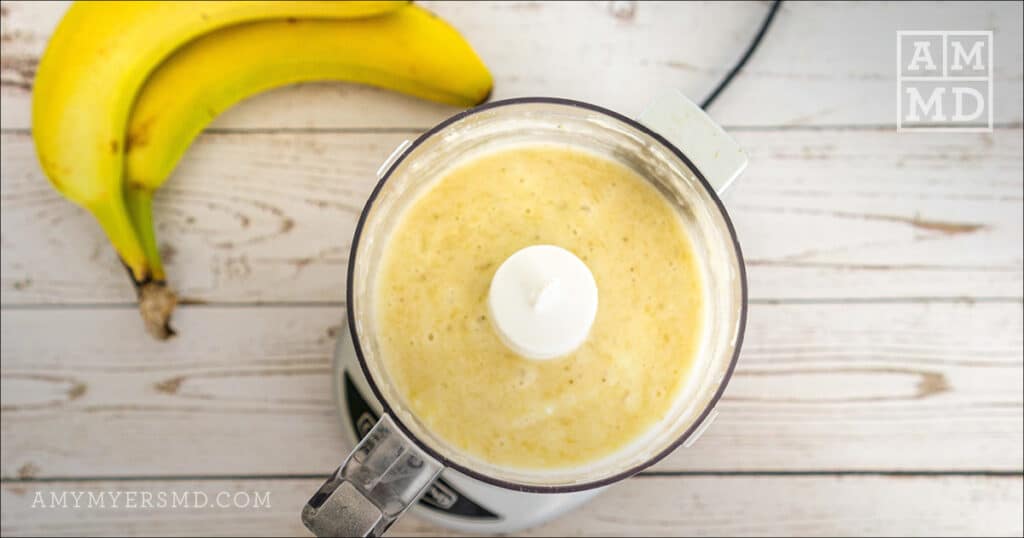 This dairy-free pudding is made with coconut milk. If you prefer a richer pudding, you can use canned coconut milk for this recipe, however the coconut milk that comes in a carton is also a great option for a lighter cream pudding. Just make sure to check the labels to make sure there are no unwanted preservatives or ingredients that can be irritating to our digestive system, such as added sugars.
Coconut milk has its own health benefits, too! It is rich in electrolytes, which help regular fluids in the body and high in antioxidants, which help prevent effects of aging and tumor growth. It also contains iron, which is important for preventing anemia, and has anti-inflammatory properties.
Gluten-free, AIP cookie crumble
The cookie crumble layer in this parfait is also made up of 3 simple ingredients: coconut oil, shredded coconut, and tiger nut flour. If you want a touch of sweetness and your body can tolerate it, you can add coconut sugar or maple syrup to the mixture. I toast these 3 ingredients in a skillet to turn them golden brown and make them nice and crispy. It takes just a couple of minutes, and the mixture stays fresh for at least a week. It is great for adding to puddings (such as this Vanilla Berry Cherry Pudding or this Chocolate Chia Seed Pudding), parfaits (such as these Triple Berry Parfaits), yogurt, or AIP Overnight "Oats".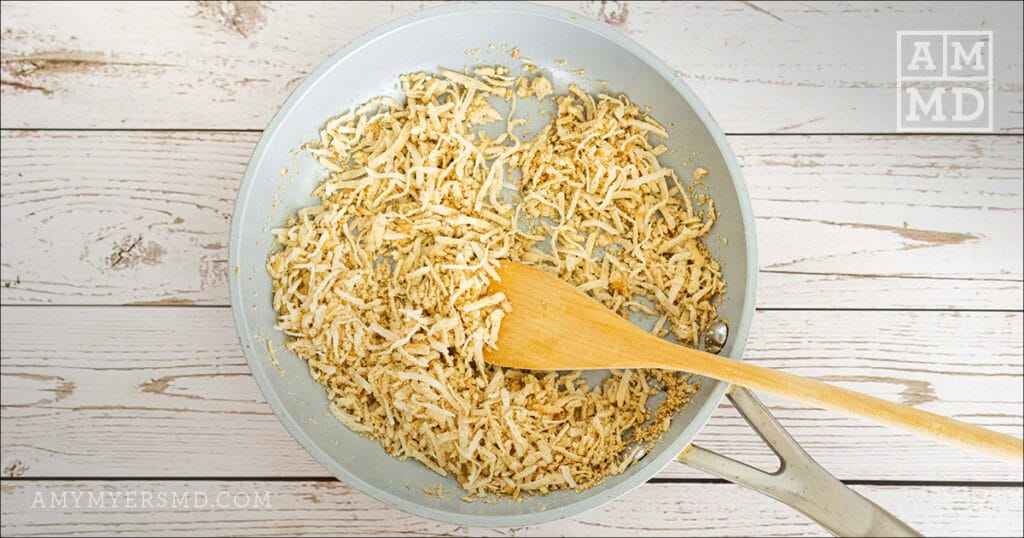 Prep ahead
These banana cream pie parfaits do require some planning ahead: the banana pudding needs to chill in the fridge for at least 2 hours before serving. But the great part is that the pudding and the cookie crumble can be prepared in advance, and then you can assemble these parfaits in just a few minutes!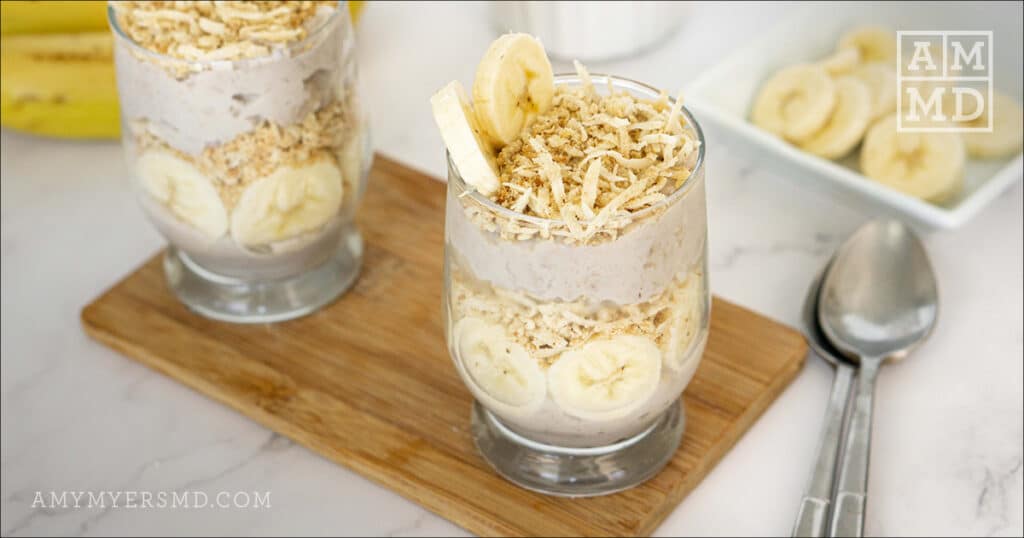 Switch up the flavors
I love adding a pinch of cinnamon to the banana pudding to switch up the flavor. If you are able to tolerate vanilla, then a little vanilla extract is another great addition to the AIP banana pudding! Either way, this easy AIP-friendly dessert comes out delicious every time.
Other desserts you will love:
Banana Cream Pie Parfaits
---
Ingredients
3

banana

2

cups

480.00

ml coconut milk

6

tbsp

88.72

ml tapioca starch

1/2

tsp

2.46

ml vanilla extract optional

1/4

tsp

1.23

ml ground cinnamon optional
coconut sugar to taste (optional)
maple syrup to taste (optional)

1

Tbsp

14.79

ml coconut oil

1/2

cup

120.00

ml unsweetened shredded coconut

1/4

cup

60.00

ml Tigernut flour
Instructions
Chop or break 2 bananas into pieces. Puree the bananas in a small food processor or blender. Transfer the pureed bananas to a medium saucepan. Add the coconut milk and tapioca starch, and whisk together until no clumps remain. Stir in vanilla extract, ground cinnamon, or sweetener, if desired.

---

Cook over medium heat until a gentle boil, stirring frequently, then lower the heat and simmer until the mixture thickens to a pudding, stirring frequently. Allow to cool to room temperature, then refrigerate for at least 2 hours, or overnight.

---

Prepare the "cookie" crumble: In a medium skillet, combine the coconut oil, shredded coconut, and tiger nut flour and mix well. Cook over medium heat for 3-5 minutes or until the mixture turns golden brown, stirring frequently. Sweeten with coconut sugar or maple syrup, if desired. Allow to cool, then store at room temperature in a sealed container until read to assemble the parfaits, up to a week.

---

Assemble the parfaits: Slice a banana into thin slices. Layer the chilled banana pudding, sliced bananas, and cookie crumble in a glass or a jar, repeating the layers twice. Enjoy immediately, or chill in the fridge for up to 24 hours.

---