Pork Cutlets with Cherry Sauce
Yes, you can enjoy crispy breaded Pork Cutlets with a delicious Cherry Sauce even if you're following the AIP protocol or paleo diet! These gluten-free pork cutlets are breaded with a light gluten-free, grain-free coating for a crispy, AIP-compliant breading, and the cherry sauce is made with just a few clean ingredients without any artificial colors or flavors.
I love this crispy AIP pork cutlets recipe because it has a great combination of sweet and savory flavors, it is easy to make, and it is fancy enough to be served for a special dinner!
Are pork cutlets healthy?
When you think of traditional pork cutlets, you might imagine greasy, deep-fried breaded pork cutlets that contain more breading and fat than actual pork. But crispy pork cutlets can actually be quite healthy!
These pan-fried pork cutlets are lightly coated with a mixture of cassava flour and tapioca starch, which are great gluten-free, grain free alternatives to flour. Cassava flour and tapioca starch are both made from the root of the yuca plant, and they give the cutlets a light, crispy coating without adding inflammatory wheat flour or breadcrumbs.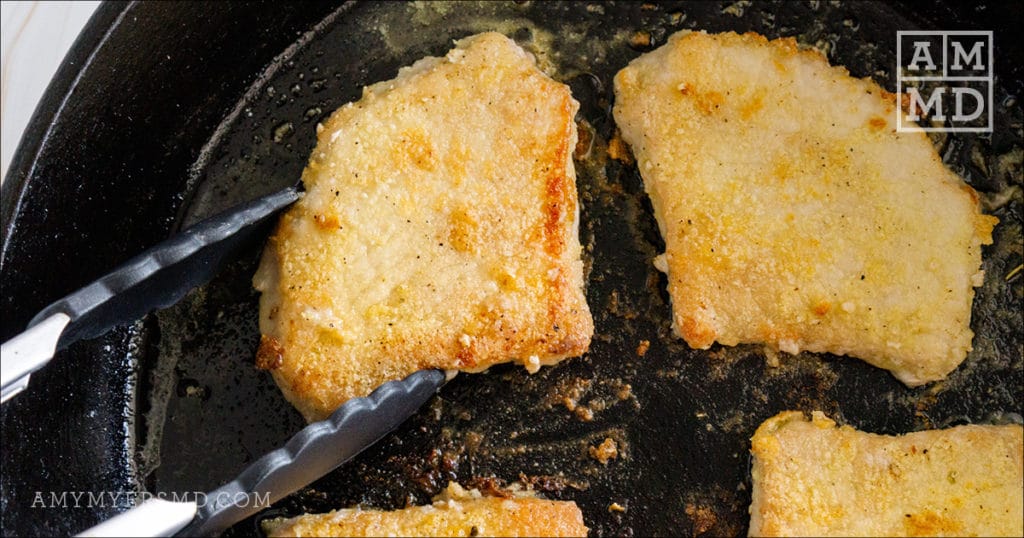 I season the flour mixture with garlic powder, Italian seasoning, salt, and pepper to give the pork cutlets more flavor. Look for an Italian seasoning without red pepper flakes, or make your own by combining equal parts of dried basil, dried oregano, dried parsley, and dried rosemary.
The cutlets are pan-fried in olive oil, which is a heart-healthy oil rich in healthy monounsaturated fats.
These pork cutlets are made with boneless pork chops, which are a lean cut of pork and provide lots of protein to help build and repair muscle tissue. Pork also contains thiamin, niacin, B vitamins, and phosphorus, which are essential to many body functions including energy levels and hormone balance.
Pork is a health addition to any diet, especially when paired with other healthy, clean-eating ingredients, such as the cherry juice sauce I made for these pork cutlets.
Tips for making pork cutlets
In order to get pork cutlets that cook evenly, I used boneless pork chops and flattened the pork chops with a meat mallet until they were about ½ inch thick all around. The least messy way to do this is to place your pork chops in between 2 sheets of plastic wrap or parchment paper – this helps prevent and splatters as you pound the pork cutlets!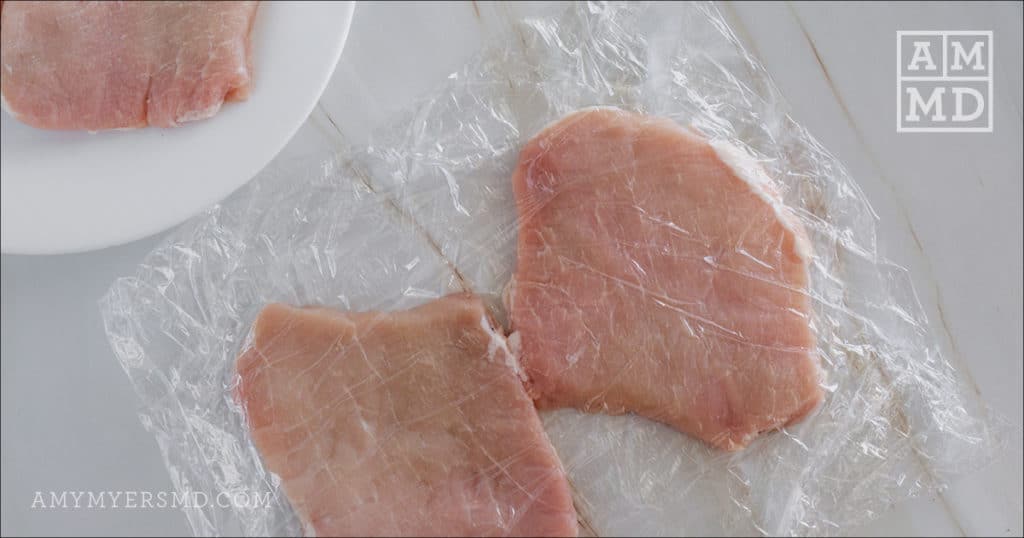 If you don't have a meat mallet, you can use a hammer to gently pound the pork cutlets, or even your knuckles!
Flattening the pork cutlets to about ½ inch allows them to cook evenly and quickly – just a couple of minutes per side over medium-high heat. This is key to not overcooking pork and making sure the pork cutlets stay nice and juicy on the inside.
The National Pork Board recommends cooking pork chops to an internal temperature between 145° F. (medium rare) and 160° F. (medium).
Cherry juice sauce
I serve these pork cutlets with a tasty thyme-flavored cherry sauce that comes together in less than 10 minutes. The sauce is made by sauteing fresh garlic and thyme in the same skillet where I cooked the pork cutlets, and then deglazing the pan with cherry juice. Deglazing the pan loosens any bits stuck from cooking the pork cutlets and gives the sauce even more flavor. I thicken the sauce with tapioca starch, which is a great gluten-free thickener – it turns the cherry juice into a thicker sauce in just a few minutes, and allows the sauce to stick to the crispy pork cutlets.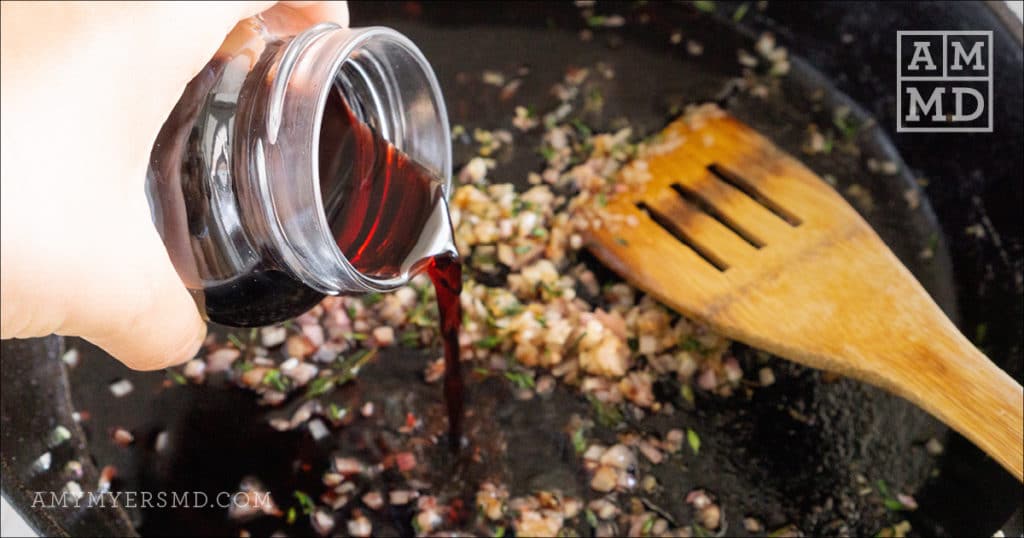 If your cherry juice is tart, you might need to add a tablespoon or two of honey to the sauce, to taste. You can also add a few frozen cherries to the sauce as it's cooking, to make it even more special!
How to serve and reheat cherry juice pork cutlets
This recipe makes 4 servings, and it is best to spoon the sauce over the pork cutlets right before serving, in order to keep the pork cutlets crispy. If you have leftovers, reheat the pork cutlets in the oven for about 10 minutes at 350 degrees Fahrenheit. Reheat the sauce separately in a small saucepan or in the microwave.
I like to serve these pork cutlets with mashed cauliflower, and I bet they would be great with this bacon parsnip rutabaga mash.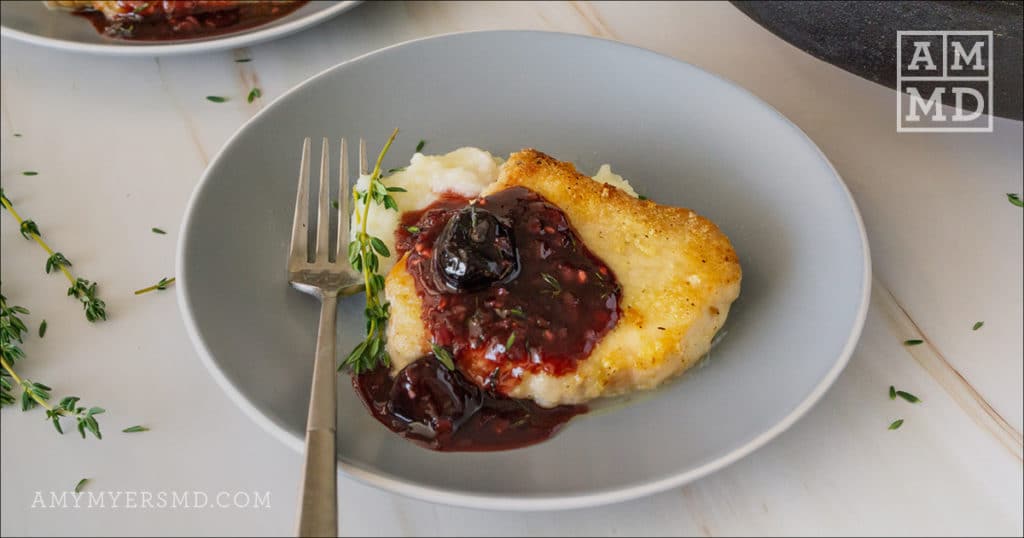 Other recipes you might enjoy:
Pork Cutlets with Cherry Sauce
---
Ingredients
For the pork cutlets
4

boneless pork chop

1.5

tsp

7.39

ml sea salt

1/3

cup

80.00

ml Cassava flour

1/3

cup

80.00

ml tapioca starch

1

tsp

4.93

ml ground black pepper

1

tsp

4.93

ml garlic powder

1

tsp

4.93

ml Italian seasoning

3

Tbsp

44.36

ml extra virgin olive oil
For the cherry sauce
2

Tbsp

29.57

ml shallots minced

1

Tbsp

14.79

ml thyme

1

cup

240.00

ml cherry juice

1

Tbsp

14.79

ml tapioca starch

1

Tbsp

14.79

ml honey or maple syrup

1/2

cup

120.00

ml frozen cherries
ground black pepper to taste
sea salt to taste
Instructions
Trim off any fat from the pork chops. Place the pork chops between 2 sheets of plastic wrap or parchment paper. Use a meat mallet, a small hammer, or your knuckles to pound the pork chops until they are about ½ inch thick. Season each pork chops with a pinch of salt.

---

In a shallow bowl or a deep plate, combine the cassava flour, tapioca starch, 1.5 teaspoons salt, pepper, garlic powder, and Italian seasoning, and mix well. Dredge the pork cutlets in this mixture.

---

Heat the olive oil in a large skillet. Carefully place the pork cutlets into the olive oil and cook over medium-high heat for 2 minutes per side, or until the pork cutlets are golden brown and fully cooked. Set aside on a plate.

---

Add the minced shallot to the same skillet and stir fry for 2 minutes, making sure to scrape off any bits from the pork cutlets. Add the fresh thyme leaves and saute for 1 minute.


---

Add the cherry juice, then slowly add 1 tablespoon tapioca starch, whisking constantly to avoid lumps. Cook for 5 minutes, or until the sauce thickens and reduces to about ⅔ cups. Add the frozen cherries, if using, season with honey or maple syrup and salt and pepper, if desired. Serve sauce over the pork cutlets.

---